Abstract
Homicide is a significant societal problem with economic costs in the billions of dollars annually and incalculable emotional impact on victims and society. Despite this high burden, we know very little about the neuroscience of individuals who commit homicide. Here we examine brain gray matter differences in incarcerated adult males who have committed homicide (n = 203) compared to other non-homicide offenders (n = 605; total n = 808). Homicide offenders' show reduced gray matter in brain areas critical for behavioral control and social cognition compared with subsets of other violent and non-violent offenders. This demonstrates, for the first time, that unique brain abnormalities may distinguish offenders who kill from other serious violent offenders and non-violent antisocial individuals.
This is a preview of subscription content, log in to check access.
Access options
Buy single article
Instant access to the full article PDF.
US$ 39.95
Price includes VAT for USA
Subscribe to journal
Immediate online access to all issues from 2019. Subscription will auto renew annually.
US$ 99
This is the net price. Taxes to be calculated in checkout.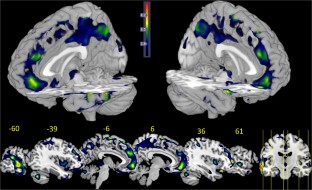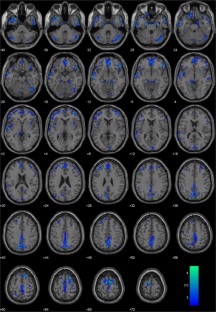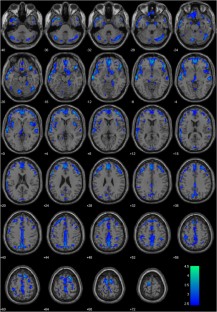 Data availability
The data that support the findings of this study are available from the corresponding author upon reasonable request. All processed data (completely de-identified), code, and materials used will be made available to any scientist seeking to replicate or re-analyze the data.
References
Amen, D. G., Hanks, C., Prunella, J. R., & Green, A. (2007). An analysis of regional cerebral blood flow in impulsive murderers using single photon emission computed tomography. The Journal of Neuropsychiatry and Clinical Neurosciences, 19(3), 304–309.

Anderson, N. E., & Kiehl, K. A. (2012). The psychopath magnetized: Insights from brain imaging. Trends in Cognitive Sciences, 16(1), 52–60.

Ashburner, J., & Friston, K. J. (2000). Voxel-based morphometry—The methods. Neuroimage, 11(6), 805–821.

Bannon, S. M., Salis, K. L., & O'Leary, K. D. (2015). Structural brain abnormalities in aggression and violent behavior. Aggression and Violent Behavior, 25, 323–331.

Bush, G., Luu, P., & Posner, M. I. (2000). Cognitive and emotional influences in anterior cingulate cortex. Trends in Cognitive Sciences, 4(6), 215–222.

Camille, N., Coricelli, G., Sallet, J., Pradat-Diehl, P., Duhamel, J.-R., & Sirigu, A. (2004). The involvement of the orbitofrontal cortex in the experience of regret. Science, 304(5674), 1167–1170.

Cope, L., Ermer, E., Gaudet, L., Steele, V., Eckhardt, A., Arbabshirani, M., et al. (2014). Abnormal brain structure in youth who commit homicide. Neuroimage: clinical, 4, 800–807.

Coricelli, G., Critchley, H. D., Joffily, M., O'Doherty, J. P., Sirigu, A., & Dolan, R. J. (2005). Regret and its avoidance: A neuroimaging study of choice behavior. Nature Neuroscience, 8(9), 1255–1262.

De Brito, S. A., Mechelli, A., Wilke, M., Laurens, K. R., Jones, A. P., Barker, G. J., et al. (2009). Size matters: Increased grey matter in boys with conduct problems and callous–unemotional traits. Brain, 132(4), 843–852.

Decety, J. (2011). Dissecting the neural mechanisms mediating empathy. Emotion Review, 3(1), 92–108.

DeLisi, M., Kosloski, A., Sween, M., Hachmeister, E., Moore, M., & Drury, A. (2010). Murder by numbers: Monetary costs imposed by a sample of homicide offenders. The Journal of Forensic Psychiatry & Psychology, 21(4), 501–513.

Ermer, E., Cope, L. M., Nyalakanti, P. K., Calhoun, V. D., & Kiehl, K. A. (2012). Aberrant paralimbic gray matter in criminal psychopathy. Journal of Abnormal Psychology, 121(3), 649–658.

Ermer, E., Cope, L. M., Nyalakanti, P. K., Calhoun, V. D., & Kiehl, K. A. (2013). Aberrant paralimbic gray matter in incarcerated male adolescents with psychopathic traits. Journal of the American Academy of Child & Adolescent Psychiatry, 52(1), 94–103 e103.

Fairchild, G., Passamonti, L., Hurford, G., Hagan, C. C., von dem Hagen, E. A., van Goozen, S. H., et al. (2011). Brain structure abnormalities in early-onset and adolescent-onset conduct disorder. American Journal of Psychiatry, 168(6), 624–633.

Farahany, N. A. (2016). Neuroscience and behavioral genetics in US criminal law: An empirical analysis. Journal of Law and the Biosciences, 2(3), 485–509.

First, M. B., Spitzer, R. L., Gibbon, M., & Williams, J. B. (2002). Structured clinical interview for DSM-IV-TR axis I disorders, research version, patient edition: SCID-I/P.

Gaudet, L. M., & Marchant, G. E. (2016). Under the radar: Neuroimaging evidence in the criminal courtroom. Drake L. Rev., 64, 577.

Gregory, S., Simmons, A., Kumari, V., Howard, M., Hodgins, S., & Blackwood, N. (2012). The antisocial brain: Psychopathy matters: A structural MRI investigation of antisocial male violent offenders. Archives of General Psychiatry, 69(9), 962–972.

Hare, R. D. (2003). Hare PCL-R. Rating Booklet (2nd ed.). Toronto: Multi-Health System.

Hare, R. D., & Neumann, C. S. (2005). Structural models of psychopathy. Current Psychiatry Reports, 7(1), 57–64.

Hare, R. D., Clark, D., Grann, M., & Thornton, D. (2000). Psychopathy and the predictive validity of the PCL-R: An international perspective. Behavioral Sciences & the Law, 18(5), 623–645.

Howard, J. D., Gottfried, J. A., Tobler, P. N., & Kahnt, T. (2015). Identity-specific coding of future rewards in the human orbitofrontal cortex. Proceedings of the National Academy of Sciences, 201503550.

Hutcherson, C. A., Plassmann, H., Gross, J. J., & Rangel, A. (2012). Cognitive regulation during decision making shifts behavioral control between ventromedial and dorsolateral prefrontal value systems. Journal of Neuroscience, 32(39), 13543–13554.

King, N., Crawford, S., Wenden, F., Moss, N., & Wade, D. (1995). The Rivermead post concussion symptoms questionnaire: A measure of symptoms commonly experienced after head injury and its reliability. Journal of Neurology, 242(9), 587–592.

Lam, B. Y., Yang, Y., Schug, R. A., Han, C., Liu, J., & Lee, T. (2017). Psychopathy moderates the relationship between orbitofrontal and striatal alterations and violence: The investigation of individuals accused of homicide. Frontiers in Human Neuroscience, 11, 579.

McLellan, A. T., Kushner, H., Metzger, D., Peters, R., Smith, I., Grissom, G., et al. (1992). The fifth edition of the addiction severity index. Journal of Substance Abuse Treatment, 9(3), 199–213.

Moll, J., de Oliveira-Souza, R., Bramati, I. E., & Grafman, J. (2002). Functional networks in emotional moral and nonmoral social judgments. Neuroimage, 16(3), 696–703.

Ochsner, K. N., & Gross, J. J. (2005). The cognitive control of emotion. Trends in Cognitive Sciences, 9(5), 242–249.

Ochsner, K. N., Silvers, J. A., & Buhle, J. T. (2012). Functional imaging studies of emotion regulation: A synthetic review and evolving model of the cognitive control of emotion. Annals of the New York Academy of Sciences, 1251(1), E1–E24.

Olson, I. R., Plotzker, A., & Ezzyat, Y. (2007). The enigmatic temporal pole: A review of findings on social and emotional processing. Brain, 130(7), 1718–1731.

Puri, B. K., Counsell, S. J., Saeed, N., Bustos, M. G., Treasaden, I. H., & Bydder, G. M. (2008). Regional grey matter volumetric changes in forensic schizophrenia patients: An MRI study comparing the brain structure of patients who have seriously and violently offended with that of patients who have not. BMC Psychiatry, 8(1), S6.

Raine, A., Buchsbaum, M. S., Stanley, J., Lottenberg, S., Abel, L., & Stoddard, J. (1994). Selective reductions in prefrontal glucose metabolism in murderers. Biological Psychiatry, 36(6), 365–373.

Raine, A., Buchsbaum, M., & LaCasse, L. (1997). Brain abnormalities in murderers indicated by positron emission tomography. Biological Psychiatry, 42(6), 495–508.

Raine, A., Meloy, J. R., Bihrle, S., Stoddard, J., LaCasse, L., & Buchsbaum, M. S. (1998). Reduced prefrontal and increased subcortical brain functioning assessed using positron emission tomography in predatory and affective murderers. Behavioral Sciences & the Law, 16(3), 319–332.

Raine, A., Lencz, T., Bihrle, S., LaCasse, L., & Colletti, P. (2000). Reduced prefrontal gray matter volume and reduced autonomic activity in antisocial personality disorder. Archives of General Psychiatry, 57(2), 119–127.

Reidy, D. E., Kearns, M. C., DeGue, S., Lilienfeld, S. O., Massetti, G., & Kiehl, K. A. (2015). Why psychopathy matters: Implications for public health and violence prevention. Aggression and Violent Behavior, 24, 214–225.

Rich, E. L., & Wallis, J. D. (2016). Decoding subjective decisions from orbitofrontal cortex. Nature Neuroscience, 19(7), 973.

Rosell, D. R., & Siever, L. J. (2015). The neurobiology of aggression and violence. CNS Spectrums, 20(3), 254–279.

Ryan, J. J., Lopez, S. J., & Werth, T. R. (1999). Development and preliminary validation of a Satz-Mogel short form of the WAIS-III in a sample of persons with substance abuse disorders. International Journal of Neuroscience, 98(1–2), 131–140.

Salekin, R. T., Rogers, R., & Sewell, K. W. (1996). A review and meta-analysis of the psychopathy checklist and psychopathy checklist-revised: Predictive validity of dangerousness. Clinical Psychology: Science and Practice, 3(3), 203–215.

Smith, D., Smith, R., & Misquitta, D. (2016). Neuroimaging and violence. Psychiatric Clinics, 39(4), 579–597.

Tiihonen, J., Rossi, R., Laakso, M. P., Hodgins, S., Testa, C., Perez, J., et al. (2008). Brain anatomy of persistent violent offenders: More rather than less. Psychiatry Research: Neuroimaging, 163(3), 201–212.

U.S. Department of Justice: Federal Bureau of Investigation (2016/2017). Murder. Uniform Crime Report. Retrieved September 20, 2018, from https://ucr.fbi.gov/crime-in-the-u.s/2016/crime-in-the-u.s.-2016/topic-pages/murder.

Völlm, B. A., Taylor, A. N., Richardson, P., Corcoran, R., Stirling, J., McKie, S., et al. (2006). Neuronal correlates of theory of mind and empathy: A functional magnetic resonance imaging study in a nonverbal task. Neuroimage, 29(1), 90–98.

Wechsler, D. (1997). WAiS-iii: Psychological Corporation San Antonio, TX.

Yang, Y., Raine, A., Han, C.-B., Schug, R. A., Toga, A. W., & Narr, K. L. (2010). Reduced hippocampal and parahippocampal volumes in murderers with schizophrenia. Psychiatry Research: Neuroimaging, 182(1), 9–13.
Acknowledgements
The authors would like to thank the Wisconsin Department of Corrections and the New Mexico Department of Corrections for their cooperative efforts with the Mind Research Network.
Funding
This research was supported in part by grants from the National Institute of Mental Health: R01DA026505, R01DA026964, R01DA020870, R01MH070539, and R01MH087525 (PI: Kent Kiehl), R01MH087525 (PI: Jean Decety), R01MH090169 (PI: David Kosson) and the Macarthur Foundation Law and Neuroscience Project.
Ethics declarations
Conflict of interest
The authors report no competing interests.
Ethical approval
This research was approved by multiple IRBs, including the Ethical and Independent Review Services (E&I), the University of Wisconsin-Madison, divisions of the Corrections Department of Wisconsin and The New Mexico Corrections Department as well as the Office of Human Research Protections (OHRP).
Informed consent
All individuals volunteered to participate after providing written informed consent. Participation did not affect institutional status (e.g., security level, privileges, and parole or release date) and participants were paid for their time at a rate commensurate with pay for work assignments at their facility.
Additional information
Publisher's note
Springer Nature remains neutral with regard to jurisdictional claims in published maps and institutional affiliations.
Electronic supplementary material
About this article
Cite this article
Sajous-Turner, A., Anderson, N.E., Widdows, M. et al. Aberrant brain gray matter in murderers. Brain Imaging and Behavior 14, 2050–2061 (2020). https://doi.org/10.1007/s11682-019-00155-y
Keywords
Brain imaging

Homicide

Voxel-based morphometry

Violence

Antisocial behavior