Abstract
Obesity among children and adolescents has dramatically increased over the past two to three decades and is now a major public health issue. During this same period, youth exposure to media devices also became increasingly prevalent. Here, we present the novel hypothesis that media multitasking (MMT)—the simultaneous use of and switching between unrelated forms of digital media—is associated with an imbalance between regulatory processes and reward-related responses to appetitive food stimuli, resulting in a greater sensitivity to external food cues among high media multitaskers. This, in turn, may contribute to overeating and weight gain over time. To test this hypothesis, we conducted two studies examining research participants who grew up during the recent period of escalating multitasking and obesity—and among whom 37% are overweight or obese. In Study 1, participants' propensity to engage in MMT behaviors was associated with a higher risk for obesity (as indicated by higher body mass index and body fat percentage). Next, in Study 2, a subset of participants from Study 1 were exposed to appetitive food cues while undergoing functional neuroimaging and then, using passive mobile sensing, the time participants spent in various food points-of-sale over an academic term was inferred from GPS coordinates of their mobile device. Study 2 revealed that MMT was associated with an altered pattern of brain activity in response to appetizing food cues, specifically an imbalance favoring reward-related activity in ventral striatum and orbitofrontal cortex—relative to recruitment of the frontoparietal control network. This relationship was further tested in a mediation model, whereby increased MMT, via a brain imbalance favoring reward over control, was associated with greater time spent in campus eateries. Taken together, findings from both studies suggest the possibility that media multitasking may be implicated in the recent obesity epidemic.
Access options
Buy single article
Instant access to the full article PDF.
USD 39.95
Price excludes VAT (USA)
Tax calculation will be finalised during checkout.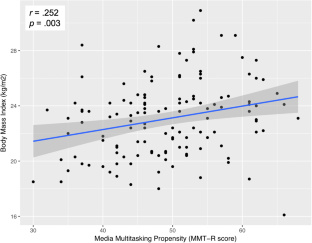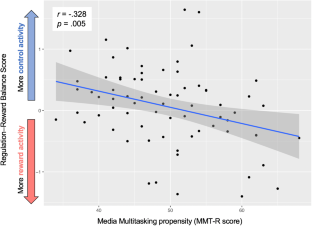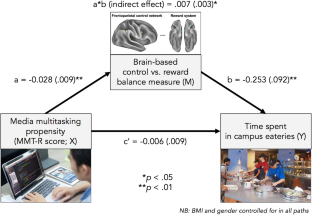 Notes
See Method (and Appendix A) for additional details about the MMT-R scale's items, reliability, and the underlying constructs it measures.
References
American College Health Association. (2016) American College Health Association-National College Health Assessment II: Reference Group Executive Summary Spring 2016. Hanover, MD: American College Health Association; 2016.

Anderson, B. A., Laurent, P. A., & Yantis, S. (2011a). Learned value magnifies salience-based attentional capture. PLoS One, 6(11), e27926.

Anderson, B. A., Laurent, P. A., & Yantis, S. (2011b). Value-driven attentional capture. Proceedings of the National Academy of Sciences of the United States of America, 108(25), 10367–10371.

Anderson, B. A., Faulkner, M. L., Rilee, J. J., Yantis, S., & Marvel, C. L. (2013). Attentional bias for nondrug reward is magnified in addiction. Experimental and Clinical Psychopharmacology, 21(6), 499–506.

Bar-Haim, Y., Lamy, D., Pergamin, L., Bakermans-Kranenburg, M. J., & van IJzendoorn, M. H. (2007). Threat-related attentional bias in anxious and nonanxious individuals: A meta-analytic study. Psychological Bulletin, 133(1), 1–24.

Baron, R. M., & Kenny, D. A. (1986). The moderator–mediator variable distinction in social psychological research: Conceptual, strategic, and statistical considerations. Journal of Personality and Social Psychology, 51(6), 1173.

Beiter, R., Nash, R., McCrady, M., Rhoades, D., Linscomb, M., Clarahan, M., & Sammut, S. (2015). The prevalence and correlates of depression, anxiety, and stress in a sample of college students. Journal of Affective Disorders, 173, 90–96.

Boswell, R. G., & Kober, H. (2016). Food cue reactivity and craving predict eating and weight gain: A meta-analytic review. Obesity Reviews : An Official Journal of the International Association for the Study of Obesity, 17(2), 159–177.

Carrier, L. M., Cheever, N. A., Rosen, L. D., Benitez, S., & Chang, J. (2009). Multitasking across generations: Multitasking choices and difficulty ratings in three generations of Americans. Computers in Human Behavior, 25(2), 483–489.

Chao, A. M., Loughead, J., Bakizada, Z. M., Hopkins, C. M., Geliebter, A., Gur, R. C., & Wadden, T. A. (2017). Sex/gender differences in neural correlates of food stimuli: A systematic review of functional neuroimaging studies. Obesity Reviews, 18(6), 687–699.

Collishaw, S. (2015). Annual research review: Secular trends in child and adolescent mental health. Journal of Child Psychology and Psychiatry, and Allied Disciplines, 56(3), 370–393.

Cronbach, L. J. (1951). Coefficient alpha and the internal structure of tests. Psychometrika, 16(3), 297–334.

Demos, K. E., Heatherton, T. F., & Kelley, W. M. (2012). Individual differences in nucleus Accumbens activity to food and sexual images predict weight gain and sexual behavior. The Journal of Neuroscience: The Official Journal of the Society for Neuroscience, 32(16), 5549–5552.

Foehr, U. G. (2006). Media multitasking among American youth: Prevalence, predictors and pairings. Menlo Park: Henry J. Kaiser Family Foundation.

Fryar, C. D., Carroll, M. D., & Ogden, C. L. (2014). Prevalence of overweight and obesity among children and adolescents: United States, 1963–1965 through 2011–2012. Atlanta, GA: National Center for Health Statistics.

Geha, P., Cecchi, G., Constable, T. R., Abdallah, C., & Small, D. M. (2016). Reorganization of brain connectivity in obesity. Human Brain Mapping, 38, 1403–1420. 

Heatherton, T. F., & Wagner, D. D. (2011). Cognitive neuroscience of self-regulation failure. Trends in Cognitive Science, 15, 132–139.

Hofmann, W., Baumeister, R. F., Förster, G., & Vohs, K. D. (2012). Everyday temptations: An experience sampling study of desire, conflict, and self-control. Journal of Personality and Social Psychology, 102(6), 1318–1335.

Holsen, L. M., Davidson, P., Cerit, H., Hye, T., Moondra, P., Haimovici, F., ... & Stoeckel, L. E. (2017). Neural predictors of 12-month weight loss outcomes following bariatric surgery. International Journal of Obesity.

Jebb, S. A., Cole, T. J., Doman, D., Murgatroyd, P. R., & Prentice, A. M. (2000). Evaluation of the novel Tanita body-fat analyser to measure body composition by comparison with a four-compartment model. British Journal of Nutrition, 83(2), 115–122.

Kaiser, H. F. (1974). An index of factorial simplicity. Psychometrika, 39(1), 31–36.

Kelley, W. M., Wagner, D. D., & Heatherton, T. F. (2015). In search of a human self-regulation system. Annual Review of Neuroscience, 38(1), 389–411.

Kit, B.K., Ogden, C.L., Flegal, K.M. (2014). Epidemiology of obesity. Handbook of Epidemiology (springer), pp 2229–2262.

Lopez, R. B., & Heatherton, T. F. (2017). Media multitasking is associated with reduced activity in frontoparietal (versus reward) systems, lower trait self-control, and higher body mass index. Presented at the social cognitive and affective neuroscience annual meeting, Los Angeles, CA.

Lopez, R. B., Hofmann, W., Wagner, D. D., Kelley, W. M., & Heatherton, T. F. (2014). Neural predictors of giving in to temptation in daily life. Psychological Science, 25(7), 1337–1344.

Lopez, R. B., Chen, P.-H. A., Huckins, J. F., Hofmann, W., Kelley, W. M., & Heatherton, T. F. (2017). A balance of activity in brain control and reward systems predicts self-regulatory outcomes. Social Cognitive and Affective Neuroscience, 12, 832–838.

Lopez, R. B., Salinger, J., Heatherton, T. F., & Wagner, D.D. (2018). Media multitasking is associated with altered processing of irrelevant cues during person perception. BMC Psychology, 6(44), 1–7.

Mathews, A., Ridgeway, V., & Williamson, D. A. (1996). Evidence for attention to threatening stimuli in depression. Behaviour Research and Therapy, 34(9), 695–705.

Neal, D. T., Wood, W., Labrecque, J. S., & Lally, P. (2012). How do habits guide behavior? Perceived and actual triggers of habits in daily life. Journal of Experimental Social Psychology, 48(2), 492–498.

Ng, M., Fleming, T., Robinson, M., Thomson, B., Graetz, N., Margono, C., ... & Abraham, J. P. (2014). Global, regional, and national prevalence of overweight and obesity in children and adults during 1980–2013: a systematic analysis for the Global Burden of Disease Study 2013. The Lancet, 384(9945), 766–781.

Ogden, C. L., Carroll, M. D., Kit, B. K., & Flegal, K. M. (2014). Prevalence of childhood and adult obesity in the United States, 2011-2012. JAMA: The Journal of the American Medical Association, 311(8), 806–814.

Ogden, C. L., Carroll, M. D., Lawman, H. G., et al. (2016). Trends in obesity prevalence among children and adolescents in the united states, 1988–1994 through 2013–2014. JAMA: The Journal of the American Medical Association, 315(21), 2292–2299.

Ophir, E., Nass, C., & Wagner, A. D. (2009). Cognitive control in media multitaskers. Proceedings of the National Academy of Sciences, 106(37), 15583–15587.

Power, J. D., Cohen, A. L., Nelson, S. M., Wig, G. S., Barnes, K. A., Church, J. A., Vogel, A. C., Laumann, T. O., Miezin, F. M., Schlaggar, B. L., & Petersen, S. E. (2011). Functional network Organization of the Human Brain. Neuron, 72(4), 665–678.

Pursey, K. M., Stanwell, P., Callister, R. J., Brain, K., Collins, C. E., & Burrows, T. L. (2014). Neural responses to visual food cues according to weight status: A systematic review of functional magnetic resonance imaging studies. Frontiers in Nutrition, 1, 7.

Rideout, V. J., Foehr, U. G., & Roberts, D. F. (2006). Generation M2: Media in the Lives of 8- to 18-year-olds. Henry J. Kaiser Family Foundation. Retrieved from http://www.eric.ed.gov/?id=ED527859

Rideout, V. J., Foehr, U. G., & Roberts, D. F. (2010). Generation M2: Media in the lives of 8-to 18-year-olds. Menlo Park: Henry J. Kaiser Family Foundation.

Rodin, J. (1981). Current status of the internal–external hypothesis for obesity: What went wrong? The American Psychologist, 36(4), 361–372.

Rosenberg, M. D., Finn, E. S., Scheinost, D., Constable, R. T., & Chun, M. M. (2017). Characterizing attention with predictive network models. Trends in Cognitive Sciences, 21, 290–302.

Rosseel, Y. (2012). Lavaan: An R package for structural equation modeling and more. Version 0.5–12 (BETA). Journal of Statistical Software, 48(2), 1–36.

Schachter, S. (1971). Some extraordinary facts about obese humans and rats. The American Psychologist, 26(2), 129–144.

Shrout, P. E., & Bolger, N. (2002). Mediation in experimental and nonexperimental studies: New procedures and recommendations. Psychological Methods, 7, 422–445.

Tangney, J. P., Baumeister, R. F., & Boone, A. L. (2004). High self-control predicts good adjustment, less pathology, better grades, and interpersonal success. Journal of Personality, 72(2), 271–324.

Twenge, J. M. (2015). Time period and birth cohort differences in depressive symptoms in the U.S., 1982–2013. Social Indicators Research, 121(2), 437–454.

Wagner, D. D. (2017). The use of reward cue-reactivity in predicting real-world self-control failure. In D. Ridder, M. Adriaanse, & K. Fujita (Eds.), Routledge International Handbook of Self-Control in Health and Well-Being. Abingdon-on-Thames, UK: Routledge.

Wagner, D.D. & Heatherton, T.F. (2014) Self-Regulation and its Failure: Seven Deadly Threats to Self-Regulation. In M. Mikulincer, P. R. Shaver, E. Borgida, & J. A. Bargh (Eds.), APA Handbook of Personality and Social Psychology: Volume 1. Attitudes and Social Cognition. Washington, D.C.: American Psychological Association.

Wagner, D. D., Altman, M., Boswell, R. G., Kelley, W. M., & Heatherton, T. F. (2013). Self-regulatory depletion enhances neural responses to rewards and impairs top-down control. Psychological Science, 24(11), 2262–2271.

Wang, R., Chen, F., Chen, Z., Li, T., Harari, G., Tignor, S., et al. (2014). StudentLife: Assessing mental health, academic performance and behavioral trends of college students using smartphones. In Proceedings of the 2014 ACM international joint conference on pervasive and ubiquitous computing (pp. 3–14). New York, NY, USA: ACM.

Wentz, E., Björk, A., & Dahlgren, J. (2016). Neurodevelopmental disorders are highly over-represented in children with obesity: A cross-sectional study. Obesity, 25(1), 178–184.

Wilson, A. C., Ochman, H., & Prager, E. M. (1987). Molecular time scale for evolution. Trends in Genetics, 3, 241–247.
Funding
This study was funded by the National Institutes of Health, specifically the National Institute on Drug Abuse (grant number R01DA022582).
Ethics declarations
Conflict of interest
Author Lopez declares that he has no conflict of interest. Author Heatherton declares that he has no conflict of interest. Author Wagner declares that he has no conflict of interest.
Ethical approval
All procedures performed in studies involving human participants were in accordance with the ethical standards of the institutional and/or national research committee and with the 1964 Helsinki declaration and its later amendments or comparable ethical standards.
Informed consent
Informed consent was obtained from all individual participants included in the study.
Additional information
Publisher's note
Springer Nature remains neutral with regard to jurisdictional claims in published maps and institutional affiliations.
Appendix 1
Appendix 1
Validity Testing of the Media Multitasking Inventory
Before running Studies 1 and 2 reported above, we examined whether the most popular assessment of MMT, the media multitasking inventory (Ophir et al. 2009), would be a viable assessment of media multitasking tendencies, and whether it related to proxies for self-control success/failure in the eating domain. To this end, we administered the Ophir inventory along with an assessment of BMI and trait self-control (Tangney et al. 2004), in a web-based survey to the Dartmouth introductory psychology and neuroscience participant pool across several terms (N = 673, 426 females). We found a significant but weak association between MMT scores and self-reported BMI, r(671) = .082, p = .034, as well as a significant negative association between MMT scores and trait self-control, r(671) = −.254, p < .001.
Participants in this sample often reported that the MMT inventory was tedious and at times difficult to complete, due to formatting of the questions and what participants were asked to report (i.e., separately estimating the percentage of time using 10–11 forms of unrelated media while engaging in a primary communications medium, and then repeating this estimation procedure 11 additional times with other media serving as the primary medium). Moreover, the relatively small effect sizes raise the possibility of low construct validity of Ophir and colleagues' MMT inventory. With these considerations in mind, we developed a new scale (MMT-Revised; MMT-R) that more concisely assesses media multitasking and its related distractibility (see below, also: Lopez and Heatherton 2017; Lopez et al. 2018).
Psychometric development and validation of the MMT-R scale
Originally, there were 30 candidate items in the MMT-R that we administered in a large participant pool sample at Dartmouth (N = 995). Some of these items tapped other traits that we hypothesized may show overlap with multitasking (e.g., impulsiveness, conscientiousness). With all 30 items, we calculated item-total correlations, which ranged widely (−0.022 to 0.561). For all subsequent analysis, we excluded items that had relatively weak or near zero correlations (i.e., by r < .3 by convention).
The remaining set consisted of 18 items (see Table 1, below), and we found there were strong inter-correlations among these items based on Bartlett's Test of Sphericity, χ2(153) = 4948.6, p < .001. Internal consistency was also sufficiently high, Cronbach's alpha = 0.86 (Cronbach 1951). Next, in order to test whether these items were conducive to factor analysis, we calculated measure of sampling adequacy (MSA; Kaiser 1974) for all items. MSA values ranged from 0.835 to 0.923, and the Kaiser-Meyer-Olkin (KMO) index was 0.881. Given this relatively high covariance between items, we submitted the items to a principal components analysis, which we performed with an orthogonal (varimax) rotation, to see if there would be unrelated factors that jointly contributed to capture MMT behaviors.
This factor analysis returned two factors that collectively explained 39% of the total variance. Item loadings were relatively interpretable, in that items generally loaded on one factor or the other, with 14 out of the 18 items having ≥ .5 loadings on either factor and factor loadings across all items were strongly negatively correlated, r(16) = −0.85 (95% CI: -0.636, −0.943), p < .001.
The factors seemed to generally reflect either: (1) (pro)active behaviors of compulsive or inappropriate phone checking (e.g., "When talking to someone face-to-face, how often do you feel the urge to check your phone for unread messages, notifications, etc.?"); or (2) more passive tendencies that encompass interference, distractibility, procrastination, and multitasking (e.g., "How often do you find yourself procrastinating by viewing media content online?") (See Table 1 for all item loadings).
To test for multiple types of validity of the MMT-R scale, we administered Ophir and colleagues' original MMT inventory, the MMT-R scale, and trait self-control in a separate college-aged sample (N = 87, 59 females). First, we found that the MMT inventory by Ophir and colleagues and the MMT-R scale were significantly correlated, r(85) = .381, p < .001. The original MMT inventory was negatively correlated with trait self-control, r(85) = −.199, p = .065, but scores from the MMT-R scale were more robustly associated with (reduced) trait self-control, r(85) = −.588, p < .001. This latter correlation coefficient (−.588) was significantly lower than the former (−.199), z = 3.741, p < .001.
Lastly, to examine test–retest reliability, we found that scores on this 18-item version were relatively stable over time (i.e., beginning versus end of an academic term) in a separate participant pool sample (N = 135), r(133) = .80 (95% CI: .73, .85), p < .001.
Scale availability
We have made the MMT-R scale available for research purposes at the following link on the Open Science Framework: https://mfr.osf.io/render?url=https://osf.io/vrdh6/?action=download%26mode=render.
About this article
Cite this article
Lopez, R.B., Heatherton, T.F. & Wagner, D.D. Media multitasking is associated with higher risk for obesity and increased responsiveness to rewarding food stimuli. Brain Imaging and Behavior 14, 1050–1061 (2020). https://doi.org/10.1007/s11682-019-00056-0
Published:

Issue Date:

DOI: https://doi.org/10.1007/s11682-019-00056-0
Keywords
Media multitasking

Obesity

Self-control failure

Cue reactivity

Reward