Abstract
Neurological impairment plays an important role in the development of Ankylosing spondylitis (AS). Early diagnosis and detection of it may stop the progress of neurological complications and improve the quality of patients' lives greatly. Somatosensory evoked potential (SSEP) and magnetic motor evoked potentials (MEP) have been proved useful to detect neurological impairments of AS. This study aimed to investigate the cerebral function deficits of AS using functional MRI technology. Twenty seven patients with AS and 28 control subjects were included in this study. All of them underwent structural MRI and resting state-functional MRI (rs-fMRI) scanning. Comparisons of amplitude of low frequency fluctuations (ALFF) of rs-fMRI signals between AS patients and normal controls were performed using two sample t-tests. To examine functional connectivity within the groups, one-sample t tests were performed on the individual z-value maps. The z values were compared between the two groups using two-sample t test. Partial correlations between rs-fMRI measures (ALFF and functional connectivity) of the brain regions which showed group difference and clinical results including the Bath Ankylosing Spondylitis Disease Activity Index (BASDAI) score, the serum high-sensitivity C-reactive protein (hsCRP), and the erythrocyte sedimentation rate (ESR) were analyzed for AS patients. Compared with normal controls, the AS patients exhibited significant lower ALFF in the left medial frontal gyrus, the right precentral gyrus and the right posterior cingulate, while higher ALFF in the left cerebellum anterior lobe, the left middle temporal gyrus, the left superior occipital gyrus, the left postcentral gyrus and the right precuneus. AS patients showed widespread brain connectivity alterations. Functional connectivity strength of the left precuneus and the left middle temporal gyrus were closely correlated with the the BASDAI scores, ESR and hsCRP in AS patients. Our results enhance the understanding of the pathomechanism of AS and suggest that Rs-fMRI may be a helpful tool in the clinical detection and evaluation of neurological impairment in AS.
Access options
Buy single article
Instant access to the full article PDF.
USD 39.95
Price excludes VAT (USA)
Tax calculation will be finalised during checkout.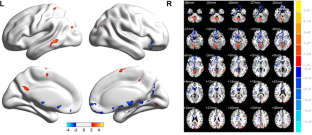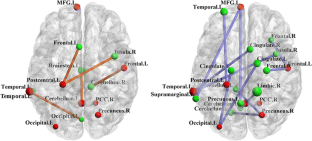 Abbreviations
AS:

Ankylosing spondylitis

rs-fMRI:

Resting state-functional MRI

ALFF:

Amplitude of low frequency fluctuations

BASDAI:

Bath Ankylosing Spondylitis Disease Activity Index

hsCRP:

High-sensitivity C-reactive protein

ESR:

Erythrocyte sedimentation rate

FD:

Framewise displacement
References
Ashburner, J., & Friston, K. (2005). Unified segmentation. NeuroImage, 26(3), 839–851.

Borman, P., Tuncay, F., Köybaşi, M., Ergun, U., & Inan, L. (2011). Coexistence of ankylosing spondylitis and multiple sclerosis. Acta Neurologica Belgica, 111(4), 340–343.

Calin, A., Nakache, J. P., Gueguen, A., Zeidler, H., Mielants, H., & Dougados, M. (1999). Defining disease activity in ankylosing spondylitis: is a combination of variables (bath ankylosing spondylitis disease activity index) an appropriate instrument? Rheumatology, 38(9), 878e82.

Castellino, G., Govoni, M., Padovan, M., Colamussi, P., Borrelli, M., & Trotta, F. (2005). Proton magnetic resonance spectroscopy may predict future brain lesions in SLE patients: a functional multi-imaging approach and follow up. Annals of the Rheumatic Diseases, 64(7), 1022–1027.

Cidem, M., Sahin, Z., Aydin, T., & Aysal, F. (2014). Somatosensory evoked potential findings in ankylosing spondylitis. Eurasian Journal of Medicine, 46(1), 42–46.

Dai, Z., Yan, C., Wang, Z., et al. (2012). Discriminative analysis of early Alzheimer's disease using multi-modal imaging and multi-level characterization with multi-classifier (M3). NeuroImage, 59(3), 2187–2195.

Goncalves, S. I., de Munck, J. C., Pouwels, P. J., et al. (2006). Correlating the alpha rhythm to BOLD using simultaneous EEG/fMRI: inter-subject variability. NeuroImage, 30(1), 203–213.

Gündüz, O. H., Kiralp, M. Z., Ozçakar, L., Cakar, E., Yildirim, P., & Akyuz, G. (2010). Nerve conduction studies in patients with ankylosing spondylitis. Journal of the National Medical Association, 102(3), 243–246.

Han, Y., Wang, J., Zhao, Z., et al. (2010). Frequency-dependent changes in the amplitude of low-frequency fluctuations in amnestic mild cognitive impairment: a resting-state fMRI study. NeuroImage, 55(1), 287–295.

Hanrahan, P. S., Russell, A. S., & McLean, D. R. (1988). Ankylosing spondylitis and multiple sclerosis: an apparent association? The Journal of Rheumatology, 15(10), 1512–1514.

Hemington KS, Wu Q, Kucyi A, Inman RD, Davis KD. 2015. Abnormal cross-network functional connectivity in chronic pain and its association with clinical symptoms. Brain Structure & Function. doi:10.1007/s00429-015-1161-1.

Jamshidi, A. R., Shahlaee, A., Farhadi, E., et al. (2014). Clinical characteristics and medical management of Iranian patients with ankylosing spondylitis. Modern Rheumatology, 24(3), 499–504.

Jenkinson, M., Bannister, P., Brady, M., & Smith, S. (2002). Improved optimization for the robust and accurate linear registration and motion correction of brain images. NeuroImage, 17(2), 825–841.

Khedr, E. M., Rashad, S. M., Hamed, S. A., El-Zharaa, F., & Abdalla, A. K. (2009). Neurological complications of ankylosing spondylitis: neurophysiological assessment. Rheumatology International, 29(9), 1031–1040.

Leopold, D. A., Murayama, Y., & Logothetis, N. K. (2003). Very slow activity fluctuations in monkey visual cortex: implications for functional brain imaging. Cerebral Cortex, 13(4), 422–433.

Lui, S., Deng, W., Huang, X., et al. (2009a). Association of cerebral deficits with clinical symptoms in antipsychotic-naive first-episode schizophrenia: an optimized voxel-based morphometry and resting state functional connectivity study. The American Journal of Psychiatry, 166(2), 196–205.

Lui, S., Huang, X., Chen, L., et al. (2009b). High-field MRI reveals an acute impact on brain function in survivors of the magnitude 8.0 earthquake in China. Proceedings of the National Academy of Sciences of the United States of America, 106(36), 15412–15417.

Ma, C., Ding, J., Li, J., et al. (2012). Resting-state functional connectivity bias of middle temporal gyrus and caudate with altered gray matter volume in major depression. PloS One, 7(9), e45263.

Margulies, D. S., Vincent, J. L., Kelly, C., et al. (2009). Precuneus shares intrinsic functional architecture in humans and monkeys. Proceedings of the National Academy of Sciences of the United States of America, 106(47), 20069–20074.

Menon, V. (2011). Large-scale brain networks and psychopathology: a unifying triple network model. Trends in Cognitive Sciences, 15(10), 483–506.

Mercieca, C., van der Horst-Bruinsma, I. E., & Borg, A. A. (2014). Pulmonary, renal and neurological comorbidities in patients with ankylosing spondylitis; implications for clinical practice. Current Rheumatology Reports, 16(8), 434.

Noroozian, M. (2014). The role of the cerebellum in cognition: beyond coordination in the central nervous system. Neurologic Clinics, 32(4), 1081–1104.

Pikula, A., Stefanidou, M., Romero, J. R., & Kase, C. S. (2011). Pure motor upper limb weakness and infarction in the precentral gyrus: mechanisms of stroke. Journal of Vascular and Interventional Neurology, 4(1), 10–13.

Rozell, C. L., Sibbitt Jr., W. L., & Brooks, W. M. (1998). Structural and neurochemical markers of brain injury in the migraine diathesis of systemic lupus erythematosus. Cephalalgia, 18(4), 209–215.

Saykin, A. J., de Ruiter, M. B., McDonald, B. C., Deprez, S., & Silverman, D. H. (2013). Neuroimaging biomarkers and cognitive function in non-CNS cancer and its treatment: current status andrecommendations for future research. Brain Imaging and Behavior, 7(4), 363–373.

Spreng, R. N., Mar, R. A., & Kim, A. S. (2009). The common neural basis of autobiographical memory, prospection, navigation, theory of mind, and the default mode: a quantitative meta-analysis. Journal of Cognitive Neuroscience, 21(3), 489–510.

Talati, A., & Hirsch, J. (2005). Functional specialization within the medial frontal gyrus for perceptual go/no-go decisions based on "what," "when," and "where" related information: an fMRI study. Journal of Cognitive Neuroscience, 17(7), 981–993.

Tan, F. U., Tellioglu, S., Aydin, G., Erdemoglu, A. K., & Keles, I. (2004). Ankylosing spondylitis and multiple sclerosis in an HLA-B27 negative patient. Acta Neurologica Belgica, 104(4), 169–172.

Thomas, D. J., Kendall, M. J., & Whitfield, A. G. (1974). Nervous system involvement in ankylosing spondylitis. British Medical Journal, 1(5899), 148–150.

Wang, Z., Yan, C., Zhao, C., et al. (2011). Spatial patterns of intrinsic brain activity in mild cognitive impairment and Alzheimer's disease: a resting-state functional MRI study. Human Brain Mapping, 32(10), 1720–1740.

Wordsworth, B. P., & Mowat, A. G. (1986). A review of 100 patients with ankylosing spondylitis with particular reference to socio-economic effects. British Journal of Rheumatology, 25(2), 175–180.

Yan, C. G., Cheung, B., Kelly, C., et al. (2013). A comprehensive assessment of regional variation in the impact of head micromovements on functional connectomics. NeuroImage, 76, 183–201.

Zang, Y. F., He, Y., Zhu, C. Z., et al. (2007). Altered baseline brain activity in children with ADHD revealed by resting-state functional MRI. Brain Dev, 29(2), 83–91.

Zou, Q. H., Zhu, C. Z., Yang, Y., et al. (2008). An improved approach to detection of amplitude of low-frequency fluctuation (ALFF) for resting-state fMRI: fractional ALFF. Journal of Neuroscience Methods, 172(1), 137–141.
Ethics declarations
Conflict of interest
The authors declare that they have no competing interests.
Contributions
JZ, QZ carried out the data acquisition and drafted the manuscript. XW, YZ carried out the data analysis and revised the manuscript. JW, JZ, XY participated in the design of the study, performed the statistical analysis and helped to revise the manuscript. CL conceived of the study, and participated in its design and coordination and helped to draft the manuscript. All authors read and approved the final manuscript.
Additional information
Chuanming Li and Xin Wei contributed equally to this work.
About this article
Cite this article
Li, C., Wei, X., Zou, Q. et al. Cerebral functional deficits in patients with ankylosing spondylitis- an fMRI study. Brain Imaging and Behavior 11, 936–942 (2017). https://doi.org/10.1007/s11682-016-9565-y
Published:

Issue Date:

DOI: https://doi.org/10.1007/s11682-016-9565-y
Keywords
Ankylosing spondylitis

Resting state functional magnetic resonance imaging

Amplitude of low-frequency fluctuations (ALFF)

Connectivity