Abstract
Alice in Wonderland Syndrome (AIWS) is characterized by a rare constellation of perceptual disturbances including distorted body image, metamorphopsia, and visual hallucinations. In this report, we relate a unique case of AIWS in a woman with a right temporo-parietal cavernoma. AIWS in this patient may be secondary to epileptiform activity associated with the cavernoma and improved with anti-epileptic treatment.
Access options
Buy single article
Instant access to the full article PDF.
US$ 39.95
Tax calculation will be finalised during checkout.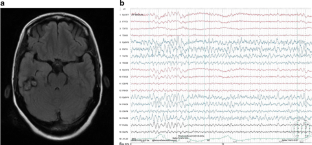 References
Damasio, A. R. (1985). Disorders of complex visual processing. In M. M. Mesulam (Ed.), rinciples of Behavioural Neurology. Philadelphia: FA Davis.

Evans, R. W., & Rolak, L. A. (2004). The Alice in Wonderland Syndrome. Headache, 44(6), 624–625. doi:10.1111/j.1526-4610.2004.446013.x.

Gencoglu, E. A., Alehan, F., Erol, I., Koyuncu, A., & Aras, M. (2005). Brain SPECT findings in a patient with Alice in Wonderland syndrome. Clinical Nuclear Medicine, 30(11), 758–759.

Grant, A. C., Donnelly, K. M., Chubb, C., Barr, W. B., Kuzniecky, R., & Devinsky, O. (2008). Temporal lobe epilepsy does not impair visual perception. Epilepsia, 49(4), 710–713. doi:10.1111/j.1528-1167.2007.01483.x.

Hauf, M., Wiest, R., Schindler, K., Jann, K., Dierks, T., Strik, W., et al. (2013). Common mechanisms of auditory hallucinations-perfusion studies in epilepsy. Psychiatry Research, 211(3), 268–270. doi:10.1016/j.pscychresns.2012.06.007.

Kassubek, J., Otte, M., Wolter, T., Greenlee, M. W., Mergner, T., & Lucking, C. H. (1999). Brain imaging in a patient with hemimicropsia. Neuropsychologia, 37(12), 1327–1334.

Kuo, Y. T., Chiu, N. C., Shen, E. Y., Ho, C. S., & Wu, M. C. (1998). Cerebral perfusion in children with Alice in Wonderland syndrome. Pediatric Neurology, 19(2), 105–108.

Mocellin, R., Walterfang, M., & Velakoulis, D. (2006). Neuropsychiatry of complex visual hallucinations. The Australian and New Zealand Journal of Psychiatry, 40, 742–751.

Shahani, L. (2013). Complex visual hallucinations associated with parietal infarct. Journal of Neuropsychiatry and Clinical Neurosciences, 25(1), E29.

Sommer, I., Diederen, K., Blom, J., Willems, A., Kushan, L., Slotema, K., et al. (2008). Complex auditory and verbal hallucinations predominantly activate the right inferior frontal area. Brain, 131(3), 169–3177.

Todd, J. (1955). The syndrome of Alice in Wonderland. Canadian Medical Association Journal, 73(9), 701–704.
About this article
Cite this article
Philip, M., Kornitzer, J., Marks, D. et al. Alice in Wonderland Syndrome associated with a temporo-parietal cavernoma. Brain Imaging and Behavior 9, 910–912 (2015). https://doi.org/10.1007/s11682-015-9355-y
Keywords
Epilepsy

Hallucinations

Alice in Wonderland Syndrome

Cavernoma