Abstract
There have been many studies examining HIV-infection-related alterations of magnetic resonance imaging (MRI) diffusion metrics. However, examining scalar diffusion metrics ignores the orientation aspect of diffusion imaging, which can be captured with tractography. We examined five different tractography metrics obtained from global tractography maps (global tractography FA, average tube length, normalized number of streamtubes, normalized weighted streamtube length, and normalized total number of tubes generated) for differences between HIV positive and negative patients and the association between the metrics and clinical variables of disease severity. We also examined the relationship between these metrics and cognitive performance across a wide range of cognitive domains for the HIV positive and negative patient groups separately. The results demonstrated a significant difference between the groups for global tractography FA (t = 2.13, p = 0.04), but not for any of the other tractography metrics examined (p-value range = 0.39 to 0.95). There were also several significant associations between the tractography metrics and cognitive performance (i.e., tapping rates, switching 1 and 2, verbal interference, mazes; r ≥ 0.42) for HIV infected patients. In particular, associations were noted between tractography metrics, speed of processing, fine motor control/speed, and executive function for the HIV-infected patients. These findings suggest that tractography metrics capture clinically relevant information regarding cognitive performance among HIV infected patients and suggests the importance of subtle white matter changes in examining cognitive performance.
Access options
Buy single article
Instant access to the full article PDF.
US$ 39.95
Tax calculation will be finalised during checkout.
Subscribe to journal
Immediate online access to all issues from 2019. Subscription will auto renew annually.
US$ 79
Tax calculation will be finalised during checkout.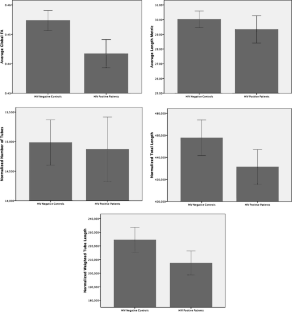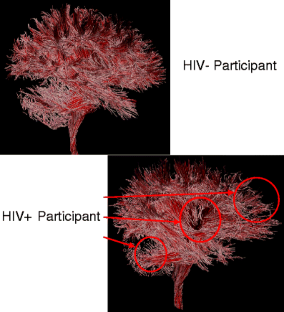 References
An, S. F., Ciardi, A., Giometto, B., Scaravilli, T., Gray, F., & Scaravilli, F. (1996). Investigation on the expression of major histocompatibility complex class II and cytokines and detection of HIV-1 DNA within brains of asymptomatic and symptomatic HIV-1-positive patients. Acta Neuropathologica, 91(5), 494–503.

Assaf, Y., & Pasternak, O. (2008). Diffusion tensor imaging (DTI)-based white matter mapping in brain research: a review. J Mol Neurosci, 34(1), 51–61.

Bell, J. E. (2004). An update on the neuropathology of HIV in the HAART era. Histopathology, 45(6), 549–559.

Budka, H., Costanzi, G., Cristina, S., Lechi, A., Parravicini, C., Trabattoni, R., et al. (1987). Brain pathology induced by infection with the human immunodeficiency virus (HIV). A histological, immunocytochemical, and electron microscopical study of 100 autopsy cases. Acta Neuropathologica, 75(2), 185–198.

Cherner, M., Cysique, L., Heaton, R. K., Marcotte, T. D., Ellis, R. J., Masliah, E., et al. (2007). Neuropathologic confirmation of definitional criteria for human immunodeficiency virus-associated neurocognitive disorders. J Neurovirol, 13(1), 23–28.

Cherner, M., Letendre, S., Heaton, R. K., Durelle, J., Marquie-Beck, J., Gragg, B., et al. (2005). Hepatitis C augments cognitive deficits associated with HIV infection and methamphetamine. Neurology, 64(8), 1343–1347.

Correia, S., Lee, S. Y., Voorn, T., Tate, D. F., Paul, R. H., Zhang, S., et al. (2008). Quantitative tractography metrics of white matter integrity in diffusion-tensor MRI. Neuroimage, 42(2), 568–581.

Cossarizza, A. (2008). Apoptosis and HIV infection: about molecules and genes. Current Pharmaceutical Design, 14(3), 237–244.

Cysique, L. A., Maruff, P., & Brew, B. J. (2006). The neuropsychological profile of symptomatic AIDS and ADC patients in the pre-HAART era: a meta-analysis. Journal of the International Neuropsychological Society, 12(3), 368–382.

Davis, L. E., Hjelle, B. L., Miller, V. E., Palmer, D. L., Llewellyn, A. L., Merlin, T. L., et al. (1992). Early viral brain invasion in iatrogenic human immunodeficiency virus infection. Neurology, 42(9), 1736–1739.

DeBoy, C. A., Zhang, J., Dike, S., Shats, I., Jones, M., Reich, D. S., et al. (2007). High resolution diffusion tensor imaging of axonal damage in focal inflammatory and demyelinating lesions in rat spinal cord. Brain, 130(Pt 8), 2199–2210.

Dewhurst, S., Gelbard, H. A., & Fine, S. M. (1996). Neuropathogenesis of AIDS. Molecular Medicine Today, 2(1), 16–23.

Ding, X. Q., Sun, Y., Braabeta, H., Illies, T., Zeumer, H., Lanfermann, H., et al. (2008). Evidence of Rapid Ongoing Brain Development Beyond Two Years of Age Detected by Fiber Tracking. AJNR. American Journal of Neuroradiology, 29(7), 1261–1265.

Dubois, J., Dehaene-Lambertz, G., Soares, C., Cointepas, Y., Le Bihan, D., & Hertz-Pannier, L. (2008). Microstructural correlates of infant functional development: example of the visual pathways. J Neurosci, 28(8), 1943–1948.

Everall, I. P., Hansen, L. A., & Masliah, E. (2005). The shifting patterns of HIV encephalitis neuropathology. Neurotoxicity Research, 8(1–2), 51–61.

Everall, I. P., Luthert, P. J., & Lantos, P. L. (1993). Neuronal number and volume alterations in the neocortex of HIV infected individuals. Journal of Neurology, Neurosurgery and Psychiatry, 56(5), 481–486.

Ferrarese, C., Aliprandi, A., Tremolizzo, L., Stanzani, L., De Micheli, A., Dolara, A., et al. (2001). Increased glutamate in CSF and plasma of patients with HIV dementia. Neurology, 57(4), 671–675.

Filippi, C. G., Ulug, A. M., Ryan, E., Ferrando, S. J., & van Gorp, W. (2001). Diffusion tensor imaging of patients with HIV and normal-appearing white matter on MR images of the brain. AJNR. American Journal of Neuroradiology, 22(2), 277–283.

Gilmore, J. H., Lin, W., Corouge, I., Vetsa, Y. S., Smith, J. K., Kang, C., et al. (2007). Early Postnatal Development of Corpus Callosum and Corticospinal White Matter Assessed with Quantitative Tractography. AJNR. American Journal of Neuroradiology, 28(9), 1789–1795.

Gray, F., Lescs, M. C., Keohane, C., Paraire, F., Marc, B., Durigon, M., et al. (1992). Early brain changes in HIV infection: neuropathological study of 11 HIV seropositive, non-AIDS cases. Journal of Neuropathology and Experimental Neurology, 51(2), 177–185.

Haughey, N. J., Nath, A., Mattson, M. P., Slevin, J. T., & Geiger, J. D. (2001). HIV-1 Tat through phosphorylation of NMDA receptors potentiates glutamate excitotoxicity. Journal of Neurochemistry, 78(3), 457–467.

Haverkos, H. W. (1998). HIV/AIDS and drug abuse: epidemiology and prevention. Journal of Addictive Diseases, 17(4), 91–103.

Heaton, R. K., Marcotte, T. D., Mindt, M. R., Sadek, J., Moore, D. J., Bentley, H., et al. (2004a). The impact of HIV-associated neuropsychological impairment on everyday functioning. Journal of the International Neuropsychological Society, 10(3), 317–331.

Heaton, R. K., Walden, M., Taylor, M. J., & Grant, I. (2004b). Revised comprehensive norms for an expanded Halstead-Reitan battery: demographically adjusted neuropsychological norms for African Americans and Caucasian Adults. Lutz: Psychological Assessment Resources, Inc.

Hilsabeck, R. C., Castellon, S. A., & Hinkin, C. H. (2005). Neuropsychological aspects of coinfection with HIV and hepatitis C virus. Clinical Infectious Diseases, 41(Suppl 1), S38–44.

Kellogg, S., McHugh, P., Bell, K., Schluger, J., Schluger, R., LaForge, K., et al. (2003). The Kreek–McHugh–Schluger–Kellog scale: a new, rapid method for quantifying substance abuse and its possible applications. Drug and Alcohol Dependence, 69(2), 137–150.

Kim, A. Y., & Lauer, G. M. (2007). Pathogenesis of HIV-HCV Coinfection. Current Infectious Disease Reports, 9(4), 331–337.

Lin, W., Weinberg, E. M., Tai, A. W., Peng, L. F., Brockman, M. A., Kim, K. A., et al. (2008). HIV increases HCV replication in a TGF-beta1-dependent manner. Gastroenterology, 134(3), 803–811.

Lipton, S. A. (1991). HIV-related neurotoxicity. Brain Pathology, 1(3), 193–199.

Louboutin, J. P., Agrawal, L., Reyes, B. A., Van Bockstaele, E. J., & Strayer, D. S. (2007). Protecting neurons from HIV-1 gp120-induced oxidant stress using both localized intracerebral and generalized intraventricular administration of antioxidant enzymes delivered by SV40-derived vectors. Gene Therapy, 14(23), 1650–1661.

Masliah, E., Heaton, R. K., Marcotte, T. D., Ellis, R. J., Wiley, C. A., Mallory, M., et al. (1997). Dendritic injury is a pathological substrate for human immunodeficiency virus-related cognitive disorders. HNRC Group. The HIV Neurobehavioral Research Center. Annals of Neurology, 42(6), 963–972.

McArthur, J. C., McDermott, M. P., McClernon, D., St Hillaire, C., Conant, K., Marder, K., et al. (2004). Attenuated central nervous system infection in advanced HIV/AIDS with combination antiretroviral therapy. Archives of Neurology, 61(11), 1687–1696.

Paul, R. H., Lawrence, J., Williams, L. M., Richard, C. C., Cooper, N., & Gordon, E. (2005). Preliminary validity of "integneuro": a new computerized battery of neurocognitive tests. International Journal of Neuroscience, 115(11), 1549–1567.

Perry, W., Hilsabeck, R., & Hassanein, T. (2008). Cognitive dysfunction in chronic hepatitis C: a reviewq. Digestive Diseases and Sciences, 53, 307–321.

Pfefferbaum, A., Rosenbloom, M. J., Adalsteinsson, E., & Sullivan, E. V. (2007). Diffusion tensor imaging with quantitative fibre tracking in HIV infection and alcoholism comorbidity: synergistic white matter damage. Brain, 130(Pt 1), 48–64.

Pomara, N., Crandall, D. T., Choi, S. J., Johnson, G., & Lim, K. O. (2001). White matter abnormalities in HIV-1 infection: a diffusion tensor imaging study. Psychiatry Research, 106(1), 15–24.

Power, C., Kong, P. A., Crawford, T. O., Wesselingh, S., Glass, J. D., McArthur, J. C., et al. (1993). Cerebral white matter changes in acquired immunodeficiency syndrome dementia: alterations of the blood-brain barrier. Annals of Neurology, 34(3), 339–350.

Ragin, A. B., Storey, P., Cohen, B. A., Edelman, R. R., & Epstein, L. G. (2004). Disease burden in HIV-associated cognitive impairment: a study of whole brain imaging measures. Neurology, 63(12), 2293–2297.

Ragin, A. B., Wu, Y., Storey, P., Cohen, B. A., Edelman, R. R., & Epstein, L. G. (2005). Diffusion tensor imaging of subcortical brain injury in patients infected with human immunodeficiency virus. Journal of Neurovirology, 11(3), 292–298.

Samet, J. H., Walley, A. Y., & Bridden, C. (2007). Illicit drugs, alcohol, and addiction in human immunodeficiency virus. Panminerva Medica, 49(2), 67–77.

Schlosser, R. G., Nenadic, I., Wagner, G., Gullmar, D., von Consbruch, K., Kohler, S., et al. (2007). White matter abnormalities and brain activation in schizophrenia: a combined DTI and fMRI study. Schizophrenia Research, 89(1–3), 1–11.

Schmierer, K., Wheeler-Kingshott, C. A., Boulby, P. A., Scaravilli, F., Altmann, D. R., Barker, G. J., et al. (2007). Diffusion tensor imaging of post mortem multiple sclerosis brain. Neuroimage, 35(2), 467–477.

Silverstein, S. M., Berten, S., Olson, P., Paul, R., Willams, L. M., Cooper, N., et al. (2007). Development and validation of a World-Wide-Web-based neurocognitive assessment battery: WebNeuro. Behavior Research Methods, 39(4), 940–949.

Skranes, J., Vangberg, T. R., Kulseng, S., Indredavik, M. S., Evensen, K. A., Martinussen, M., et al. (2007). Clinical findings and white matter abnormalities seen on diffusion tensor imaging in adolescents with very low birth weight. Brain, 130(Pt 3), 654–666.

Smit, C., van den Berg, C., Geskus, R., Berkhout, B., Coutinho, R., & Prins, M. (2008). Risk of hepatitis-related mortality increased among hepatitis C virus/HIV-coinfected drug users compared with drug users infected only with hepatitis C virus: a 20-year prospective study. Journal of Acquired Immune Deficiency Syndromes, 47(2), 221–225.

Sulkowski, M. S., Mehta, S. H., Torbenson, M. S., Higgins, Y., Brinkley, S. C., de Oca, R. M., et al. (2007). Rapid fibrosis progression among HIV/hepatitis C virus-co-infected adults. AIDS, 21(16), 2209–2216.

von Giesen, H. J., Heintges, T., Abbasi-Boroudjeni, N., Kucukkoylu, S., Koller, H., Haslinger, B. A., et al. (2004). Psychomotor slowing in hepatitis C and HIV infection. J Acquir Immune Defic Syndr, 35(2), 131–137.

Wilde, E. A., McCauley, S. R., Hunter, J. V., Bigler, E. D., Chu, Z., Wang, Z. J., et al. (2008). Diffusion tensor imaging of acute mild traumatic brain injury in adolescents. Neurology, 70(12), 948–955.

Zhang, S., Demiralp, C., & Laidlaw, D. (2003). Visualizing diffusion tensor MR images using streamtubes and streamsurfaces. IEEE Transactions on Visualization and Computer Graphics, 9(4), 454–462.
Acknowledgements
This manuscript was supported in part by the following grants: K23-MH073416 (DFT), K23-MH065857 (RP), and P30-AG013846 (DFT).
About this article
Cite this article
Tate, D.F., Conley, J., Paul, R.H. et al. Quantitative Diffusion Tensor Imaging Tractography Metrics are Associated with Cognitive Performance Among HIV-Infected Patients. Brain Imaging and Behavior 4, 68–79 (2010). https://doi.org/10.1007/s11682-009-9086-z
Received:

Accepted:

Published:

Issue Date:
Keywords
HIV

DTI

Neuropsychological performance

Tractography