Abstract
Athletes who fail are susceptible to negative affect (NA) and impaired future performance. Functional magnetic resonance imaging (fMRI) studies have identified prefrontal, anterior cingulate, and limbic activations following negative mood provocation. Little is known about the neural correlates of negative self-reference (SR), especially in athletes. Even less is known about the neural correlates of the effects of cognitive intervention (CI) in modifying negative SR and NA in this population. In an fMRI study, 13 athletes watched a video of their own career-threatening defeat in two controlled blocks. Between fMRI blocks, they received a 20-min CI designed to assist in event reappraisal and planning for future performance. Relative increases post-CI were seen in premotor (BA6) and sensorimotor (BA4/1) cortices. Correlated with mood ratings, relatively higher pre-CI levels were seen in the ventromedial prefrontal cortex, the right dorsomedial prefrontal cortex (PFC; BA10), the right dorsolateral PFC (BA45), the anterior cingulate, and the right parahippocampus. CI may counteract the detrimental effects of NA and negative SR on premotor and motor activity.
Access options
Buy single article
Instant access to the full article PDF.
USD 39.95
Price includes VAT (USA)
Tax calculation will be finalised during checkout.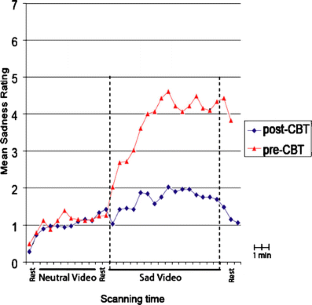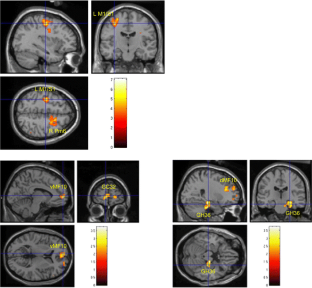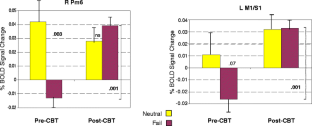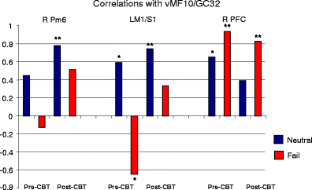 References
Amodio, D. M., & Frith, C. D. (2006). Meeting of minds: The medial frontal cortex and social cognition. Nature reviews. Neuroscience, 7(4), 268–277.

Baillie, P. H., & Danish, S. J. (1992). Understanding the career transition of athletes. Sport Psychologist, 6(1), 77–98.

Beauregard, M., Levesque, J., & Bourgouin, P. (2001). Neural correlates of conscious self-regulation of emotion. The Journal of Neuroscience: The Official Journal of the Society for Neuroscience, 21(18), RC165.

Bechara, A., Damasio, H., & Damasio, A. R. (2000). Emotion, decision making and the orbitofrontal cortex. Cerebral Cortex, 10(3), 295–307.

Beck, A. T. (1967). Depression. Harper and Row: New York.

Beedie, C. J., Terry, P. C., & Lane, A. M. (2000). The profile of mood states and athletic performance: Two meta-analyses. Journal of Applied Sport Psychology, 12(1), 49–68.

Carrm, C., Carter, J., Beck, N., Chamberlain, R., & Zaichkowsky, L. D. (2005). Addressing the psychological health issues of the collegiate student–athlete. In M. E. Ewing (President). Association for the Advancement of Applied Sport Psychology: Conference Proceedings, Vancouver, British Columbia, Canada, 35, pp. 793–797.

Castelli, F., Happe, F., Frith, U., & Frith, C. (2000). Movement and mind: A functional imaging study of perception and interpretation of complex intentional movement patterns. NeuroImage, 12(3), 314–325.

Cross, E. S., Hamilton, A. F., & Grafton, S. T. (2006). Building a motor simulation de novo: Observation of dance by dancers. NeuroImage, 31(3), 1257–1267.

Davis, H., & Unruh, W. R. (1981). The development of the self-schema in adult depression. Journal of Abnormal Psychology, 90(2), 125–133.

Eugene, F., Levesque, J., Mensour, B., Leroux, J. M., Beaudoin, G., Bourgouin, P., et al. (2003). The impact of individual differences on the neural circuitry underlying sadness. NeuroImage, 19(2, Pt 1), 354–364.

Fazackerley, R., Lane, A. M., & Mahoney, C. (2004). Mood and performance relationships in wakeboarding. Journal of Sport Behavior, 27(1), 18–30.

Fossati, P., Hevenor, S. J., Graham, S. J., Grady, C., Keightley, M. L., Craik, F., et al. (2003). In search of the emotional self: An fMRI study using positive and negative emotional words. American Journal of Psychiatry, 160(11), 1938–1945.

George, M. S., Ketter, T. A., Parekh, P. I., Horwitz, B., Herscovitch, P., & Post, R. M. (1995). Brain activity during transient sadness and happiness in healthy women. The American Journal of Psychiatry, 152(3), 341–351.

Gillihan, S. J., & Farah, M. J. (2005). Is self special? A critical review of evidence from experimental psychology and cognitive neuroscience. Psychological Bulletin, 131(1), 76–97.

Gosselin, N., Samson, S., Adolphs, R., Noulhiane, M., Roy, M., Hasboun, D., et al. (2006). Emotional responses to unpleasant music correlates with damage to the parahippocampal cortex. Brain: A Journal of Neurology, 129(Pt 10), 2585–2592.

Gotlib, I. H., Sivers, H., Gabrieli, J. D., Whitfield-Gabrieli, S., Goldin, P., Minor, K. L., et al. (2005). Subgenual anterior cingulate activation to valenced emotional stimuli in major depression. Neuroreport, 16(16), 1731–1734.

Gusnard, D. A., Akbudak, E., Shulman, G. L., & Raichle, M. E. (2001). Medial prefrontal cortex and self-referential mental activity: Relation to a default mode of brain function. Proceedings of the National Academy of Sciences of the United States of America, 98(7), 4259–4264.

Hooley, J. M., Gruber, S. A., Scott, L. A., Hiller, J. B., & Yurgelun-Todd, D. A. (2005). Activation in dorsolateral prefrontal cortex in response to maternal criticism and praise in recovered depressed and healthy control participants. Biological Psychiatry, 57(7), 809–812.

Keedwell, P. A., Andrew, C., Williams, S. C., Brammer, M. J., & Phillips, M. L. (2005). The neural correlates of anhedonia in major depressive disorder. Biological Psychiatry, 58(11), 843–853.

Lane, R. D., Reiman, E. M., Ahern, G. L., Schwartz, G. E., & Davidson, R. J. (1997). Neuroanatomical correlates of happiness, sadness, and disgust. The American Journal of Psychiatry, 154(7), 926–933.

Lane, A. M., Terry, P. C., Beedie, C. J., Curry, D. A., & Clark, N. (2001). Mood and performance: Test of a conceptual model with a focus on depressed mood. Psychology of Sport and Exercise, 2(3), 157–172.

LeUnes, A., & Burger, J. (2000). Profile of mood states research in sport and exercise psychology: Past, present and future. Journal of Applied Sport Psychology, 12(1), 5–15.

Lingjaerde, O., & Foreland, A. R. (1998). Direct assessment of improvement in winter depression with a visual analog scale: High reliability and validity. Psychiatry Research, 81(3), 387–392.

Liotti, M., & Mayberg, H. S. (2001). The role of functional neuroimaging in the neuropsychology of depression. Journal of Clinical and Experimental Neuropsychology: Official Journal of the International Neuropsychological Society, 23(1), 121–136.

Liotti, M., Mayberg, H. S., Brannan, S. K., McGinnis, S., Jerabek, P., & Fox, P. T. (2000). Differential limbic–cortical correlates of sadness and anxiety in healthy subjects: Implications for affective disorders. Biological Psychiatry, 48(1), 30–42.

Liotti, M., Mayberg, H. S., McGinnis, S., Brannan, S. L., & Jerabek, P. (2002). Unmasking disease-specific cerebral blood flow abnormalities: Mood challenge in patients with remitted unipolar depression. The American Journal of Psychiatry, 159(11), 1830–1840.

Marshall, J. C., Halligan, P. W., Fink, G. R., Wade, D. T., & Frackowiak, R. S. (1997). The functional anatomy of a hysterical paralysis. Cognition, 64, B1–8.

Mayberg, H. S., Liotti, M., Brannan, S. K., McGinnis, S., Mahurin, R. K., Jerabek, P. A., et al. (1999). Reciprocal limbic–cortical function and negative mood: Converging PET findings in depression and normal sadness. The American Journal of Psychiatry, 156(5), 675–682.

Nieuwenhuis, S., Slagter, H. A., von Geusau, N. J., Heslenfeld, D. J., & Holroyd, C. B. (2005). Knowing good from bad: Differential activation of human cortical areas by positive and negative outcomes. The European Journal of Neuroscience, 21(11), 3161–3168.

Northoff, G., Heinzel, A., de Greck, M., Bermpohl, F., Dobrowolny, H., & Panksepp, J. (2006). Self-referential processing in our brain—a meta-analysis of imaging studies on the self. NeuroImage, 31(1), 440–457.

Nyberg, L., Eriksson, J., Larsson, A., & Marklund, P. (2006). Learning by doing versus learning by thinking: An fMRI study of motor and mental training. Neuropsychologia, 44(5), 711–717.

Ochsner, K. N., Bunge, S. A., Gross, J. J., & Gabrieli, J. D. (2002). Rethinking feelings: An FMRI study of the cognitive regulation of emotion. Journal of Cognitive Neuroscience, 14(8), 1215–1229.

Ochsner, K. N., Ray, R. D., Cooper, J. C., Robertson, E. R., Chopra, S., Gabrieli, J. D., et al. (2004). For better or for worse: Neural systems supporting the cognitive down- and up-regulation of negative emotion. NeuroImage, 23(2), 483–499.

Ochsner, K. N., Beer, J. S., Robertson, E. R., Cooper, J. C., Gabrieli, J. D., Kihsltrom, J. F., et al. (2005). The neural correlates of direct and reflected self-knowledge. NeuroImage, 28(4), 797–814.

Panksepp, J. (1998). Affective neuroscience: the foundations of human and animal emotions. New York: Oxford University Press.

Phan, K. L., Magalhaes, A., Ziemlewicz, T. J., Fitzgerald, D. A., Green, C., & Smith, W. (2005). Neural correlates of telling lies: A functional magnetic resonance imaging study at 4 tesla. Academic Radiology, 12(2), 164–172.

Rector, N. A., Segal, Z. V., & Gemar, M. (1998). Schema research in depression: A Canadian perspective. Canadian Journal of Behavioural Science, 30(4), 213–224.

Rodriguez, M., Muniz, R., Gonzalez, B., & Sabate, M. (2004). Hand movement distribution in the motor cortex: The influence of a concurrent task and motor imagery. NeuroImage, 22(4), 1480–1491.

Sabbe, B., Hulstijn, W., van Hoof, J., Tuynman-Qua, H. G., & Zitman, F. (1999). Retardation in depression: Assessment by means of simple motor tasks. Journal of Affective Disorders, 55(1), 39–44.

Sanders, C. E., Field, T. M., Diego, M., & Kaplan, M. (2000). Moderate involvement in sports is related to lower depression levels among adolescents. Adolescence, 35(140), 793–797.

Steiner, M., & Streiner, D. L. (2005). Validation of a revised visual analog scale for premenstrual mood symptoms: Results from prospective and retrospective trials. Canadian Journal of Psychiatry, 50(6), 327–332.

Suinn, R. M. (1985). Imagery rehearsal applications to performance enhancement. The Behavior Therapist, 8, 155–159.

Totterdell, P., & Leach, D. (2001). Negative mood regulation expectancies and sports performance: An investigation involving professional cricketers. Psychology of Sport and Exercise, 2(4), 249–265.

Vogeley, K., Bussfeld, P., Newen, A., Herrmann, S., Happe, F., Falkai, P., et al. (2001). Mind reading: Neural mechanisms of theory of mind and self-perspective. NeuroImage, 14(1, Pt 1), 170–181.

Wraga, M., Shephard, J. M., Church, J. A., Inati, S., & Kosslyn, S. M. (2005). Imagined rotations of self versus objects: An fMRI study. Neuropsychologia, 43(9), 1351–1361.

Yeung, N., Cohen, J. D., & Botvinick, M. M. (2004). The neural basis of error detection: Conflict monitoring and the error-related negativity. Psychological Review, 111(4), 931–959.
Acknowledgement
The principal funding for this research and for the work of the first author, Dr. H. Davis came from private donations to Swimming Canada. The authors extend special thanks to the participating Canadian athletes and their coaches for unqualified support of this work. Dr. Burkhard Mädler of the University of British Columbia MRI Research Centre is thanked for facilitating the completion of this work. Thanks are also extended to Drs. Tricia Orzeck and Patrick Baillie for assistance though out the project. Supplementary to this was funding to the second author, Dr. Mario Liotti, from the National Alliance for Research on Schizophrenia and Depression and the Canada Foundation for Innovation. Correspondence concerning this article should be addressed to Dr. Hap Davis, Swimming Canada, Suite 354, 401–9th Avenue S.W., Calgary, AB, Canada. E-mail: hapdavis@gmail.com
Conflict of interest statement
There were no biomedical financial conflicts of interests and there were no conflicts of interest, directly or indirectly, for any of the researchers to declare.
About this article
Cite this article
Davis IV, H., Liotti, M., Ngan, E.T. et al. fMRI BOLD Signal Changes in Elite Swimmers While Viewing Videos of Personal Failure. Brain Imaging and Behavior 2, 84–93 (2008). https://doi.org/10.1007/s11682-007-9016-x
Received:

Accepted:

Published:

Issue Date:
Keywords
Self-reference

Emotion

Cognitive neuroscience

Cognitive intervention