Zusammenfassung
Die Bursitis olecrani ist ein häufiges Krankheitsbild, dennoch ist die Behandlung nicht trivial und wird in der Literatur uneinheitlich dargestellt. Die akute, traumatisch bedingte Bursitis olecrani beim jungen Patienten ist in der Regel harmlos und selbstlimitierend. Die eitrige Bursitis ist dagegen rezidivträchtig und komplikationsbehaftet. Die Unterscheidung zwischen der eitrigen und nicht-eitrigen Bursitis olecrani ist grundlegend für eine erfolgreiche Behandlung. Das Ziel der Arbeit ist es daher, die wesentlichen Differenzierungsmerkmale zwischen der eitrigen und der nicht-eitrigen Bursitis darzulegen und einen Therapiealgorithmus vorzustellen, der die gängigen Behandlungskonzepte der jeweiligen Formen beinhaltet.
Abstract
Olecranon bursitis is a common medical condition. However, treatment is sometimes challenging and the recommendations in the literature are heterogeneous. Acute, posttraumatic olecranon bursitis in the young adult is usually uncomplicated and self-limited. In contrast, the course of septic bursitis can be complicated. Differentiation between septic and aseptic types of olecranon bursitis is fundamental for successful treatment. Therefore, the aim of this review is to present the main characteristics of septic and aseptic olecranon bursitis and to propose a treatment algorithm, which contains the currently accepted treatment recommendations.
This is a preview of subscription content,
to check access.
Access this article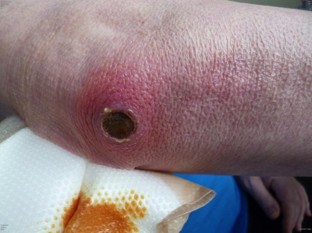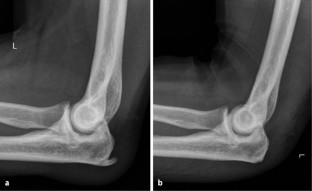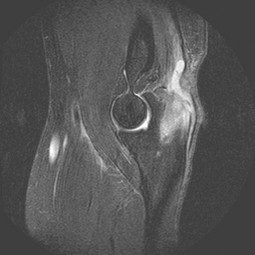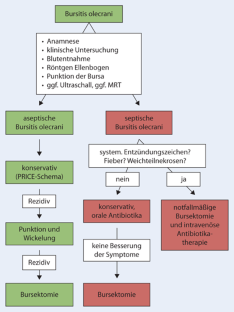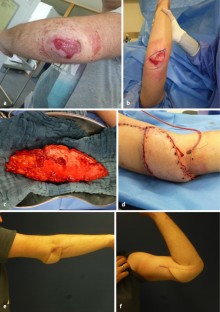 Literatur
Baumbach SF, Domaszewski F, Wyen H et al (2013) Evaluation of the current treatment concepts in Germany, Austria and Switzerland for acute traumatic lesions to the prepatellar and olecranon bursa. Injury 44:1423–1427

Baumbach SF, Lobo CM, Badyine I et al (2014) Prepatellar and olecranon bursitis: literature review and development of a treatment algorithm. Arch Orthop Trauma Surg 134:359–370

Baumbach SF, Michel M, Wyen H et al (2013) [Current treatment concepts for olecranon and prepatellar bursitis in Austria]. Z Orthop Unfall 151:149–155

Blankstein A, Ganel A, Givon U et al (2006) Ultrasonographic findings in patients with olecranon bursitis. Ultraschall Med 27:568–571

Bundesamt S (2014) Statistisches Jahrbuch für die Bundesrepublik Deutschland 2014. Statistisches Bundesamt, Wiesbaden

Canoso JJ, Sheckman PR (1979) Septic subcutaneous bursitis. Report of sixteen cases. J Rheumatol 6:96–102

Cea-Pereiro JC, Garcia-Meijide J, Mera-Varela A et al (2001) A comparison between septic bursitis caused by Staphylococcus aureus and those caused by other organisms. Clin Rheumatol 20:10–14

Chen J, Alk D, Eventov I et al (1987) Development of the olecranon bursa. An anatomic cadaver study. Acta Orthop Scand 58:408–409

Choudhery V (1999) The role of diagnostic needle aspiration in olecranon bursitis. J Accid Emerg Med 16:282–283

Damert HG, Altmann S, Schneider W (2009) [Soft-tissue defects following olecranon bursitis. Treatment options for closure]. Chirurg 80(448):450–444

Degreef I, De Smet L (2006) Complications following resection of the olecranon bursa. Acta Orthop Belg 72:400–403

Fisher RH (1977) Conservative treatment of distended patellar and olecranon bursae. Clin Orthop Relat Res 123:98

Garcia-Porrua C, Gonzalez-Gay MA, Ibanez D et al (1999) The clinical spectrum of severe septic bursitis in northwestern Spain: a 10 year study. J Rheumatol 26:663–667

Gomez-Rodriguez N, Mendez-Garcia MJ, Ferreiro-Seoane JL et al (1997) [Infectious bursitis: study of 40 cases in the pre-patellar and olecranon regions]. Enferm Infecc Microbiol Clin 15:237–242

Ho G Jr, Tice AD (1979) Comparison of nonseptic and septic bursitis. Further observations on the treatment of septic bursitis. Arch Intern Med 139:1269–1273

Ho G Jr, Tice AD, Kaplan SR (1978) Septic bursitis in the prepatellar and olecranon bursae: an analysis of 25 cases. Ann Intern Med 89:21–27

Hoffmeyer P, Chalmers A, Price GE (1980) Septic olecranon bursitis in a general hospital population. Can Med Assoc J 122:874–876

Kerr DR (1993) Prepatellar and olecranon arthroscopic bursectomy. Clin Sports Med 12:137–142

Lai CS, Tsai CC, Liao KB et al (1997) The reverse lateral arm adipofascial flap for elbow coverage. Ann Plast Surg 39:196–200

Larson RL, Osternig LR (1974) Traumatic bursitis and artificial turf. J Sports Med 2:183–188

Laupland KB, Davies HD (2001) Olecranon septic bursitis managed in an ambulatory setting. The Calgary Home Parenteral Therapy Program Study Group. Clin Invest Med 24:171–178

Lollino N (2012) Sequestrectomy in primary osteomyelitis of the humerus: a new indication for posterior approach. Tech Hand Up Extrem Surg 16:247–249

Martinez-Taboada VM, Cabeza R, Cacho PM et al (2009) Cloxacillin-based therapy in severe septic bursitis: retrospective study of 82 cases. Joint Bone Spine 76:665–669

Mcafee JH, Smith DL (1988) Olecranon and prepatellar bursitis. Diagnosis and treatment. West J Med 149:607–610

Mcfarland EG, Mamanee P, Queale WS et al (2000) Olecranon and prepatellar bursitis: treating acute, chronic, and inflamed. Phys Sportsmed 28:40–52

Morrey B (2009) The elbow and its disorders. Elsevier, Philadelphia

Ogilvie-Harris DJ, Gilbart M (2000) Endoscopic bursal resection: the olecranon bursa and prepatellar bursa. Arthroscopy 16:249–253

Perez C, Huttner A, Assal M et al (2010) Infectious olecranon and patellar bursitis: short-course adjuvant antibiotic therapy is not a risk factor for recurrence in adult hospitalized patients. J Antimicrob Chemother 65:1008–1014

Quayle JB, Robinson MP (1976) An operation for chronic prepatellar bursitis. J Bone Joint Surg Br 58-b:504–506

Quayle JB, Robinson MP (1978) A useful procedure in the treatment of chronic olecranon bursitis. Injury 9:299–302

Raddatz DA, Hoffman GS, Franck WA (1987) Septic bursitis: presentation, treatment and prognosis. J Rheumatol 14:1160–1163

Reilly D, Kamineni S (2016) Olecranon bursitis. J Shoulder Elbow Surg 25:158–167. doi:10.1016/j.jse.2015.08.032

Reilly JP, Nicholas JA (1987) The chronically inflamed bursa. Clin Sports Med 6:345–370

Roschmann RA, Bell CL (1987) Septic bursitis in immunocompromised patients. Am J Med 83:661–665

Saini M, Canoso JJ (1982) Traumatic olecranon bursitis. Radiologic observations. Acta Radiol Diagn (Stockh) 23:255–258

Sayegh ET, Strauch RJ (2014) Treatment of olecranon bursitis: a systematic review. Arch Orthop Trauma Surg 134:1517–1536

Schulze J, Czaja S, Linder PE (2000) [Comparative results after endoscopic synovectomy and open bursectomy in chronic bursitis olecrani]. Swiss Surg 6:323–327

Slawski DP, Howard RF (1997) Surgical management of refractory trochanteric bursitis. Am J Sports Med 25:86–89

Smith DL, Mcafee JH, Lucas LM et al (1989) Septic and nonseptic olecranon bursitis. Utility of the surface temperature probe in the early differentiation of septic and nonseptic cases. Arch Intern Med 149:1581–1585

Soderquist B, Hedstrom SA (1986) Predisposing factors, bacteriology and antibiotic therapy in 35 cases of septic bursitis. Scand J Infect Dis 18:305–311

Stell IM (1999) Management of acute bursitis: outcome study of a structured approach. J R Soc Med 92:516–521

Stell IM (1996) Septic and non-septic olecranon bursitis in the accident and emergency department – an approach to management. J Accid Emerg Med 13:351–353

Walter G, Kemmerer M, Hoffmann R (2013) [Treatment of septic olecranon and patellar bursitis by excision and vacuum-assisted closure therapy]. Z Orthop Unfall 151:353–357

Wasserman AR, Melville LD, Birkhahn RH (2009) Septic bursitis: a case report and primer for the emergency clinician. J Emerg Med 37:269–272

Zimmermann B 3rd, Mikolich DJ, Ho G Jr (1995) Septic bursitis. Semin Arthritis Rheum 24:391–410
Ethics declarations
Interessenskonflikt
M. Schnetzke, S. Studier-Fischer, U. Kneser, P.-A. Grützner und T. Guehring geben an, dass kein Interessenkonflikt besteht.
Dieser Beitrag beinhaltet keine Studien an Menschen oder Tieren.
About this article
Cite this article
Schnetzke, M., Studier-Fischer, S., Kneser, U. et al. Bursitis olecrani. Obere Extremität 11, 88–95 (2016). https://doi.org/10.1007/s11678-016-0348-2
Received:

Accepted:

Published:

Issue Date:

DOI: https://doi.org/10.1007/s11678-016-0348-2
Schlüsselwörter
Keywords