Zusammenfassung
Beschreibung eines komplexen Verlaufs nach Mountainbikeunfall mit zweitgradig offener Unterarmfraktur. Nach der Primärversorgung mittels Fixateur externe erfolgte eine Plattenosteosynthese, welche bei implantatassoziiertem Infekt zur Pseudarthrosebildung führte. Die Rekonstruktion erfolgte mit einem y-förmigen vaskularisiertem Fibulatransplantat als Durchflusstransplantat unter Rekonstruktion der stenosierten A. radialis.
Abstract
Case description of the complex course following a mountain bike accident with grade II open fracture of the forearm. Initial treatment was performed with external fixation. Complications after definitive osteosynthesis with plates led to an implant-related infected nonunion. To restore the defect, a y-shaped vascularized fibular graft was used with reconstruction of the stenosed radial artery.
Access options
Buy single article
Instant access to the full article PDF.
US$ 39.95
Tax calculation will be finalised during checkout.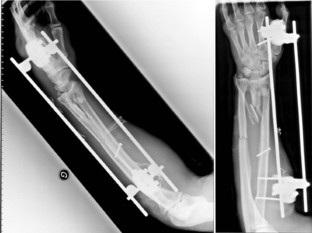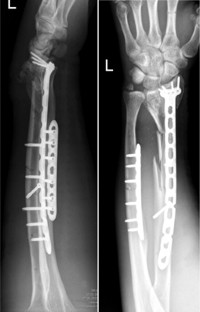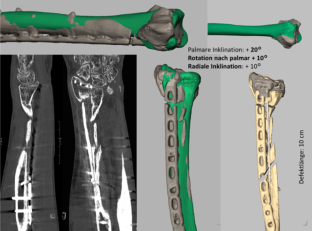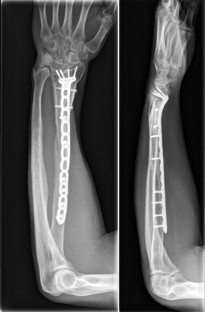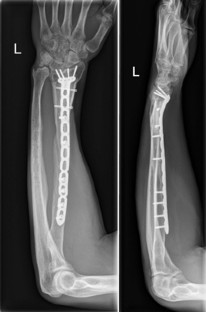 Literatur
1.

Patzakis MJ, Wilkins J (1989) Factors influencing infection rate in open fracture wounds. Clin Orthop Relat Res (243):36–40

2.

Gustilo RB, Anderson JT (1976) Prevention of infection in the treatment of one thousand and twenty-five open fractures of long bones: retrospective and prospective analyses. J Bone Joint Surg Am 58(4):453–458

3.

Zalavras CG, Marcus RE, Levin LS, Patzakis MJ (2007) Management of open fractures and subsequent complications. J Bone Joint Surg Am 89(4):884–895

4.

Zimmerli W, Trampuz A, Ochsner PE (2004) Prosthetic-joint infections. N Engl J Med 351(16):1645–1654

5.

Han CS, Wood MB, Bishop AT et al (1992) Vascularized bone transfer. J Bone Joint Surg Am 74:1441–1449

6.

Minami A, Kaneda K, Itoga H (1992) Treatment of infected segmental defect of long bone with vascularized bone transfer. J Reconstr Microsurg 8:75–82

7.

Minami A, Kaneda K, Itoga H, Usui M (1989) Free vascularized fibular grafts. J Reconstr Microsurg 5:37–43

8.

Eward WC, Kontogeorgakos V, Levin LS, Brigman BE (2010) Free vascularized fibular graft reconstruction of large skeletal defects after tumor resection. Clin Orthop Relat Res 468:590–598

9.

Eisenschenk A, Lehnert, Weber (1994) Die freie, gefässgestielte Fibulatransplantation zur Überbrückung von Knochendefekten. Orthop Traumatol 6(2):107–118

10.

Malizos KN, Beris AE, Xenakis TA, Korobilias AB, Soucacos PN (1992) Free vascularized fibular graft: a versatile graft for reconstruction of large skeletal defects and revascularization of necrotic bone. Microsurgery 13(4):182–187

11.

Wei FC, Santamaria E, Chang YM, Chen HC (1997) Mandibular reconstruction with fibular osteoseptocutaneous free flap and simultaneous placement of osseointegrated dental implants. J Craniofac Surg 8(6):512–521

12.

Noaman HH (2013) Management of upper limb bone defects using free vascularized osteoseptocutaneous fibular bone graft. Ann Plast Surg 71(5):503–509

13.

Jupiter JB, Gerhard HJ, Guerrero J, Nunley JA, Levin LS (1997) Treatment of segmental defects of the radius with use of the vascularized osteoseptocutaneous fibular autogenous graft. J Bone Joint Surg Am 79(4):542–550

14.

Shimizu T, Yajima H, Kobata Y, Shigematsu K, Kawamura K, Takakura Y (2008) Vascularized proximal fibular autograft for treatment of post-traumatic segmental bony defects in the distal radius. J Reconstr Microsurg 24(8):565–568
Ethics declarations
Interessenskonflikt
A. Frank, J. Henning, R. Schumacher, D.J. Schaefer, R. Steiger und P. Honigmann geben an, dass kein Interessenkonflikt besteht.
Dieser Beitrag beinhaltet keine Studien an Menschen oder Tieren.
Alle Patienten, die über Bildmaterial oder anderweitige Angaben innerhalb des Manuskripts zu identifizieren sind, haben hierzu ihre schriftliche Einwilligung gegeben. Im Falle von nicht mündigen Patienten liegt die Einwilligung eines Erziehungsberechtigen oder des gesetzlich bestellten Betreuers vor.
Additional information
A. Frank und J. Henning waren zu gleichen Teilen an dieser Arbeit beteiligt.
About this article
Cite this article
Frank, A., Henning, J., Schumacher, R. et al. Rekonstruktion des dia-/metaphysären distalen Radius und der A. radialis bei Infektpseudoarthrose. Obere Extremität 11, 126–129 (2016). https://doi.org/10.1007/s11678-015-0332-2
Received:

Accepted:

Published:

Issue Date:
Schlüsselwörter
Radiusrekonstruktion

Fraktur, offene

Infekt, implantatassoziierter

Infektpseudoarthrose

Plattenosteosynthese
Keywords
Radius reconstruction

Fracture, open

Infection, implant-related

Infected nonunion

Plate osteosynthesis