Zusammenfassung
Der Thenarlappen ist eine Hautlappenplastik, die die unproblematische Defektdeckung im distalen Hohlhandbereich ermöglicht. Es handelt sich um einen radial-distal gestielten Haut-Unterhaut-Transpositionslappen vom "Random-pattern"-Typ. Eine der Hauptindikationen ist die Dupuytren-Kontraktur mit fortgeschrittenen Kontrakturen, insbesondere der Grundgelenke der ulnaren Finger. Der Thenarlappen stellt eine gute Alternative zum "Open-palm"-Verfahren oder zur Vollhauttransplantation dar.
Im Rahmen von 1116 Aponeurektomien bei Dupuytren-Kontraktur (meist Stadium 3−4 nach Iselin) erfolgten in 72 Fällen Defektdeckungen im Hohlhandbereich mittels Thenarlappen. Die Thenarlappen heilten in 70 Fällen (97 %) komplikationslos ein, in 2 Fällen (3 %) kam es zur Teilnekrose des Lappens mit Sekundärheilung. Eine operative Revision wurde in keinem Fall nötig. Insgesamt 27 Fälle konnten durchschnittlich 3,5 Jahre postoperativ hinsichtlich Beweglichkeit und Rezidivfreiheit nachuntersucht werden. Bei der Nachuntersuchung waren die Grundgelenke im Mittel fast voll zu strecken. In keinem Lappen fand sich ein Rezidiv.
Der Thenarlappen ist ein sicherer und einfach zu präparierender Lappen, mit dem auch größere Defekte im Bereich der Hohlhand versorgt werden können. Im Vergleich mit anderen Methoden der Defektdeckung ist dem Thenarlappen unseres Erachtens nach speziell bei M. Dupuytren der Vorzug zu geben.
Abstract
The thenar flap is a local cutaneous flap providing simple coverage of skin defects especially in the distal palm of the hand. It represents a radial distal pedicled cutaneous and subcutaneous transposition flap of the random pattern type. In the majority of cases it is indicated in Dupuytren's disease with severe contracture of both the 4th and 5th metacarpophalangeal (MP) joints. The thenar flap is an excellent alternative to the open palm technique of McCash or full thickness skin grafts. In 1,116 faciectomies due to Dupuytren's disease (mostly stages 3 and 4 according to Iselin) 72 thenar flaps were performed to cover skin defects in the distal palm of the hand. Wound healing was uneventful in 70 cases (97 %) and in 2 instances (3 %) there was partial necrosis of the flap with secondary healing. No revision surgery was required in any of the cases and 27 patients were available for follow-up after 3.5 years. At follow-up the range of motion and the degree of recurrence were examined and the MP joints could be almost completely extended. None of the flaps showed any evidence of recurrence. The thenar flap is a safe and simple procedure which is easy to prepare. Even larger defects in the palm of the hand are suitable to be covered by this flap. Compared to other procedures for soft tissue coverage in our opinion the thenar flap should be the method of choice especially in Dupuytren's disease.
Access options
Buy single article
Instant access to the full article PDF.
US$ 39.95
Tax calculation will be finalised during checkout.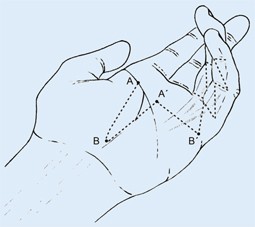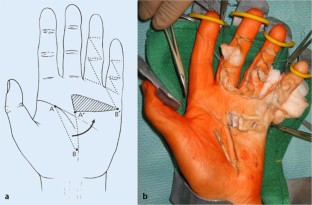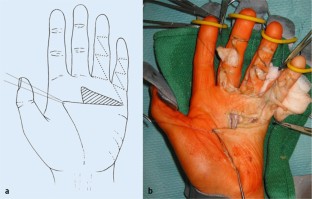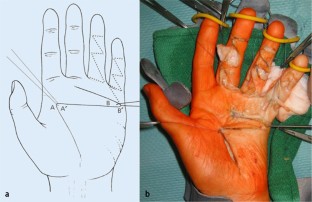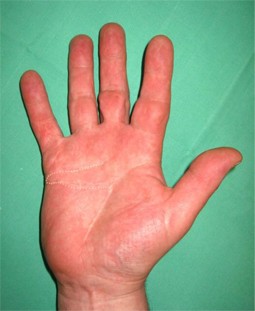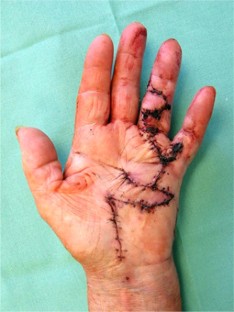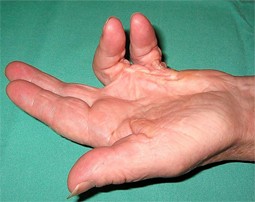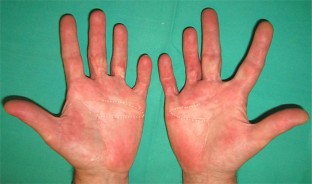 Literatur
1.

Boyer MI, Gelbermann RH (1999) Complications of the operative treatment of Dupuytren disease: Hand Clinics 15:161–166

2.

Coleman SS, Anson BJ (1961) Arterial patterns in the hand based upon a study of 650 specimens. Surg Gynecol Obstet 113:409–424

3.

Conway H, Stark RB (1954) Arterial vascularization of the soft tissues of the hand. J Bone Joint Surg Am 36-A:1238–1240

4.

Crean SM, Gerber RA, Le Graverand MP, Boyd DM, Cappelleri JC (2011) The efficacy and safety of fasciectomy and fasciotomy for Dupuytren's contracture in European patients: a structured review of published studies. J Hand Surg Eur 36:396–407

5.

Dias JJ, Braybrooke J (2006) Dupuytren's contracture: an audit of the outcomes of surgery. J Hand Surg Br 31:514–521

6.

Elsner T, Schramm U, Schrader M (2001) Analysis of the vascular anatomy of the palm and its clinical relevance in Morbus Dupuytren. Ann Anat 183:379–382

7.

Foucher G, Cornil C, Lenoble E (1992) La technique de la "plaie ouverte" dans la maladie de Dupuytren. Complications post-opératoires et résultats à plus de 5 ans.; "Open palm" technique in Dupuytren's disease. Postoperative complications and results after more than 5 years. Chirurgie; mémoires de l'Académie de chirurgie 118:189–194; discussion 195–196

8.

Gelberman RH, Panagis JS, Hergenroeder PT, Zakaib GS (1982) Wound complications in the surgical management of Dupuytren's contracture: a comparison of operative incisions. Hand 14:248–254

9.

Ikeda A, Ugawa A, Kazihara Y, Hamada N (1988) Arterial patterns in the hand based on a three-dimensional analysis of 220 cadaver hands. J Hand Surg 13:501–509

10.

Jabaley ME (1999) Surgical treatment of Dupuytren's Disease. Hand Clinics 15:109–126

11.

Kecskes S (1975) Veränderung der Durchblutung im Bereich der Hohlhand bei Vorliegen einer Dupuytren'schen Kontraktur. Handchirurgie 7:15–20

12.

Kinoshita Y, Kojima T, Hirase Y, Kim H, Endo T (1991) Subcutaneous pedicle hypothenar island flap. Ann Plast Surg 27:519–526

13.

Lubahn JD (1999) Open-palm technique and soft-tissue coverage in Dupuytren's disease. Hand clinics 15:127–136

14.

Nyström A, Fridén J, Lister GD (1990) Superficial venous anatomy of the human palm. Scandinavian Journal of Plastic and Reconstructive Surgery and Hand Surgery/Nordisk plastikkirurgisk forening (and) Nordisk klubb for handkirurgi 24:121–127

15.

Omokawa S, Tanaka Y, Ryu J, Clovis N (2001) Anatomical consideration of reverse-flow island flap transfers from the midpalm for finger reconstruction. Plast Reconstr Surg 108:2020–2025

16.

Omokawa S, Ryu J, Tang JB, Han J (1997) Vascular and neural anatomy of the thenar area of the hand: its surgical applications. Plast Reconstr Surg 99:116–121

17.

Orbay JL, Rosen JG (2009) The glabrous palmar flap: the new free or reversed pedicled palmar fasciocutaneous flap for volar hand reconstruction. Techniques in Hand & Upper Extremity Surgery 13:145–150

18.

Pilz SM, Valenti PP, Harguindeguy ED (1997) Der freie sensible oder retrograd gestielte fasziokutane Thenarlappen: Anatomische Studie und klinische Anwendung. Free sensory or retrograde pedicled fasciocutaneous thenar flap: anatomic study and clinical application. Arbeitsgemeinschaft für Handchirurgie: Organ der Deutschsprachigen Arbeitsgemeinschaft für Mikrochirurgie der Peripheren Nerven und Gefäße 29:243–246

19.

Rider MA, Riaz M, Small JO (1998) The V-Y Palmar flap. J Hand Surg Br 23:669–672

20.

Roush TF, Stern PJ (2000) Results following surgery for recurrent Dupuytren's disease. J Hand Surg 25:291–296

21.

Schrader M, Lang K, Schramm U (1997) Arterielle und nervale Versorgung der Haut der palma manus. Chirurgisch-anatomische Befunde beim Morbus Dupuytren. Ann Anat 179:349–353

22.

Zhang SX, Ho GT, Liu ZJ (1990) Basic vascular anatomy and the reimplantation of the amputated hand through the palm. Surg Radiol Anat 12:241–246

23.

Zhang SX, Ho GT, Liu ZJ (1995) Further study on the vascular basis for the reimplantation of the hand amputated through the palm. Surg Radiol Anat 17:47–52
Einhaltung ethischer Richtlinien
Interessenkonflikt
P. Siepe und M. Richter geben an, dass kein Interessenkonflikt besteht.
About this article
Cite this article
Siepe, P., Richter, M. Der Thenarlappen – eine sichere Methode zur Deckung von Hautdefekten im Hohlhandbereich. Obere Extremität 8, 191–196 (2013). https://doi.org/10.1007/s11678-013-0235-z
Received:

Accepted:

Published:

Issue Date:
Schlüsselwörter
Dupuytren

Fasziektomie

Aponeurektomie

Defektdeckung

"Open-palm"-Lappenplastik

Hohlhanddefekte
Keywords
Dupuytren's disease

Aponeurectomy

Fasciectomy

Palmar skin defect

Open palm