Abstract
Eucalyptus clones are selected according to productivity, wood quality, rooting capacity, and resistance to drought, frost and diseases. However, kinetic and morphological parameters that determine the absorption efficiency of nutrients such as nitrate (NO3−) and ammonium (NH4+) are often not considered in breeding programs. The objective of this study was to evaluate the morphological, physiological and kinetic parameters of nitrogen uptake by clones of Eucalyptus saligna (32,864) and Eucalyptus grandis (GPC 23). Morphological parameters in shoot and root systems, biomass and N concentrations in different organs, photosynthetic pigment concentrations, parameters of chlorophyll a fluorescence and photosynthetic rates were evaluated. Kinetic parameters, maximum absorption velocity (Vmax), Michaelis–Menten constant (Km), minimum concentration (Cmin) and influx (I) were calculated for NO3− and NH4+ in the two clones. E. grandis clone was more efficient in the uptake of NO3− and NH4+, and showed lower Km and Cmin values, allowing for the absorption of nitrogen at low concentrations due to the high affinity of the absorption sites of clone roots to NO3− and NH4+. Higher root lengths, area and volume helped the E. grandis clone in absorption efficiency and consequently, resulted in higher root and shoot biomass. The E. saligna clone had higher Km and Cmin for NO3− and NH4+, indicating adaptation to environments with higher N availability. The results of NO3− and NH4+ kinetic parameters indicate that they can be used in Eucalyptus clone selection and breeding programs as they can predict the ability of clones to absorb NO3− and NH4+ at different concentrations.
Access options
Buy single article
Instant access to the full article PDF.
US$ 39.95
Tax calculation will be finalised during checkout.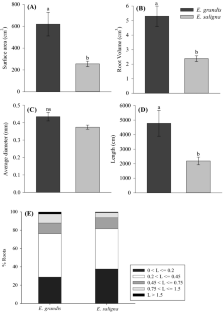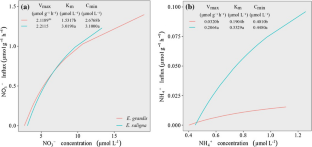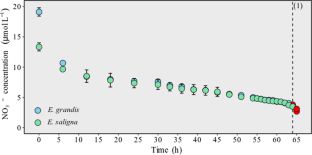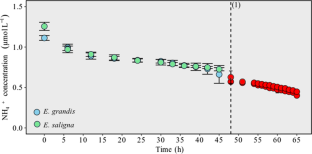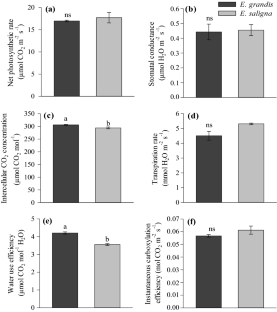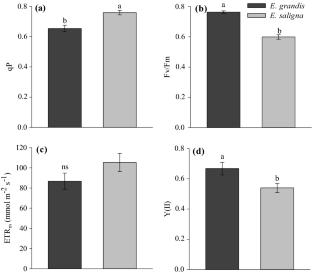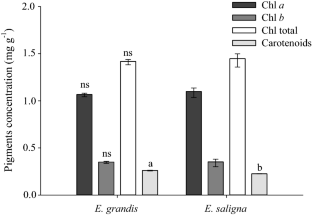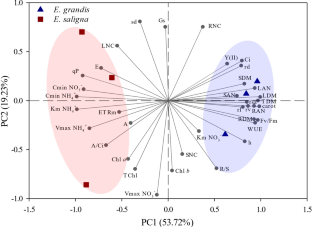 References
Alves LS, Torres CV, Fernandes MS, Santos AMD, Souza SRD (2016) Soluble fractions and kinetics parameters of nitrate and ammonium uptake in sunflower ("Neon" Hybrid). Rev Cienc Agron. https://doi.org/10.5935/1806-6690.20160002

Araújo OJ, Pinto MS, Sperandio MV, Santos LA, Stark EM, Fernandes MS, Santos AM, Souza SR (2015) Expression of the genes OsNRT1.1, OsNRT2.1, OsNRT2.2, and kinetics of nitrate uptake in genetically contrasting rice varieties. Am J Plant Sci. https://doi.org/10.4236/ajps.2015.62035

Batista RO, Furtini Neto AE, Deccetti SFC, Viana CS (2016) Root morphology and nutrient uptake kinetics by Australian cedar clones. Rev Caatinga. https://doi.org/10.1590/1983-21252016v29n118rc

Bednorz D, Tauchnitz N, Christen O, Rupp H, Meissner R (2016) The impact of soil heterogeneity on nitrate dynamic and losses in tile-drained arable fields. Water Air Soil Poll. https://doi.org/10.1007/s11270-016-3095-5

Bindraban PS, Dimkpa C, Nagarajan L, Roy A, Rabbinge R (2015) Revisiting fertilisers and fertilisation strategies for improved nutrient uptake by plants. Biol Fertil Soils. https://doi.org/10.1007/s00374-015-1039-7

Blank M, Tittmann S, Ghozlen NB, Stoll M (2018) Grapevine rootstocks result in differences in leaf composition (Vitis vinifera L. cv. Pinot Noir) detected through non-invasive fluorescence sensor technology. Aust J Grape Wine Res. https://doi.org/10.1111/ajgw.12343

Booth TH (2013) Eucalypt plantations and climate change. For Ecol Manag. https://doi.org/10.1016/j.foreco.2012.04.004

Canarini A, Kaiser C, Merchant A, Richter A, Wanek W (2019) Root exudation of primary metabolites: mechanisms and their roles in plant responses to environmental stimuli. Front Plant Sci. https://doi.org/10.3389/fpls.2019.00157

Castro-Rodríguez V, Cañas RA, Torre FN, Pascual MB, Avila C, Cánovas FM (2017) Molecular fundamentals of nitrogen uptake and transport in trees. J Exp Bot. https://doi.org/10.1093/jxb/erx037

Centinari M, Vanden Heuvel JE, Goebel M, Smith MS, Bauerle TL (2016) Root zone management practices impact above and belowground growth in Cabernet Franc grapevines. Aust J Grape Wine R. https://doi.org/10.1111/ajgw.12162

Claassen N, Barber SA (1974) A method for characterizing the relation between nutrient concentration and flux into roots of intact plants. Plant Physiol. https://doi.org/10.1104/pp.54.4.564

Clough T, Condron L, Kammann C, Müller C (2013) A review of biochar and soil nitrogen dynamics. Agronomy. https://doi.org/10.3390/agronomy3020275

Couturier J, Montanini B, Martin F, Brun A, Blaudez D, Chalot M (2007) The expanded family of ammonium transporters in the perennial poplar plant. New Phytol. https://doi.org/10.1111/j.1469-8137.2007.01992.x

de Paula BV, Marques ACR, Rodrigues LAT, de Souza ROS, Kulmann MSD, Kaminski J, Ceretta CA, de Melo GWB, Mayer NA, Antunes LE, Ricachenevsky FK, Nicoloso FT, Brunetto G (2018) Morphological and kinetic parameters of the uptake of nitrogen forms in clonal peach rootstocks. Sci Hortic. https://doi.org/10.1016/j.scienta.2018.05.038

Doddema H, Telkamp GP (1979) Uptake of nitrate by mutants of Arabidopsis thaliana, disturbed in uptake or reduction of nitrate: II. Kinetics Physiol Plant. https://doi.org/10.1111/j.1399-3054.1979.tb02593.x

Dechorgnat J, Nguyen CT, Armengaud P, Jossier M, Diatloff E, Filleur S, Vedele DF (2010) From the soil to the seeds: the long journey of nitrate in plants. J Exp Bot. https://doi.org/10.1093/jxb/erq409

El-Jendoubi H, Abadía J, Abadía A (2013) Assessment of nutrient removal in bearing peach trees (Prunus persica L. Batsch) based on whole tree analysis. Plant Soil. https://doi.org/10.1007/s11104-012-1556-1

FAO (2016) Food and agriculture organization of the United Nations. Global Forest Resources Assessment 2015: How are the World's Forests Changing? 2ed. Roma: FAO, 2016. p. 54.

Glass ADM (2003) Nitrogen use efficiency of crop plants: physiological constraints upon nitrogen absorption. CR Rev Plant Sci. https://doi.org/10.1080/07352680390243512

Gonçalves JLM, Alvares CA, Higa AR, Silva LD, Alfenas AC, Stahl J, Bouillet JPD (2013) Integrating genetic and silvicultural strategies to minimize abiotic and biotic constraints in Brazilian eucalypt plantations. For Ecol Manag. https://doi.org/10.1016/j.foreco.2012.12.030

Greer DH (2018) Photosynthetic responses to CO2 at different leaf temperatures in leaves of apple trees (Malus domestica) grown in orchard conditions with different levels of soil nitrogen. Environ Exp Bot. https://doi.org/10.1016/j.envexpbot.2018.06.014

Hiscox JD, Israelstam GF (1979) A method for the extraction of chlorophyll from leaf tissue without maceration. Can J Bot. https://doi.org/10.1139/b79-163

Horn D, Ernani P, Sangoi L, Schweitzer C, Cassol PC (2006) Parâmetros cinéticos e morfológicos da absorção de nutrientes em cultivares de milho com variabilidade genética contrastante. Rev Bras Cienc Solo 30: 77–85. https://www.redalyc.org/pdf/1802/180214052009.pdf

Hu YT, Zhao P, Zhu LW, Zhao XH, Ni GY, Ouyang L, Schafer KVR, Shen WJ (2019) Responses of sap flux and intrinsic water use efficiency to canopy and understory nitrogen addition in a temperate broadleaved deciduous forest. Sci Total Environ. https://doi.org/10.1016/j.scitotenv.2018.08.158

Iglesias G, Wilstermann D (2008) Eucalyptus universalis. Global cultivated eucalypt forests map. <https://git-forestry-blog.blogspot.com/2008/09/eucalyptus-global-map-2008-cultivated.html> [accessed 21.12.18].

Jennings KA, Guerrieri R, Vadeboncouer MA, Asbjornsen H (2016) Response of Quercus velutina growth and water use efficiency to climate variability and nitrogen fertilization in a temperate deciduous forest in the northeastern USA. Tree Physiol. https://doi.org/10.1093/treephys/tpw003

Jones B (1983) A guide for the hydroponic and soilless culture grower. Timber Press 194–195.

Jordan MO, Vercambre G, Gomez L, Pages L (2014) The early spring N uptake of young peach trees (Prunus persica) is affected by past and current fertilizations and levels of C and N stores. Tree Physiol. https://doi.org/10.1093/treephys/tpt109

Kiba T, Krapp A (2016) Plant nitrogen acquisition under low availability: Regulation of uptake and root architecture. Plant Cell Physiol. https://doi.org/10.1093/pcp/pcw052

Klodd AE, Eissenstat DM, Wolf TK, Centinari M (2016) Coping with cover crop competition in mature grapevines. Plant Soil. https://doi.org/10.1007/s11104-015-2748-2

Kronzucker HJ, Siddiqi MY, Glass AD (1995) Kinetics of NO3– influx in spruce. Plant Physiol. https://doi.org/10.1104/pp.109.1.319

Lambers H, Shane MW, Cramer MD, Pearse SJ, Veneklaas EJ (2006) Root structure and functioning for efficient acquisition of phosphorus: matching morphological and physiological traits. Ann Bot-London. https://doi.org/10.1093/aob/mcl114

Lee HJ, Ha JH, Kim SG, Choi HK, Kim ZH, Han YJ, Hyeon T (2016) Stem-piped light activates phytochrome B to trigger light responses in Arabidopsis thaliana roots. Sci Signal. https://doi.org/10.1126/scisignal.aaf6530

Li H, Li MC, Luo J, Cao X, Qu L, Gai Y, Jiang XN, Liu TX, Bai H, Janz D, Polle A, Peng CH, Luo ZB (2012) N-fertilization has different effects on the growth, carbon and nitrogen physiology, and wood properties of slow- and fast-growing Populus species. J Exp Bot. https://doi.org/10.1093/jxb/ers271

Lichtenthaler HK (1987) Chlorophylls and carotenoids: pigments of photosynthetic biomembranes. Method Enzymol 148:350–382

Martim SA, Santos MP, Peçanha AL, Pommer C, Campostrini E, Viana AP, Bressan-Smith R (2009) Photosynthesis and cell respiration modulated by water deficit in grapevine (Vitis vinifera L.) cv. Cabernet Sauvignon Braz J Plant Physiol. https://doi.org/10.1590/S1677-04202009000200002

Martinez HE, Olivos A, Brown PH, Clemente JM, Bruckner CH, Jifon JL (2015) Short-term water stress affecting NO3− absorption by almond plants. Sci Hortic. https://doi.org/10.1016/j.scienta.2015.10.040

Marschner P (2012) Marschner's Mineral Nutrition of Higher Plants, 5th edn. Elsevier, Academic Press, Cambridge, p 651

Moriwaki T, Falcioni R, Tanaka FAO, Cardoso KAK, Souza LA, Benedito E, Nanni NR, Bonato CM, Antunes WC (2019) Nitrogen-improved photosynthesis quantum yield is driven by increased thylakoid density, enhancing green light absorption. Plant Sci. https://doi.org/10.1016/j.plantsci.2018.10.012

Nadal M, Flexas J (2018) Variation in photosynthetic characteristics with growth form in a water-limited scenario: Implications for assimilation rates and water use efficiency in crops. Agr Water Manage. https://doi.org/10.1016/j.agwat.2018.09.024

Nielsen NE, Barber SA (1978) Differences among genotypes of corn in the kinetics of P uptake1. Agronomy J. https://doi.org/10.2134/agronj1978.00021962007000050001xa

Ortega RA, Westfall DG, Gangloff WJ, Peterson GA, Stafford J (1999) Multivariate approach to N and P recommendations in variable rate fertilizer applications. Precis Agric 99:387–396

Paquette A, Messier C (2010) The role of plantations in managing the world's forests in the Anthropocene. Front Ecol Environ 8:27–34

Pii Y, Alessandrini M, Guardini K, Zamboni A, Varanini Z (2014) Induction of high-affinity NO3– uptake in grapevine roots is an active process correlated to the expression of specific members of the NRT2 and plasma membrane H+-ATPase gene families. Funct Plant Biol. https://doi.org/10.1071/FP13227

R Development Core Team (2019) R: a language and environment for statistical computing. https://www.R-Project.Org/.

Raven JA, Lambers H, Smith SE, Westoby M (2018) Costs of acquiring phosphorus by vascular land plants: patterns and implications for plant coexistence. New Phytol. https://doi.org/10.1111/nph.14967

Rivera R, Bañados P, Ayala M (2016) Distribution of 15N applied to the soil in the "Bing"/"Gisela®6" sweet cherry (Prunus avium L.) combination. Sci Hortic. https://doi.org/10.1016/j.scienta.2016.06.035

Rocha JDG, Ferreira LM, Tavares OCH, Santos AMD, Souza SRD (2014) Cinética de absorção de nitrogênio e acúmulo de frações solúveis nitrogenadas e açúcares em girasol. Pesqui Agropecu Trop. https://doi.org/10.1590/S1983-40632014000400009

Schreiber UBWN, Bilger W, Neubauer C (1995) Chlorophyll fluorescence as a nonintrusive indicator for rapid assessment of in vivo photosynthesis. In: Schulze E, Caldwell MM (Eds) Ecophysiology of photosynthesis. Springer, Berlin, pp 49–70. https://doi.org/10.1007/978-3-642-79354-7_3

Skaggs TH, Shouse PJ (2008) Roots and root function: introduction. Vad Z J. https://doi.org/10.2136/vzj2008.0076

Song SW, Li G, Sun GW, Liu HC, Chen RY (2016) Uptake kinetics of different nitrogen forms by Chinese kale. Commun Soil Sci Plan. https://doi.org/10.1080/00103624.2016.1178279

Souza TC, Magalhães PC, Castro EM, Albuquerque PEP, Marabesi MA (2013) The influence of ABA on water relation, photosynthesis parameters, and chlorophyll fluorescence under drought conditions in two maize hybrids with contrasting drought resistance. Acta Physiol Plant. https://doi.org/10.1007/s11738-012-1093-9

Tcherkez G, Gauthier P, Buckley TN, Busch FA, Barbour MM, Bruhn D, Way D (2017) Leaf day respiration: low CO2 flux but high significance for metabolism and carbon balance. New Phytol. https://doi.org/10.1111/nph.14816

Ter Braak CJ, Smilauer P (2002) CANOCO reference manual and CanoDraw for Windows user's guide: software for canonical community ordination (version 4.5). www.canoco.com.

Tomasi N, Monte R, Varanini Z, Cesco S, Pinton R (2015) Induction of nitrate uptake in Sauvignon Blanc and Chardonnay grapevines depends on the scion and is affected by the rootstock. Aust J Grape Wine Res. https://doi.org/10.1111/ajgw.12137

Wang H, Zhang HH, Liu YS, Long JH, Meng L, Xu N, Li JB, Zhong HX, Wu YN (2019) Increase of nitrogen to promote growth of poplar seedlings and enhance photosynthesis under NaCl stress. J For Res. https://doi.org/10.1007/s11676-018-0775-6

Wu ZZ, Ying YQ, Zhang YB, Bi YF, Wang AK, Du XH (2018) Alleviation of drought stress in Phyllostachys edulis by N and P application. Sci Rep 8:228

Xuan W, Beeckman T, Xu GH (2017) Plant nitrogen nutrition: sensing and signaling. Curr Opin Plant Biol. https://doi.org/10.1016/j.pbi.2017.05.010

Yang TY, Zhu LN, Wang SP, Gu WJ, Huang DF, Xu WP, Jiang AL, Li SC (2007) Nitrate uptake kinetics of grapevine under root restriction. Sci Hortic. https://doi.org/10.1016/j.scienta.2006.11.005

Zufferey V, Murisier F, Belcher S, Lorenzini F, Vivin P, Spring JL, Viret O (2015) Nitrogen and carbohydrate reserves in the grapevine (Vitis vinifera L. 'Chasselas'): the influence of the leaf to fruit ratio. Vitis. https://doi.org/10.5073/vitis.2015.54.183-188
Additional information
Publisher's Note
Springer Nature remains neutral with regard to jurisdictional claims in published maps and institutional affiliations.
Project funding: The work was funded partly by the Conselho Nacional de Desenvolvimento Científico and Tecnológico (CNPq).
The online version is available at https://www.springerlink.com.
Corresponding editor: Tao Xu.
About this article
Cite this article
Severo de Souza Kulmann, M., de Paula, B.V., Sete, P.B. et al. Morphological and kinetic parameters of the absorption of nitrogen forms for selection of Eucalyptus clones. J. For. Res. (2020). https://doi.org/10.1007/s11676-020-01195-7
Received:

Accepted:

Published:
Keywords
Ammonium and nitrate

Eucalyptus saligna
Eucalyptus grandis

Root system architecture

Nitrogen influx

Maximum absorption velocity (Vmax), Michaelis–Menten constant (Km) and Minimum concentration (Cmin)