Abstract
Wetland restoration had been implemented for more than two decades in Sanjiang Plain, Northeast China. To assess the restoration efficiency of wetland vegetation, we investigated plants composition of community, plant species diversity and aboveground biomass of restored sites in a chronosequence of restoration (1, 2, 3, 6, 8, 11, 15 and 25 years) in the Sanjiang Nature Reserve. As comparison, we also investigated the same factors in a cropland and a natural marsh adjacent to the restored sites. The results showed that wetland plant species can invade quickly after croplands were abandoned when there were suitable hydrology conditions. On the early stage of the restoration, weeds were main plant species in the restored sites. Wetland species appeared at the same time but differed from the dominant species from the adjacent natural marshes. Common native wetland species could dominance the community after 3-year restoration. Species richness and diversity increased on the early stage, and then decreased to the similar level of the natural marsh with the extension of restoration. Plant biomass could restore easier than the species composition and diversity. Our results indicated that plant species composition and diversity of abandoned reclaimed wetlands can restore gradually by natural succession in Sanjiang Plain. However, 25-year restoration site had similarity index of only 56% with the natural marsh, which revealed that two decades are not enough for complete restoration of vegetation.
Access options
Buy single article
Instant access to the full article PDF.
US$ 39.95
Tax calculation will be finalised during checkout.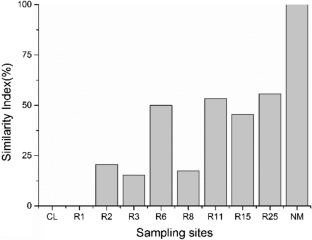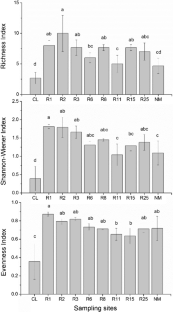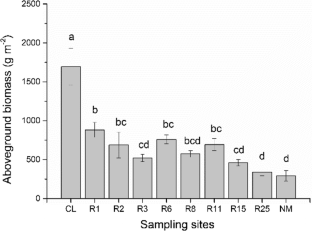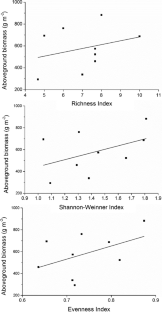 References
An Y, Gao Y, Tong SZ, Lu XG, Wang XH, Wang GD, Liu XH, Zhang DJ (2018) Variations in vegetative characteristics of Deyeuxia angustifolia wetlands following natural restoration in the Sanjiang Plain, China. Ecol Eng 112:34–40

Aronson MFJ, Galatowitsch S (2008) Long-term vegetation development of restored prairie pothole wetlands. Wetlands 28(4):883–895

Audet J, Baattrup-Pedersen A, Andersen HE, Andersen PM, Hoffmann CC, Kjaergaard C, Kronvang B (2015) Environmental controls of plant species richness in riparian wetlands-Implications for restoration. Basic Appl Ecol 16:480–489

Chen JQ, Yang SY (2014) Research methods of terrestrial ecology. Higher Education Press, Beijing, pp 10–13 (in Chinese)

Costanza R, d'Arge R, de Groot R, Farber S, Grasso M, Hannon B, Limburg K, Naeem S, O'Neill RV, Paruelo J, Raskin RG, Sutton P, van den Belt M (1997) The value of the world's ecosystem services and natural capital. Nature 387:253–260

Craft CB, Reader J, Sacco JN, Broome SW (1999) Twenty-five years of ecosystem development of constructed Spartina alterniflora (Loisel) marshes. Ecol Appl 9:1405–1419

Cui BS, Liu XT (1999) Review of wetland restoration studies. Adv Earth Sci 14(4):358–364 (in Chinese with English abstract)

Cui LJ, Zhang MY, Zhao XS, Wang YF, Li W, Li SN, Zhang Y (2011) Discussion on monitoring and management methods of wetland restoration. World For Res 24(3):1–5 (in Chinese with English abstract)

Doughty CL, Langley JA, Walker WS, Feller IC, Schaub R, Chapman SK (2015) Mangrove range expansion rapidly increases coastal wetland carbon storage. Estuar Coast 39(2):385–396

Gao SW, Li W, Zhang MY, Wang YF, Shang XJ (2008) Progress in wetland degradation assessment research. World For Res 21(6):13–18 (in Chinese with English abstract)

Henry CP, Amoros C (1996) Restoration ecology of riverine wetlands. III. Vegetation survey and monitoring optimization. Ecol Eng 7:35–58

Ho M, Richardson CJ (2013) A five year study of floristic succession in a restored urban wetland. Ecol Eng 61:511–518

Hopple A, Craft C (2013) Managed disturbance enhances biodiversity of restored wetlands in the agricultural Midwest. Ecol Eng 61:505–510

Huang YY, Chen YX, Castro-Izaguirre N et al (2018) Impacts of species richness on productivity in a large-scale subtropical forest experiment. Science 362:80–83

Li YC, Liu CM, Yu JJ (2006) Trade off of conflict between wetland protection and farmland reclamation in the Sanjiang Plain, Heilongjiang Province. J Beijing For Univ 28(1):39–42 (in Chinese with English abstract)

Li R, Zhang QZ, Jiang YB, Zhang L, Shao XM (2011) Species diversity of plant communities of Xingkai Lake wetlands under different levels of disturbance. Wetl Sci 9(2):179–184 (in Chinese with English abstract)

Liu XT (2005) Wetlands in northeast China. Science Press, Beijing (in Chinese)

Ma KP, Liu YM (1994) Measurement of biodiversity I: methods of α diversity measurement (II). Chin Biodivers 2(4):231–239 (in Chinese)

Ma KP, Liu CR, Liu YM (1995) Measurement of biodiversity II: methods of β diversity measurement. Chin Biodivers 3(1):38–43 (in Chinese)

Ma XD, Bian YH, Zhang GH (2003) Sustainable development of wetlands in Sanjiang Plain. Soil Water Conserv Chin 4:15–16 (in Chinese)

Meyer CK, Whiles MR, Baer SG (2010) Plant community recovery following restoration in temporally variable riparian wetlands. Restor Ecol 18(1):52–64

Miller RL, Fujii R (2010) Plant community, primary productivity, and environmental conditions following wetland re-establishment in the Sacramento-San Joaquin Delta, California. Wetl Ecol Manag 18:1–16

Mitsch WJ, Gosselink JG (2015) Wetlands, 5th Edn. Wiley & Sons, Inc., New York

Moreno-Mateos D, Power ME, Comín FA, Yockteng R (2012) Structural and functional loss in restored wetland ecosystems. PLoS Biol 10(1):e1001247

Mulhouse JM, Galatowitsch SM (2003) Revegetation of prairie pothole wetlands in the mid-continental US: twelve years post-reflooding. Plant Ecol 169:143–159

Osland MJ, Spivak AC, Nestlerode JA, Lessmann JM, Almario AE, Heitmuller PT, Russell MJ, Krauss KW, Alverez F, Dantin DD, Harvey JE, From AS, Cormier N, Stagg CL (2012) Ecosystem development after mangrove wetland creation: plant-soil change across a 20-year chronosequence. Ecosystems 15:848–866

Pfeifer-Meister L, Roy BA, Johnson BR, Krueer J, Bridghm SD (2012) Dominance of native grasses leads to community convergence in wetland restoration. Plant Ecol 213:637–647

Reid NB, Naeth MA (2005) Establishment of a vegetation cover on tundra Kimberlite Mine Tailings: 2. a field study. Restor Ecol 13(4):602–608

Ren B, Li F, Xie YH, Chen XS, Hou ZY, Li X (2011) Comparation between the characteristic of wetland vegetation under different restoration modes after returning farmland to lake in the Lake Dongting area. J Lake Sci 23(3):389–394 (in Chinese with English abstract)

State Forestry Administration of China (2015) China wetlands resources (Master volume). Forestry Press of China, Beijing (in Chinese)

Tilman D, Reich PB, Knops J, Wedin D, Mielke T, Lehman C (2001) Diversity and productivity in a long-term grassland experiment. Science 294:843–845

Wang ZM, Sing KS, Ma WH, Ren CY, Zhang B, Liu DW, Chen JM, Song CC (2011) Loss and fragmentation of marshes in the Sanjiang Plain, northeast China, 1954–2005. Wetlands 31:945–954

Wang XH, Yu JB, Zhou D, Dong HF, Li YZ, Lin QX, Guan B, Wang YL (2012) Vegetative ecological characteristics of restored reed (Phragmites australis) wetlands in the Yellow River Delta, China. Environ Manag 49:325–333

Wang GD, Wang M, Lv XG, Jiang M (2015) Effects of farming on the soil seed banks and wetland restoration potential in Sanjiang Plain, Northeastern China. Ecol Eng 77:265–274

Wang GD, Wang M, Lu XG, Jiang M (2017a) Duration of farming is an indicator of natural restoration potential of sedge meadows. Sci Rep 7:10692

Wang JF, Han DY, Wang JB, Fu XL, Zhu DG, Liu YN, Cao HJ, Huang QY, Xie LH, Zhong HX, Sui X, Ni HW (2017b) Variations in plant species composition and diversity of Calamagrosts angustifolia community along soil water level gradient in the Sanjiang Plain. Acta Ecol Sin 37(10):3515–3524 (in Chinese with English abstract)

Wang GD, Jiang M, Wang M, Xue ZS (2019) Natural revegetation during restoration of wetlands in the Sanjiang Plain, Northeastern China. Ecol Eng 132:49–55

Wei Q, Yang LH, Liu Y (2014) Driving factors of Shrinkage of wetland in the Sanjiang Plain. Wetl Sci 12(6):765–770 (in Chinese with English abstract)

Wu HJ, Wang XL (2006) Progresses of evaluation of wetlands ecological restoration effects in China. Wetl Sci 4(4):304–310 (in Chinese with English abstract)

Yang CL, Lan CY, Shu WS, Liao WB (2002) Restoration of wetland plant communities dominated by Typha latifolia. Chin J Plant Ecol 26(1):101–108 (in Chinese with English abstract)

Yang Q, Tian K, Xiao DR, Li Y, Dong Y, Yang Y (2012) Ecological restoration effect of closed and half-closed degraded wetlands in Northwest Yunan Plateau, Southwest China. Chin J Appl Ecol 23(6):1520–1526 (in Chinese with English abstract)

Yepsen M, Baldwin AH, Whigham DF, Mcfarland E, Laforgia M, Lang M (2014) Agricultural wetland restorations on the USA Atlantic Coastal Plain achieve diverse native wetland plant communities but differ from natural wetlands. Agric Ecosyst Environ 197:11–20

Zedler JB (2000) Progress in wetland restoration ecology. Trends Ecol Evol 15(10):402–407

Zhao KY, Lou YJ, Hu JM, Zhou DM, Zhou XL (2008) A study of current status and conservation of threatened wetland ecological environment in Sanjiang Plain. J Nat Resour 23(5):790–796 (in Chinese with English abstract)
Acknowledgements
We are grateful to Qingmin Meng in Heilongjiang Vocation Institute of Ecological Engineering for her help in plant species identification.
Additional information
Publisher's Note
Springer Nature remains neutral with regard to jurisdictional claims in published maps and institutional affiliations.
Project funding: This research was supported by the National Natural Science Foundation of China (31870443), the Fundamental Research Funds for the Central Universities (2572016CA03), and the Heilongjiang Postdoctoral Funds (LBH-Z16014).
The online version is available at http://www.springerlink.com
Corresponding editor: Yu Lei.
About this article
Cite this article
Jin, X., Sun, X., Li, H. et al. Changes of plant species diversity and biomass with reclaimed marshes restoration. J. For. Res. 32, 133–142 (2021). https://doi.org/10.1007/s11676-020-01104-y
Received:

Accepted:

Published:

Issue Date:
Keywords
Plant species composition

Richness index

Shannon–Wiener index

Similarity index

Wetland restoration