Abstract
Carbon is continuously being removed from the atmosphere by photosynthesis and stored in carbon pools (live, dead, and soil carbon) of forest ecosystems. However, carbon stock in dead wood and of trees with diameters at breast height (dbh) between 5 and 10 cm is often not considered in many studies carried out in the Congo Basin Forest. The relationship between tree diversity, life-forms and carbon stocks has received little attention. This study was carried out on the outskirts of Deng Deng National Park (DDNP) to determine tree diversity (dominant families, species richness and Shannon index), assess carbon stocks in the five carbon compartments (living tree, understory, fine roots, dead wood and litter) as well as to analyze the relationship between (1) carbon stocks and tree diversity; and, (2) between carbon stock and life-forms. The Shannon index of trees ≥ 10 cm dbh ranged from 2.6 in riparian forest to 4.3 in secondary forest; and for the tree between 5 and 10 cm, it ranged to 1.56 in riparian forest to 3.68 in the secondary forest. The study site housed 16 species, 7 genera and 3 families which are only found in trees of dbh between 5 and 10 cm. The average total carbon stock of the five compartments varied from 200.1 t ha−1 in forest residues to 439.1 t ha−1 in secondary forest. Dead wood carbon stock varied from 1.2 t ha−1 in riparian forests to 12.51t ha−1 in agroforests. The above ground carbon stocks for trees with diameter between 5 and 10 cm varied from 0.7 t ha−1 in young fallow fields to 5.02 t ha−1 in old secondary forests. This study reveals a low but positive correlation between species richness and total carbon stocks, as well as a significant positive relationship between life-forms and total carbon stocks. The findings highlight the need for more data concerning carbon content of dead wood, carbon of trees ≥ 5 cm < 10 cm dbh and the relationship between carbon stocks and tree diversity from other areas of the Congo Basin for a good understanding of the contribution of tropical forests to climate change mitigation.
Access options
Buy single article
Instant access to the full article PDF.
US$ 39.95
Tax calculation will be finalised during checkout.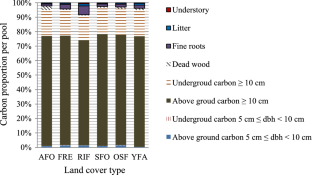 References
Angelsen A, Brockhaus M, Sunderlin WD, Verchot LV (2013) Analyse de la REDD + : les enjeux et les choix. Center for International Forestry Research, Bogor, p 520

Asase A, Tetteh DK (2010) The role of complex agroforestry systems in the conservation of forest tree diversity and structure in southeastern Ghana. Agrofor Syst 79(3):355–368

Asase A, Asitoakor BK, Ekpe PK (2012) Linkages between tree diversity and carbon stocks in unlogged and logged West African tropical forests. Int J Biodivers Sci, Ecosyst Ser Manag 8(3):217–230

Bocko YE, Ifo SA, Loumeto JJ (2017) Quantification Des Stocks De Carbone De Trois Pools Clés De Carbone En Afrique Centrale: Cas De La Forêt Marécageuse De La Likouala (Nord Congo). Eur Sci J 13(5):438–459

Branthomme A, Altrell D, Kamelarczyk K, Saket M (2009) Suivi et évaluation des ressources forestières nationales: Manuel pour le relevé intégré de données sur le terrain. Food and Agriculture Organization, Rome, p 201

Brown S, Gilespie AJR, Lugo AE (1989) Biomass estimation methods for tropical forest with application to forest inventory data. For Sci 35:881–902

Bunker DE, Declerk F, Bradford JC, Colwell RK, Perfecto Y, Phillips OL, Sankaran M, Naeem S (2005) Species loss and above-ground carbon storage in a tropical forest. Science 310(5750):1029–1031

Cardinale BJ, Wright JP, Cadotte MW, Carroll IT, Hector A, Srivastava DS, Loreau M, Weis JJ (2007) Impacts of plant diversity on biomass production increase through time because of species complementarity. Proc Natl Acad Sci (USA) 104:18123–18128

Catovsky S, Kobe RK, Bazzaz FA (2002) Nitrogen-induced changes in seedling regeneration and dynamics of mixed conifer-broad-leaved forests. Ecol Appl 12:1611–1625

Chave J, Andalo C, Brown S, Cairns MA, Chambers JQ, Eamus D, Folster H, Fromard F, Higuchi N, Kira T et al (2005) Tree allometry and improved estimation of carbon stocks and balance in tropical forests. Oecologia 145(1):87–99

Chave J, Réjou-Méchain M, Búrquez A, Chidumayo E, Colgan M, Delitti W, Duque A, Eid T, Fearnside P, Goodman R et al (2014) Improved allometric models to estimate the aboveground biomass of tropical trees. Global Change Biol 20:3177–3190

Cottam G, Curtis JT (1956) The use of distance measures in phytosociological sampling. Ecology 37:451–460

Day M, Baldauf C, Rutishauser E, Sunderland TCH (2013) Relationships between tree species diversity and above-ground biomass in Central African rainforests: implications for REDD. Environ Conserv 41(1):64–72

Denslow JS (1987) Tropical rainforest gaps and tree species diversity. Ann Rev Ecol Syst 18:431–451

Diaz S, Lavorel S, de Bello F, Quétier F, Grigulis K, Robson M (2007) Incorporating plant functional diversity effects in ecosystem service assessments. PNAS 104(52):20684–20689

Djomo AN, Knohl A, Gravenhorst G (2011) Estimations of total ecosystem carbon pools distribution and carbon biomass current annual increment of a moist tropical forest. For Ecol Manag 261(8):1448–1459

Djuikouo MNK, Doucet J-L, Nguembou CK, Lewis SL, Sonké B (2010) Diversity and aboveground biomass in three tropical forest types in the Dja Biosphere Reserve, Cameroon. Afr J Ecol 48:1053–1063

Doumenge C, Yuste JEG, Gartlan S, Langrand O, Ndinga A (2001) Conservation de la biodiversité forestière en Afrique centrale atlantique : le réseau d'aires protégées est-il adéquat ? Bois et Forêts des Tropiques 268(2):5–28

Doumenge C, Ndinga A, Fomete Nembot TZT, Ona Nze V, Ngoye HBBA (2003) Conservation de la biodiversité forestière en Afrique centrale atlantique II. Identification d'un réseau de sites critiques. Bois et Forêts des Tropiques 276(2):43–58

Fayolle A, Doucet JL, Gillet JF, Bourland N, Lejeune P (2013) Tree allometry in Central Africa: testing the validity of pantropical multi-species allometric equations for estimating biomass and carbon stocks. For Ecol Manag 305:29–37

Fayolle A, Loubota-Panzou GJ, Drouet T, Swaine MD, Bauwens S, Vleminckx J, Biwole A, Lejeune P, Doucet JL (2016) Taller trees, denser stands and greater biomass in semi-deciduous than in evergreen lowland central African forests. For Ecol Manag 374:42–50

Feldpausch TR, Jirka S, Passos CAM, Jasper F, Riha SJ (2005) When big trees fall: damage and carbon export by reduced impact logging in southern Amazonia. For Ecol Manag 219:199–215

Fornara DA, Tilman D (2008) Plant functional composition influences rates of soil carbon and nitrogen accumulation. J Ecol 96(2):314–322

Gonmadje CF, Doumenge C, Doyle McKey Tchouto GPM, Sunderland TCH, Balinga PB, Sonké B (2011) Tree diversity and conservation value of Ngovayang's lowland forests, Cameroon. Biodivers Conserv 20(12):2627–2648

Gourlet-Fleury S, Rossi V, Rejou-Mechain M, Freycon V, Fayolle A, Saint-Andre L, Cornu G, Gérard J, Sarrailh J-M, Flores O, Baya F, Billand A, Fauvet N, Gally M, Henry M, Hubert D, Pasquier A, Picard N (2011) Environmental filtering of dense-wooded species controls above-ground biomass stored in African moist forests. J Ecol 99:981–990

Hawthorne WD, Abu-Juam M (1995) Forest protection in Ghana: with particular reference to vegetation and plant species. International Union for Conservation of Nature, Gland, p 202

Houle G (2007) Determinants of fine-scale plant species richness in a deciduous forest of northeastern North America. J Veg Sci 18:345–354

Ifo AS (2010) Apport de carbone au sol et stock dans deux types forestiers (forêt galerie et forêt secondaire) des plateaux tékés. Thèse, Université-Marien-NGouabi, Brazzaville, p 194

Ifo AS, Koubouana F, Jourdain C, Nganga D (2015) Stock and flow of carbon in plant woody debris in two different types of natural forests in Bateke Plateau, Central Africa. Open J For 5:38–47

Ifo SA, Mbemba M, Koubouana F, Binsangou S (2017) Stock de carbone dans les gros débris ligneux végétaux : cas des forêts tropicales pluvieuses de la Likouala, République du Congo. Eur Sci J 13(12):384–399

IPCC (2013) Climate change 2013: the physical science basis. contribution of working group i to the fifth assessment report of the intergovernmental panel on climate change. In: Stocker TF, Qin D, Plattner G-K, Tignor M, Allen SK, Boschung J, Nauels A, Xia Y, Bex V, Midgley PM (eds) Cambridge. Cambridge University Press, New York, p 1535

IUCN/WCMC (1994) Guidelines for protected area management categories. IUCN, Gland, p 261

Jiagho ER, Zapfack L, Kabelong Banoho LPR, Tsayem-Demaze M, Corbonnois J, Tchawa P (2016) Diversité de la flore ligneuse à la périphérie du Parc national de Waza (Cameroun). VertigO. https://doi.org/10.4000/vertigo.17249

Kent M, Coker P (1992) Vegetation description and analysis. Belhaven Press, London, p 363

Kirby KR, Potvin C (2007) Variation in carbon storage among tree species: implications for the management of a small scale carbon sink project. For Ecol Manag 246(2–3):208–221

Kueppers LM, Southon J, Baer P, Harte J (2004) Dead wood biomass and turnover time, measured by radiocarbon, along a subalpine elevation gradient. Oecologia 141:641–651

Leroux M (2002) ''Global warming'': mythe ou réalité? L'évolution réelle de la dynamique du temps. Annales de géographie 111(624):115–137

Lescuyer G, Locatelli B (1999) Rôle et valeur des forêts tropicales dans le changement climatique. Bois et forêts des tropiques 260(2):5–17

Lewis SL, Sonke B, Sunderland T, Begne SK, Lopez-Gonzalez G, van der Heijden GMF, Phillips OL, Affum-Baffoe K, Baker TR, Banin L, Bastin JFB, Beeckman H, Boeckx P, Bogaert J, De Cannière C, Chezeaux E, Clark CJ, Collins M, Djagbletey G, Djuikouo MNK, Droissart V, Doucet JL, Ewango CEN, Fauset S, Feldpausch TR, Foli EG, Gillet JF, Hamilton AC, Harris DJ, Hart TB, Haulleville T, Hladik A, Hufkens K, Huygens D, Jeanmart P, Jeffery KJ, Kearsley E, Leal ME, Lloyd J, Lovett JC, Makana JR, Malhi Y, Marshall AR, Ojo L, Peh KS-H, Pickavance G, Poulsen JR, Reitsma JM, Sheil D, Simo M, Steppe K, Taedoum HE, Talbot J, Taplin JRD, Taylor D, Thomas SC, Toirambe B, Verbeeck H, Vleminckx J, White LJT, Willcock S, Woell H, Zemagho L (2013) Above-ground biomass and structure of 260 African tropical forests. Phil Trans R Soc B. https://doi.org/10.1098/rstb.2012.0295

Loubota-Panzou GJ, Doucet JL, Loumeto JJ, Biwole A, Bauwens S, Fayolle A (2016) Biomasse et stocks de carbone des forêts tropicales africaines (synthèse bibliographique). Biotechnol Agron Soc Environ 20(4):508–522

MacNally R, Parkinson A, Horrocks G, Conole L, Tzaros C (2001) Relationships between terrestrial vertebrate diversity, abundance and avaiability of coarse woody debris on south-eastern Australian floodplains. Biol Conserv 99:191–205

Maniatis D, Malhi Y, Saint Andre L, Mollicone D, Barbier N, Saatchi S, Henry M, Tellier L, Schwartzenberg M, White L (2011) Evaluating the potential of commercial forest inventory data to report on the forest carbon stock and forest carbon stock changes for REDD under the UNFCCC. Int J For Res. https://doi.org/10.1155/2011/134526

Merganicova K, Merganic J (2010) Coarse woody debris carbon stocks in natural spruce forests of Babia hora. J For Sci 56(9):397–405

Midgley GF, Bond WJ, Kapos VK, Ravilious C, Scharlemann JPW, Woodward FI (2010) Terrestrial carbon stocks and biodiversity: key knowledge gaps and some policy implications. Curr Opin Environ Sustain 2:264–270

Miles L, Dickson B (2010) REDD-plus and biodiversity: opportunities and challenges. Unasylsva 61:56–63

Mokany K, Raison RJ, Prokushkin AS (2006) Critical analysis of root: shoot ratios in terrestrial biomes. Glob Change Biol 12:84–96

Mund M (2004) Carbon Pools of European beech forests (Fagus sylvatica) under different silvicultural management. Thesis, Der Georg-August-Universität Göttingen: Göttingen, p 268

Nakakaawa C, Aune J, Vedeld P (2009) Changes in carbon stocks and tree diversity in agro-ecosystems in south western Uganda: what role for carbon sequestration payments? N For 40:19–44

Ngo KM, Turner BL, Muller-Landau HL, Davies SJ, Larjavaara M, Hassan NFN, Lumd S (2013) Carbon stocks in primary and secondary tropical forests in Singapore. For Ecol Manag 296:81–89

Ngomanda A, Obiang ELN, Lebamba J, Mavouroulou MQ, Gomat H, Mankou SG, Loumeto J, Iponga MD, Ditsouga KF, Koumba ZR, Bobé BHK, Okouyi MC, Nyangadouma R, Lépengué N, Mbatchi B, Picard N (2014) Site-specific versus pantropical allometric equations: which option to estimate the biomass of a moist central African forest? For Ecol Manag 312:1–9

Nordén B, Paltto H (2001) Wood-decay fungi in hazel wood: species richness correlated to stand age and dead wood features. Biol Consev 101:1–8

Palace M, Keller M, Asner GP, Silva JNM, Passos C (2007) Necromass in undisturbed and logged forests in the Brazilian Amazon. For Ecol Manag 238:309–318

Pascal JP (2003) Description et dynamique des milieux forestiers: notions sur les structures et dynamiques des forêts tropicales humides. Rev For Fr 55:118–130

Pfeifer M, Lefebvre V, Turner E, Cusack J, Khoo M, Chey VK, Peni M, Ewers RM (2015) Dead wood biomass: an underestimated carbon stock in degraded tropical forests? Environ Res Lett. https://doi.org/10.1088/1748-9326/10/4/044019

Rice A, Pyle E, Saleska S (2004) Carbon balance and vegetation dynamics in an old-growth Amazonian forest. Ecol Appl 14:55–71

Ruiz-Jaen MC, Potvin C (2010) Tree diversity explained patterns of variation in ecosystem function in a Neotropical forest. Biotropica 42(6):638–646

Woldendorp G, Keenan RJ and Ryan, MF (2002) An Analysis of sampling methods for coarse woody Debris in Australian forest ecosystems a report for the national greenhouse strategy, Module 6.6 (Criteria and Indicators of Sustainable Forest Management). Australia: Commonwealth of Australia, p 75

Sagar R, Singh JS (2006) Tree density, basal area and species diversity in a disturbed dry tropical forest of northern India: implications for conservation. Environ Conserv 33:256–262

Schnell R (1971) La phytogéographie des pays tropicaux: les milieux-les groupements végétaux. CNRS. Gauthier-villars. Paris 2:503–951

Shannon CE, Weaver W (1949) The mathematical theory of communication. University of Illinois Press, Urbana, p 131

Sist P, Ferreira FN (2007) Sustainability of reduced-impact logging in the Eastern Amazon. For Ecol Manag 243(2–3):199–209

Slik JWF, Paoli G, McGuire KL, Amaral I, Barroso J, Bastian M, Blanc L, Bongers F, Boundja P, Clark CJ, Collins M, Dauby G, Yi Ding Doucet JL, Eler E, Ferreira L, Forshed O, Fredriksson G, Gillet JF, Harris D, Leal M, Laumonier Y, Malhi Y, Mansor A, Martin E, Miyamoto K, Araujo-Murakami A, Nagamasu H, Nilus R, Nurtjahya E, Oliveira A, Onrizal O, Parada-Gutierrez A, Permana A, Poorter L, Ramirez-Angulo JR, Poulsen H, Reitsma J, Rovero F, Rozak A, Sheil D, Silva-Espejo J, Silveira M, Spironelo W, Ter Steege H, Stévart T, Navarro-Aguilar GE, Sunderland TCH, Suzuki E, Tang J, Theilade I, Van Der Heijden G, Van Valkenburg J, Van Tran D, Vilanova E, Vos V, Wich S, Wöll H, Yoneda T, Zang R, Ming-Gang Zhang, Zweifel N (2013) Large trees drive forest aboveground biomass variation in moist lowland forests across the tropics. Glob Ecol Biogeogr 22(12):1261–1271

Sonké B (1998) Etude floristiques et structurales des forêts dans la Réserve de Faune du Dja (Cameroun). Thèse de Doctorat, Université libre de Bruxelles, p 288

Sonké B (2004) Appendix E biological environment of the Nkamouna Site. Biodiversity—Flora. Rapport d'étude d'impact Environnemental et social. Yaounde: Cameroun, Rainbow Environment Consult (REC), p 37

Sonké B, Couvreur TLP (2014) Tree diversity of the Dja Faunal Reserve, southeastern Cameroon. Biodivers Data J. https://doi.org/10.3897/bdj.2.e1049

Tabue Mbobda RB, Zapfack L, Noiha Noumi V, Nyeck B, Meyan-Ya Daghela RG, Ngoma LR, Kabelong Banoho LP, Chimi Djomo C (2016) Plant diversity and carbon storage assessment in an African protected forest: a case of the Eastern part of the Dja wildlife reserve in Cameroon. J Plant Sci 4(5):95–101

Tchouto MGP, De Boer WF, De Wilde JJFE, Van Der Maesen LJG (2006) Diversity patterns in the flora of the Campo-Ma'an rain forest, Cameroon: do tree species tell it all? Biodivers Conserv 15:353–1374

Ter Steege H, Pitman N, Sabatier D et al (2003) A spatial model of tree α-diversity and tree density for the Amazon. Biodivers Conserv 12:2255–2277

Thompson ID, Okabe K, Tylianakis JM, Kumar P, Brockerhoff EG, Schellhorn NA, Parrotta JA, Nasi R (2011) Forest biodiversity and the delivery of ecosystem goods and services: translating science into policy. Bioscience 61(12):972–981

Tilman D, Knops J, Wedin D, Reich P, Ritchie M, Siemann E (1997) The influence of functional diversity and composition on ecosystem processes. Science 277:1300–1302

Vivien J, Faure JJ (2011) Arbres des forêts denses d'Afrique centrale. France, Ediprint

Vogt KA (1991) Carbon budgets of temperate forest ecosystems. Tree Phys 9:69–86

Walker S, Pearson T, Harris N, Sean G, Silvia P, Felipe C, Sandra B (2011) Procédures Opérationnelles Standards pour la Mesure du Carbone Terrestre. Winrock Int, USA, p 76

Warren W, Olsen P (1964) A line intersect technique for assessing logging waste. For Sci 10:267–276

Zapfack L, Noiha Noumi V, Dziedjou Kwouossu PJ, Zemagho L, Fomete Nembot T (2013) Deforestation and carbon stocks in the surroundings of Lobéké National Park (Cameroon) in the Congo Basin. Environ Nat Resour Res 3(2):78–86
Acknowledgements
This study was funded by a Grant from the "Organisation pour la Conservation et le Développement (OCD)" entitled "Forest Ecosystem Services". We gratefully thank the people of Deng Deng village for their warm welcome, their contributions as guides and helpers installing the sample plots and carrying out the inventories.
Additional information
Project funding: This study was funded by a grant from the "Organisation pour la Conservation et le Développement (OCD)" entitled "Forest Ecosystem Services".
The online version is available at http://www.springerlink.com
Corresponding editor: Zhu Hong.
Electronic supplementary material
Below is the link to the electronic supplementary material.
About this article
Cite this article
Kabelong Banoho, L.P.R., Zapfack, L., Weladji, R.B. et al. Floristic diversity and carbon stocks in the periphery of Deng–Deng National Park, Eastern Cameroon. J. For. Res. 31, 989–1003 (2020). https://doi.org/10.1007/s11676-018-0839-7
Received:

Accepted:

Published:

Issue Date:
Keywords
Deng Deng national park

Carbon stocks

Land cover types

Species diversity

Dead wood