Abstract
Information on forest structure is fundamentally important to track successional vegetation dynamics for efficient forest management. This study reports on vegetation characteristics, dominance patterns and species height growth in a northern mistbelt forest type in South Africa. Common alpha-diversity indices (species richness and Shannon–Weiner diversity), structural vegetation parameters (tree density and basal area), and species importance value index were used. Size class distribution and height–diameter allometry were further examined for the overall stand and most important species. Stem densities (472.0 ± 43.5 and 605.3 ± 28.1 trees ha−1 for ≥ 5 cm to < 10 cm and ≥ 10 cm dbh (diameter at breast height) classes, respectively) and basal area values (1.99 ± 0.19 and 48.07 ± 3.46 m2 ha−1, respectively) are comparable to other Afromontane forests in East Africa. The overall stand showed an inverted-J shaped distribution pattern which is a typical feature of stand size class distribution in most natural forests. Most ecologically important species also exhibited an inverted-J shaped distribution pattern, suggesting good regeneration and recruitment potential. There were significant differences in species on height, reflecting species-specific height growth patterns, possibly a result of intrinsic growth potential and competitive interactions. The present study suggests that conservation and management policies, including protection of surrounding land uses against fire, contribute to maintaining a successful recovery of these forests. However, it should be noted that these forests may be experiencing relatively slow dynamic flux as a result of the over-mature state of some trees with several years under relatively strict protection.
This is a preview of subscription content, log in to check access.
Access options
Buy single article
Instant access to the full article PDF.
US$ 39.95
Price includes VAT for USA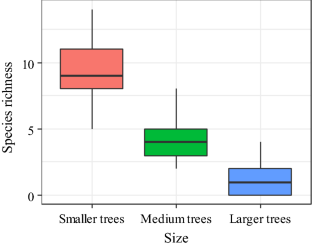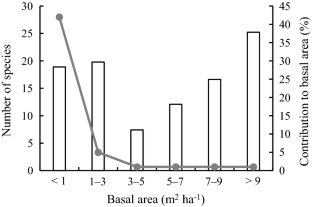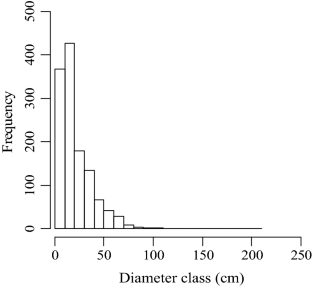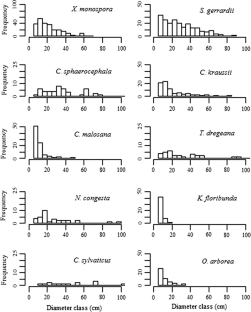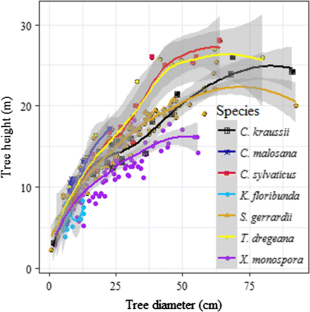 References
Coates-Palgrave K (2003) Trees of Southern Africa, 3rd edn. Struik Publishers, Cape Town, p 1000

Condit R, Sukumar R, Hubbell SP, Foster RB (1998) Predicting population trends from size distributions: a direct test in a tropical tree community. Am Nat 152:495–509

Cooper KH (1985) The conservation status of indigenous forests in Transvaal, Natal, and O.F.S., South Africa. Wildlife Society of S.A., Conservation Division, Durban

Curtis JT, McIntosh RP (1951) An upland forest continuum in the prairie-forest border region of Wisconsin. Ecology 32:476–496

Fisaha G, Hundera K, Dalle G (2013) Woody plants' diversity, structural analysis and regeneration status of Wof Washa natural forest, North-east Ethiopia. Afr J Ecol 51(4):599–608

Foley JA, Asner GP, Costa MH, Coe MT, DeFries R, Gibbs HK, Howard EA, Olson S, Patz J, Ramankutty N, Snyder P (2007) Forest degradation and loss of ecosystem goods and services in the Amazon Basin. Front Ecol Environ 5:25–32

Geldenhuys CJ (1993) The use of diameter distributions in sustained-use management of forests: examples from Southern Africa. In: Piearce GD, Gumbo DJ (eds) The ecology and management of indigenous forests in Southern Africa. Proceedings of an international symposium. Zimbabwe Forestry Commission and SAREC, Harare, pp 154–167

Geldenhuys CJ (1996) The Blackwood Group System: its relevance for sustainable forest management in the southern Cape. S Afr For J 177:1–15

Geldenhuys CJ (1997) Native forest regeneration in pine and eucalypt plantations in northern province, South Africa. For Ecol Manag 99:101–115

Geldenhuys CJ (2000) The need for monitoring recruitment, growth and mortality in the indigenous forests: examples from northern province. In: Seydack AHW, Vermeulen WJ, Vermeulen C (eds) Towards sustainable management based on scientific understanding of natural forests and woodlands. Proceedings of natural forests and savanna woodlands symposium II. Department of Water Affairs and Forestry, Indigenous Forest Management, Knysna, pp 17–28

Geldenhuys CJ (2002) South Africa country paper. In: Geldenhuys CJ, Castañeda F, Savenije H, Kuzee M (eds) Proceedings of workshop on tropical secondary forest management in Africa: reality and perspectives. Food and Agriculture Organization, Rome. http://www.fao.org/docrep/006/j0628e/J0628E60.htm#P6299_764696. Accessed 15 Jan 2018

Geldenhuys CJ, Venter SM (2002) Plant communities and biodiversity of the Limpopo province forests: relevance and management options. In: Seydack AHW, Vorster T, Vermeulen WJ, van der Merwe I (eds) Multiple use management of natural forests and savanna woodlands: policy refinements and scientific progress. Proceedings of natural forests and savanna woodlands symposium III. Department of Water Affairs and Forestry, Indigenous Forest Management, Pretoria, pp 23–37

Geldenhuys CJ, von dem Bussche G (1997) Performance of Podocarpus falcatus provenances in South Africa. S Afr For J 178:15–24

Guilherme FAG, Morellato LPC, Assis MA (2004) Horizontal and vertical tree community structure in a lowland atlantic rain forest, southeastern Brazil. Rev Bras Bot 27:725–737

Huston MA (2014) Disturbance, productivity, and species diversity: empiricism vs. logic in ecological theory. Ecology 95:2382–2396

Kebede M, Kanninen M, Yirdaw E, Lemenih M (2013) Vegetation structural characteristics and topographic factors in the remnant moist Afromontane forest of Wondo Genet, south central Ethiopia. J For Res 24:419–430

Kennard DK (2002) Secondary forest succession in a tropical dry forest: patterns of development across a 50-year chronosequence in lowland Bolivia. J Trop Ecol 18:53–66

King NL (1941) The exploitation of the indigenous forests of South Africa. J S Afr For Assoc 6:26–48

Lulekal E, Kelbessa E, Bekele T, Yineger H (2008) Plant species composition and structure of the Mana Angetu moist montane forest, South-Eastern Ethiopia. J East Afr Nat Hist 97:165–185

Lykke AM (1998) Assessment of species composition change in savanna vegetation by means of woody plants' size class distributions and local information. Biodiv Conserv 7:1261–1275

Magurran AE (1988) Ecological diversity and its measurement. Princeton University Press, Princeton, p 192

Martins ARO, Shackleton CM (2017) Abundance, population structure and harvesting selection of two palm species (Hyphaene coriacea and Phoenix reclinata) in Zitundo area, Southern Mozambique. For Ecol Manag 398:64–74

Mensah S, Glèlè Kakaï R, Seifert T (2016a) Patterns of biomass allocation between foliage and woody structure: the effects of tree size and specific functional traits. Ann For Res 59:49–60

Mensah S, Veldtman R, du Toit B, Glèlè Kakaï R, Seifert T (2016b) Aboveground biomass and carbon in a South African mistbelt forest and the relationships with tree species diversity and forest structures. Forests 79:1–17

Mensah S, Veldtman R, Assogbadjo AE, Ham C, Glèlè Kakaï R, Seifert T (2017a) Ecosystem service importance and use vary with socio-environmental factors: a study from household-surveys in local communities of South Africa. Ecosyst Serv 23:1–8

Mensah S, Veldtman R, Seifert T (2017b) Potential supply of floral resources to managed honey bees in natural mistbelt forests. J Environ Manag 189:160–167

Mensah S, Veldtman R, Seifert T (2017c) Allometric models for height and above ground biomass of dominant tree species in South African mistbelt forests. South For J For Sci 79:19–30

Mensah S, du Toit B, Seifert T (2018a) Diversity–biomass relationship across forest layers: implications for niche complementarity and selection effects. Oecologia 187:783–795

Mensah S, Pienaar OL, Kunneke A, du Toit B, Seydack A, Uhl E, Pretzsch H, Seifert T (2018b) Height–diameter allometry in South Africa's indigenous high forests: assessing generic models performance and function forms. For Ecol Manag 410:1–11

Mucina L, Rutherford M (2006) The vegetation of South Africa, Lesotho and Swaziland, vol 19. Strelitzia. South African National Biodiversity Institute, Pretoria

Mujuru L, Kundhlande A (2007) Small-scale vegetation structure and composition of Chirinda Forest, southeast Zimbabwe. Afr J Ecol 45:624–632

Obiri J, Lawes M, Mukolwe M (2002) The dynamics and sustainable use of high value tree species of the coastal Pondoland forests of the Eastern Cape province, South Africa. For Ecol Manag 166:131–148

Rasethe MT, Semenya SS, Potgieter MJ, Maroyi A (2013) The utilization and management of plant resources in rural areas of the Limpopo province, South Africa. J Ethnobiol Ethnomed 9(27):1–8

Sampaio AB, Holl KD, Scariot A (2007) Regeneration of seasonal deciduous forest tree species in long-used pastures in Central Brazil. Biotropica 39:655–659

Syampungani S, Geldenhuys CJ, Chirwa WP (2015) Regeneration dynamics of miombo woodland in response to different anthropogenic disturbances: forest characterisation for sustainable management. Agrofor Syst 90(4):563–576

Tadele D, Lulekal E, Damtie D, Assefa A (2014) Floristic diversity and regeneration status of woody plants in Zengena Forest, a remnant montane forest patch in northwestern Ethiopia. J For Res 25:329–336

Yirdaw E, Starr M, Negash M, Yimer F (2015) Influence of topographic aspect on floristic diversity, structure and treeline of Afromontane cloud forests in the Bale Mountains Ethiopia. J For Res 26(4):919–931
Acknowledgements
The data used in this study were collected during the first author's doctoral research field work, co-financed by the African Forestry Forum and the National Research Foundation of South Africa through the "Catchman Letaba" project. The authors are grateful to the anonymous reviewers for the comments on the first version of this paper.
Additional information
Project funding: This work was supported by the African Forestry Forum and the National Research Foundation of South Africa through the "Catchman Letaba" project.
The online version is available at http://www.springerlink.com
Corresponding editor: Zhu Hong.
About this article
Cite this article
Mensah, S., Egeru, A., Assogbadjo, A.E. et al. Vegetation structure, dominance patterns and height growth in an Afromontane forest, Southern Africa. J. For. Res. 31, 453–462 (2020). https://doi.org/10.1007/s11676-018-0801-8
Received:

Accepted:

Published:

Issue Date:
Keywords
Diversity

Population structure

Species composition

Size class distribution