Abstract
Although several studies have assessed the effects of thinning on water quality, including nitrogen (N) exports, few have examined N-saturated plantations. This study assessed the short-term effect of thinning on N exports from a N-saturated plantation forest in northern Kyushu, western Japan, that was thinned (43% of basal area) during January–March 2012. Water levels at the gauging station were continually measured, and stream-water baseflow and stormflow samples were collected before (2011) and after (2013) forest thinning. Annual precipitation before (2469 mm) and after (2418 mm) forest thinning differed little, and annual water discharge after thinning (1641 mm) was similar to that before thinning (1609 mm). However, direct flow during stormflow periods was higher after thinning (260 mm) than before (153 mm). The concentrations of major ions in stream water did not differ before and after thinning. As a result, the high annual dissolved inorganic N (DIN) exports differed little before (35.8 kg N ha−1 a−1) and after (36.5 kg N ha−1 a−1) forest thinning. DIN exports during stormflow periods were slightly higher after (12.2 kg N ha−1 a−1) than before thinning (10.5 kg N ha−1 a−1) and were proportional to the increased direct flow after thinning (561 mm after vs. 470 mm before thinning). We concluded that thinning does not affect annual N exports from the N-saturated plantation forest, but it can increase the proportion of N exported during stormflow periods in proportion to increased water volume of direct flow after thinning.
This is a preview of subscription content, log in to check access.
Access options
Buy single article
Instant access to the full article PDF.
US$ 39.95
Tax calculation will be finalised during checkout.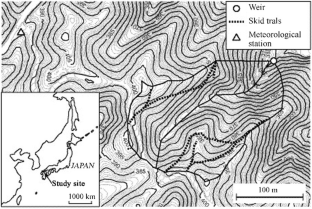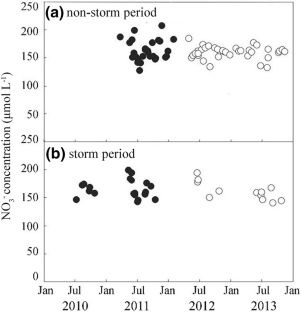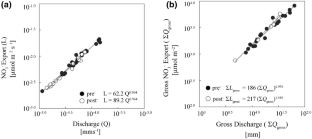 References
Aber JD, Nadelhoffer KJ, Steudler P, Melillo JM (1989) Nitrogen saturation in northern forest ecosystems. Bioscience 39:378–386

Akimoto H (2003) Global air quality and pollution. Science 302:1716–1719

Allan JD, Erickson DL, Fay J (1997) The influence of catchment land use on stream integrity across multiple spatial scales. Freshwater Biol 37:149–161

Amatya DM, Skaggs RW (2008) Effects of thinning on hydrology and water quality of drained pine forest in coastal North Carolina. In: 21st Century watershed technology: improving water quality and environment, Chile

Bäumler R, Zech W (1997) Atmospheric deposition and impact of forest thinning on the throughfall of mountain forest ecosystems in the Bavarian Alps. For Ecol Manag 95:243–251

Boggs JL, McNulty SG, Gavazzi MJ, Myers JM (2005) Tree growth, foliar chemistry, and nitrogen cycling across a nitrogen deposition gradient in southern Appalachian deciduous forests. Can J For Res 35:1901–1913. https://doi.org/10.1139/x05-128

Bormann FH, Likens GE (1979) Pattern and process in a forested ecosystem, 2nd edn. Springer, New York

Briggs RD, Hornbeck JW, Smith CT, Lemin RC, McCormack ML (2000) Long-term effects of forest management on nutrient cycling in spruce-fir forests. For Ecol Manag 138:285–299. https://doi.org/10.1016/s0378-1127(00)00420-5

Cambi M, Certini G, Neri F, Marchi E (2015) The impact of heavy traffic on forest soils: a review. For Ecol Manag 338:124–138. https://doi.org/10.1016/j.foreco.2014.11.022

Chiwa M, Ide J, Maruno R, Higashi N, Otsuki K (2010a) Effects of storm flow samplings on the evaluation of inorganic nitrogen and sulfate budgets in a small forested watershed. Hydrol Process 24:631–640. https://doi.org/10.1002/hyp.7557

Chiwa M, Maruno R, Ide J, Miyano T, Higashi N, Otsuki K (2010b) Role of stormflow in reducing N retention in a suburban forested watershed, western Japan. J Geophys Res Biogeosci 115:G02004. https://doi.org/10.1029/2009jg000944

Chiwa M, Onikura N, Ide J, Kume A (2012) Impact of N-saturated upland forests on downstream N pollution in the Tatara River Basin, Japan. Ecosystems 15:230–241

Chiwa M, Saito T, Haga H, Kato H, Otsuki K, Onda Y (2015) A nitrogen-saturated plantation of Cryptomeria japonica and Chamaecyparis obtusa in Japan is a large nonpoint nitrogen source. J Environ Qual 44:1225. https://doi.org/10.2134/jeq2014.09.0401

Dung BX, Gomi T, Miyata S, Sidle RC, Kosugi K, Onda Y (2012) Runoff responses to forest thinning at plot and catchment scales in a headwater catchment draining Japanese cypress forest. J Hydrol 444–445:51–62. https://doi.org/10.1016/j.jhydrol.2012.03.040

Fenn ME, Poth MA, Aber JD, Baron JS, Bormann BT, Johnson DW, Lemly AD, McNulty SG, Ryan DE, Stottlemyer R (1998) Nitrogen excess in North American ecosystems: predisposing factors, ecosystem responses, and management strategies. Ecol Appl 8:706–733

Floyd WC, Schoenholtz SH, Griffith SM, Wigington PJ, Steiner JJ (2009) Nitrate-nitrogen, land use/land cover, and soil drainage associations at multiple spatial scales. J Environ Qual 38:1473–1482. https://doi.org/10.2134/jeq2008.0099

Fukushima T, Tei R, Arai H, Onda Y, Kato H, Kawaguchi S, Gomi T, Dung BX, Nam S (2015) Influence of strip thinning on nutrient outflow concentrations from plantation forested watersheds. Hydrol Process 29:5109–5119. https://doi.org/10.1002/hyp.10570

Galloway JN (2005) The global nitrogen cycle. In: Schlesinger WH (ed) Biogeochemistry. Vol 8. Treatise on geochemistry. Elsevier, Oxford, pp 557–583

Gomi T, Sidle RC, Ueno M, Miyata S, Kosugi K (2008) Characteristics of overland flow generation on steep forested hillslopes of central Japan. J Hydrol 361:275–290. https://doi.org/10.1016/j.jhydrol.2008.07.045

Grace JM, Skaggs RW, Chescheir GM (2006) Hydrologic and water quality effects of thinning loblolly pine. Trans ASABE 49:645–654

Gundersen P, Schmidt IK, Raulund-Rasmussen K (2006) Leaching of nitrate from temperate forests–effects of air pollution and forest management. Environ Rev 14:1–57

Hewlett JD, Hibbert AD (1967) Factors affecting the response of small watersheds to precipitation in humid areas. In: Sopper WE, Lull HW (eds) Proceedings of the international symposium on forest hydrology. Pergamon, Oxford, pp 275–290

Himeno M, Isamoto N (2002) Experiment of gauging water and water quality on Kabusi experimental basin. Kyushu J For Res 55:221–223 (in Japanese)

Ide J, Chiwa M, Higashi N, Maruno R, Mori Y, Otsuki K (2012) Determining storm sampling requirements for improving precision of annual load estimates of nutrients from a small forested watershed. Environ Monit Assess 184:4747–4762. https://doi.org/10.1007/s10661-011-2299-9

Ide J, Sun H, Okabe N, Jeong S, Otsuki K (2016) A preliminary investigation on the effects of thinning on biomass of understory vegetation and floor cover percentage in Japanese cedar plantations. Bull Kyushu Univ For 97:11–16 (in Japanese with English summary)

Inagaki Y, Kuramoto S, Torii A, Shinomiya Fukata H (2008) Effects of thinning on leaf-fall and leaf-litter nitrogen concentration in hinoki cypress (Chamaecyparis obtusa Endlicher) plantation stands in Japan. For Ecol Manag 255:1859–1867. https://doi.org/10.1016/j.foreco.2007.12.007

Jewett K, Daugharty D, Krause HH, Arp PA (1995) Watershed responses to clear-cutting: effects on soil solutions and stream water discharge in central New Brunswick. Can J Soil Sci 75:475–490

Joel A, Messing I, Seguel O, Casanova M (2002) Measurement of surface water runoff from plots of two different sizes. Hydrol Process 16:1467–1478

Kopáček J, Hejzlar J, Kaňa J, Porcal P, Turek J (2016) The sensitivity of water chemistry to climate in a forested, nitrogen-saturated catchment recovering from acidification. Ecol Indic 63:196–208. https://doi.org/10.1016/j.ecolind.2015.12.014

Kubota T, Tsuboyyama Y, Nobuhiro T, Sawano S (2013) Change of evapotranspiration due to stand thinning in the Hitachi Ohta experimental watershed. J Jap For Soc 95:37–41 (in Japanese with English summary)

Lane PNJ, Mackay SM (2001) Streamflow response of mixed-species eucalypt forests to patch cutting and thinning treatments. For Ecol Manag 143:131–142

LeBauer DS, Treseder KK (2008) Nitrogen limitation of net primary productivity in terrestrial ecosystems is globally distributed. Ecology 89:371–379. https://doi.org/10.1890/06-2057.1

Likens GE, Bormann FH (2013) Biogeochemistry of a Forested Ecosystem, 3rd edn. Springer, New York

Likens GE, Bormann FH, Johnson NM, Fisher DW, Pierce RS (1970) Effects of forest cutting and herbicide treatment on nutrient budgets in Hubbard Brook watershed-ecosystem. Ecol Monogr 40:23–47

Morris SJ, Boerner REJ (1998) Interactive influences of silvicultural management and soil chemistry upon soil microbial abundance and nitrogen mineralization. For Ecol Manag 103:129–139

Nagatsuka Y, Gomi T, Hiraoka M, Miyata S, Onda Y (2014) Infiltration capacity and runoff characteristics of a forest road. J Jpn For Soc 96:315–322 (in Japanese with English summary)

Negishi N, Sidle RC, Zigler AD, Noguchi S, Rahim NA (2008) Contribution of intercepted subsurface flow to road runoff and sediment transport in a logging-disturbed tropical catchment. Earth Surf Proc Land 33:1174–1191

Ohara T, Akimoto H, Kurokawa J, Horii N, Yamaji K, Yan X, Hayasaka T (2007) An Asian emission inventory of anthropogenic emission sources for the period 1980 − 2020. Atmos Chem Phys 7:4419–4444

Ohrui K, Mitchell MJ (1997) Nitrogen saturation in Japanese forested watersheds. Ecol Appl 7:391–401

Onda Y, Gomi T, Mizugaki S, Nonoda T, Sidle RC (2010) An overview of the field and modelling studies on the effects of forest devastation on flooding and environmental issues. Hydrol Process 24:527–534. https://doi.org/10.1002/hyp.7548

Parsons AJ, Brazier RE, Wainwright J, Powell DM (2006) Scale relationships in hillslope runoff and erosion. Earth Surf Proc Land 21:1381–1393

Prescott CE (1997) Effects of clearcutting and alternative silvicultural systems on rates of decomposition and nitrogen mineralization in a coastal montane coniferous forest. For Ecol Manag 95:253–260

Saito T, Matsuda H, Komatsu M, Xiang Y, Takahashi A, Shinohara Y, Otsuki K (2013) Forest canopy interception loss exceeds wet canopy evaporation in Japanese cypress (Hinoki) and Japanese cedar (Sugi) plantations. J Hydrol 507:287–299. https://doi.org/10.1016/j.jhydrol.2013.09.053

Saito T, Yamamoto K, Komatsu M, Matsuda H, Yunohara S, Komatsu H, Tateishi M, Xiang Y, Otsuki K, Kumagai T (2015) Using airborne LiDAR to determine total sapwood area for estimating stand transpiration in plantations. Hydrol Process 29:5071–5087. https://doi.org/10.1002/hyp.10482

Startsev AD, McNabb DH (2000) Effects of skidding on forest soil infiltration in west-central Alberta. Can J Soil Sci 80:617–624

Sun XC, Onda Y, Otsuki K, Kato H, Gomi T (2016) The effect of strip thinning on forest floor evaporation in a Japanese cypress plantation. Agr For Meteorol 216:48–57. https://doi.org/10.1016/j.agrformet.2015.10.006

Sun HT, Kasahara T, Otsuki K, Tateishi M, Saito T, Onda Y (2017) Effects of thinning on flow peaks in a forested headwater catchment in western Japan. Water 9:446

Swistock BR, Edwards PJ, Wood F, Dewalle DR (1997) Comparison of methods for calculating annual solute exports from six forested Appalachian watersheds. Hydrol Process 11:655–669

Tateishi M, Xiang Y, Saito T, Otsuki K, Kasahara T (2015) Changes in canopy transpiration of Japanese cypress and Japanese cedar plantations because of selective thinning. Hydrol Process 29:5088–5097. https://doi.org/10.1002/hyp.10700

Thomas D, Johannes K, David K, Rudiger G, Ralf K (2016) Impacts of management and climate change on nitrate leaching in a forested karst area. J Environ Manag 165:243–252

Vadeboncoeur MA (2010) Meta-analysis of fertilization experiments indicates multiple limiting nutrients in northeastern deciduous forests. Can J For Res 40:1766–1780. https://doi.org/10.1139/x10-127

Vitousek PM, Howarth RW (1991) Nitrogen limitation on land and in the sea—how can it occur. Biogeochemistry 13:87–115

Vitousek PM, Matson PA, Van Cleve K (1989) Nitrogen availability and nitrification during succession: primary, secondary, and old-field seres. Plant Soil 115:229–239

Vitousek PM, Aber JD, Howarth RW, Likens GE, Matson PA, Schindler DW, Schlesinger WH, Tilman DG (1997) Human alteration of the global nitrogen cycle: sources and consequences. Ecol Appl 7:737–750

Weis W, Huber C, Gottlein A (2001) Regeneration of mature Norway spruce stands: early effects of selective cutting and clear cutting on seepage water quality and soil fertility. Sci World J 1(1):493–499

Wemple BC, Jones JA (2003) Runoff production on forest roads in a steep, mountain catchment. Water Resour Res 39:1–17. https://doi.org/10.1029/2002wr001744

Wickham JD, O'Neill RV, Riitters KH, Smith ER, Wade TG, Jones KB (2002) Geographic targeting of increases in nutrient export due to future urbanization. Ecol Appl 12:93–106

Zhuang SY, Wang J, Sun X, Wang MK (2014) Effect of forest thinning on soil net nitrogen mineralization and nitrification in a Cryptomeria japonica plantation in Taiwan. J For Res 25:571–578. https://doi.org/10.1007/s11676-014-0496-4
Acknowledgements
We thank Y. Endo, T. Sano, and K. Nagase (Tottori University) for handling water samples. We thank members of the Eco-hydrology Laboratory, Kasuya Research Forest (Kyushu University) especially M. Komatsu, H. Matsuda, S. Yunohara, and H. Sun for help with fieldwork. We are grateful to M. Watanabe of the Kahanzan Forest Owner's Cooperative for the thinning operation. The cost of publication was supported in part by a research grant for Young Investigators of the Faculty of Agriculture, Kyushu University.
Additional information
Project funding: The work was supported by the Project "Development of Innovative Technologies for Increasing in Watershed Runoff and Improving River Environment by the Management Practice of Devastated Forest Plantation" funded by Core Research for Evolutional Science and Technology (CREST) of the Japan Science and Technology (JST) and by a Grant-in-Aid for Scientific Research (17H03833).
The online version is available at http://www.springerlink.com
Corresponding editor: Tao Xu.
About this article
Cite this article
Chiwa, M., Haga, H., Kasahara, T. et al. Effect of forest thinning on hydrologic nitrate exports from a N-saturated plantation. J. For. Res. 31, 387–395 (2020). https://doi.org/10.1007/s11676-018-0784-5
Received:

Accepted:

Published:

Issue Date:
Keywords
Thinning

Nitrogen saturation

Nitrogen export

Direct flow

Baseflow