Abstract
The impacts of elevated temperature and CO2 on young silver birch (Betula pendula Roth) saplings after 0, 25, 50 or 75% artificial defoliation were assessed by measuring plant height and dry mass of aboveground compartments and roots and various morphological and physiological variables. Defoliation either increased or decreased plant growth depending on the severity of damage and the climatic treatment. At 21 °C and 400 mg L−1 CO2, defoliated plants were not able to compensate for the lost foliage, but growth compensation and adaptation to the changed conditions were greater; growth of young defoliated silver birch saplings increased, which led to increased height and a tendency to enhance final aboveground and root biomass and leaf nitrogen and carbon content compared to the nondefoliated controls. Nevertheless, the short-term effect of the different climatic conditions did not result in a significant overgrowth of defoliated plants. A slight increase in temperature and CO2 were the most acceptable conditions for defoliated plants; however, a 4 °C increase with correspondingly higher CO2 was more stressful as shown by less growth in height and biomass allocation to leaves, stems and roots. The findings from the pilot experiment are more applicable to young birch trees, but stress on young trees may be reflected in future tree growth.
Access options
Buy single article
Instant access to the full article PDF.
US$ 39.95
Tax calculation will be finalised during checkout.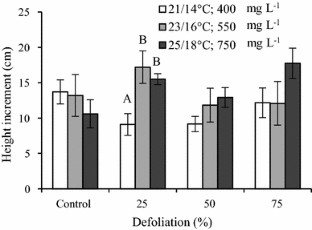 References
Agrawal AA (2000) Overcompensation of plants in response to herbivory and the by-product benefits of mutualism. Trends Plant Sci 5:309–313

Ainsworth EA, Long SP (2005) What have we learned from 15 years of free-air CO2 enrichment (FACE)? A meta-analytic review of the responses of photosynthesis, canopy properties and plant production to rising CO2. New Phytol 165:351–372

Ainsworth EA, Rogers A (2007) The response of photosynthesis and stomatal conductance to rising (CO2): mechanisms and environmental interactions. Plant Cell Environ 30:258–270

Anttonen S, Piispanen R, Ovaska J, Mutikainen P, Saranpää P, Vapaavuori E (2002) Effects of defoliation on growth, biomass allocation, and wood properties of Betula pendula clones grown at different nutrient levels. Can J For Res 32:498–508

Ayres MP (1993) Plant defence, herbivory, and climate change. In: Kareiva PM, Kingsolver JG, Huey RB (eds) Biotic interactions and global change. Sinauer Associates, Sunderland, MA, pp 75–94

Bassman JH, Dickman DI (1982) Effects of defoliation in the developing zone on young Populus X euramericana plants. I. Photosynthetic physiology, growth and dry weight partitioning. For Sci 28:599–612

Dale VH, Joyce LA, McNulty S, Neilson RP, Ayres MP, Flannigan MD, Hanson PJ, Irland LC, Lugo AE, Peterson ChJ, Simberloff D, Swanson FJ, Stocks BJ, Wotton BM (2001) Climate change and forest disturbances. Bioscience 51(9):723–734

Dormann CF, van der Wal R, Bakker JP (2000) Competition and herbivory during salt marsh succession: the importance of forb growth strategy. J Ecol 88:571–583

Gunn S, Farrar JF (1999) Effects of a 4 °C increase in temperature on partitioning of leaf area and dry mass, root respiration and carbohydrates. Funct Ecol 13:12–20

Hart M, Hogg EH, Lieffers VJ (2000) Enhanced water relations of residual foliage following defoliation in Populus tremuloides. Can J Bot 78:583–590

Heichel GH, Turner NC (1983) CO2 assimilation of primary and regrowth foliage of red maple and red oak: response to defoliation. Oecologia 57:14–19

Huttunen L, Niemelä P, Peltola H, Heiska S, Rousi M, Kellomäki S (2007) Is a defoliated silver birch seedling able to overcompensate the growth under changing climate? Environ Exp Bot 60:227–238

Huttunen L, Niemelä P, Julkunen-Tiitto R, Heiska S, Tegelberg R, Rousi M, Kellomäki S (2008) Does defoliation induce chemical and morphological defences in the leaves of silver birch seedlings under changing climate? Chemoecology 18:85–98

Huttunen L, Niemelä P, Ossipov V, Rousi M, Klemola T (2012) Do warmer growing seasons ameliorate the recovery of mountain birches after winter moth outbreak? Trees Struct Funct 26:809–819

Huttunen L, Blande J, Li T, Rousi M, Klemola T (2013) Effects of warming climate on early-season carbon allocation and height growth of defoliated mountain birches. Plant Ecol 214:373–383

Karlberg L, Ben-Gal A, Jansson P, Shani U (2006) Modelling transpiration and growth in salinity-stressed tomato under different climatic conditions. Ecol Model 190(1–2):15–40

Kuokkanen K, Julkunen-Tiitto R, Keinänen M, Niemelä P, Tahvanainen J (2001) The effect of elevated CO2 and temperature on the secondary chemistry of Betula pendula seedlings. Trees Struct Funct 15:378–384

Lawrence A, Marzano M (2014) Is the private forest sector adapting to climate change? A study of forest managers in north Wales. Ann For Sci 71:291–300

Lee H, Overdieck D, Jarvis PG (1998) Biomass, growth and carbon allocation. In: Jarvis PG (ed) European forests and global change: The effects of rising CO2 and temperature. Cambridge University Press, Cambridge, pp 126–191

Lindner M, Maroschek M, Netherer S, Kramer A, Barbati A, Garcia-Gonzalo J, Seidl R, Delzon S, Corona P, Kolström M, Lexer MJ, Marchetti M (2010) Climate change impacts, adaptive capacity, and vulnerability of European forest ecosystems. For Ecol Manag 259:698–709

Long SP (1991) Modification of the response of photosynthetic productivity to rising temperature by atmospheric CO2 concentrations. Has its importance been underestimated? Plant Cell Environ 14:729–739

Makkar HPS, Siddhuraju P, Becker K (2007) Molecular biotechnology: plant secondary metabolites. Methods in molecular biology series, vol 393. Humana Press, Totowa, p 130

Mattson WJ, Kuokkanen K, Niemelä P, Julkunen-Tiitto R, Kellomäki S, Tahvanainen J (2004) Elevated CO2 alters birch resistance to Lagomorpha herbivores. Glob Change Biol 10:1402–1413

Ministry of Environment/State Forest Service (2015) Lithuanian statistical yearbook of forestry 2015. Lututė, Kaunas, p 184

Mutikainen P, Walls M, Ovaska J, Keinänen M, Julkunen-Tiitto R, Vapaavuori E (2000) Herbivore resistance in Betula pendula: effect of fertilization, defoliation, and plant genotype. Ecology 81:49–65

Ozolinčius R, Lekevičius E, Stakėnas V, Galvonaitė A, Samas A, Valiukas D (2014) Lithuanian forests and climate change: possible effects on tree species composition. Eur J For Res 133(1):51–60

Prittinen K, Pusenius J, Koivunoro K, Rousi M, Roininen H (2003) Mortality in seedling populations of Silver Birch: genotypic variation and herbivore effects. Funct Ecol 17:658–663

Reichenbacker RR, Schultz RC, Hart ER (1996) Impact of artificial defoliation on populus growth, biomass production, and total non-structural carbohydrate concentration. Environ Entomol 25:632–642

Reyer C, Lasch-Born P, Suckow F, Gutsch M, Murawski A, Pilz T (2014) Projections of regional changes in forest net primary productivity for different tree species in Europe driven by climate change and carbon dioxide. Ann For Sci 71:211–225

Slinkard K, Singleton VL (1977) Total phenol analysis: automation and comparison with manual methods. Am J Enol Vitic 28(1):49–55

Taub DR, Wang X (2008) Why are nitrogen concentrations in plant tissues lower under elevated CO2? A critical examination of the hypotheses. J Integr Plant Biol 50(11):1365–1374

Volney WJA, Fleming RA (2000) Climate change and impacts of boreal forest insects. Agr Ecosyst Environ 82(1–3):283–294

Wolf A, Kozlov MV, Callaghan TV (2008) Impact of non-outbreak insect damage on vegetation in northern Europe will be greater than expected during a changing climate. Clim Change 87:91–106

Yin X (2002) Responses of leaf nitrogen concentration and specific leaf area to atmospheric CO2 enrichment: a retrospective synthesis across 62 species. Glob Change Biol 8:631–642
Acknowledgements
We acknowledge the valuable assistance of the colleagues from the Institute of Forestry and Vytautas Magnus University during the experiments.
Additional information
Project funding: This study was financially supported by the Long-term Research Programme "Sustainable Forestry and Global Changes" implemented by the Lithuanian Research Centre for Agriculture and Forestry.
The online version is available at http://www.springerlink.com
Corresponding editor: Hu Yanbo.
About this article
Cite this article
Araminienė, V., Varnagirytė-Kabašinskienė, I. & Stakėnas, V. Pilot study on the effects of elevated air temperature and CO2 on artificially defoliated silver birch saplings. J. For. Res. 29, 1507–1518 (2018). https://doi.org/10.1007/s11676-018-0591-z
Received:

Accepted:

Published:

Issue Date:
Keywords
Biomass

Betula pendula
CO2 concentration

Elevated temperature

Photosynthesis