Abstract
Populus species are important resources for industry and in scientific study on biological and agricultural systems. Our objective was to enhance the frequency of plant regeneration in Himalayan poplar (Populus ciliata wall. ex Royle). The effect of TDZ alone and in combination with adenine and NAA was studied on the regeneration potential of petiole explants. The explants were excised from Himalayan poplar plants grown in glass-houses. After surface sterilization the explants were cultured on shoot induction medium. High percentage shoot regeneration (86 %) was recorded on MS medium supplemented with 0.004 mg L−1 TDZ and 79.7 mg L−1 adenine. The regenerated shoots for elongation and multiplication were transferred to MS + 0.5 mg L−1 BAP + 0.2 mg L−1 IAA + 0.3 mg L−1 GA3. Root regeneration from shoots developed in vitro was observed on MS medium supplemented with 0.10 mg L−1 IBA. Himalayan poplar plantlets could be produced within 2 months after acclimatization in a sterile mixture of sand and soil. We developed a high efficiency plant regeneration protocol from petiole explants of P. ciliata.
Access options
Buy single article
Instant access to the full article PDF.
USD 39.95
Price excludes VAT (USA)
Tax calculation will be finalised during checkout.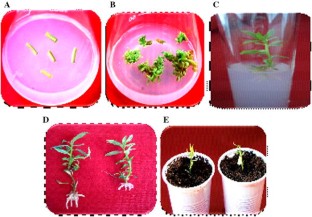 References
Balatinecz JJ, Kretschmann DE, Leclercq A (2001) Acheivements in the utilization of poplar wood-guideposts for the future. For Chron 77:265–269

Charenon J, Taris B (1960) Remarques sur la structure des tissus neoformes et l'apparition d'organes specializes chez quatre cultivars de Populus et chez Salix alba cultives in vitro. CR Acad Sci 251:2070–2071

Cheema GS (1989) Somatic embryogenesis and plant regeneration from cell suspension and tissue cultures of mature Himalayan poplar (Populus ciliata). Plant Cell Rep 8:124–127

Confalonieri M, Balestrazzi J, Bisoffi S, Carbonera D (2003) In vitro culture and genetic engineering of Populus spp. synergy for forest tree improvement. Plant Cell Tissue Organ Cult 72:109–138

Costache IM, Lowe KC, Davey MR, Power JB (1995) Improved micropropagation of Populus spp. by Pluronic F-68. Plant Growth Regul 17:233–239

Cseke LJ, Cseke SB, Podila GK (2007) High efficiency poplar transformation. Plant Cell Rep 26:1529–1538

Dai WH, Cheng ZM, Sargent W (2003) Plant regeneration and Agrobacterium-mediated transformation of two elite aspen hybrid clones from in vitro leaf tissue. In vitro Cell Dev Biology-Plant 39:6–11

De Block M (1990) Factors influencing the tissue culture and Agrobacterium tumefaciens-mediated transformation of hybrid aspen and poplar clones. Plant Physiol 93:1110–1116

Dong SX, Ning ZX, Yuan SJ, Liu XQ, Zhang S (1996) Effects of growth regulators on leaf callus induction and plantlet regeneration in Populus tomentosa. Ningxia J Agric For Sci Technol 6:18–20

Gangoo SK, Khurana DK (2002) In vitro multiplication of poplars: effects of growth regulators and genotypes. Appl Biol Res 4:11–16

Gomez KA, Gomez AA (1984) Statistical procedures for agricultural research. John Wiley and Sons, New York

Gosukonda RM, Beyl CA, Zipf A, Sharma GC (1998) In vitro callus initiation and multiple shoot production of Populus deltoides. Plant Growth Regul Soc Am 26:79–93

Huttenman CA, Preece JE (1993) Thidiazuron: a potent cytokinin for woody plant tissue culture. Plant Cell, Tissue Organ Cult 33:105–119

Jafari MA, Kiss J, Gergacz J, Heszky LE (1995) High efficiency callus induction and plant regeneration in petiole culture of four poplar genotypes. Acta Biol Hung 46:51–59

Kang W, Zheng J, Lıu KY, Peng JX, Hong HZ (2006) Study on plant regeneration of excised leaf from Populus deltoids (I-63 × I-69). J Wuhan Bot Res 24:83–86

Ledbetter DI, Preece JE (2004) Thidiazuron stimulates adventitious shoot production from Hydrangea quercifolia Bartr. Leaf explants. Sci Hortic 101:121–126

Leple JC, Brasileiro ACM, Michel MF, Delmotte F, Jouanin L (1992) Transgenic poplars: expression of chimaeric genes using four different constructs. Plant Cell Rep 11:137–141

Liu CZ, Murch SJ, Demerdash MEL, Saxena PK (2003) Regeneration of the Egyptian medicinal plant Artemisia judaica L. Plant Cell Rep 21:525–530

Ma C, Strauss SH, Meilan R (2004) Agrobacterium-mediated transformation of the genome sequenced poplar clone, Nisqually-1 (Populus trichocarpa). Plant Mol Biol Rep 22:1–9

Malik KA, Saxena PK (1992) Thidiazuron induces high frequency shoots regeneration in intact seedlings of pea (Pisum sativum), Chickpea (Cicer arietinum) and lentil (Lens culinaris). Aust J Plant Physiol 19:731–740

Mathes MC (1964) Culture of isolated triploid aspen tissue. For Sci 10:35–38

Mehra PN, Cheema GS (1980) Clonal multiplication in vitro of Himalayan poplar (Populus ciliata). Phytomorphology 30:336–343

Mithila J, Hall JC, Victor JMR, Saxena PK (2003) Thidiazuron induces shoot organogenesis at low concentration and somatic embryogenesis at high concentration on leaf and petiole explants of African violet (Saintpaulia ionantha WEndl.). Plant Cell Rep 21:408–414

Murashige T, Skoog F (1962) Revised medium for rapid growth and bioassays with tobacco tissue cultures. Physiol Planta 15:211–218

Murthy BNS, Murch SJ, Saxena PK (1998) Thidiazuron: a potent regulator of in vitro plant morphogenesis. In Vitro Cell Dev Biol 34:267–275

Noel N, Leple JC, Pilate G (2002) Optimization of in vitro micropropagation and regeneration for Populus X interamericana and Populus X euramericana hybrids (P. deltoides, P. trichocarpa, and P. nigra). Plant Cell Rep 20:1150–1155

Park YG, Son SH (1988) In vitro organogenesis and somatic embryogenesis from punctured leaf of Populus nigra × P. maximowiczii. Plant Cell, Tissue Organ Cult 15:95–105

Park S, Oh S, Han KH (2004) Large scale computational analysis of poplar ESTs reveals the repertoire and unique features of expressed genes in the poplar genome. Mol Breed 14:429–440

Pelah D, Kaushik RA, Mizrahi Y, Sitrit Y (2002) Organogenesis in the vine cactus Selenicereus megalanthus using thidiazuron. Plant cell Tissue and Organ Cult 71:81–84

Peternel S, Gabrovsek K, Gogala N, Regvar M (2009) In vitro propagation of European aspen (Populus tremula L.) from axillary buds via organogenesis. Sci Hortic 121:109–112

Phan CT, Jorgensen J, Jouve L, Hausman JF, Polle A, Teichmann T (2004) Micropropagation of Populus euphratica Olivier. Belg J Bot 137:175–180

Rishi AS, Nelson ND, Goyal A (2001) Genetic modification for improvement of Populus. Physiol Mol Biol Plants 7:7–21

Schnoor JL (2000) Phytostabalization of metal using hybrid poplar tree. In: Raskin I, Ensley BD (eds) Pytoremediation of toxic metals: using plant to clean up the environment. John Wiley and Sons Inc, New York, pp 133–150

Schween G, Schwenkel HG (2002) In vitro regeneration in Primula Sp. Via organogenesis. Plant Cell Rep 20:1006–1010

Shen HL, Wantanabe S, Ide Y (1998) Establishment of callus culture system of Populus euphratica, Populus alba cv. Pyramidalis and Populus maximowiczii X Populus plantierensis. Bull Tokyo Univ For 99:19–26

Son SH, Hall RB (1990) Plant regeneration capacity of callus derived from leaf, stem and root segments of Populus alba X Populus grandidentata michx. Plant Cell Rep 9:344–347

Thakur AK, Srivatava DK (2006) High efficiency plant regeneration from leaf explants of male Himalayan poplar (Populus ciliata wall.). In vitro Cell Dev Biol Plant 42:144–147

Thakur AK, Sharma S, Srivastava DK (2008) Direct organogenesis and plant regeneration from petiole explant of male Himalayan poplar (Populus ciliata wall.). Phytomorphology 58:49–55

Thakur AK, Saraswat A, Srivastava DK (2012) In vitro plant regeneration through direct organogenesis & in Populus deltoids clone G48 from petiole explants. J Plant Biochem Biotechnol 21:23–29

Tsvetkov I, Hausman JF, Jouve L (2007) Thidiazuron induced regeneration in root segment of white poplar (P. alba L.). Bulg J Agric Sci 13:623–626

Venverloo CJ (1973) Formation of adventitious organs in cytokinin induced formation of leaves and shoots in callus cultures of Populus nigra L. Acta Bot Neerl 22:390–398

Walter MW, Grima-pettenati J, Grand C, Boudet AM, Lamb C (1988) Cinnamyl alcohol dehydrogenase, a molecular marker specific for lignin synthesis: cDNA cloning and mRNA induction by fungal elicitor. Proceedings of the National Academy of Sciences, vol 85, pp 5546–5550

Winton LL (1968) Plantlets from aspen tissue culture. Science 160:1234–1235

Yevtushenko PD, Misra S (2010) Efficient Agrobacterium-mediated transformation of commercial hybrid poplar Populus nigra X Populus maximowiczii. Plant Cell Rep 29:211–221
About this article
Cite this article
Aggarwal, G., Gaur, A. & Srivastava, D.K. Establishment of high frequency shoot regeneration system in Himalayan poplar (Populus ciliata Wall. ex Royle) from petiole explants using Thidiazuron cytokinin as plant growth regulator. J. For. Res. 26, 651–656 (2015). https://doi.org/10.1007/s11676-015-0048-6
Received:

Accepted:

Published:

Issue Date:

DOI: https://doi.org/10.1007/s11676-015-0048-6
Keywords
In vitro regeneration

Petiole explants

Growth regulator

Thidiazuron

Populus ciliata