Abstract
There are documented differences in the efficacy of medical treatment for pain for men and women. Women are less likely to have their pain controlled and receive less treatment than men. We are investigating one possible explanation for this gender pain gap: that there is a difference in how women and men report their pain to physicians, and so there is a difference in how physicians understand their pain. This paper describes an exploratory study into gendered attitudes towards reporting uncontrolled pain to a physician. This exploratory study provided subjects with a vignette describing a situation in which their pain is not being treated adequately and asked them questions about their attitudes towards self-advocacy and the strategies they would likely use to express themselves. We found that women scored higher than men on measures of patient likelihood to self-advocate. Women also reported intending to use more varied self-advocacy strategies than men. This suggests it is unlikely that patient's communication styles are to blame for the gender pain gap.
Access options
Buy single article
Instant access to the full article PDF.
US$ 39.95
Tax calculation will be finalised during checkout.
Subscribe to journal
Immediate online access to all issues from 2019. Subscription will auto renew annually.
US$ 79
Tax calculation will be finalised during checkout.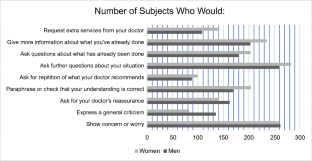 Notes
1.

There are very little data on pain treatment for nonbinary people. This is a gap in the literature which we will not address directly, but it bears noting that while the gender disparity that we seek to explain is well documented, there may be other gender-based pain disparities which are understudied and which nothing here addresses. This is outside of the scope of this study, but is also very important to investigate.
References
Adams, S., T. Case, J. Fitness, and R. Stevenson. 2017. Dehumanizing but competent: The impact of gender, illness type, and emotional expressiveness on patient perceptions of doctors. Journal of Applied Social Psychology 47(5): 247–255.

Alabas, O.A., O.A. Tashani, G. Tabasam, and M. Johnson. 2012. Gender role affects experimental pain responses: A systematic review with meta-analysis. European Journal of Pain 16(9): 1211–1223.

Anderson, K., C. Green, and R. Payne. 2009. Racial and ethnic disparities in pain: Causes and consequences of unequal care. The Journal of Pain 10(12): 1187–1204.

Ankawi, B., P.M Slepian, L.K. Himawan, and C.R. France. 2017. Validation of the pain resilience scale in a chronic pain sample. The Journal of Pain 18(8): 984–993.

Barry, M.J., and S. Edgman-Levitan. 2012. Shared decision making—The pinnacle of patient-centered care. New England Journal of Medicine 366(9): 780–781.

Bernardes, S.F., E. Keogh, and M. Lima. 2008. Bridging the gap between pain and gender research: A selective literature review. European Journal of Pain 12(4): 427–440.

Borkhoff, C.M., G.A. Hawker, H. Kreder, R.H. Glazier, N. Mahomed, and J.G. Wright. 2008. The effect of patients' sex on physicians' recommendations for total knee arthroplasty. Canadian Medical Association Journal 178(6): 681–687.

Buhrmester, M., T. Kwang, and S. Gosling. 2011. Amazon's Mechanical Turk: A new source of inexpensive, yet high-quality, data? Perspectives on Psychological Science 6(1): 3–5.

Carr, D.B., D. Reines, J. Schaffer, R.C. Polomano, and S. Lande. 2005. The impact of technology on the analgesic gap and quality of acute pain management. Regional Anesthesia and Pain Medicine 30(3): 286–291.

Cavalier, J., Hampton, S., Langford, R., Symes, L., and Young, A. 2018. The influence of race and gender on nursing care decisions: A pain management intervention. Pain Management Nursing 19(3): 238–245.

Ciaramella, A., and P. Poli. 2015. Pathogenetic psychosomatic mechanisms in chronic pain: Gender differences among syndromes. Journal of Psychosomatic Research 78(6): 597.

DiCecco, R., U. Patel, and R.E. Upshur. 2002. Is there a clinically significant gender bias in post-myocardial infarction pharmacological management in the older (> 60) population of a primary care practice? BMC Family Practice 3: 8.

Duffy, F.D., G. Gordon, G. Whelan, K. Cole-Kelly, and R. Frankel. 2004. Assessing competence in communication and interpersonal skills: The Kalamazoo II report. Academic Medicine 79(6): 495–507.

Edwards, L. 2013. The gender gap in pain. The New York Times, March 16, Opinion section, 16.

Epstein, R.M., P. Franks, K. Fiscella, et al. 2005. Measuring patient-centered communication in patient–physician consultations: Theoretical and practical issues. Social Science & Medicine 61(7): 1516–1528.

Fillingim, R., C.D. King, M.C. Ribeiro-Dasilva, B. Rahim-Williams, and J.L. Riley. 2009. Sex, gender, and pain: A review of recent clinical and experimental findings. The Journal of Pain 10(5): 447–485.

Fishbein, M. 2003. Using theory to design effective health behavior interventions. Communication Theory 13(2): 164–183.

Fishbein, M. 2000. The role of theory in HIV prevention. AIDS Care 12(3): 120–126.

Fishbein, M., A. Bandura, H.C. Triandis, F. Kanfer, M. Becker, and S.E. Middlestadt. 1992. Factors influencing behavior and behavior change: Final Report—Theorist's workshop. Rockville, MD: National Institute of Mental Health.

Fishbein, M., and J. Cappella. 2006. The role of theory in developing effective health communications. Journal of Communications 56(1): 1–17.

Fishbein, M., H.C. Triandis, F.H. Kanfer, M. Becker, and S.E. Midelstadt. 2000. Factors influencing behavior and behavior change. In Handbook of Health Psychology, edited by A.S. Baum, T.A. Revenson, and J.E. Singer, 1–17. London: SAGE Publications.

Frosch, D.L., F. Légaré, M. Fishbein, and G. Elwyn. 2009. Adjuncts or adversaries to shared decision-making? Applying the Integrative Model of Behavior to the role and design of decision support interventions in healthcare interactions. Implementation Science 4(1): 73.

Green, C.R., and T. Hart-Johnson. 2010. The adequacy of chronic pain management prior to presenting at a tertiary care pain center: The role of patient socio-demographic characteristics. The Journal of Pain 11(8): 746–754.

Greenspan, J.D., R.M. Craft, L. LeResche, et al. 2007. Studying sex and gender differences in pain and analgesia: A consensus report. Pain 132(1): S26–S45.

Gutnik, L.A., A. Hakimzada, N. Yoskowitz, and V. L. Patel, 2006. The role of emotion in decision-making: A cognitive neuroeconomic approach towards understanding sexual risk behavior. Journal of Biomedical Informatics 39(6): 720–736.

Hampton, S.B., J. Cavalier, and R. Langford. 2015. The influence of race and gender on pain management: A systematic literature review. Pain Management Nursing 16(6): 968–977.

Harden, R., S. Connolly, A. Kirsling, et al. 2015. Placebo effects in analgesic medication trials in two chronic pain models: Gender and pain disorder moderators. Journal of Pain 16(4): S91.

Hawker, G.A., J.G. Wright, P.C. Coyte, et al. 2000. Differences between men and women in the rate of use of hip and knee arthroplasty. New England Journal of Medicine 342(14): 1016–1022.

Howard, R.F. 2010. Treating chronic pain. Paediatrics and Child Health 20(2): 94–95.

Hsu, K., and D.K. Iwamoto. 2014. Testing for measurement invariance in the Conformity to Masculine Norms-46 across White and Asian American college men: Development and validity of the CMNI-29. Psychology of Men & Masculinity 15(4): 397–406.

Ishikawa, H., and E. Yano. 2008. Patient health literacy and participation in the health-care process. Health Expectations 11(2): 113–122.

Jonsdottir, T., H. Jonsdottir, and S. Gunnarsdottir. 2015a. Gender differences in chronic pain related health care utilization. Scandinavian Journal of Pain 8(1): 50–51.

Jonsdottir, T., H. Jonsdottir, E. Lindal, G.K. Oskarsson, and S. Gunnarsdottir. 2015b. Predictors for chronic pain-related health care utilization: A cross-sectional nationwide study in Iceland. Health Expectations 18(6): 2704–2719.

Kempner, J. 2017. Invisible people with invisible pain: A commentary on "Even my sister says I'm acting like a crazy to get a check": Race, gender, and moral boundary-work in women's claims of disabling chronic pain. Social Science & Medicine 189: 152–154.

LeResche, L. 2011. Defining gender disparities in pain management. Clinical Orthopaedics and Related Research 469(7): 1871–1877.

Lloyd, G. 1996. The man of reason. Women, knowledge, and reality: Explorations in feminist philosophy 2: 149–165.

Lombana, W.G., and S.E. Gutiérrez Vidal. 2012. Pain and gender differences: A clinical approach. Colombian Journal of Anesthesiology 40(3): 207–212.

Mackenzie, R., and J. Watts. 2011. Including emotionality in tests of competence: How does neurodiversity affect measures of free will and agency in medical decision making? American Journal of Bioethics: Neuroscience 2(3): 27–36.

Miller, A. 2018. Gender disparities in diagnosis and pain management. MA dissertation, Temple University. http://search.proquest.com/docview/2043978340/.

Morris, M.C., L.S.Walker, S. Bruehl, A.L. Stone, A.S. Mielock, and U. Rao. 2016. Impaired conditioned pain modulation in youth with functional abdominal pain. Pain 157(10): 2375.

Paolacci, G., J. Chandler, and P.G. Ipeirotis. 2010. Running experiments on Amazon Mechanical Turk. Judgment and Decision Making 5: 411–410.

Parent, M.C., and B. Moradi. 2011. An abbreviated tool for assessing conformity to masculine norms: Psychometric properties of the Conformity to Masculine Norms Inventory-46. Psychology of Men & Masculinity 12(4): 339–353.

Parent, M.C., and B. Moradi. 2011b. An abbreviated tool for assessing feminine norm conformity: Psychometric properties of the Conformity to Feminine Norms Inventory–45. Psychological Assessment 23(4): 958–969.

Payne, D. 2004. Pain treatment often inadequate. Medical Post 40(7): 71.

Power, T.E., L.C. Swartzman, and J.W. Robinson. 2011. Cognitive-emotional decision making (CEDM): A framework of patient medical decision making. Patient Education and Counseling 83(2): 163–169.

Ries, E. 2014. Treating pain head-on. PT in Motion 6(19): 16.

Roter, D., and S. Larson. 2002. The Roter Interaction Analysis System (RIAS): Utility and flexibility for analysis of medical interactions. Patient Education and Counseling 46(4): 243–251.

Samulowitz, A., I. Gremyr, E. Eriksson, and G. Hensing. 2018. "Brave Men" and "Emotional Women": A theory-guided literature review on gender bias in health care and gendered norms towards patients with chronic pain. Pain Research & Management 2018(3): 1–14.

Sánchez-López, M., and I. Cuéllar-Flores. 2011. Comparison of feminine gender norms among Spanish and American college women. Psychology 2(4): 300–306.

Schulman, K.A., J.A. Berlin, W. Harless, et al.1999. The effect of race and sex on physicians' recommendations for cardiac catheterization. New England Journal of Medicine 340(14): 1130.

Shapiro, D.N., J. Chandler, and Mueller, P.A., 2013. Using Mechanical Turk to study clinical populations. Clinical Psychological Science 1(2): 213–220.

Stavropoulos, F., and B.A. Hastie. 2007. Chronic facial pain in the female patient: Treatment updates. Oral and Maxillofacial Surgery Clinics of North America 19(2): 245–258.

Stocker, M., and E. Hegeman. 1996. Valuing emotions. Cambridge: Cambridge University Press.

Street, R.L., Jr. 2013. How clinician–patient communication contributes to health improvement: Modeling pathways from talk to outcome. Patient Education and Counseling 92(3): 286–291.

U.S. Census Bureau. 2013. Race for the population 18 years and over from the 2010 US Census of Population and Housing: Summary. Washington, DC: U.S. Government Printing Office.

Unruh, A.M. 1996. Gender variations in clinical pain experience. Pain 65(2-3): 123–167.

Uri, O., S. Elias, E. Behrbalk, and P. Halpern. 2015. No gender-related bias in acute musculoskeletal pain management in the emergency department. Emergency Medicine Journal of Emergency Medicine 32(2): 149–152.

Weiner, S. J., A. Schwartz, G. Sharma, et al. 2013. Patient-centered decision making and health care outcomes: An observational study. Annals of Internal Medicine 158(8): 573–579.

Weisse, C.S., P.C. Sorum, K.N. Sanders, and B.L. Syat. 2001. Do gender and race affect decisions about pain management? Journal of General Internal Medicine 16(4): 211–217.

Zimmermann, C., L. Del Piccolo, J. Bensing, et al. 2011. Coding patient emotional cues and concerns in medical consultations: The Verona coding definitions of emotional sequences (VR-CoDES). Patient Education and Counseling 82(2): 141–148.
Acknowledgement
Thank you to Dr. Michael Nair-Collins for assistance with funding and for guidance in designing and analysing this research.
Additional information
Publisher's Note
Springer Nature remains neutral with regard to jurisdictional claims in published maps and institutional affiliations.
About this article
Cite this article
Kolmes, S.K., Boerstler, K.R. Is There a Gender Self-Advocacy Gap? An Empiric Investigation Into the Gender Pain Gap. Bioethical Inquiry 17, 383–393 (2020). https://doi.org/10.1007/s11673-020-09993-8
Received:

Accepted:

Published:

Issue Date:
Keywords
Bioethics

Pain management

Gender

Gender pain gap

Empirical

Patient self-advocacy