Abstract
Social justice has been identified as a foundational moral commitment for global health research ethics. Yet what a commitment to social justice means for community engagement in such research has not been critically examined. This paper draws on the rich social justice literature from political philosophy to explore the normative question: What should the ethical goals of community engagement be if it is to help connect global health research to social justice? Five ethical goals for community engagement are proposed that promote well-being, agency, and self-development, particularly for those considered disadvantaged and marginalized. The paper also considers how key terms used in the proposed goals should be defined using existing theories of health and social justice. This analysis is done to give global health researchers and their partners a better idea of what the ethical goals mean. Patterns of convergence amongst different theories are identified that support relying on particular definitions of key terms.
Access options
Buy single article
Instant access to the full article PDF.
US$ 39.95
Tax calculation will be finalised during checkout.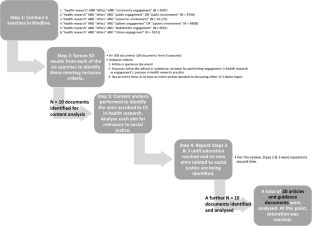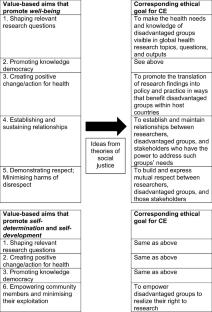 Notes
1.

Powers and Faden's concept of self-determination strongly overlaps with the concept of individual agency described by the capability approach. They define self-determination as leading a "self-directed" life that is guided and shaped by one's own values and choices (Powers and Faden 2006, 26).

2.

Agency and self-determination are defined similarly by capability and relational egalitarian theorists.

3.

Knowledge democracy and cognitive justice recognize the right of different systems of knowledge to exist as part of dialogue and debate. They affirm the epistemological diversity of the world as a source of ideas, values, and practices that can further global social emancipation and emphasize that the knowledge of those considered disadvantaged and oppressed, in particular, should be engaged in this process. These concepts draw attention to inequalities in the knowledge that is valued and produced in today's world, e.g., economic knowledge over other disciplines; "Northern" epistemologies over "Southern" epistemologies; technical and quantitative measures over qualitative measures rooted in lived experiences; and expert knowledge over local and indigenous ways of knowing. They call for such inequalities to be rectified (Tandon et al. 2009; Visvanathan 2009; Rowell and Hong 2017; ISSC, IDS and UNESCO 2016).

4.

A convergence approach is a research method that entails comparing relevant theories and conceptual approaches with the overall aim of identifying points of convergence and divergence and then pulling together the points of convergence to propose a practical solution to an identified problem (Pound and Campbell 2015).

5.

Groups who face a lack of respect and obstacles to achieving well-being due to, for example, being a particular gender, race, caste, or sexual orientation (Powers and Faden 2006).

6.

Accounts of health and social justice also set rules above the threshold. Three options here are rules that affirm: 1) inequalities above the threshold are not morally significant, 2) inequalities above the threshold are less morally significant than those below the threshold, or 3) another principle applies to evaluate justice above the threshold (e.g., respect or moral equality) (Axelsen and Nielsen 2017). Where the second option is adopted, accounts identify relative disadvantage above the threshold as morally bad. They would support doing global health research that focuses on the needs of the relatively disadvantaged above the threshold but would call for such research to be done largely after the given population has reached the threshold level of health. In contrast, where the first option is adopted, accounts do not consider inequalities above the threshold as morally significant and would permit relative disadvantage. Global health research to address the needs of the relatively disadvantaged would not be required as a matter of justice.

7.

"Biological endowments and needs" refer to physical and mental endowments and extra nutritional needs (e.g., during pregnancy). "Agency and conversion skills" refer to one's ability to act to address health concerns, the ability to convert biological endowments, physical and social conditions into beings and doings that promote health. "Physical conditions" refer to the physical environment and its features. "Social conditions" refer to basic social institutions, processes, values, and relative social inequalities, including but not limited to poor access to healthcare and services; inadequate nutrition; unsafe and insecure employment; housing conditions; experience of discrimination, disrespect, and poor social cohesion; and income inequality (Venkatapuram 2011).
References
Ahmed, S.M., and A.S. Palermo. 2010. Community engagement in research: Frameworks for education and peer review. American Journal of Public Health 100(8): 1380–1387.

Alkire, S. 2002. Valuing freedoms: Sen's capability approach and poverty reduction. Oxford: Oxford University Press.

____ 2008. Concepts and measures of agency, OPHI Working Paper 9. Oxford: Oxford Poverty and Human Development Initiative.

Anderson, E. 1999. What is the point of equality? Ethics 109(2): 287–337.

Apgar, J.M., T. Mustonen, S. Lovera, and M. Lovera. 2016. Moving beyond co-construction of knowledge to enable self-determination. IDS Bulletin 47(6): 55–72.

Appadurai, A. 2006. The right to research. Globalisation, Societies and Education 4(2): 167–177.

Axelsen, D.V., and L. Nielsen. 2017. Essentially enough: Elements of a plausible account of sufficientarianism. In What is enough? Sufficiency, justice, and health, edited by C. Fourie and A. Rid, 101–120. Oxford: Oxford University Press.

Bailey, T.C., M.W. Merritt, and F. Tedioso. 2015. Investing in justice: Ethics, evidence, and the eradication investment cases for lymphatic filariasis and onchocerciasis. American Journal of Public Health 105(4): 629–636.

van Bekkum, J.E., and S. Hilton. 2014. UK research funding bodies' views towards public participation in health-related research decisions: An exploratory study. BMC Health Services Research 14: 318.

Benatar, S.R., and P.A. Singer. 2000. A new look at international research ethics. BMJ 321(7264): 824–826.

____ 2010. Responsibilities in international research: A new look revisited. Journal of Medical Ethics 36(4): 194–197.

Boote, J., R. Telford, and C. Cooper. 2002. Consumer involvement in health research: A review and research agenda. Health Policy 61(2): 213–236.

Brock, G. 2009. Global justice: A cosmopolitan account. Oxford: Oxford University Press.

Cargo, M., and S.L. Mercer. 2008. The value and challenges of participatory research: Strengthening its practice. Annual Review of Public Health 29: 325–350.

Critical Path to TB Drug Regimens. 2012. Good participatory practice guidelines for TB drug trials. Accessed September 4, 2017. http://www.cptrinitiative.org/downloads/resources/GPPTB%20Oct1%202012%20FINAL.pdf.

Crocker, D.A. 2008. Ethics of global development: Agency, capability, and deliberative democracy. Cambridge: Cambridge University Press.

Daniels, N. 2008. Just health: Meeting health needs fairly. Cambridge: Cambridge University Press.

Dixon-Woods, M., S. Agarwal, D. Jones, B. Young, and A. Sutton. 2005. Synthesising qualitative and quantitative evidence: A review of possible methods. Journal of Health Services Research & Policy 10(1): 45–53.

Dixon-Woods, M., D. Cavers, S. Agarwal, et al. 2006. Conducting a critical interpretive synthesis of the literature on access to healthcare by vulnerable groups. BMC Medical Research Methodology 6(1): 35.

Emanuel, E.J. 2008. Benefits to host countries. In The Oxford textbook of clinical research ethics, edited by E.J. Emanuel, C.C. Grady, R.A. Crouch, et al., 719–728. New York: Oxford University Press.

Emanuel, E., D. Wendler, J. Killen, and C. Grady. 2004. What makes clinical research in developing countries ethical? The benchmarks of ethical research. Journal of Infectious Diseases 189(5): 930–937.

Entwistle, V., M. Calnan, and P. Dieppe. 2008. Consumer involvement in setting the health services research agenda: Persistent questions of value. Journal of Health Services Research and Policy 13(Supplement 3): 76–81.

Entwistle, V., D. Firnigi, M. Ryan, J. Francis, and P. Kinghorn. 2012. Which experiences of health care delivery matter to service users and why? A critical interpretive synthesis and conceptual map. Journal of Health Services Research and Policy 17(2): 70–78.

Fleurence, R., J.V. Selby, K. Odom-Walker, et al. 2013. How the Patient-Centered Outcomes Research Institute is engaging patients and others in shaping its research agenda. Health Affairs 32(2): 393–400.

Fram, S.M. 2013. The constant comparative analysis method outside of grounded theory. The Qualitative Report 8(1): 1.

Gradinger, F., N. Britten, K. Wyatt, et al. 2013. Values associated with public involvement in health and social care research: A narrative review. Health Expectations 18(5): 661–675.

H3Africa Working Group on Ethics and Regulatory Issues for the Human Heredity and Health. 2014. H3Africa guidelines for community engagement. Accessed December 7, 2017. http://www.health.uct.ac.za/sites/default/files/image_tool/images/116/documents/research/H3Africa%20CE%20Guidelines_Final.pdf.

Hsieh, H-F. and S.E. Shannon. 2005. Three approaches to qualitative content analysis. Qualitative Health Research 15(9): 1277–1288.

ISSC, IDS and UNESCO. 2016. World social science report 2016. Challenging inequalities: Pathways to a just world. Paris: UNESCO Publishing.

Jentsch, B., and C. Pilley. 2003. Research relationships between the South and the North: Cinderella and the ugly sisters? Social Science and Medicine 57(10): 1957–1967.

King, K.F., P. Kolopack, M.W. Merritt, and J.V. Lavery. 2014. Community engagement and the human infrastructure of global health research. BMC Medical Ethics 15: 84.

Krubiner, C.B., and M.W. Merritt. 2017. Which strings attached: Ethical considerations for selecting appropriate conditionalities in conditional cash transfer programmes. Journal of Medical Ethics 43(3): 167–176.

Luna, F. 2005. Poverty and inequality: Challenges for the IAB. IAB presidential address. Bioethics 19(5-6): 451–459.

MacQueen, K.M., A. Bhan, J. Frohlich, J. Holzer, J. Sugarman, and the Ethics Working Group of the HIV Prevention Trials Network. 2015. Evaluating community engagement in global health research: The need for metrics. BMC Medical Ethics 16: 44.

Marsh, V.M., D.M. Kamuya, M.J. Parker, and C.S. Molyneux. 2011. Working with concepts: The role of community in international collaborative biomedical research. Public Health Ethics 4(1): 26–39.

Oswald, K., J. Gaventa, and M. Leach. 2016. Introduction: Interrogating engaged excellence in research. IDS Bulletin 47(6): 1–18.

Participants in the Community Engagement and Consent Workshop. 2013. Consent and community engagement in diverse research contexts. Journal of Empirical Research on Human Research Ethics 8(4): 1–18.

Pogge, T. 2008. World poverty and human rights: Cosmopolitan responsibilities and reforms. Cambridge: Polity Press.

Pound, P., and R. Campbell. 2015. Exploring the feasibility of theory synthesis: A worked example in the field of health related risk-taking. Social Science & Medicine 124: 57–65.

Powers, M., and R. Faden. 2006. Social justice: The moral foundations of public health and health policy. New York: Oxford University Press.

Pratt, B., and A.A. Hyder. 2016a. Structuring research funding schemes to promote global health equity: An exploration of current practice in health systems research. Developing World Bioethics. https://doi.org/10.1111/dewb.12136

____ 2016b. How can health systems research reach the worst-off? A conceptual exploration. BMC Health Services Research 16(Supplement 7): 619.

Pratt, B., and B. Loff. 2014. A framework to link international clinical research to the promotion of justice in global health. Bioethics 28(8): 387–396.

Ragin, D.F., E. Ricci, R. Rhodes, J. Holohan, M. Smirnoff, and L.D. Richardson. 2008. Defining the "community" in community consultation for emergency research: Findings from the community VOICES study. Social Science & Medicine 66(6): 1379–1392.

Rowell, L.L., and E. Hong. 2017. Knowledge democracy and action research: Pathways for the twenty-first century. In The Palgrave international handbook of action research, edited by L. L. Rowell, C.D. Bruce, J.M. Shosh, and M.M. Riel, 63–83. New York: Palgrave MacMillan.

Pratt, B., and J. de Vries. 2018. "Community engagement in global health research that advances health equity." Bioethics https://doi.org/10.1111/bioe.12465

Ruger, J.P. 2010a. Health and social justice. Oxford: Oxford University Press.

____ 2010b. Health capability: Conceptualization and operationalization. American Journal of Public Health 100(1): 41–49.

Sen, A. 1999. Development as freedom. New York: Knopf Press.

Sheikh, K., A. George, and L. Gilson. 2014. People-centred science: Strengthening the practice of health policy and systems research. Health Research Policy and Systems 12: 19.

Shippee, N.D., J.P. Domecq Garces, G.J. Prutsky Lopez, et al. 2013. Patient and service user engagement in research: A systematic review and synthesized framework. Health Expectations 18(5): 1151–1166.

Tandon, R., W. Singh, D. Clover, and B. Hall. 2016. Knowledge democracy and excellence in engagement. IDS Bulletin 47(6): 19–36.

Tindana, P.O., J.A. Singh, C.S. Tracy, et al. 2007. Grand challenges in global health: Community engagement in research in developing countries. PLoS Medicine 4(9): e273.

UNAIDS and AVAC. 2011. Good participatory practice guidelines for biomedical HIV prevention trials. Geneva: UNAIDS.

Vallely, A., C. Shagi, S. Lees, et al. 2009. Microbicides Development Programme: Engaging the community in the standard of care debate in a vaginal microbicide trial in Mwanza, Tanzania. BMC Medical Ethics 10: 17.

Venkatapuram, S. 2011. Health justice: An argument from the capabilities approach. Cambridge: Polity Press.

Visvanathan S. 2009. The search for cognitive justice. Accessed September 4, 2017. http://www.india-seminar.com/2009/597/597_shiv_visvanathan.htm.

Wallerstein, N., and B. Duran. 2010. The theoretical, historical, and practical roots of CBPR. In Community-based participatory research for health: From process to outcome, edited by N. Wallerstein and M. Minkler, 25–46. San Francisco, CA: John Wiley & Sons.

Wolff, J., and A. de Shalit. 2007. Disadvantage. Oxford, UK: Oxford University Press.

Woolf, S.H., E. Zimmerman, A. Haley, and A.H. Frist. 2016. Authentic engagement of patients and communities can transform research, practice, and policy. Health Affairs 35(4): 590–594.

Young, I.M. 1990. Justice and the politics of difference. Princeton, NJ: Princeton University Press.

____ 2000. Inclusion and democracy. Oxford: Oxford University Press.
Acknowledgements
The author would like to thank Professor Lynn Gillam (University of Melbourne) for providing comments and feedback on earlier versions of this paper.
Funding
BP is currently supported by an Australian Research Council (ARC) Discovery Early Career Researcher Award (Award No. DE170100414). The contents of this article are solely the responsibility of the author and do not reflect the views of the ARC.
Ethics declarations
Conflict of Interest
There have been no involvements that might raise the question of bias in the work reported or in the conclusions, implications, or opinions stated.
Additional information
Publisher's Note
Springer Nature remains neutral with regard to jurisdictional claims in published maps and institutional affiliations.
Electronic supplementary material
About this article
Cite this article
Pratt, B. Social Justice and the Ethical Goals of Community Engagement in Global Health Research. Bioethical Inquiry 16, 571–586 (2019). https://doi.org/10.1007/s11673-019-09948-8
Received:

Accepted:

Published:

Issue Date:
Keywords
Community engagement

Global health research

Social justice

Disadvantage

Participation

Knowledge democracy