Abstract
The rise of surrogacy in India over the last decade has helped individuals across the world to realize their parenting aspirations. In the macro-context of poverty in India and the hierarchical and patriarchal family set-up, concerns are expressed about coercion of women to participate in surrogacy. While the ethical issues engulfing surrogacy are widely discussed, not much is known about the role women play in the decision-making to participate in surrogacy. The paper aims to addresses this gap and is based on a part of a larger ethnographic study conducted at a surrogacy clinic in Anand, Gujarat, India. We explored experiences of forty-one surrogate mothers using in-depth interviews and analysed the narratives to identify women's own perceived role in the decision-making to participate in surrogacy. Narratives describing the decision-making process were identified and treated as a preliminary unit of analysis. We examined the use of singular and plural pronouns like "I," "me," and "mine" versus "we," "us," and "our," along with the use of active and passive voice to determine whether women assumed responsibility for the decision to participate in surrogacy or they attributed the decision to others. Findings unravelled the complexities of the decision-making process and indicated that eighty-five percent of the women played an active role in the decision-making to participate in surrogacy, albeit with new avenues of exploitation in the commercial market space and raised serious bioethical concerns.
Access options
Buy single article
Instant access to the full article PDF.
US$ 39.95
Tax calculation will be finalised during checkout.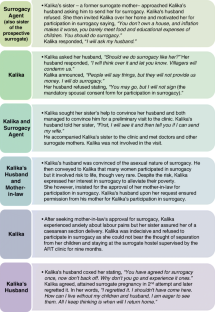 References
Ahearn, L.M. 2001. Language and agency. Annual Review of Anthropology 30: 109–137.

Angrosino, M. 2007. Doing ethnographic and observational research. London: Sage Publications Ltd.

Centre for Social Research. 2012. Surrogate motherhood ethical or commercial? New Delhi: Centre for Social Research. http://www.csrindia.org/surrogate-motherhood. Accessed February 23, 2017.

Chang, M. 2009. Womb for rent: India's commercial surrogacy. Harvard International Review 31(1): 11–13. http://hir.harvard.edu/article/?a=1870. Accessed February 23, 2017.

Char, A., M. Saavala, and T. Kulmala. 2010. Influence of mothers-in-law on young couples' family planning decisions in rural India. Reproductive Health Matters 18(35): 154–162.

Chaudhary, N. 2012. Peripheral lives, central meaning: Women and their place in Indian society. In Cultural dynamics of women's lives, edited by A. Bastos, K. Uriko, and J. Valsiner, 7–30. North Carolina, USA: Information Age Publishing, Inc.

Deomampo, D. 2013. Transnational surrogacy in India: Interrogating power and women's agency. Frontiers: A Journal of Women's Studies 34(3): 167–257.

Deonandan, R., S. Green, and A.V. Beinum. 2012. Ethical concerns for maternal surrogacy and reproductive tourism. Journal of Medical Ethics 38(12): 742–745.

Duranti, A. 2004. Agency in language. A companion to linguistic anthropology. Malden, Mass: Blackwell.

Fixmer-Oraiz, N. 2013. Speaking of solidarity: Transnational gestational surrogacy and the rhetorics of reproductive (in)justice. Frontiers: A Journal of Women's Studies 34(3): 126–257.

Forde, K. 2016. "Good work for good mothers": Commercial surrogate motherhood, femininity and morality. Asia in Focus (special issue): 5–13. http://www.asiainfocus.dk/wp-content/uploads/2016/11/%E2%80%9CGOOD-WORK-FOR-GOOD-MOTHERS%E2%80%9D-Commercial-Surrogate-Motherhood-Femininity-and-Morality.pdf. Accessed February 23, 2017.

Ganesh, K. 1999. Patrilineal structure and agency of women: Issues in gendered socialization. In Culture, socialization and human development, edited by T.S. Sarawathi, 235–254. New Delhi: Sage Publications India.

Gobo, G. 2008. Doing ethnography. London: Sage Publications.

Gupta, A.J., and A. Richters. 2008. Embodied subjects and fragmented objects: Women's bodies, assisted reproduction technologies and the right to self-determination. Journal of Bioethical Inquiry 5(4): 239–249.

Gupta, A.J. 2000. New reproductive technologies, women's health and autonomy: Freedom or dependency? New Delhi: Sage Publications India.

Jaiswal, S. 2012. Commercial surrogacy in India: An ethical assessment of existing legal scenario from the perspective of women's autonomy and reproductive rights. Gender, Technology and Development 16(1): 1–28.

Kohli, A. 2016. Examining middle-class women's reproductive agency in collective and patriarchal settings of urban northern India. Women's Studies Journal 30(2): 23–37.

Menon, U. 2011. The three selves of adulthood: Cultural conceptions of self among Oriya Hindu women. Psychological Studies 56(1): 23–35.

Ministry of Health and Family Welfare, Government of India. 2015, November 04. MHFW Circular No.V.25011/119/2015-HR: Commissioning of Surrogacy-Instructions regarding. New Delhi, India. http://www.icmr.nic.in/icmrnews/art/DHR%20notification%20on%20Surrogacy.pdf. Accessed February 16, 2017.

Mohanty, C.T. 1988. Under western eyes: Feminist scholarship and colonial discourses. Feminist Review 30: 61–88.

Mulay, S., and E. Gibson. 2006. Marketing of assisted human reproduction and the Indian state. Development 49(4): 84–93.

Pande, A. 2009. "It may be her eggs, but it's my blood": Surrogates and everyday forms of kinship in India. Qualitative Sociology 32(4): 379–397.

Pande, A. 2010. "At least I am not sleeping with anyone": Resisting the stigma of commercial surrogacy in India. Feminist Studies 36(2): 292–312.

Qadeer, I. 2010. The ART of marketing babies. Indian Journal of Medical Ethics 7(4): 209–215.

Qadeer, I., and M. John. 2009. The business and ethics of surrogacy. Economic and Political Weekly 44(2): 10–12.

Raval, V. 2009. Negotiating conflict between personal desires and others' expectations in lives of Gujarati women. Ethos 37(4): 489–511.

Roland, A. 1988. In search of self in India and Japan: Toward a cross-cultural psychology. New Jersey: Princeton.

Saravanan, S. 2010. Transnational surrogacy and objectification of gestational mothers. Economic and Political Weekly XLV (16): 26–29.

Sarojini N.B. 2010. Women as wombs. Info Change Agenda 20: 17–22.

Sengupta, A. 2010. The great stem cell debate. Info Change Agenda 20: 34–36.

Shweder, R.A., J.J. Goodnow, G. Hatano, R.A. LeVine, H.R. Markus, and P.J. Miller. 2006. The cultural psychology of development: One mind, many mentalities. In Handbook of child psychology: Theoretical models of human development Vol 1, 6th ed., edited by R.M. Lerner and W. Damon, 716–792. New Jersey: John Wiley & Sons, Inc.

Unnithan M. 2010. Infertility and assisted reproductive technologies in a globalizing India: Ethics, medicalisation and agency. Asian Bioethics Review 2(1): 3–18.

Vora K. 2009. Indian transnational surrogacy and the commodification of vital energy. Subjectivity 28(1): 266–278.

Vora K. 2010. Medicines, markets and the pregnant body: Commercial surrogacy and reproductive labour in a transnational frame. The Scholar and Feminist Online 9: 1–2. http://sfonline.barnard.edu/reprotech/print_vora.htm Retrieved February 23, 2017.
Acknowledgement
This research was supported by The Research Fellowship in Sciences for Meritorious Students, Basic Scientific Research scheme of the University Grants Commission, India.
Additional information
Publisher's Note
Springer Nature remains neutral with regard to jurisdictional claims in published maps and institutional affiliations.
About this article
Cite this article
Naik Africawala, A., Kapadia, S. Women's Control Over Decision to Participate in Surrogacy. Bioethical Inquiry 16, 501–514 (2019). https://doi.org/10.1007/s11673-019-09931-3
Received:

Accepted:

Published:

Issue Date:
Keywords
ART

Surrogacy

Agency

Decision-making

Control