Abstract
This essay examines constructions of deafness in medieval culture, exploring how deaf experience disrupts authoritative discourses in three textual genres: medical treatise, literary fiction, and autobiographical writing. Medical manuals often present deafness as a physical defect, yet they also suggest how social conditions for deaf people can be transformed in lieu of treatment protocols. Fictional narratives tend to associate deafness with sin or social stigma, but they can also imagine deaf experience with a remarkable degree of sympathy and nuance. Autobiographical writing by deaf authors most vividly challenges diagnostic models of disability, exploring generative forms of perception that deafness can foster. In tracing the disruptive force that deaf experience exerts on perceived notions of textual authority, this essay reveals how medieval culture critiqued the diagnostic power of medical practitioners. Deafness does not simply function as a symptom of an individual problem or a metaphor for a spiritual or social condition; rather, deafness is a transformative capacity affording new modes of knowing self and other.
Access options
Buy single article
Instant access to the full article PDF.
US$ 39.95
Tax calculation will be finalised during checkout.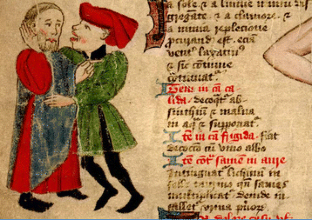 Notes
1.

For a modern English translation see Power (1910, 1922); for an English translation with colour images and commentary, see Svenberg and Murray Jones (2014). High-resolution color images available at the World Digital Library http://www.wdl.org/en/item/11631/ and non-color images are accessible at the Wellcome Collection website: http://wellcomeimages.org.

2.

Modern English translation is my own; original Middle English language (here in italics) follows the text as excerpted by Stephen Shepherd and printed in Wogan-Browne et al. (1999).

3.

This phrasing is derived from literary historian Lee Patterson (Sayers 2010, 87).

4.

This essay avoids conflating deafness and disability, even if its readings show how social circumstances disadvantage deaf people. The Middle Ages predated the invention of the term "disability" and its status as a cultural or political concept, so medievalists have engaged in critical discussions about the applicability of modern terms of analysis to the historical past. Medical models positing disability as a pathologized condition have increasingly given way to social models framing disability as a cultural construct; more recently, religious models stress that medieval people conceived themselves as psychosomatic wholes. For an overview of these successive models in medieval disability studies, see Godden and Hsy (2015).

5.
References
Arderne, J. ca. 1412. De arte phisicali et de cirurgia [On the practice of medicine and surgery]. Stockholm, National Library of Sweden, MS X 188, fol. 2.

Bauman, H-D. 2008. Introduction: Listening to deaf studies. In Open your eyes: Deaf studies talking, edited by H-D. Bauman, 1–34. Minneapolis: University of Minnesota Press.

Bauman, H-D., and J.J. Murray. 2014. Deaf gain: An introduction. In Deaf gain: Raising the stakes for human diversity, edited by H-D. Bauman and J.J. Murray, xv–xlii. Minneapolis: University of Minnesota Press.

Benson, L., (ed. 2008). The riverside Chaucer, 3rd ed. Oxford: Oxford University Press.

Best, S., and S. Marcus. 2009. Surface reading: An introduction. Representations 108(1), 1: 1–21.

Bloom, G. 2007. Voice in motion: Staging gender, shaping sound in early modern England. Philadelphia: University of Pennsylvania Press.

Bruce, S.G. 2010. Silence and sign language in medieval monasticism. Cambridge: Cambridge University Press.

Castro Ponce, C.E. 2001. Teresa de Cartagena: "Arboleda de los enfermos" y "Admiracion operum Dei." Edición critica singular. Ph.D. diss., Brown University.

de Saint-Loup, A. 1993. Images of the deaf in medieval Western Europe. In Looking back: A reader on the history of deaf communities and their sign languages, edited by R. Fischer and H. Lane, 379–402. Hamburg: Signum.

Godden, R.H., and J. Hsy. 2015. Analytical survey: Encountering disability in the middle ages. New Medieval Literatures 15: 317–343.

Haualand, H. 2008. Sound and belonging: What is a community? In Open your eyes: Deaf studies talking, edited by H-D. Bauman, 111–126. Minneapolis: University of Minnesota Press.

Jones, P. M. 1998. Medieval medicine in illuminated manuscripts, 2nd ed. London: British Library.

Orlemanski, J. 2012. Jargon and the matter of medicine in Middle English. Journal of Medieval and Early Modern Studies 42(2): 394–420.

Power, D., trans. 1922. John Arderne's De arte phisicali et de cirurgia (1412). New York: William Wood & Co.

Power, D., trans. 1910. John Arderne's Treatises of Fistula in Ano, Haemorrhoids and Clysters. London: Early English Text Society.

Sayers, E.E., 2010. Experience, authority, and the mediation of deafness: Chaucer's Wife of Bath. In Disability in the Middle Ages, edited by Joshua Eyler, 81–92. Ashgate: Aldershot.

Seidenspinner-Nuñez, D., trans. 1998. The writings of Teresa de Cartagena. Cambridge, UK: Brewer.

Svenberg, T., and P. Murray Jones, trans. and commentary. 2014. John Arderne, De arte Phisicali et de ciurgia. Stockholm: Fri Tanke Förlag.

Turner, M. 2012. Thomas Usk and John Arderne. The Chaucer Review 47(1): 95–105.

Umiker-Seboek, J., and T.A. Seboek, eds. 1987. Monastic sign languages. New York: Mouton de Gruyter.

Ware, L. 2009. Many possible futures, many different directions: Merging critical special education and disability studies. In Disability studies in education: Readings in theory and method, edited by S.L. Gabel, 103–124. New York: Peter Lang.

Wogan-Browne, J., Watson, N., Taylor, A., and Evans, R. 1999. The idea of the vernacular. University Park, PA: Pennsylvania State University Press, 1999.
About this article
Cite this article
Hsy, J. Symptom and Surface: Disruptive Deafness and Medieval Medical Authority. Bioethical Inquiry 13, 477–483 (2016). https://doi.org/10.1007/s11673-016-9744-y
Received:

Accepted:

Published:

Issue Date:
Keywords
Deafness

Disability

Medieval

Medicine

Literary theory

Literary analysis