Abstract
A central goal in regulating direct-to-consumer advertising of prescription pharmaceuticals (DTCA) is to ensure that explicit drug claims are truthful. Yet imagery can also alter viewer attitudes, and the degree to which this occurs in DTCA is uncertain. Addressing this data gap, we provide evidence that positive feelings produced by images can promote favourable beliefs about pharmaceuticals. We had participants view a fictitious anti-influenza drug paired with unrelated images that elicited either positive, neutral or negative feelings. Participants who viewed positive images rated the influenza drug as significantly more effective, safe, and beneficial than did participants who viewed negative images. This effect, known as evaluative conditioning, is well described in experimental social psychology but has not previously been shown with pharmaceuticals. We discuss how evaluative conditioning in DTCA may compromise viewer autonomy, and canvass possible regulatory responses.
Access options
Buy single article
Instant access to the full article PDF.
US$ 39.95
Tax calculation will be finalised during checkout.
Subscribe to journal
Immediate online access to all issues from 2019. Subscription will auto renew annually.
US$ 79
Tax calculation will be finalised during checkout.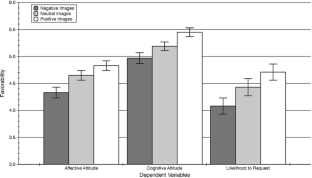 Notes
1.

Although some measurement theorists consider Likert-type scales to be ordinal, there is evidence that Likert-type scales can be validly and reliably treated as interval scales, and can be analysed with parametric statistics (Labovitz 1967; Traylor 1983). Indeed, in experimental social psychology and behavioural economics, treating Likert-type scales as interval scales is common, accepted practice (Hofmann et al. 2010; Pleyers et al. 2007; Redelmeier and Kahneman 1996).

2.

The authors thank an anonymous reviewer for this suggestion.
References
Aikin, K.J., J.L. Swasy, and A.C. Braman. 2004. Patient and physician attitudes and behaviors associated with DTC promotion of prescription drugs—summary of FDA survey research results. Silver Spring, MD: U.S. Department of Health and Human Services, Food and Drug Administration Center for Drug Evaluation and Research. http://www.fda.gov/downloads/Drugs/ScienceResearch/ResearchAreas/DrugMarketingAdvertisingandCommunicationsResearch/UCM152860.pdf.

Almasi, E.A., R.S. Stafford, R.L. Kravitz, and P.R. Mansfield. 2006. What are the public health effects of direct-to-consumer drug advertising? PLoS Medicine 3(3): e145.

Berinksy, A.J., G.A. Huber, and G.S. Lenz. 2012. Evaluating online labor markets for experimental research: Amazon.com's Mechanical Turk. Political Analysis 20(3): 351–368.

Biegler, P., and P. Vargas. 2013. Ban the sunset? Nonpropositional content and regulation of pharmaceutical advertising. The American Journal of Bioethics 13(5): 3–13.

Bradley, M.M., and P.J. Lang. 2007. The international affective digitized sounds: Affective ratings of sounds and instruction manual, 2nd ed., IADS-2. Gainesville: University of Florida.

Brass, E.P. 2001. Changing the status of drugs from prescription to over-the-counter availability. The New England Journal of Medicine 345(11): 810–816.

Brownfield, E.D., J.M. Bernhardt, J.L. Phan, M.V. Williams, and R.M. Parker. 2004. Direct-to-consumer drug advertisements on network television: an exploration of quantity, frequency, and placement. Journal of Health Communication 9(6): 491–497.

De Houwer, J. 2009. Conditioning as a source of liking: There is nothing simple about it. In Social psychology of consumer behavior, edited by M. Wanke, 151–166. New York: Taylor and Francis.

De Houwer, J., F. Baeyens, and P. Eelen. 1994. Verbal evaluative conditioning with undetected US presentations. Behaviour Research and Therapy 32(6): 629–633.

Faden, R.R., T.L. Beauchamp, and N.M.P. King. 1986. A history and theory of informed consent. New York: Oxford University Press.

Food and Drug Administration. 2007. Improving public health through human drugs. Silver Spring, MD: Center for Drug Evaluation and Research.

Food and Drug Administration. 2009. Guidance for industry: Presenting risk information in prescription drug and medical device promotion. Rockville: Center for Drug Evaluation and Research.

Food and Drug Administration. 2011. A supplementary test of distraction in DTC advertising using an implicit measure, the affect misattribution procedure. Silver Spring, MD: Center for Drug Evaluation and Research.

Food and Drug Administration. 2012. Be smart about prescription drug advertising: A guide for consumers. http://www.fda.gov/Drugs/ResourcesForYou/Consumers/PrescriptionDrugAdvertising/. Accessed June 16, 2015.

Food and Drug Administration. 2015. The Office of Prescription Drug Promotion (OPDP). http://www.fda.gov/AboutFDA/CentersOffices/OfficeofMedicalProductsandTobacco/CDER/ucm090142.htm. Accessed June 16, 2015.

Gilbody, S., P. Wilson, and I. Watt. 2005. Benefits and harms of direct to consumer advertising: A systematic review. Quality and Safety in Health Care 14(4): 246–250.

Hasman, A., and S. Holm. 2006. Direct-to-consumer advertising: Should there be a free market in healthcare information? Cambridge Quarterly of Healthcare Ethics 15(1): 42–49.

Hayes, A.F. 2013. An introduction to mediation, moderation, and conditional process analysis: A regression-based approach. New York: The Guilford Press.

Hofmann, W., J. De Houwer, M. Perugini, F. Baeyens, and G. Crombez. 2010. Evaluative conditioning in humans: A meta-analysis. Psychological Bulletin 136(3): 390–421.

Hollon, M.F. 2005. Direct-to-consumer advertising: A haphazard approach to health promotion. The Journal of the American Medical Association 293(16): 2030–2033.

Kravitz, R.L., R.M. Epstein, M.D. Feldman, et al. 2005. Influence of patients' requests for direct-to-consumer advertised antidepressants: A randomized controlled trial. The Journal of the American Medical Association 293(16): 1995–2002.

Krosnick, J.A., L.J. Jussim, and A.R. Lynn. 1992. Subliminal conditioning of attitudes. Personality and Social Psychology Bulletin 18(2): 152–162.

Labovitz, S. 1967. Some observations on measurement and statistics. Social Forces 46(2): 151–160.

Lang P.J., M.M. Bradley, and B.N. Cuthbert. 2008. International affective picture system (IAPS): Affective ratings of pictures and instruction manual. Gainesville, FL: University of Florida, technical report A-8.

Lazarou, J., B.H. Pomeranz, and P.N. Corey. 1998. Incidence of adverse drug reactions in hospitalized patients: a meta-analysis of prospective studies. The Journal of the American Medical Association 279(15): 1200–1205.

Limbu, Y.B., B.A. Huhmann, and R.T. Peterson. 2012. An examination of humor and endorser effects on consumers' responses to direct-to-consumer advertising: The moderating role of product involvement. International Journal of Pharmaceutical and Healthcare Marketing 6(1): 23–38.

Mintzes, B. 2009. Should Canada allow direct-to-consumer advertising of prescription drugs? No. Canadian Family Physician 55(2): 131–133.

Mintzes, B. 2012. Advertising of prescription-only medicines to the public: Does evidence of benefit counterbalance harm? Annual Review of Public Health 33: 259–277.

Paolacci, G., J. Chandler, and P.G. Ipeirotis. 2010. Running experiments on Amazon Mechanical Turk. Judgment and Decision Making 5(5): 411–419.

Petty, R.E., and J.T. Cacioppo. 1986. The elaboration likelihood model of persuasion. Advances in Experimental Social Psychology 19: 123–205.

Pfizer. Lipitor Medication. 2010. [Commercial]. http://www.youtube.com/watch?v=ogyC9rEjxDM. Accessed June 16, 2015.

Pleyers, G., O. Corneille, O. Luminet, and V. Yzerbyt. 2007. Aware and (dis)liking: Item-based analyses reveal that valence acquisition via evaluative conditioning emerges only when there is contingency awareness. Journal of Experimental Psychology: Learning, Memory, and Cognition 33(1): 130–144.

Redelmeier, D.A., and D. Kahneman. 1996. Patients' memories of painful medical treatments: Real-time and retrospective evaluations of two minimally invasive procedures. Pain 66(1): 3–8.

Schachtman, T.R., J. Walker, and S. Fowler. 2011. Effects of conditioning in advertising. In Associative learning and conditioning theory: Human and non-human applications, edited by T.R. Schachtman and S. Reilly, 481–506. New York: Oxford University Press.

Schwartz, L.M., S. Woloshin, and H.G. Welch. 2009. Using a drug facts box to communicate drug benefits and harms: two randomized trials. Annals of Internal Medicine 150(8): 516–527.

Skene, L., and R. Smallwood. 2002. Informed consent: Lessons from Australia. British Medical Journal 324(7328): 39–41.

Smith, P.W., R.A. Feinberg, and D.J. Burns. 1998. An examination of classical conditioning principles in an ecologically valid advertising context. Journal of Marketing Theory and Practice 6(1): 63–72.

Sweldens, S., S.M.J. Van Osselaer, and C. Janiszewski. 2010. Evaluative conditioning procedures and the resilience of conditioned brand attitudes. Journal of Consumer Research 37(October): 473–489.

Swinburne, R. 2001. Epistemic justification. New York: Oxford University Press.

Traylor, M. 1983. Ordinal and interval scaling. Journal of the Market Research Society 25(4): 297–303.

Ventola, C.L. 2011. Direct-to-consumer pharmaceutical advertising: therapeutic or toxic? Pharmacy & Therapeutics 36(10): 669–684.
Appendix 1
Appendix 1
The fifteen statements included in the voiceover were:
1.

Fluvent (Fluvamivir) is a new flu medication that may become available in your region

2.

Each year between 5 and 20 per cent of the population experience the flu

3.

The flu causes fever, cough, sore throat, and aches

4.

Flu affects people of all ages

5.

Flu poses highest risk for infants, those over 65, and those with chronic medical conditions

6.

The flu is spread when an infected person coughs and droplets are inhaled by others

7.

Vaccination is the most effective means of prevention

8.

In addition, drugs are available that can prevent flu

9.

Drugs can also treat flu once symptoms start

10.

Fluvent is a new generation medication with a unique antiviral action

11.

Initial research suggests it is more effective than existing flu drugs

12.

As an alternative to vaccination Fluvent may be beneficial in reducing days off work

13.

Fluvent may also lower the burden on healthcare facilities during flu epidemics

14.

Fluvent carries some risk of side effects

15.

Side effects include nausea, headache, diarrhoea, and rash
About this article
Cite this article
Biegler, P., Vargas, P. Feeling Is Believing: Evaluative Conditioning and the Ethics of Pharmaceutical Advertising. Bioethical Inquiry 13, 271–279 (2016). https://doi.org/10.1007/s11673-016-9702-8
Received:

Accepted:

Published:

Issue Date:
Keywords
Autonomy

Behavioural research

Drugs and drug industry

Health promotion

Informed consent