Abstract
Maternal mortality is still very high in Africa, despite progress in control efforts at the global level. One elemental link is the question of autonomy in maternal health, especially at the household level where intrinsic human rights are undermined. A rights-based consideration in bioethics is an approach that holds the centrality of the human person, with a compelling reference to the fundamental human rights of every person. A philosophical and sociological engagement of gender and the notion of autonomy within the household reveals some fundamental rights-based perplexities for bioethical considerations in maternal health. The right to self-determination is undermined, and therefore women's dignity, freedom and autonomy, capacities, and choices are easily defiled. This study applies a rights-based approach to maternal health and demonstrates how rights concerns are associated with negative outcomes in maternal health in Africa. The discussion is situated at the household level, which is the starting point in health care. The paper submits that beyond legal and political rights within the context of the state, rights-based issues manifest at the household level. Many of those rights issues, especially relating to women's autonomy, are detrimental to maternal health in Africa. Therefore, a rights-based approach in the social construction of maternal health realities will contribute to alleviating the burden of maternal mortality in Africa.
Access options
Buy single article
Instant access to the full article PDF.
US$ 39.95
Tax calculation will be finalised during checkout.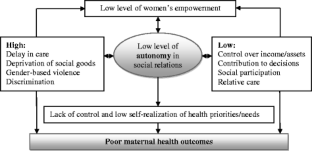 References
Amzat, J. 2011. Assessing the progress of malaria control in Nigeria. World Health and Population 12(3): 4251.

Amzat, J., and G. Grandi. 2011. Gender context of personalism in bioethics. Developing World Bioethics 11(3): 136–145.

Amzat, J., and O. Razum. 2014. Medical sociology in Africa. Cham: Springer International Publishing.

Annandale, E., and K. Hunt. 1990. Masculinity, femininity and sex: An exploration of their relative contribution to explaining gender differences in health. Sociology of Health and Illness 12(1): 24–46.

Beauchamp, T.M., and J.F. Childress. 2001. Principles of biomedical ethics, 5th ed. Oxford: Oxford University Press.

Burchett, H.E., and S.H. Mayhew. 2009. Maternal mortality in low-income countries: What interventions have been evaluated and how should the evidence base be developed further? International Journal of Gynaecology and Obstetrics 105(1): 78–81.

Central Statistical Agency [Ethiopia] and ICF International. 2012. Ethiopia demographic and health survey 2011. Addis Ababa, Ethiopia, and Calverton, Maryland: Central Statistical Agency and ICF International.

Chirowa, F., S. Atwood, and M. van der Putten. 2013. Gender inequality, health expenditure and maternal mortality in sub-Saharan Africa: A secondary data analysis. African Journal of Primary Health Care and Family Medicine 5(1). doi:10.4102/phcfm.v5i1.471.

Chukuezi, C. 2010. Socio-cultural factors associated with maternal mortality in Nigeria. Research Journal of Social Sciences 1(5): 22–26.

Crowe, S., M. Utley, A. Costello, and C. Pagel. 2012. How many births in sub-Saharan Africa and South Asia will not be attended by a skilled birth attendant between 2011 and 2015? BMC Pregnancy and Childbirth 12: 4. http://www.biomedcentral.com/1471-2393/12/4.

de Beauvoir, Simone. 1972. The second sex. Translated by H.M. Parshley. Harmondsworth: Penguin.

Devries, K.M., S. Kishor, H. Johnson, H. Stöckl, L.J. Bacchus, C. Garcia-Moreno, and C. Watts. 2010. Intimate partner violence during pregnancy: Analysis of prevalence data from 19 countries. Reproductive Health Matters 18(36): 158–170.

Donchin, A. 1995. Reworking autonomy: Toward a feminist perspective. Cambridge Quarterly of Healthcare Ethics 4(1): 44–55.

Donchin, A. 2003. Converging concerns: Feminist bioethics, development theory, and human rights. Signs: Journal of Women in Culture and Society 29(2): 299–324.

Doyal, L. 2000. Gender equity in health: Debates and dilemmas. Social Science and Medicine 51(6): 931–939.

Ellis, C., L. Schummers, and J. Rostoker. 2011. Reducing maternal mortality in Uganda: Applying the "Three Delays" framework. International Journal of Childbirth 1(4): 218–226.

Etzioni, A. 2011. On a communitarian approach to bioethics. Theoretical Medicine and Bioethics 32(5): 363–374.

Fapohunda, B.M., and N.G. Orobaton. 2013. When women deliver with no one present in Nigeria: Who, what, where and so what? PLoS One 8(7): e69569. doi:10.1371/journal.pone.0069569.

Firestone, S. 1970. The dialectic of sex: The case for feminist revolution. New York: Farrar Straus and Giroux.

Gerntholtz, L., A. Gibbs, and S. Willan. 2011. The African Women's Protocol: Bringing attention to reproductive rights and the MDGs. PLoS Medicine 8(4): e1000429. doi:10.1371/journal.pmed.1000429.

Heise, L. 1994. Violence against women: The hidden health burden. Washington, DC: The World Bank.

Hellsten, S.K. 2010. Empowering the invisible: Women, local culture and global human rights protection. Thought and Practice: A Journal of the Philosophical Association of Kenya (PAK) New Series 2(1): 37–57.

Kululanga, L.I., J. Sundby, A. Malata, and E. Chirwa. 2012. Male involvement in maternity health care in Malawi. African Journal of Reproductive Health 16(1): 145–157.

London, L. 2008. What is a human rights-based approach to health and does it matter? Health and Human Rights 10(1): 1–16.

Millett, K. 1969. Sexual politics. New York: Granada Publishing.

Mistry, R., O. Galal, and M. Lu. 2009. Women's autonomy and pregnancy care in rural India: A contextual analysis. Social Science and Medicine 69(6): 926–933.

National Bureau of Statistics [NBS] Tanzania and ICF Macro. 2011. Tanzania demographic and health survey 2010. Dar es Salaam: NBS and ICF Macro.

National Population Commission [NPC] Nigeria, and Measure DHS. 2013. Nigeria demographic and health survey 2013: A preliminary report. Abuja, Nigeria: National Population Commission and Measure DHS.

Nour, N.M. 2008. An introduction to maternal mortality. Reviews in Obstetrics and Gynecology 1(2): 77–81.

Nwokocha, E.E. 2007. Maternal crises and the role of African men: The case of a Nigerian community. African Population Studies 22(1): 35–56.

Osmani, S., and A. Sen. 2003. The hidden penalties of gender inequality: Fetal origins of ill-health. Economics and Human Biology 1(1): 105–121.

PATHS [Partnership for Transforming Health Systems]. 2010. Increasing access to safe motherhood services. Abuja, Nigeria: UK Department for International Development (DFID). http://www.healthpartners-int.co.uk/our_projects/documents/NPQ_FinalVersion-SafeMotherhoodTechnicalBrief-1_000.pdf.

Ratsma, Y.E., and J. Malongo. 2009. Maternal health and human rights. Malawi Medical Journal 21(2): 51–53.

Rendtorff, J.D. 2002. Basic ethical principles in European bioethics and biolaw: Autonomy, dignity, integrity and vulnerability—towards a foundation of bioethics and biolaw. Medicine, Health Care, and Philosophy 5(3): 235–244.

Rogo, K.O., J. Oucho, and P. Mwalali. 2006. Maternal mortality. In Disease and mortality in sub-Saharan Africa, 2nd ed., edited by D.T. Jamison, R.G. Feachem, M.W. Makgoba, et al., 223–236. Washington, DC: The World Bank.

Sen, A. 2001. When misogyny becomes a problem: Many faces of gender inequality. The New Republic 17(September): 37–40.

Sen, A. 2003. Missing women—revisited: Reduction in female mortality has been counterbalanced by sex-selective abortions. BMJ 327(7427): 1297–1298. doi:10.1136/bmj.327.7427.1297.

Shen, C., and J.B. Williamson. 1999. Maternal mortality, women's status, and economic dependency in less developed countries: A cross-national analysis. Social Science and Medicine 49(2): 197–214.

Singh, K., S. Bloom, and P. Brodish. 2011. Influence of gender measures on maternal and child health in Africa. Chapel Hill, NC: United States Agency for International Development [USAID] MEASURE Evaluation Technical Report.

Singh, K., S. Bloom, E. Haney, C. Olorunsaiye, and P. Brodish. 2012. Gender equality and childbirth in a health facility: Nigeria and MDG5. African Journal of Reproductive Health 16(3): 122–128.

Sipsma, H., T.A. Callands, E. Bradley, B. Harris, B. Johnson, and N.B. Hansen. 2013. Healthcare utilisation and empowerment among women in Liberia. Journal of Epidemiology and Community Health 67(11): 953–959. doi:10.1136/jech-2013-202647.

United Nations Children's Fund [UNICEF]. 2003. A human rights-based approach to programming for maternal mortality reduction in a South Asian context: A review of the literature. Kathmandu, Nepal: UNICEF Regional Office for South Asia.

United Nations Population Fund [UNFPA]. 2012. Marrying too young: End child marriage. New York: UNFPA.

van den Berg, M.E.S. 1999. On a communitarian ethos, equality and human rights in Africa. Alternation 6(1): 193–212.

Verbrugge, L.M. 1985. Gender and health: An update on hypotheses and evidence. Journal of Health and Social Behavior 26(3): 156–182.

Wado, Y.D. 2013. Women's autonomy and reproductive healthcare-seeking behavior in Ethiopia. Calverton, MD: United States Agency for International Development [USAID].

World health Organization [WHO]. 2012a. Maternal mortality: Fact sheet no. 348. http://www.who.int/mediacentre/factsheets/ fs348/en/index.html. Accessed September 25, 2012.

World health Organization [WHO]. 2012b. Trends in maternal mortality: 1990 to 2010. Geneva: WHO.

World Health Organization [WHO]. 2014. Trends in maternal mortality: 1990 to 2013: Estimates by WHO, UNICEF, UNFPA, The World Bank and the United Nations Population Division. Geneva: WHO.

Yamin, A.E. 2013. Applying human rights to maternal health: UN Technical Guidance on rights-based approaches. International Journal of Gynaecology and Obstetrics 121(2): 190–193.
Acknowledgments
The author wrote the paper during his Georg Forster Fellowship for Postdoctoral Researchers and is grateful to the Alexander von Humboldt Foundation, Germany, which administers the fellowship.
Statement of Competing Interests
None.
About this article
Cite this article
Amzat, J. The Question of Autonomy in Maternal Health in Africa: A Rights-Based Consideration. Bioethical Inquiry 12, 283–293 (2015). https://doi.org/10.1007/s11673-015-9607-y
Received:

Accepted:

Published:

Issue Date:
Keywords
Maternal health

Maternal mortality

Bioethics

Cultural studies

Gender studies

Sociology