Abstract
Triangulation of the Ag-Hg-Se-I system in the vicinity of quaternary phase Ag4HgSe2I2 was performed by differential thermal analysis, X-ray diffraction and electromotive force (EMF) methods. The spatial position of the phase region Ag4HgSe2I2-Se-HgI2 regarding the figurative point of silver was used to write the chemical reaction of formation of Ag4HgSe2I2. The EMF measurements were carried out by applying an electrochemical cell: (–) C|Ag|Ag2GeS3 glass|Ag4HgSe2I2, HgI2, Se|C (+), where C is graphite and Ag2GeS3 glass is the fast purely Ag+ ions conducting electrolyte. The linear dependence of the EMF of the electrochemical cell on temperature was used to determine the standard thermodynamic values of Ag4HgSe2I2 for the first time.
Access options
Buy single article
Instant access to the full article PDF.
USD 39.95
Price excludes VAT (USA)
Tax calculation will be finalised during checkout.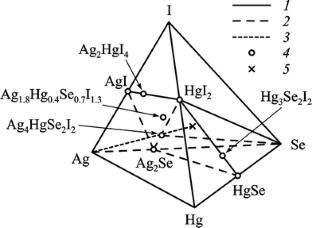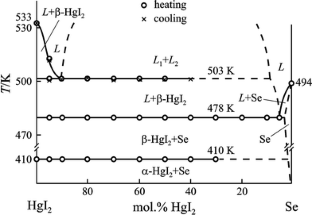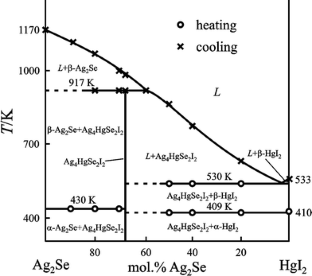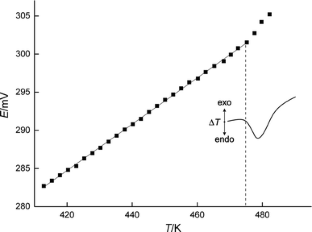 References
K. Shahi and J.B. Wagner, Fast Ion Transport in Silver Halide Solid Solutions and Multiphase Systems, Appl. Phys. Lett., 1980, 37, p 757-759

K. Shahi and J.B. Wagner, Phase Transition and the Ag+ -Ion Diffusion in AgI: Effect of Homovalent Br− -Ion Substitution, Phys. Rev. B., 1981, 23, p 6417-6421

B. Reuter and K. Hardel, Silbersulfidbromid Ag3SBr und Silbersulfidjodid Ag3SJ. I. Darstellung, Eigenschaften und Phasenverhltnisse von Ag3SBr und Ag3SJ, Z. Anorg. Allg. Chem., 1965, 340, p 158-167, in German

G. Spinolo and V. Massarotti, Ag3SBr and Ag3SI: a Diffractometric Study of the Low Temperature Modifications, Z. Phys. Chem., 1980, 121, p 7-15

S. Hull and D.A. Keen, Structural Characterization of the β → α Superionic Transition in Ag2HgI4 and Cu2HgI4, J. Phys. Condens. Matter, 2000, 12, p 3751-3765

S. Hull and D.A. Keen, Structural Characterization of Further High Temperature Superionic Phases of Ag2HgI4 and Cu2HgI4, J. Phys. Condens. Matter, 2001, 13, p 5597-5610

J.W. Brightwell, C.N. Buckley, R.C. Hollyoak, and B. Ray, Structural and Phase Equilibrium Comparisons of Ag2HgI4 with Ag2CdI4 and Ag2ZnI4, J. Mater. Sci. Lett., 1984, 3, p 443-446

T. Takahashi, K. Kuwabara, and O. Yamamoto, Solid-State Ionics: Studies on the Solid Electrolytes in the System Ag2X-AgI-HgI2, J. Electrochem. Soc., 1973, 120, p 1607-1612

T. Takahashi, Solid Silver Ion Conductors, J. Appl. Electrochem., 1973, 3, p 79-90

M. Saleem, M. Kadri, and R.C. Agrawal, Transport Properties of a Cationic Superionic Conductor, Phys. Status Solidi A, 1987, 99, p 91-95

M. Saleem, S.B. Halim, and R.C. Agrawal, Electrical Conduction in the Superionic Material (Ag2Se)0.452(AgI)0.258(HgI2)0.290, Phys. Status Solidi A, 1987, 102, p 29-32

A. Kroupa, Modelling of Phase Diagrams and Thermodynamic Properties Using Calphad Method—Development of Thermodynamic Databases, Comput. Mater. Sci., 2013, 66, p 3-13

H. Ipser, A. Mikula, and I. Katayama, Overview: The emf Method as a Source of Experimental Thermodynamic Data, Calphad, 2010, 34, p 271-278

R.J. Cava and E.A. Rietman, Ionic Conductivity of β-AgI, Phys. Rev. B, 1984, 30, p 6896-6902

I. Barin, Thermochemical Data of Pure Substance, VCH, Weinheim, 1995

M.B. Babanly, L.F. Mashadieva, G.M. Velieva, S.Z. Imamalieva, and Y.M. Shykhyev, Thermodynamic Study of the Ag-As-Se and Ag-S-I, Systems Using the EMF Method with a Solid Ag4RbI5 Electrolyte, Russ. J. Electrochem., 2009, 45, p 399-404

M.B. Babanly and Y.A. Yusibov, N.B. Babanly, Electromotive Force Measurement Several System, S. Kara, Ed., InTech, Rijeka, 2011, p 57-78 doi:10.5772/28934

H. Preston-Thomas, The International Temperature Scale of 1990 (ITS-90), Metrologia, 1990, 27, p 3-10

W. Kraus and G. Nolze, PowderCell Window (version 2.3), Berlin Federal Institute, Berlin, 1999

Diffractometer Stoe WinX POW Version 2.21 (Stoe, Darmstadt, 2007)

E. Robinel, B. Carette, and M. Ribes, Silver Sulfide Based Glasses (I): Glass Forming Regions, Structure and Ionic Conduction of Glasses in GeS2-Ag2S and GeS2-Ag2S-AgI, Systems, J. Non-Cryst. Solids, 1983, 57, p 49-58

M.V. Moroz, P.Y. Demchenko, O.G. Mykolaychuk, L.G. Akselrud, and R.E. Gladyshevskii, Synthesis and Electrical Conductivity of Crystalline and Glassy alloys in the Ag3GeS3Br-GeS2 System, Inorg. Mater., 2013, 49, p 867-871

R.C. Agrawal and R.K. Gupta, Superionic Solid: Composite Electrolyte Phase—an Overview, J. Mater. Sci., 1999, 34, p 1131-1162

F. Tesfaye, P. Taskinen, M. Aspiala, and D. Feng, Experimental Thermodynamic Study of Intermetallic Phases in the Binary Ag-Te System by an Improved EMF Method, Intermetallics, 2013, 34, p 56-62

E.G. Osadchii and E.A. Echmaeva, The System Ag-Au-Se: Phase Relations Below 405 K and Determination of Standard Thermodynamic Properties of Selenides by Solid-State Galvanic Cell Technique, Am. Mineral., 2007, 92, p 640-647

R. Blachnik and H.A. Dreisbach, The phase diagrams of Ag2X-AgY (X = S, Se, Te; Y = Cl, Br, I): Mixtures and the Structure of Ag5Te2Cl, J. Solid State Chem., 1985, 60, p 115-122

V. Tomashyk, P. Feychuk, and L. Shcherbak, Ternary Alloys Based on II-VI, Semiconductor Compounds, CRC, Boca Raton, 2013
Acknowledgments
The authors are grateful to the Johan Gadolin Scholarship programme and Academy of Finland for financial support. This work was carried out under the project "Thermodynamic investigation of complex inorganic material systems for improved renewable energy and metals production processes" as part of the activities of the Johan Gadolin Process Chemistry Centre at Åbo Akademi University.
About this article
Cite this article
Moroz, M., Tesfaye, F., Prokhorenko, M. et al. Thermodynamic Properties of Superionic Phase Ag4HgSe2I2 Determined by the EMF Method. J. Phase Equilib. Diffus. 39, 11–16 (2018). https://doi.org/10.1007/s11669-017-0602-3
Received:

Revised:

Published:

Issue Date:

DOI: https://doi.org/10.1007/s11669-017-0602-3
Keywords
EMF method

phase equilibria

superionic compound

thermodynamic properties