Abstract
Suspension high velocity oxy-fuel spraying can be used to produce thermally sprayed coatings from powdered feedstocks too small to be processed by mechanical feeders, allowing formation of nanostructured coatings with improved density and mechanical properties. Here, alumina coatings were produced from submicron-sized feedstock in aqueous suspension, using two flame combustion parameters yielding contrasting microstructures. Both coatings were tested in dry sliding wear conditions with an alumina counterbody. The coating processed with high combustion power of 101 kW contained 74 wt.% amorphous phase and 26 wt.% crystalline phase (95 wt.% gamma and 3 wt.% alpha alumina), while the 72-kW coating contained lower 58 wt.% amorphous phase and 42 wt.% crystalline phases (73 wt.% was alpha and 26 wt.% gamma). The 101-kW coating had a dry sliding specific wear rate between 4 and 4.5 × 10−5 mm3/Nm, 2 orders of magnitude higher than the 72-kW coating wear rate of 2-4.2 × 10−7 mm3/Nm. A severe wear regime dominated by brittle fracture and grain pullout of the coating was responsible for the wear of the 101-kW coating, explained by mean fracture toughness three times lower than the 72-kW coating, owing to the almost complete absence of alpha alumina.
Access options
Buy single article
Instant access to the full article PDF.
USD 39.95
Price excludes VAT (USA)
Tax calculation will be finalised during checkout.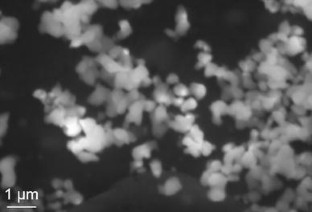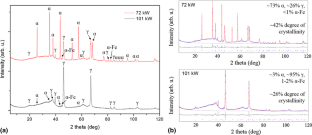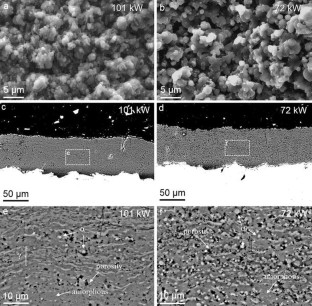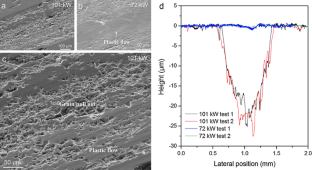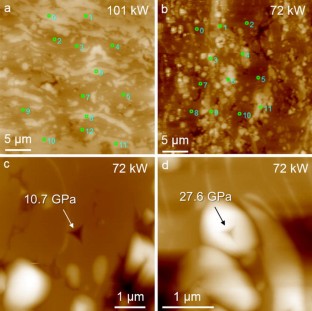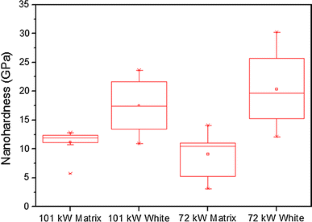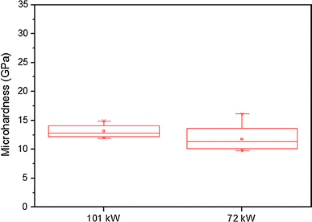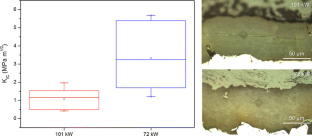 References
A. Killinger, M. Kuhn, and R. Gadow, High-Velocity Suspension Flame Spraying (HVSFS), a New Approach for Spraying Nanoparticles with Hypersonic Speed, Surf. Coat. Technol., 2006, 201(5), p 1922-1929

F.-L. Toma, L.-M. Berger, C.C. Stahr, T. Naumann, and S. Langner, Microstructures and Functional Properties of Suspension-Sprayed Al2O3 and TiO2 Coatings: An Overview, J. Therm. Spray Technol., 2010, 19(1), p 262-274

L. Pawlowski, Thermal Spraying Techniques, the Science and Engineering of Thermal Spray Coatingsed, Wiley, London, 2008, p 67-113

G. Bolelli, J. Rauch, V. Cannillo, A. Killinger, L. Lusvarghi, and R. Gadow, Microstructural and Tribological Investigation of High-Velocity Suspension Flame Sprayed (HVSFS) Al2O3 Coatings, J. Therm. Spray Technol., 2008, 18(1), p 35-49

R. McPherson, Formation of Metastable Phases in Flame- and Plasma-Prepared Alumina, J. Mater. Sci., 1973, 8(6), p 851-858

P. Fauchais, G. Montavon, and G. Bertrand, From Powders to Thermally Sprayed Coatings, J. Therm. Spray Technol., 2010, 19(1), p 56-80

R. McPherson, On the Formation of Thermally Sprayed Alumina Coatings, J. Mater. Sci., 1980, 15(12), p 3141-3149

P. Chráska, J. Dubsky, K. Neufuss, and J. Písacka, Alumina-Base Plasma-Sprayed Materials Part I: Phase Stability of Alumina and Alumina-Chromia, J. Therm. Spray Technol., 1997, 6(3), p 320-326

J. Ilavsky, C.C. Berndt, H. Herman, P. Chraska, and J. Dubsky, Alumina-Base Plasma-Sprayed Materials—Part II: Phase Transformations in Aluminas, J. Therm. Spray Technol., 1997, 6(4), p 439-444

F.-L. Toma, L.-M. Berger, S. Scheitz, S. Langner, C. Rödel, A. Potthoff, V. Sauchuk, and M. Kusnezoff, Comparison of the Microstructural Characteristics and Electrical Properties of Thermally Sprayed Al2O3 Coatings from Aqueous Suspensions and Feedstock Powders, J. Therm. Spray Technol., 2012, 21(3), p 480-488

J. Rauch, G. Bolelli, A. Killinger, R. Gadow, V. Cannillo, and L. Lusvarghi, Advances in High Velocity Suspension Flame Spraying (HVSFS), Surf. Coat. Technol., 2009, 203(15), p 2131-2138

H. Rietveld, Line Profiles of Neutron Powder-Diffraction Peaks for Structure Refinement, Acta Crystallogr. A, 1967, 22(1), p 151-152

J. Suffner, H. Sieger, H. Hahn, S. Dosta, I.G. Cano, J.M. Guilemany, P. Klimczyk, and L. Jaworska, Microstructure and Mechanical Properties of Near-Eutectic ZrO2–60 wt% Al2O3 Produced by Quenched Plasma Spraying, Mater. Sci. Eng., A, 2009, 506(1-2), p 180-186

R.S. Zhou and R.L. Snyder, Structures and Transformation Mechanisms of the η, γ and θ Transition Aluminas, Acta Crystallogr. Sect. B, 1991, 47(5), p 617-630

W.C. Oliver and G.M. Pharr, An Improved Technique for Determining Hardness and Elastic Modulus Using Load and Displacement Sensing Indentation Experiments, J. Mater. Res., 1992, 7(06), p 1564-1583

A.G. Evans and E.A. Charles, Fracture Toughness Determinations by Indentation, J. Am. Ceram. Soc., 1976, 59(7-8), p 371-372

B. Yazdani, F. Xu, I. Ahmad, X. Hou, Y. Xia, and Y. Zhu, Tribological Performance of Graphene/Carbon Nanotube Hybrid Reinforced Al2O3 Composites, Sci. Rep., 2015, 5, p 11579

T. Hussain, E.C. Shaw, Z. Pala, F. Xu, A.S.M. Ang, Tribology and Nanoindentation Study of Suspension HVOF Thermally Sprayed Alumina Coating, International Thermal Spray Conference & Exposition, May 10-12, 2016 (Shanghai, China)

J. Gangwar, K. Dey, P. Komal, S. Tripathi, and A. Srivastava, Microstructure, Phase Formations and Optical Bands in Nanostructured Alumina, Adv. Mater. Lett., 2011, 2, p 402-408

I.M. Hutchings, Tribology: Friction and Wear of Engineering Materials, Edward Arnold, London, 1992

Y. Jin and Y. Yang, Tribological Behavior of Various Plasma-Sprayed Ceramic Coatings, Surf. Coat. Technol., 1997, 88(1), p 248-254

B. Bhushan, Introduction to Tribology, Wiley, New York, 2002

G. Bolelli, V. Cannillo, L. Lusvarghi, and T. Manfredini, Wear Behaviour of Thermally Sprayed Ceramic Oxide Coatings, Wear, 2006, 261(11-12), p 1298-1315

R. Singha Roy, A. Mondal, A. Chanda, D. Basu, and M.K. Mitra, Sliding Wear Behavior of Submicron-Grained Alumina in Biological Environment, J. Biomed. Mater. Res., Part A, 2007, 83A(2), p 257-262

H. Ishigaki, I. Kawaguchi, M. Iwasa, and Y. Toibana, Friction and Wear of Hot Pressed Silicon Nitride and Other Ceramics, J. Tribol., 1986, 108(4), p 514-521

P. Nayar, A. Khanna, D. Kabiraj, S.R. Abhilash, B.D. Beake, Y. Losset, and B. Chen, Structural, Optical and Mechanical Properties of Amorphous and Crystalline Alumina Thin Films, Thin Solid Films, 2014, 568, p 19-24

Q. Li, Y.-H. Yu, C. Singh Bhatia, L.D. Marks, S.C. Lee, and Y.W. Chung, Low-Temperature Magnetron Sputter-Deposition, Hardness, and Electrical Resistivity of Amorphous and Crystalline Alumina Thin Films, J. Vac. Sci. Technol., A, 2000, 18(5), p 2333-2338

P.M. Martin, Thin Film Tribological Materials. Introduction to Surface Engineering and Functionally Engineered Materials, Wiley, New York, 2011, p 187-282

L. Pawlowski, The Science and Engineering of Thermal Spray Coatings, Wiley, New York, 1995
About this article
Cite this article
Murray, J.W., Ang, A.S.M., Pala, Z. et al. Suspension High Velocity Oxy-Fuel (SHVOF)-Sprayed Alumina Coatings: Microstructure, Nanoindentation and Wear. J Therm Spray Tech 25, 1700–1710 (2016). https://doi.org/10.1007/s11666-016-0462-0
Received:

Revised:

Published:

Issue Date:

DOI: https://doi.org/10.1007/s11666-016-0462-0
Keywords
alpha alumina

dry sliding wear

gamma alumina

HVSFS

Rietveld refinement

SHVOF