Symposium Held in Honor of Professor Joachim "Jockel" Heberlein
In honor of Joachim Heberlein's retirement, a symposium was held in the Mechanical Engineering Department of the University of Minnesota. The event was sponsored by the High Temperature and Plasma Laboratory, and was held on March 8, 2013.
Professor Heberlein, who is a Fellow of ASM International, served as the Chair of the Journal of Thermal Spray Technology Editorial Committee for ten years from 1996 to 2005. His exceptional career includes many accolades. He became an inductee into the Thermal Spray Hall of Fame in 2004. He was presented the award for the
Journal of Thermal Spray Technology
Best Paper in 2007. In 2009 the Board of Directors of the International Plasma Chemistry Society awarded him the Plasma Chemistry Award for his significant contributions to thermal plasmas science. In that same year on behalf of the Thermal Spray Society he was the designee for the Allan Ray Putnam Service Award in recognition of his leadership as chair of the Editorial Board of the
Journal of Thermal Spray Technology
.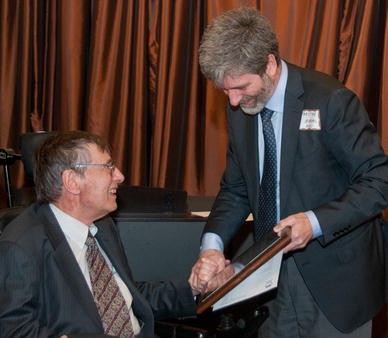 Pictured above, JTST Editor Christian Moreau presents Professor Heberlein with the Thermal Spray Society President's Award on behalf of President Luc Pouliot. Professor Heberlein was cited for his extreme generosity of his time and experience in his impressive ASM and TSS committee's service record. Among others, he served for 7 years as Chair of the Award Committee, 11 years on the Program Committee, 10 years as Chair of the JTST Editorial Committee and member since 2008, 2 years on the Nominating Committee and 2 years on the Academic Advisory Council.
"Joachim has provided invaluable contributions for making JTST a journal internationally recognized for its quality and pertinence. Joachim has been a mentor, a friend and a leader in this journey" said Moreau speaking about the unique role of Prof. Heberlein in the JTST Editorial Committee over the years.