Abstract
Wear behavior of plasma-sprayed carbon nanotube (CNT)-reinforced aluminum oxide (Al2O3) composite coatings are investigated at room temperature (298 K), elevated temperature (873 K), and in sea water. Lowest wear volume loss was observed in the sea water as compared to dry sliding at 298 and 873 K. Relative improvement in the wear resistance of Al2O3-8 wt.% CNT coating compared to Al2O3 was 72% at 298 K, 76% at 873 K, and 66% in sea water. The improvement in the wear resistance of Al2O3-CNT coatings is attributed to (i) larger area coverage by protective film on the wear surface at room temperature and in sea water, (ii) higher fracture toughness of Al2O3-CNT coatings due to CNT bridging between splats, and (iii) anti-friction effect of sea water. The average coefficient of friction (COF) was the lowest (0.55) in sea water and the highest (0.83) at 873 K for Al2O3-8 wt.% CNT coating.
Access options
Buy single article
Instant access to the full article PDF.
US$ 39.95
Tax calculation will be finalised during checkout.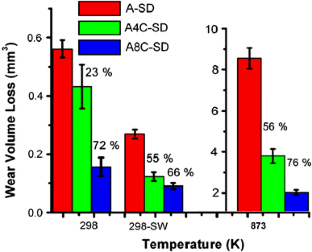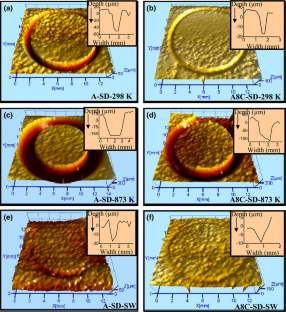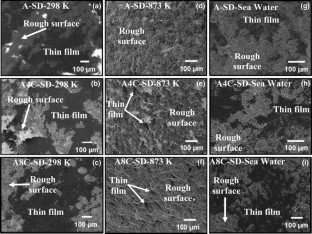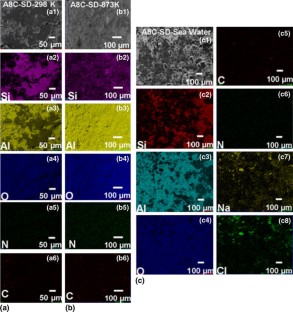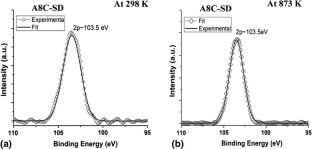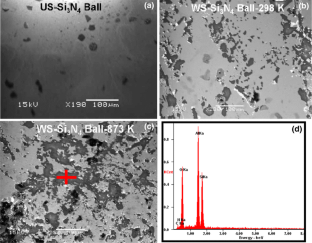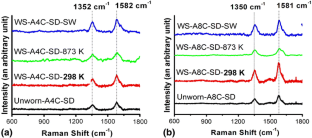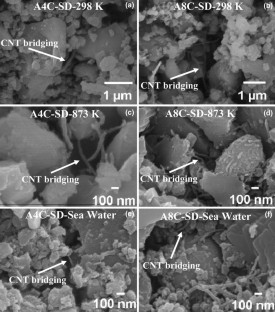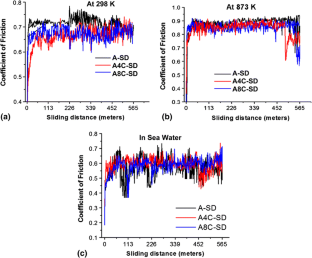 References
1.

K. Balani and A. Agarwal, Process Map for Plasma Sprayed Aluminum Oxide-Carbon Nanotube Nanocomposite Coatings, Surf. Coat. Technol., 2008, 202, p 4270-4277

2.

E.H. Jordan and M. Gell, Nano Crystalline Ceramic and Ceramic Coatings Made by Conventional and Solution Plasma Spray, Nanomaterials Technology for Military Vehicle Structural Applications, RTO-MP-AVT-122, 3-4 October, 2005

3.

G.R. Karagedov and N.Z. Lyakhov, Preparation and Sintering of Nanosized Alpha-Al2O3 Powder, Nanostruct. Mater., 1999, 11, p 559-572

4.

H. Luo, D. Goberman, L. Shaw, and M. Gell, Indentation Fracture Behavior of Plasma-Sprayed Nanostructured Al2O3-13 wt.% TiO2 Coatings, Mater. Sci. Eng. A, 2003, 346, p 237-245

5.

L.L. Shaw, D. Goberman, R. Ren, M. Gell, S. Jiang, Y. Wang, D.T. Xiao, and P.R. Strutt, The Dependency of Microstructure and Properties of Nanostructured Coatings on Plasma Spray Conditions, Surf. Coat. Technol., 2000, 180, p 1-8

6.

Y. Wang, S. Jiang, M. Wang, S. Wang, T.D. Xiao, and P.R. Strutt, Abrasive Wear Characteristics of Plasma Sprayed Nanostructured Alumina/Titania Coatings, Wear, 2000, 237, p 176-185

7.

H.Y. Ding, Z.D. Dai, S.C. Skuiry, and D. Hui, Corrosion Wear Behaviors of Micro-Arc Oxidation Coating of Al2O3 on 2024Al in Different Aqueous Environments at Fretting Contact, Tribol. Int., 2010, 43, p 868-875

8.

A.K. Keshri, J. Huang, W. Choi, and A. Agarwal, Intermediate Temperature Tribological Behavior of Carbon Nanotube Reinforced Plasma Sprayed Aluminum Oxide Coating, Surf. Coat. Technol., 2010, 204, p 1847-1855

9.

X. Lin, Y. Zenga, C. Ding, and P. Zhang, Effects of Temperature on Tribological Properties of Nanostructured and Conventional Al2O3-3 wt.% TiO2 Coatings, Wear, 2004, 256, p 1018-1025

10.

D. Yan, J. He, X. Li, Y. Liu, J. Zhang, and H. Ding, An Investigation of the Corrosion Behavior of Al2O3-Based Ceramic Composite Coatings in Dilute HCl Solution, Surf. Coat. Technol., 2001, 141, p 1-6

11.

I. Ahmad, A. Kennedy, and Y.Q. Zhu, Wear Resistant Properties of Multi Walled Carbon Nanotubes Reinforced Al2O3 Nanocomposites, Wear, 2010, 269, p 71-78

12.

J.W. An, D.H. You, and D.S. Lim, Tribological Properties of Hot-Pressed Alumina-CNT Composites, Wear, 2003, 255, p 677-681

13.

K. Balani, S.P. Harimkar, A.K. Keshri, Y. Chen, N.B. Dahotre, and A. Agarwal, Multiscale Wear of Plasma-Sprayed Carbon-Nanotube-Reinforced Aluminum Oxide Nanocomposite Coating, Acta Mater., 2008, 56, p 5984-5994

14.

D.S. Lim, J.W. An, and H.J. Lee, Effect of Carbon Nanotube Addition on the Tribological Behavior of Carbon/Carbon Composites, Wear, 2002, 252, p 512-517

15.

D.S. Lim, D.H. You, H.J. Choi, S.H. Lim, and H. Jang, Effect of CNT Distribution on Tribological Behavior of Alumina-CNT Composites, Wear, 2005, 259, p 539-544

16.

A.K. Keshri, R. Patel, and A. Agarwal, Comprehensive Process Maps to Synthesize High Density Plasma Sprayed Aluminum Oxide Composite Coatings with Varying Carbon Nanotube Content, Surf. Coat. Technol., 2010, 205, p 690-702

17.

G.R. Anstis, P. Chantikul, B.R. Lawn, and D.B. Marshall, A Critical Evaluation of Indentation Techniques for Measuring Fracture Toughness: Direct Crack Measurements, J. Am. Ceram. Soc., 1981, 64, p 533-538

18.

J. Wang, F. Yana, and Q. Xue, Tribological Behavior of PTFE Sliding Against Steel in Sea Water, Wear, 2009, 267, p 1634-1641

19.

X. Wang, N.P. Padture, and H. Tanaka, Contact-Damage-Resistant Ceramic/Single-Wall Carbon Nanotubes and Ceramic/Graphite Composites, Nat. Mater., 2004, 3, p 539-544

20.

G.D. Zhan, J.D. Kuntz, J. Wan, and A.K. Mukherjee, Single Walled Carbon Nanotube as Attractive Toughening Agents in Alumina Based Nanocomposites, Nat. Mater., 2003, 2, p 38-42

21.

G.D. Quinn and R.C. Bradt, On the Vickers Indentation Fracture Toughness Test, J. Am. Ceram. Soc., 2007, 90, p 673-680

22.

S.S. Kim, Y.H. Chae, and D.J. Kim, Tribological Characteristics of Silicon Nitride at Elevated Temperatures, Tribol. Lett., 2000, 9, p 227-232

23.

J. Li and D. Xiong, Tribological Behavior of Graphite-Containing Nickel-Based Composite as Function of Temperature, Load and Counterface, Wear, 2009, 266, p 360-367

24.

S. Wilson and A.T. Alpas, Dry Sliding Wear of a PVD TiN Coating Against Si3N4 at Elevated Temperatures, Surf. Coat. Technol., 1996, 86-87, p 75-81

25.

FACTSAGE, Thermodynamic Equilibrium Software, Version 5.0, Center for Research in Computational Thermochemistry of the Ecole Polythechnique at the Université de Montréal and GTT-Technologies, GmbH, Aachen, Germany, 2001

26.

Y.S. Feng, S.M. Zhou, Y. Li, and L.D. Zhang, Preparation of the SnO2/SiO2 Xerogel with a Large Specific Surface Area, Mater. Lett., 2003, 57, p 2409-2412

27.

N. Koshizaki, H. Umehara, and T. Oyama, XPS Characterization and Optical Properties of Si/SiO2, Si/Al2O3 and Si/MgO Co-Sputtered Films, Thin Solid Films, 1998, 325, p 130-136

28.

S. Osswald, M. Havel, and Y. Gogotsi, Monitoring Oxidation of Multiwalled Carbon Nanotubes by Raman Spectroscopy, J. Raman Spectrosc., 2007, 38, p 728-736

29.

C. Li, D. Wang, T. Liang, X. Wang, J. Wu, X. Hu, and J. Liang, Oxidation of Multiwalled Carbon Nanotubes by Air: Benefits for Electric Double Layer Capacitors, Powder Technol., 2004, 142, p 175-179

30.

A.G. Evans and B. Marshall, Wear Mechanism in Ceramics, Fundamentals of Friction and Wear of Materials, D.A. Rigney, Ed., ASM International, Metals Park, OH, 1981, p 439-452
Acknowledgments
The authors acknowledge the financial support received from the Office of Naval Research (N00014-08-1-0494). AKK acknowledges support from the Dissertation Year Fellowship by the University Graduate School of Florida International University (FIU). The authors are also grateful to the Center for the Study of Matter at Extreme Conditions (CeSMEC), FIU for allowing them to carry out Raman spectroscopy, and the Advanced Materials Engineering Research Institute (AMERI), FIU to avail the scanning electron microscopy facility.
About this article
Cite this article
Keshri, A.K., Agarwal, A. Wear Behavior of Plasma-Sprayed Carbon Nanotube-Reinforced Aluminum Oxide Coating in Marine and High-Temperature Environments. J Therm Spray Tech 20, 1217–1230 (2011). https://doi.org/10.1007/s11666-011-9669-2
Received:

Revised:

Published:

Issue Date:
Keywords
carbon nanotube

friction and wear

nanocrystalline composites

nanopowders

nanostructured coatings

plasma spraying

wear mechanisms