Abstract
The concept of 'process maps' has been utilized to study the fundamentals of process-structure-property relationships in high velocity oxygen fuel (HVOF) sprayed coatings. Ni-20%Cr was chosen as a representative material for metallic alloys. In this paper, integrated experiments including diagnostic studies, splat collection, coating deposition, and property characterization were carried out in an effort to investigate the effects of fuel gas chemistry (fuel/oxygen ratio), total gas flow, and energy input on particle states: particle temperature (T) and velocity (V), coating formation dynamics, and properties. Coatings were deposited on an in situ curvature sensor to study residual stress evolution. The results were reconciled within the framework of process maps linking torch parameters with particle states (1st order map) and relating particle state with deposit properties (2nd order map). A strong influence of particle velocity on induced compressive stresses through peening effect is discussed. The complete tracking of the coating buildup history including particle state, residual stress evolution and deposition temperature, in addition to single splat analysis, allows the interpretation of resultant coating microstructures and properties and enables coating design with desired properties.
Access options
Buy single article
Instant access to the full article PDF.
USD 39.95
Price includes VAT (USA)
Tax calculation will be finalised during checkout.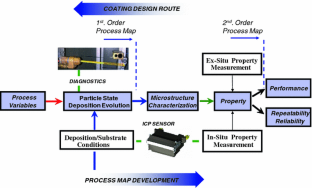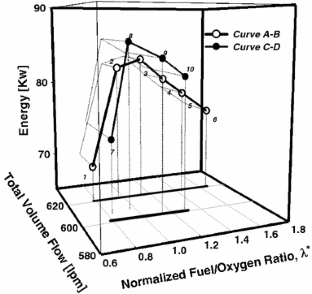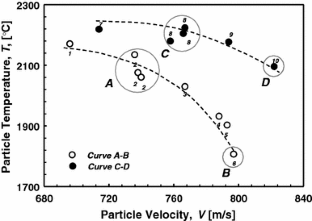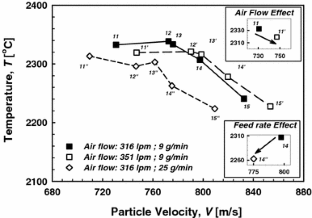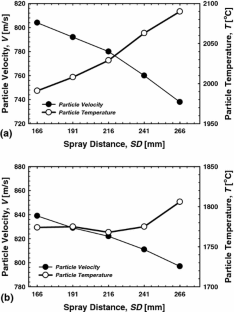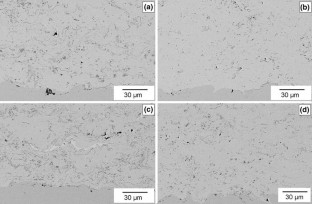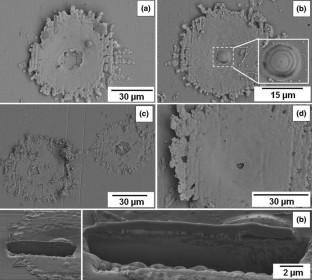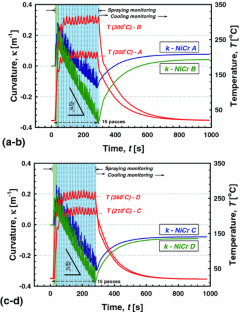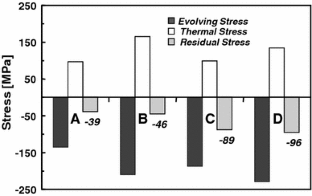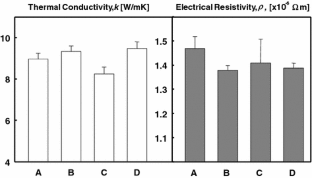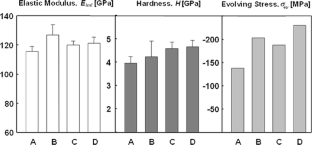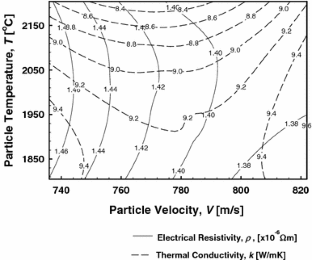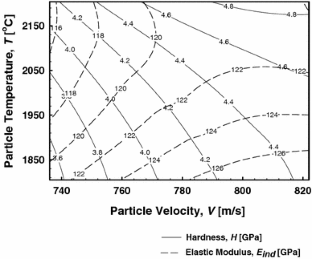 References
1.

R. Knight and R.W. Smith, HVOF Sprayed 80/20 NiCr Coatings—Process Influence Trends, Proceedings of the International Thermal Spraying Conference & Exposition, C.C. Berndt, Ed., ASM International, 1993, p 159-164

2.

E. Lugscheider, C. Herbst, and L. Zhao, Parameter Studies on High-Velocity Oxy-Fuel Spraying of MCrAlY Coatings, Surf. Coat. Technol, 1998, 108-109(1-3), p 16-23

3.

E. Turunen, T. Varis, T.E. Gustafsson, J. Keskinen, T. Falt, and S.-P. Hannula, Parameter Optimization of HVOF Sprayed Nanostructured Alumina and Alumina-Nickel Composite Coatings, Surf. Coat. Technol., 2006, 200(16-17), p 4987-4994

4.

E. Turunen, T. Varis, S.-P. Hannula, A. Vaidya, A. Kulkarni, J. Gutleberg, S. Sampath, and H. Herman, On the Role of Particle State and Deposition Procedure on Mechanical, Tribological and Dielectric Response of High Velocity Oxy-Fuel Sprayed Alumina Coatings, Mater. Sci. Eng. A, 2005, 415(1-2), p 1-11

5.

J.A. Hearley, J. Little, and A.J. Sturgeon, The Effect of Spray Parameters on the Properties of High Velocity Oxy-Fuel NiAl Intermetallic Coatings, Surf. Coat. Technol., 2000, 123(2-3), p 210-218

6.

W.-C. Lih, S.H. Yang, C.Y. Su, S.C. Huang, I.C. Hsu, and M.S. Leu, Effects of Process Parameters on Molten Particle Speed and Surface Temperature and the Properties of HVOF CrC/NiCr Coatings, Surf. Coat. Technol., 2000, 133-134, p 54-60

7.

J. Saaedi, T.W. Coyle, S. Mirdamadi, H. Arabi, and J. Mostaghimi, Phase Formation in a Ni-50Cr HVOF Coating, Surf. Coat. Technol., 2008, 202(24), p 5804-5811

8.

T.S. Sidhu, S. Prakash, and R.D. Agrawal, Hot Corrosion Performance of a NiCr Coated Ni-Based Alloy, Scr. Mater., 2006, 55(2), p 179-182

9.

F. Tang, L. Ajdelsztajn, and J.M. Schoenung, Characterization of Oxide Scales Formed on HVOF NiCrAlY Coatings with Various Oxygen Contents Introduced During Thermal Spraying, Scr. Mater., 2004, 51(1), p 25-29

10.

J. Matejicek and S. Sampath, In Situ Measurement of Residual Stresses and Elastic Moduli in Thermal Sprayed Coatings: Part 1: Apparatus and Analysis, Acta Mater., 2003, 51(3), p 863-872

11.

S. Sampath, X. Jiang, A. Kulkarni, J. Matejicek, D.L. Gilmore, and R.A. Neiser, Development of Process Maps for Plasma Spray: Case Study for Molybdenum, Mater. Sci. Eng. A, 2003, 348(1-2), p 54-66

12.

A. Vaidya, V. Srinivasan, T. Streibl, M. Friis, W. Chi, and S. Sampath, Process Maps for Plasma Spraying of Yttria-Stabilized Zirconia: An Integrated Approach to Design Optimization and Reliability, Mater. Sci. Eng. A, 2008, 497(1-2), p 239-253

13.

M. Friis and C. Persson, Control of Thermal Spray Processes by Means of Process Maps and Process Windows, J. Therm. Spray Technol., 2003, 12(1), p 44-52

14.

W. Rusch, Comparison of Operating Characteristics for Gas and Liquid Fuel HVOF Torches, Thermal Spray 2007: Global Coating Solutions, ASM International, May 14-16, 2007 (Beijing, China), ASM International, 2007, p 572

15.

M. Li and P.D. Christofides, Multi-Scale Modeling and Analysis of an Industrial HVOF Thermal Spray Process, Chem. Eng. Sci., 2005, 60(13), p 3649-3669

16.

V. Faires, Thermodynamics, 3rd ed., The MacMillan Company,  1957

17.

S. Sampath and J. Matejicek, Method and Apparatus for Determining Process-Induced Stresses and Modulus of Coatings by In-Situ Measurement, US Patent 6478875

18.

S. Kuroda, Y. Tashiro, H. Yumoto, S. Taira, and H. Fukanuma, Peening Action and Residual Stresses in HVOF Thermal Spraying of 316L Stainless Steel, 15th International Thermal Spray Conference, Vol 1, 1998, p 569-574

19.

G.G. Stoney, The Tension of Metallic Films Deposited by Electrolysis, Proceedings of the Royal Society, Vol A82, London, 1909, p 172-175

20.

A. Brenner and S. Senderoff, Calculation of Stress in Electrodeposits from the Curvature of a Plated Strip, J. Res. Natl. Bur. Stand., 1949, 42(105), p 105-123

21.

W.C. Oliver and G.M. Pharr, An Improved Technique for Determining Hardness and Elastic-Modulus Using Load and Displacement Sensing Indentation Experiments, J. Mater. Res., 1992, 7(6), p 1564-1583

22.

H. Topsoe, Geometric Factors in Four Point Resistivity Measurement, Bridge Technology, 1968

23.

F.M. Smiths, Measurement of Sheet Resistivities with the 4-Point Probe, Bell System Techn. J., 1958, p 711-718

24.

A.D. Mah, Heats of Formation of Chromium Oxide and Cadmium Oxide from Combustion Calorimetry, J. Am. Chem. Soc., 1954, 76(13), p 3363-3365

25.

T.S. Sidhu, S. Prakash, and R.D. Agrawal, Characterisation of NiCr Wire Coatings on Ni- and Fe-Based Superalloys by the HVOF Process, Surf. Coat. Technol., 2006, 200(18-19), p 5542-5549

26.

L. Li, B. Kharas, H. Zhang, and S. Sampath, Suppression of Crystallization During High Velocity Impact Quenching of Alumina Droplets: Observations and Characterization, Mater. Sci. Eng. A, 2007, 456(1-2), p 35-42

27.

S. Sampath, X.Y. Jiang, J. Matejicek, L. Prchlik, A. Kulkarni, and A. Vaidya, Role of Thermal Spray Processing Method on the Microstructure, Residual Stress and Properties of Coatings: An Integrated Study for Ni-5wt.%Al Bond Coats, Mater. Sci. Eng. A, 2004, 364(1-2), p 216-231

28.

N. Spinicchia, G. Angella, R. Benocci, A. Bruschi, A. Cremona, G. Gittini, A. Nardone, E. Signorelli, and E. Vassallo, Study of Plasma Sprayed Ceramic Coatings for High Power Density Microwave Loads, Surf. Coat. Technol., 2005, 200(1-4), p 1151-1154

29.

Properties and Selection: Nonferrous Alloys and Special-Purpose Materials, Metals Handbook, 10th ed., H.C. ASM International, 1990

30.

A. Sharma, R. Gambino, and S. Sampath, Anisotropic Electrical Properties in Thermal Spray Metallic Coatings, Acta Mater., 2006, 54(1), p 59-65

31.

T. Yoshihiro, O. Kenji, M. Tetsuo, and S. Tomoo, Thermal Conductivity in Nickel Solid Solutions, J. Appl. Phys., 1997, 81(5), p 2263-2268

32.

A.A. Al-Aql, Electrical Resistivity Measurements in Ni-Cr Alloys, Mater. Des., 2003, 24, p 547-550
Acknowledgments
This research was supported by the GOALI-FRG program of the National Science Foundation under award number CMMI 0605704 and by the Consortium of Thermal Spray Technology at the Center for Thermal Spray Research in Stony Brook University. The authors would like to thank Prof. Margaret Hyland and Anh Tran for the FIB micrographs.
About this article
Cite this article
Valarezo, A., Choi, W.B., Chi, W. et al. Process Control and Characterization of NiCr Coatings by HVOF-DJ2700 System: A Process Map Approach. J Therm Spray Tech 19, 852–865 (2010). https://doi.org/10.1007/s11666-010-9492-1
Received:

Revised:

Published:

Issue Date:
Keywords
HVOF

mechanical properties

NiCr

process control

process maps

residual stress

transport properties