Abstract
Thermal barrier coatings were produced using both Ar and N2 as the primary plasma gas. Various aspects of the process and the coatings were investigated. It was found that higher in-flight particle temperatures could be produced using N2, but particle velocities were lower. Deposition efficiencies could be increased by a factor of two by using N2 as compared to Ar. Coatings having similar values of porosity, hardness, Young's modulus, and thermal diffusivity could be produced using the two primary gases. The coatings exhibited similar changes (increased hardness, stiffness, and thermal diffusivity) when heat-treated at 1400 °C. However, the N2-processed coatings tended to have lower values of Young's modulus and thermal diffusivity following such treatment. The results point to the potential advantage, in terms of reduced powder consumption and increased production rate, of using N2 as compared to Ar as the primary plasma gas for TBC deposition.
Access options
Buy single article
Instant access to the full article PDF.
USD 39.95
Price excludes VAT (USA)
Tax calculation will be finalised during checkout.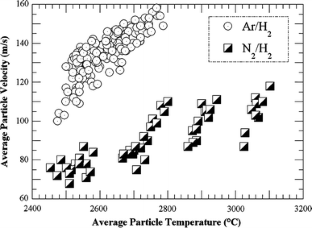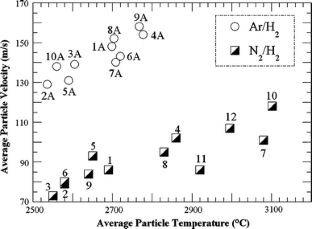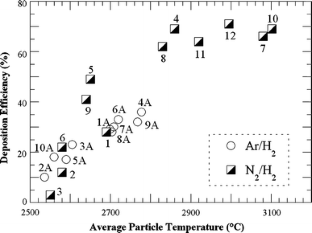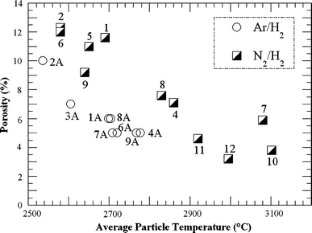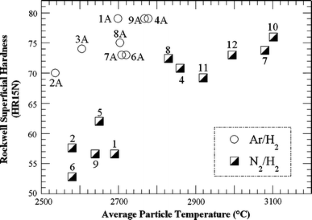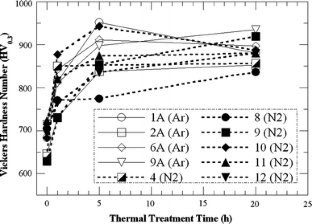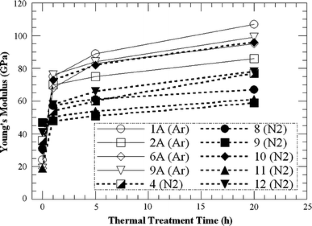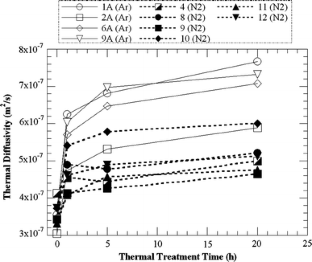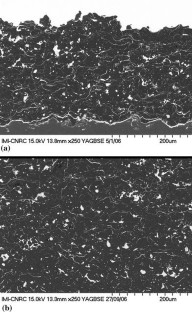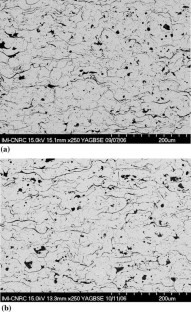 References
A. Feuerstein, J. Knapp, T. Taylor, A. Ashary, A. Bolcavage, and N. Hitchman, Thermal Barrier Coating Systems for Gas Turbine Engines by Thermal Spray and EBPVD—A Technical and Economic Comparison, pdf format, Paper s16_3-11673, Building on 100 Years of Success: Proceedings of the 2006 International Thermal Spray Conference, B.R. Marple, M.M. Hyland, Y.C. Lau, R.S. Lima, and J. Voyer, Eds., May 15-18, 2006 (Seattle, WA, USA), ASM International, Materials Park, OH, USA, 2006

J.F. Bisson, C. Moreau, M. Dorfman, C. Dambra, J. Mallon, Influence of Hydrogen on the Microstructure of Plasma-Sprayed Yttria-Stabilized Zirconia Coatings, J. Thermal Spray Technol., 2005, 14, 85-90

A.S. Houlbert, P. Cielo, C. Moreau, M. Lamontagne, Measurement of Thermal Diffusivity and Anisotropy of Plasma-Sprayed Coatings, Int. J. Thermophys., 1994, 15, 525-546

C. Bescond, S.E. Kruger, D. Lévesque, R.S. Lima, and B.R. Marple, In-Situ Simultaneous Measurement of Thickness, Elastic Moduli and Density of Thermal Sprayed WC-Co Coatings by Laser-Ultrasonics, J. Thermal Spray Technol., 2007, 16(2), p 238-244

M.I. Boulos, P. Fauchais, E. Pfender, Thermal Plasmas: Fundamentals and Applications, 1, Plenum Press, NY, USA, 1994

H.G. Scott, Phase Relationships in the Zirconia-Yttria System, J. Mater. Sci., 1975, 10, 1527-1535

R.A. Miller, J.L. Smialek, R.G. Garlick (1981) Phase Stability in Plasma Sprayed Partially Stabilized Zirconia-Yttria, Advances in Ceramics, Vol 3—Science and Technology of Zirconia, A.H. Heuer, L.W. Hobbs, Eds., American Ceramic Society, Columbus, OH, USA, p 241-253

D.R. Clarke, C.G. Levi, Materials Design for the Next Generation Thermal Barrier Coatings, Annu. Rev. Mater. Res. 2003, 33, 383-417
Acknowledgments
The authors thank J. F. Alarie, S. Bélanger, F. Belval, B. Harvey, M. Lamontagne, M. Lord and M. Thibodeau for technical support in executing this research.
Additional information
This article is an invited paper selected from presentations at the 2007 International Thermal Spray Conference and has been expanded from the original presentation. It is simultaneously published in Global Coating Solutions, Proceedings of the 2007 International Thermal Spray Conference, Beijing, China, May 14-16, 2007, Basil R. Marple, Margaret M. Hyland, Yuk-Chiu Lau, Chang-Jiu Li, Rogerio S. Lima, and Ghislain Montavon, Ed., ASM International, Materials Park, OH, 2007.
About this article
Cite this article
Marple, B., Lima, R., Moreau, C. et al. Yttria-Stabilized Zirconia Thermal Barriers Sprayed Using N2-H2 and Ar-H2 Plasmas: Influence of Processing and Heat Treatment on Coating Properties. J Therm Spray Tech 16, 791–797 (2007). https://doi.org/10.1007/s11666-007-9093-9
Received:

Accepted:

Published:

Issue Date:

DOI: https://doi.org/10.1007/s11666-007-9093-9
Keywords