A method for simultaneous nondestructive evaluation of WC-Co coating thickness, elastic moduli, and density is presented. The technique, known as laser-ultrasonics, is used to generate and detect surface acoustic waves in a noncontact and nondestructive manner. The surface acoustic wave velocity dependence on frequency is compared to a model and an optimization procedure is used to evaluate the coating properties. The results obtained demonstrate the ability of the technique to simultaneously determine such properties with a single and possibly in situ measurement.
Access options
Buy single article
Instant access to the full article PDF.
USD 39.95
Price excludes VAT (USA)
Tax calculation will be finalised during checkout.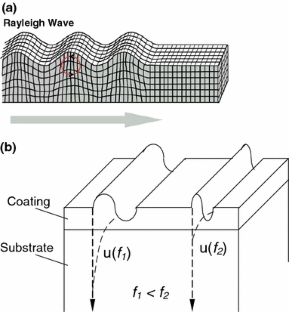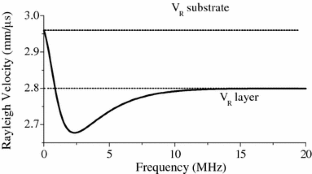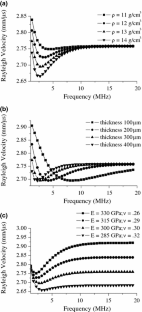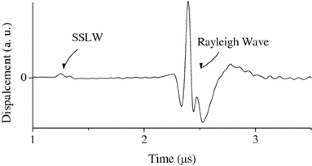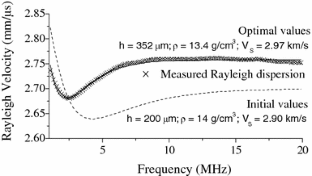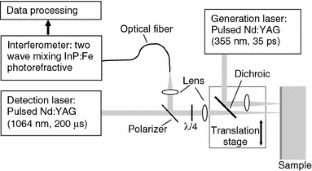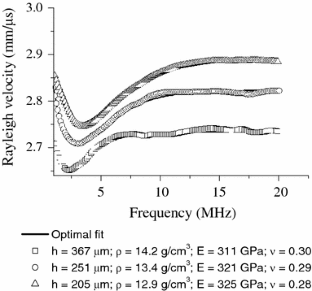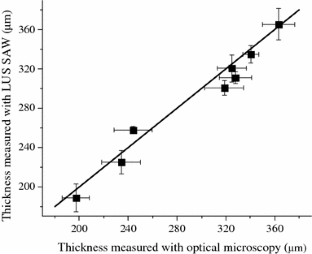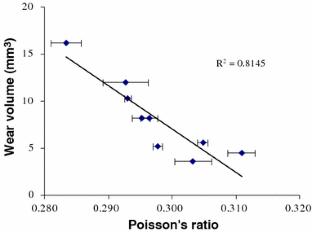 References
A. Abbate, W. Russell, J. Goldman, P. Kotidis, and C.C. Berndt, Nondestructive Determination of Thickness and Elastic Modulus of Plasma Spray Coatings Using Laser Ultrasonics, Review of Progress in Quantitative Nondestructive Evaluation, D.O. Thompson, D.E. Chimenti, eds., Vol. 18, Plenum, New York, 1999, p 373–380

J.A. Slotwinski, and G.B. Blessing, Ultrasonic NDE of Sprayed Ceramic Coatings, Review of Progress in Quantitative Nondestructive Evaluation, D.O. Thompson, D.E. Chimenti, Eds, Vol. 15, Plenum, New York, 1996, pp. 1613–1620

R.S. Lima, S.E. Kruger, G. Lamouche, and B.R. Marple, Elastic Modulus Measurements via Laser-ultrasonic and Knoop Indentation Techniques in Thermally Sprayed Coatings, J. Therm. Spray Technol., Vol 14, 2005, p 52–60

D. Schneider, T. Schwarz, H.-P Buchkremer, and D. Stover, Nondestructive Characterization of Plasma-sprayed ZrO2 Coatings by Ultrasonic Surface Waves, Thin Solid Films, Vol 224, 1993, p 177–183

G. Rosa, P. Psyllaki, T. Montesin, C. Coddet, and S. Costil, Laser Ultrasonic Testing for Estimation of Adhesion of Al2O3 Plasma Sprayed Coatings, Surf. Eng., Vol 17, 2001, p 332–338

X.Q. Ma, Y. Mizutani, and M. Takemoto, Laser-induced Surface Acoustic Waves for Evaluation of Elastic Stiffness of Plasma Sprayed Materials, J. Mat. Sci., Vol 36, 2001, p 5633–5641

L. Paradis, and J.F. Salin, NonDestructive Evaluation of the Mechanical Characteristics of Plasma Sprayed Coatings, Review of Progress in Quantitative Nondestructive Evaluation, D. O. Thompson, D. E. Chimenti, Eds Vol 13, Plenum, New York, 1994, p 1887–1894

S. Parthasarathi, B.R. Tittmann, K. Sampath, and E.J. Onesto, Ultrasonic Characterization of Elastic Anisotropy in Plasma-sprayed Alumina Coatings, J. of Therm. Spray Technol., Vol 4, 1995, p 367–373

Y. Namba, H. Nakazato, and K. Honma, An Ultrasonic Method to Study the Adhesion of Thermally Sprayed Coatings, Thermal Spray: International Advances in Coatings Technology, C.C. Berndt, Ed., 25 May to 5 June 1992 (Orlando, FL), ASM International, 1992, p 241-245

H. Hatanaka, I. Kajigaya, and T. Arakawa, Ultrasonic Testing with a Signal Processing Method for Thermal Sprayed Coatings, Mat. Eval., Vol 62, 2004, p 683–689

G.W. Farnell, and E.L. Adler, Physical Acoustics, Vol 2, Academic Press, New York, 1972

C.B. Scruby, and L.E. Drain, Laser Ultrasonics, Techniques and Applications, Adam Hilger, Bristol, UK, 1990

J.-P. Monchalin, Laser-Ultrasonics: from the Laboratory to Industry, Review of the Quantitative Nondestructive Evaluation, D.O. Thompson and D.E. Chimenti, Eds, Vol 23, American Institute of Physics, 2004, p 3-31

D. Schneider, and T. Schwarz, A Photoacoustic Method for Characterising Thin Films, Surf. Coat. Technol. Vol 91, 1997, p 136–146

T.-T. Wu, and Y.-H. Liu, Inverse Determinations of Thickness and Elastic Properties of a Bonding Layer Using Laser-Generated Surface Waves, Ultrasonics, Vol 37, 1999, p 23–30

B. Knight, J. Braunstein, J.F. Cox, and J. Frankel, Laser-Ultrasonic Characterization of Electrodeposited Chromium Coatings Review of Progress in Quantitative Nondestructive Evaluation, D. O. Thompson, D.E. Chimenti, Eds., Vol 18, Plenum, New York, 1999, p 365–372

D.C. Hurley, V.K. Tewary, and A.J. Richards, Surface Acoustic Wave Methods to Determine the Anisotropic Elastic Properties of Thin Films Meas. Sci. Technol., Vol 12, 2001, p. 1486–1494

Press W.H., Teukolsky S.A., Vetterling W.T., and Flannery B.P., Numerical Recipes in Fortran, Cambridge Univ. Press, NY, 1992

Royer D., and Dieulesaint E., Elastic Waves in Solids I: Free and Guided Propagation, Springer-Verlag, NY, 2000

Standard Test Method for Measuring Abrasion Using the Dry Sand/Rubber Wheel Apparatus, G 65–91, Annual Book of ASTM Standards, ASTM, 1994, p 246–258
Acknowledgments
The authors are grateful to Adam Gilbert and Martin Lord for the experimental help in the laser-ultrasonic measurements.
About this article
Cite this article
Bescond, C., Kruger, S.E., Lévesque, D. et al. In-Situ Simultaneous Measurement of Thickness, Elastic Moduli and Density of Thermal Sprayed WC-Co Coatings by Laser-Ultrasonics. J Therm Spray Tech 16, 238–244 (2007). https://doi.org/10.1007/s11666-007-9025-8
Received:

Revised:

Published:

Issue Date:

DOI: https://doi.org/10.1007/s11666-007-9025-8
Keywords