Abstract
Near-equiatomic nickel-titanium (nitinol) has the ability to return to a former shape when subjected to an appropriate thermomechanical procedure. One of the most successful applications of nitinol is orthodontic archwire. One of the suitable characteristics of these wires is superelasticity, a phenomenon that allows better-tolerated loading conditions during clinical therapy. Superelastic nitinol wires deliver clinically desired light continuous force enabling effective tooth movement with minimal damage for periodontal tissues. In this research, a special three-point bending fixture was invented and designed to determine the superelastic property in simulated clinical conditions, where the wire samples were held in the fixture similar to an oral cavity. In this experimental study, the load-deflection characteristics of superelastic NiTi commercial wires were studied through three-point bending test. The superelastic behavior was investigated by focusing on bending time, temperature, and number of cycles which affects the energy dissipating capacity. Experimental results show that the NiTi archwires are well suited for cyclic load-unload dental applications. Results show reduction in superelastic property for used archwires after long-time static bending.
This is a preview of subscription content, log in to check access.
Access options
Buy single article
Instant access to the full article PDF.
US$ 39.95
Price includes VAT for USA
Subscribe to journal
Immediate online access to all issues from 2019. Subscription will auto renew annually.
US$ 408
This is the net price. Taxes to be calculated in checkout.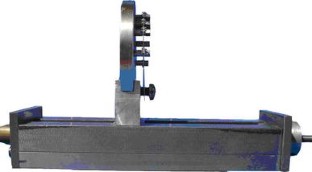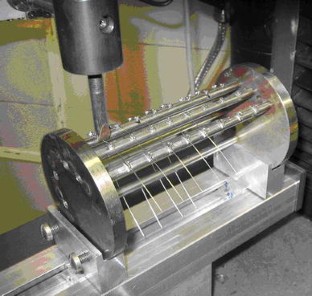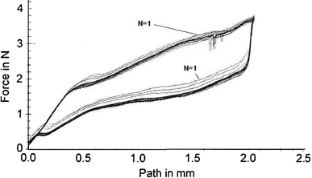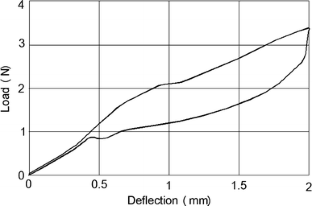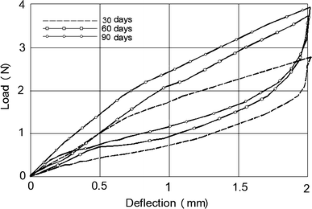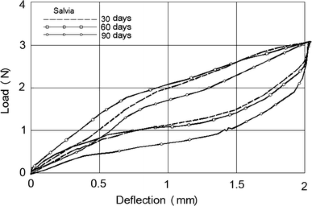 References
1.

G. Kaufman and I. Mayo, The Metal with a Memory, American Heritage.com: Invention & Technology Magazine, Fall 1993, Vol 9, Issue 2

2.

Andreasen, G.F., and Hilleman, T.B., An Evaluation of 55 Cobalt Substituted Nitinol Wire for Use in Orthodontics, J. Am. Dent. Assoc. 1971: 82, No.6, 1373-1375.

3.

Burstone, C.J., Variable-Modulus Orthodontics, Am. J. Orthod. 1981: 80, 1–16.

4.

Burstone, C.J., and Goldberg A.J., Beta Titanium: A New Orthodontic Alloy, Am. J. Orthod. 1980: 77, 121–32.

5.

K. Watanabe (1982), Studies on New Superelastic NiTi Orthodontic Wire, Part 1 Tensile and Bending Test. Shika Rikogaku Zasshi 23(61), 47-57

6.

Miura, F., Mogi, M., and Ohura, Y. The Superelastic Property of the Japanese NiTi Alloy Wire for Use in Orthodontics, Am. J. Orthod. 1986:90, No.1, 1-10.

7.

Khier, S.E., and Brantley, W.A., Bending Properties of Superelastic, Nonsuperelastic Nickel-Titanium Orthodontic Wires, Am. J. Orthod. 1991:99, No.4, 310-318.

8.

Wilkinson, P. D., and James, A., Load-Deflection Characteristics of Superelastic Nickel-Titanium Orthodontic Wires, Am. J. Orthod. 2002:121, No.5, 483-495.

9.

Parvizi, F. and Rock, W. P., The Load/Deflection Characteristics Of Thermally Activated Orthodontic Arch Wires, Eur. J. Orthod. 2003:25, 417-421.

10.

Harris, E.F., Newman, S.M., and Nicholson, J.A, Nitinol Archwire in a Simulated Oral Environment: Changes in Mechanical Properties, Am J. Orthod. Dentofacial Orthop. 1998:93, No.4, 508-13.

11.

Otsuka, K., and Ren X., Physical Metallurgy of Ti–Ni-Based Shape Memory Alloys, Prog. Mater. Sci. 2005:50,511-678.

12.

M. Nili-Ahmadabadi and T. Shahhoseini, Introduction to Biomaterials, 1st ed., Chap. 3, Biomaterials Research Center, University of Tehran, 2007, p 50–91

13.

Hanyuda, A., Nagasaka S., and Yoshida T., Long-Term Time Effect on Load–Deflection Characteristics of Orthodontic Wires, Orthod. Waves, 2006:65, Issue 4, 155-160.

14.

M. Nili-Ahmadabadi, T. Shahhoseini, M. Haj-Fathalian, and M.H. Parsa, Cyclic Load-Deflection Characteristics of NiTi Orthodontic Arch Wires at Different Temperatures, Proceedings of APCMP2008, June 15-20, 2008 (Guilin, China), 2008, p 214–219

15.

Es-Souni, M., Es-Souni, M., Brandies, H. F., On the Transformation Behavior, Mechanical Properties and Biocompatibility of Two NiTi-Based Shape Memory Alloys, Biomaterials 2001: 22 Issue 15, 2153-2161.
Additional information
This article is an invited paper selected from presentations at Shape Memory and Superelastic Technologies 2008, held September 21-25, 2008, in Stresa, Italy, and has been expanded from the original presentation.
About this article
Cite this article
Nili Ahmadabadi, M., Shahhoseini, T., Habibi-Parsa, M. et al. Static and Cyclic Load-Deflection Characteristics of NiTi Orthodontic Archwires Using Modified Bending Tests. J. of Materi Eng and Perform 18, 793–796 (2009). https://doi.org/10.1007/s11665-009-9488-5
Received:

Revised:

Accepted:

Published:

Issue Date:
Keywords
biomaterials

intermetallics

nonferrous metals