Abstract
A microwave irradiation-assisted single-step method is used for the synthesis of ZnO nanorods with a hexagonal prismatic shape, using a customized domestic microwave oven. The effects of different process parameters, including precursor reagents, synthesis time and precursor concentration, are studied. The morphological, structural and optical properties of the ZnO nanorods are investigated using scanning electron microscopy (SEM), powder x-ray diffraction (XRD) and UV–Vis spectroscopy. It is observed that the average diameter of the ZnO nanorods depends on the precursor used, and ZnO nanorods with the smallest diameter of around 300 nm are synthesized when zinc nitrate (ZNH) is used as a precursor. The average diameter of the nanorods, on the other hand, increases as the precursor concentration and synthesis time increase. The average diameter varies from 300 nm to 500 nm depending on the concentration of the precursor, and the length of the nanorods varies within a range of 1.8–3.5 μm. The average length of the nanorods increases as the precursor concentration increases, to an optimum value of 15 mM. It is also observed that an increase in the average length (1.5–4 μm) is associated with the slight increase in diameter up to an optimum synthesis time of 20 min. The best length-to-diameter ratio of the synthesized ZnO nanorods using basic precursor solution is obtained at an optimum concentration of 15 mM and synthesis time of 20 min, using the customized system.
Graphical Abstract

ZnO nanorods are synthesized with microwave irradiation from a customized domestic oven. A low-cost and facile synthesis route for the production of high-aspect-ratio ZnO nanorods is reported. The size of the ZnO nanorods is controllable with different process parameters. The optical properties can be easily tuned by the size of the synthesized ZnO nanorods.
Access options
Buy single article
Instant access to the full article PDF.
USD 39.95
Price excludes VAT (USA)
Tax calculation will be finalised during checkout.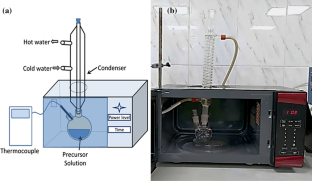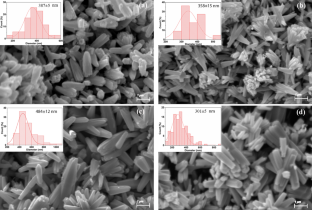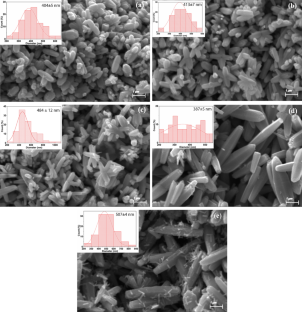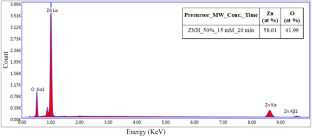 References
Ü. Özgür, Y.I. Alivov, C. Liu, A. Teke, M.A. Reshchikov, S. Doǧan, V. Avrutin, S.J. Cho, and H. Morko̧, A comprehensive review of ZnO materials and devices. J. Appl. Phys. 98, 041301 (2005).

M.H. Huang, S. Mao, H. Feick, H. Yan, Y. Wu, H. Kind, E. Weber, R. Russo, and P. Yang, Room-temperature ultraviolet nanowire nanolasers. Science 292, 1897 (2001).

A. Tsukazaki, M. Kubota, A. Ohtomo, T. Onuma, K. Ohtani, H. Ohno, S.F. Chichibu, and M. Kawasaki, Blue light-emitting diode based on ZnO. Jpn. J. Appl. Phys. 44, L643 (2005).

P. Ahmad, A.V. Rao, K.S. Babu, and G.N. Rao, Particle size effect on the dielectric properties of ZnO nanoparticles. Mater. Chem. Phys. 224, 79 (2019).

T.E.P. Alves, C. Kolodziej, C. Burda, and A. Franco Jr., Effect of particle shape and size on the morphology and optical properties of zinc oxide synthesized by the polyol method. Mater. Des. 146, 125 (2018).

J. Grabowska, K.K. Nanda, E. McGlynn, J.P. Mosnier, M.O. Henry, A. Beaucamp, and A. Meaney, Synthesis and photoluminescence of ZnO nanowires/nanorods. J. Mater. Sci. Mater. Electron. 16, 397 (2005).

J. Grabowska, K.K. Nanda, E. McGlynn, J.P. Mosnier, and M.O. Henry, Studying the growth conditions, the alignment and structure of ZnO nanorods. Surf. Coat. Technol. 200, 1093 (2005).

C. Ronning, P.X. Gao, Y. Ding, Z.L. Wang, and D. Schwen, Manganese-doped ZnO nanobelts for spintronics. Appl. Phys. Lett. 84, 783 (2004).

J. Grabowska, A. Meaney, K.K. Nanda, J.P. Mosnier, M.O. Henry, J.R. Duclère, and E. McGlynn, Surface excitonic emission and quenching effects in ZnO nanowire/nanowall systems: limiting effects on device potential. Phys. Rev. B 71, 115439 (2005).

Y.J. Xing, Z.H. Xi, Z.Q. Xue, X.D. Zhang, J.H. Song, R.M. Wang, J. Xu, Y. Song, S.L. Zhang, and D.P. Yu, Optical properties of the ZnO nanotubes synthesized via vapor phase growth. Appl. Phys. Lett. 83, 1689 (2003).

J.H. Zheng, Q. Jiang, and J.S. Lian, Synthesis and optical properties of flower-like ZnO nanorods by thermal evaporation method. Appl. Surf. Sci. 257, 5083 (2011).

S. Kumar, P.D. Sahare, and S. Kumar, Optimization of the CVD parameters for ZnO nanorods growth: its photoluminescence and field emission properties. Mater. Res. Bull. 105, 237 (2018).

E. Karaköse, and H. Çolak, Structural and optical properties of ZnO nanorods prepared by spray pyrolysis method. Energy 140, 92 (2017).

S. Worasawat, T. Masuzawa, Y. Hatanaka, Y. Neo, H. Mimura, and W. Pecharapa, Synthesis and characterization of ZnO nanorods by hydrothermal method. Mater. Today Proc. 5, 10964 (2018).

P. Sahoo, A. Sharma, and R. Thangavel, Hydrothermal synthesis, structural and optical investigations of undoped and Mg doped ZnO nanorods. AIP Conf. Proc. 2100, 020095 (2019).

M.L.M. Napi, S.M. Sultan, R. Ismail, M.K. Ahmad, and G.M.T. Chai, Optimization of a hydrothermal growth process for low resistance 1D fluorine-doped zinc oxide nanostructures. J. Nanomater. 2019, 4574507 (2019).

X. Zhao, M. Li, and X. Lou, Sol–gel assisted hydrothermal synthesis of ZnO microstructures: morphology control and photocatalytic activity. Adv. Powder Technol. 25, 372 (2014).

J. Zhu, J. Zhang, H. Zhou, W. Qin, L. Chai, and Y. Hu, Microwave-assisted synthesis and characterization of ZnO-nanorod arrays. Trans. Nonferrous Met. Soc. China (Eng. Ed.) 19, 1578 (2009).

A.U.H.S. Rana, M. Kang, and H.S. Kim, Microwave-assisted facile and ultrafast growth of ZnO nanostructures and proposition of alternative microwave-assisted methods to address growth stoppage. Sci. Rep. 6, 24870 (2016).

M. Fang, and Z.W. Liu, Controllable size and photoluminescence of ZnO nanorod arrays on Si substrate prepared by microwave-assisted hydrothermal method. Ceram. Int. 43, 6955 (2017).

H.U. Chae, A.H.S. Rana, Y.-J. Park, and H.-S. Kim, High-speed growth of ZnO nanorods in preheating condition using microwave-assisted growth method. J. Nanosci. Nanotechnol. 18, 2041 (2018).

S.T. Tan, A.A. Umar, M. Yahaya, C.C. Yap, and M.M. Salleh, Ultrafast formation of ZnO nanorods via seed-mediated microwave assisted hydrolysis process. J. Phys. Conf. Ser. 431, 012001 (2013).

G.P. Barreto, G. Morales, and M.L.L. Quintanilla, Microwave assisted synthesis of ZnO nanoparticles: effect of precursor reagents, temperature, irradiation time, and additives on nano-ZnO morphology development. J. Mater. 2013, 478681 (2013).

Z. Zhu, D. Yang, and H. Liu, Microwave-assisted hydrothermal synthesis of ZnO rod-assembled microspheres and their photocatalytic performances. Adv. Powder Technol. 22, 493 (2011).

S. Brahma, J.L. Huang, C.P. Liu, L.M. Kukreja, and S.A. Shivashankar, Low temperature and rapid deposition of ZnO nanorods on Si (100) substrate with tunable optical emissions. Mater. Chem. Phys. 140, 634 (2013).

Z. Dong, B. Han, S. Qian, and D. Chen, Fluorescent properties of ZnO nanostructures fabricated by hydrothermal method. J. Nanomater. 2012, 25127 (2012).

M. Vollmer, Physics of the microwave. Phys. Educ. 39, 74 (2004).

D.K. Bhat, Facile synthesis of ZnO nanorods by microwave irradiation of zinc–hydrazine hydrate complex. Nanoscale Res. Lett. 3, 31 (2008).

N. Senthilkumar, E. Vivek, M. Shankar, M. Meena, M. Vimalan, and I.V. Potheher, Synthesis of ZnO nanorods by one step microwave-assisted hydrothermal route for electronic device applications. J. Mater. Sci. Mater. Electron. 29, 2927 (2018).

M. Zhao, Z. Wang, and S.X. Mao, Piezoelectric characterization of individual zinc oxide nanobelt probed by piezoresponse force microscope. Nano Lett. 4, 587 (2004).

C.J. Lee, T.J. Lee, S.C. Lyu, Y. Zhang, H. Ruh, and H.J. Lee, Field emission from well-aligned zinc oxide nanowires grown at low temperature. Appl. Phys. Lett. 81, 3648 (2002).

E. Comini, G. Faglia, G. Sberveglieri, Z. Pan, and Z.L. Wang, Stable and highly sensitive gas sensors based on semiconducting oxide nanobelts. Appl. Phys. Lett. 81, 1869 (2002).

W.L. Hughes, and Z.L. Wang, Nanobelts as nanocantilevers. Appl. Phys. Lett. 82, 2886 (2003).

A. Pimentel, D. Nunes, P. Duarte, J. Rodrigues, F.M. Costa, T. Monteiro, R. Martins, and E. Fortunato, Synthesis of long ZnO nanorods under microwave irradiation or conventional heating. J. Phys. Chem. C 41, 5027509 (2014).

S. Brahma, K.J. Rao, and S. Shivashankar, Rapid growth of nanotubes and nanorods of würtzite ZnO through microwave-irradiation of a metalorganic complex of zinc and a surfactant in solution. Bull. Mater. Sci. 33, 89 (2010).

J.M. Jang, S.D. Kim, H.M. Choi, J.Y. Kim, and W.G. Jung, Morphology change of self-assembled ZnO 3D nanostructures with different pH in the simple hydrothermal process. Mater. Chem. Phys. 113, 389 (2009).

M.T. Thein, S.Y. Pung, A. Aziz, and M. Itoh, The role of ammonia hydroxide in the formation of ZnO hexagonal nanodisks using sol–gel technique and their photocatalytic study. J. Exp. Nanosci. 10, 1068 (2015).

S. Xu, and Z.L. Wang, One-dimensional ZnO nanostructures: solution growth and functional properties. Nano Res. 4, 1013 (2011).

F. Hai-Bo, Z. Xin-Liang, W. Si-Cheng, L. Zhi-Gang, and Y. He-Bao, Zn/O ratio and oxygen chemical state of nanocrystalline ZnO films grown at different temperatures. Chin. Phys. B 21, 038101 (2012).

M.S. Bashar, R. Matin, M. Sultana, A. Siddika, M. Rahaman, M.A. Gafur, and F. Ahmed, Effect of rapid thermal annealing on structural and optical properties of ZnS thin films fabricated by RF magnetron sputtering technique. J. Theor. Appl. Phys. 14, 53 (2020).

L. Roza, V. Fauzia, and M.Y.A. Rahman, Tailoring the active surface sites of ZnO nanorods on the glass substrate for photocatalytic activity enhancement. Surf. Interfaces 15, 117 (2019).

M.K. Gupta, N. Sinha, B.K. Singh, N. Singh, K. Kumar, and B. Kumar, Piezoelectric, dielectric, optical and electrical characterization of solution grown flower-like ZnO nanocrystal. Mater. Lett. 63, 1910 (2009).
Acknowledgments
The authors would take this opportunity to express their gratitude for the financial help they received from the Bangladesh University of Engineering and Technology. They also thank Bangladesh Council of Scientific and Industrial Research, Dhaka, Bangladesh for the support during the SEM and XRD measurements.
Ethics declarations
Conflict of interest
There are no conflicts of interest.
Additional information
Publisher's Note
Springer Nature remains neutral with regard to jurisdictional claims in published maps and institutional affiliations.
About this article
Cite this article
Sultana, M., Rahman, M.J. & Bashar, M.S. Size Distribution of Hexagonal Prismatic-Shaped ZnO Nanorods Synthesized by Microwave-Assisted Irradiation of Precursors. J. Electron. Mater. 51, 2682–2691 (2022). https://doi.org/10.1007/s11664-022-09496-9
Received:

Accepted:

Published:

Issue Date:

DOI: https://doi.org/10.1007/s11664-022-09496-9
Keywords
ZnO nanorods

microwave irradiation

x-ray diffraction

UV–Vis spectroscopy