Abstract
The effects of grain refinement on hot tear formation and contraction behavior in a modified Al-Cu alloy 206 (M206) have been studied. The experiments were conducted using a newly developed mold which could simultaneously measure the contraction force/temperature during solidification for a restrained casting, and thereby could be used to investigate hot tear formation. Quantitative information on crack initiation and propagation was obtained by analyzing load measurement data. Al-Ti and Al-Ti-B master alloys were added to the melt to refine the grains to obtain grains ranging from columnar dendritic to equiaxed dendritic and globular structures. Effects of grain structure and grain size on hot tearing susceptibility were investigated. The correlations between microstructure evolution in grain-refined castings at various levels and hot tear formation were determined and discussed. Grain refinement was found to have a complex effect on load onset. Hot tearing tendency was significantly affected by both grain size and grain morphology as reflected by the measured data.
Access options
Buy single article
Instant access to the full article PDF.
US$ 39.95
Tax calculation will be finalised during checkout.
Subscribe to journal
Immediate online access to all issues from 2019. Subscription will auto renew annually.
US$ 399
Tax calculation will be finalised during checkout.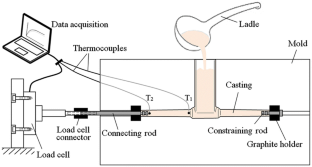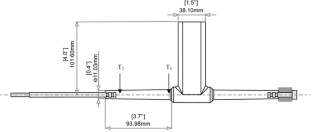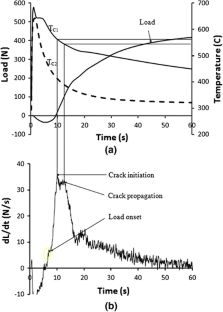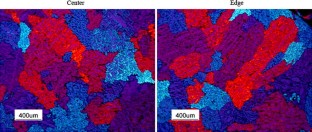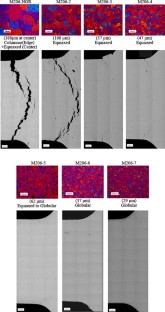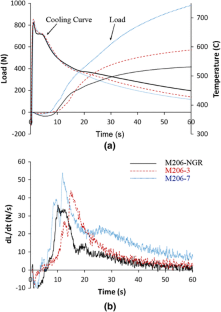 References
1.

S. Li, K. Sadayappan, and D. Apelian: Int. J. Cast Metals Res., 2011, vol. 24(2), pp. 88–95.

2.

D.G. Eskin, Suyitno, and L. Katgerman: Prog. Mater. Sci., 2004, vol. 49, pp. 629–711.

3.

W. I. Pumphrey and J. V. Lyons: J. Inst. Met., 1948, vol. 118, pp. 439-455.

4.

M. Fortier, D. J. Lahaine, M. Bounchard, and J. Langlais: Light Metals, TMS, New Orleans, 2001. pp. 839-846.

5.

M. Easton, J. Grandfield, D. StJohn, and B. Rinderer: Mater. Sci. Forum, 2006, vol. 30, pp. 1675-1680.

6.

[6] M. Easton, H. Wang, J. Grandfield, D. StJohn, and E. Sweet: Mater. Sci. Forum, 2004, vol. 28, pp. 224-229.

7.

[7] D. Warrington and D. G. McCartney: Cast Metals, 1991, vol. 3, pp. 202-208.

8.

J. A. Spittle and A. A. Cushway: Metals Technology, 1983, vol. 10, pp. 6-13.

9.

M. Sadayappan, M. Sahoo, M. Shkuka, B. J. Yang, and R. W. Smith: AFS Trans., 2002, vol. 110, pp. 407-415.

10.

S. Lin, C. Aliravci, and M. O. Pekguleryuz: Metall. Mater. Trans. A, 2007, vol. 38A, 1056-1068.

11.

F. D'Elia and C. Ravindran: AFS Trans., 2009, Paper 09-055.

12.

D. B. Spencer, R. Mehrabian, and M. C. Flemings: Metallurgical Transactions, 1972, vol. 3, pp. 1925-1932.

13.

A. Rodriguez, R. Chavez, J. Hernandez, Y. Raymond, and F. J. Major: Modern Casting, 2010, vol. 100, pp. 42-44.

14.

F. A. Fasoyinu, M. Sadayappan, D. Cousineau, and M. Sahoo: AFS Trans., 1998, vol. 106, pp. 327-338.

15.

F. Matsuda, K. Nakata, and Y. Shimokusu: Trans. of JWRI, 1983, vol. 12, pp. 81-87.

16.

T. W. Clyne and G. J. Davies: The British Foundrymen, 1975, vol. 68, pp. 238-244.

17.

R. A. Rosenberg, M. C. Flemings, and H. F. Taylor: AFS Trans., 1960, vol. 69, pp. 518-528.

18.

L. Bäckerud, G. Chai, and J. Tamminen: Solidification Characteristics of Aluminum Alloys, AFS/Skanaluminum, Oslo, Norway, 1990.

19.

N. L. M. Veldman, A. K. Dahle, D. H. StJohn, and L. Arngerg: Metallurgical and Materials Transactions A, 2001, vol. 32, pp. 147-155.
Acknowledgments
The authors gratefully acknowledge the member companies of the Advanced Casting Research Center (ACRC) for their support of this work and for their continued support of research focused on the science and technology of metal casting at the Worcester Polytechnic Institute. The authors also would like to thank Jim Thomson, Geethe Nadugala, and Stuart Amey of CANMET for their support during this work.
Additional information
The following copyright notice pertains only to K. Sadayappan: Printed by permission of Her Majesty the Queen in Right of Canada, as represented by the Minister of Natural Resources, 2013.
Manuscript submitted December 20, 2010.
About this article
Cite this article
Li, S., Sadayappan, K. & Apelian, D. Role of Grain Refinement in the Hot Tearing of Cast Al-Cu Alloy. Metall Mater Trans B 44, 614–623 (2013). https://doi.org/10.1007/s11663-013-9801-4
Keywords
Riser

Mushy Zone

Grain Morphology

Interdendritic Liquid

Liquid Film Thickness