Abstract
Powder Bed Additive Manufacturing offers unique advantages in terms of manufacturing cost, lot size, and product complexity compared to traditional processes such as casting, where a minimum lot size is mandatory to achieve economic competitiveness. Many studies—both experimental and numerical—are dedicated to the analysis of how process parameters such as heat source power, scan speed, and scan strategy affect the final material properties. Apart from the general urge to increase the build rate using thicker powder layers, the coating process and how the powder is distributed on the processing table has received very little attention to date. This paper focuses on the first step of every powder bed build process: Coating the process table. A numerical study is performed to investigate how powder is transferred from the source to the processing table. A solid coating blade is modeled to spread commercial Ti-6Al-4V powder. The resulting powder layer is analyzed statistically to determine the packing density and its variation across the processing table. The results are compared with literature reports using the so-called "rain" models. A parameter study is performed to identify the influence of process table displacement and wiper velocity on the powder distribution. The achieved packing density and how that affects subsequent heat source interaction with the powder bed is also investigated numerically.
This is a preview of subscription content, log in to check access.
Access options
Buy single article
Instant access to the full article PDF.
US$ 39.95
Tax calculation will be finalised during checkout.
Subscribe to journal
Immediate online access to all issues from 2019. Subscription will auto renew annually.
US$ 259
Tax calculation will be finalised during checkout.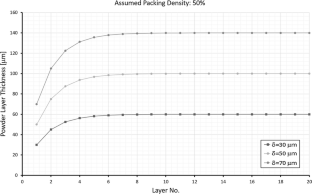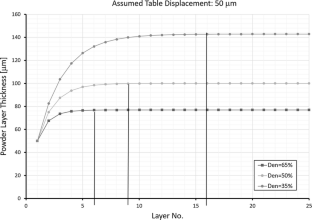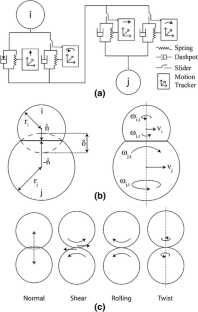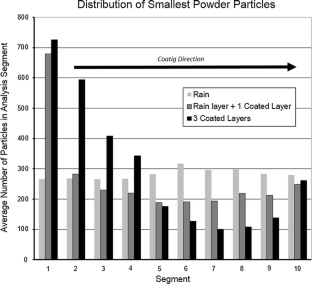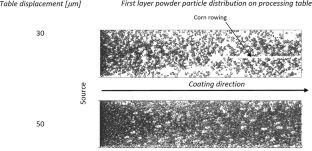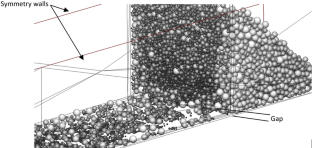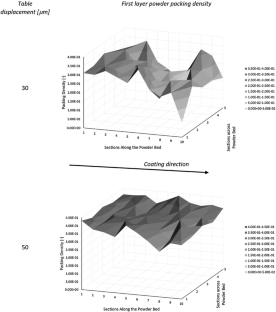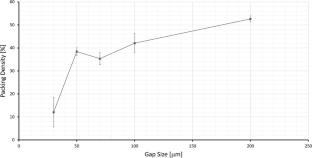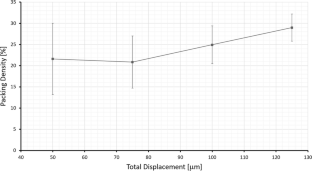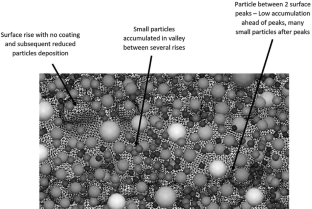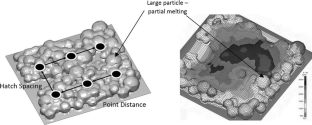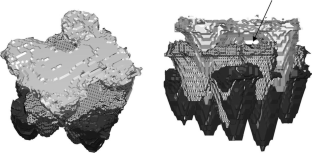 References
1.

I. Yadroitsev: Selective Laser Melting, LAP Lambert Academic Publishing, Saarbrücken, 2009.

2.

C.D. Boley, S.A. Khairallah and M.A. Rubenchik: Appl. Optics, 2015, vol. 54, pp. 2477–2482.

3.

A. Rubenchik, S. Wu, S. Mitchell, I. Golosker, M. LeBlanc and M. Peterson: Appl. Optics, 2015, vol. 54, no. 24, pp. 7230–7233.

4.

C. Körner, E. Attar and P. Heinl: J. Mat. Proc., 2011, vol. 211, pp. 978-987.

5.

C. Körner, A. Bauereiß, E. Attar, Modeling Simul. Mater. Sci. Eng., vol. 21, no. 085011.

6.

N. N'Dri, H.-W. Mindt, B. Shula, M. Megahed, A.D. Peralta, J. Neumann, P. Kantzos: TMS 2015 Supplemental proceedings, Wiley, New Jersey, 2015, p. 338.

7.

H.-W. Mindt, M. Megahed, A.D. Peralta, J. Neumann: (2015) DMLM models: 22nd International Symposium on Air Breathing Engines - ISABE, 25–30, Phoenix.

8.

H.-W. Mindt and M. Megahed, B. Shula, A. Peralta and J. Neumann: AIAA Science and Technology Forum and Exposition, San Diego. In: AIAA 2016-1657.

9.

J. Ding, P. Colegrove, J. Mehnen, S. Ganguly, P.M. Sequeira Alemeida and F. Wang: Comp. Mater. Sci., 2011, vol. 50, no. 12, pp. 3315-3322.

10.

R. Martikanitz, P. Michaleris, T. Palmer, T. DeRoy, Z.K.Liu and R. Otis: Additive Manufacturing, 2014, vol. 1, no. 4, pp. 52-63.

11.

L. Papadakis, A. Loizou, J. Risse and J. Schrage: Procedia CIRP., 2014, vol. 18, pp. 90–95.

12.

L. Papadakis, A. Loizou, J. Risse, S. Bremen and J. Schrage: Virtual and Physical Prototyping, 2014, vol. 9, no. 1, pp. 17-25.

13.

N. Keller and V. Ploshikhin: 1st international symposium on material science and technology of additive manufacturing, 2014, Bremen.

14.

N. Keller and V. Ploshikhin: Solid Freeform Fabrication Symposium, 2014, Austin, Texas.

15.

J.C. Heigl, P. Michaleris and E.W. Reutzel: Additive Manufacturing, 2015, vol. 5, no. 9, pp. 9-19.

16.

E.R. Denlinger, J.C. Heigl and P. Michaleris: Journal of Engineering Manufacture, 2014, vol. 1, pp. 1-11.

17.

P. Michaleris: Finite Elements in Analysis and Design, 2014, vol. 86, pp. 51-60.

18.

J.A. Slotwinski, E.J. Garboczi, P.E. Stutzman, C.F. Ferraris, S.S. Watson and M.A. Peltz: J. Res. of National Institue of Standards and Technology, 2014, vol. 119, pp. 460–93.

19.

J.A. Slotwinski and E.J. Garboczi: Jour. of Mat., vol. 67, no. 3, pp. 538-543.

20.

P.A. Cundall and O.D.L. Strack: Geotechnique, 1979, vol. 29, no. 1, pp. 47-65.

21.

M.A.J. Holmes: A numerical simulation of particulate distribution of the blast furnace raw materials burden through the Paul Worth bell-less top apparatus, 2015, Ph.D. Thesis, University of Swansea.

22.

M. Holmes, R. Brown, P. Wauters, N. Lavery and S. Brown: App. Math. Mod: 2015, vol. 40, no. 5-6, pp. 3655-3670.

23.

E. Attar: Simulation der selektiven Elektronenstrahlschmelzprozesse, 2011, Ph.D. Thesis, Erlangen.

24.

I. Kovaleva, O. Kovalev and I. Smurov: Physics Procedia, 2014, vol. 56, pp. 400-410.

25.

W.E. King, A.T. Anderson, R.M. Ferencz, N.E. Hodge, C. Kamath and S.A. Khairallah: Applied Physics Reviews, 2015, vol. 2, 041304.

26.

P. Meaking and R. Jullien: J. Physique, 1987, vol. 48, pp. 1651-1662.

27.

G. Metcalfe and M. Shattuck: Physica A, 1996, vol. 233, pp. 709-717.
Acknowledgments
The authors acknowledge the financial support of the European Commission 7th Framework Program AMAZE. The authors would like to also thank project partners and collaborators for the ongoing discussions, support, and motivation.
Additional information
Manuscript submitted November 18, 2015.
About this article
Cite this article
Mindt, H.W., Megahed, M., Lavery, N.P. et al. Powder Bed Layer Characteristics: The Overseen First-Order Process Input. Metall Mater Trans A 47, 3811–3822 (2016). https://doi.org/10.1007/s11661-016-3470-2
Keywords
Packing Density

Discrete Element Method

Powder Layer

Processing Table

Powder Size Distribution