Abstract
Summary
In two population-based study of middle-aged and older people, we investigated if platelet count was associated with bone mineral density and determined whether the association remained over time. Highest platelet counts within the normal range are significantly associated with osteopenia and osteoporosis in middle-aged and elderly people.
Purpose
Recently, platelets were found to play a role in bone remodeling. However, data on the association between platelet count and osteoporosis are lacking. Our study aimed to investigate the association between platelet counts, osteopenia, and osteoporosis in middle-aged and elderly Koreans.
Methods
We analyzed cross-sectional data from 5181 adults (postmenopausal women and men over 50 years of age) in the 2008–2011 Korea National Health and Nutrition Examination Survey (KNHANES) and longitudinal prospective data from 3312 adults over 50 years of age in the Korean Genome and Epidemiology Study (KoGES). Bone mineral density (BMD) was measured using dual-energy X-ray absorptiometry in the KNHANES and quantitative ultrasound in the KoGES. The platelet counts were categorized into quintiles within normal ranges (150–450 × 103 μL). The associations between platelet counts, osteopenia, and osteoporosis were estimated using a multinomial logistic model.
Results
BMD of the femur neck, total femur, and lumbar spine all decreased with increasing platelet counts. The cut-off points of the platelet counts to differentiate normal BMD from osteopenia and osteopenia from osteoporosis were 217 × 103/μL and 269 × 103/μL, respectively. The odds ratios (95% confidence intervals) in the highest platelet quartile were 1.39 (1.03–1.88) for osteopenia and 1.60 (1.07–2.37) for osteoporosis after adjusting for confounding factors. The distal radius T-score was significantly decreased in the highest platelet tertile group at a follow-up of 10 years.
Conclusion
Highest platelet counts within the normal range are significantly associated with osteopenia and osteoporosis in middle-aged and elderly people.
Access options
Buy single article
Instant access to the full article PDF.
USD 39.95
Price includes VAT (USA)
Tax calculation will be finalised during checkout.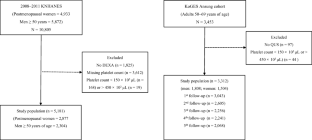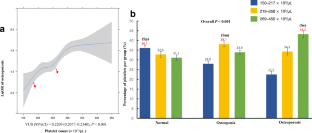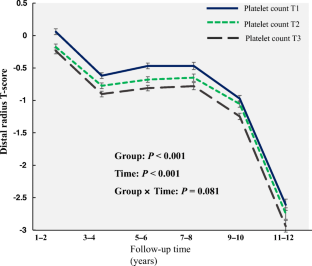 References
1.

Raisz LG (2005) Pathogenesis of osteoporosis: concepts, conflicts, and prospects. J Clin Invest 115(12):3318–3325. https://doi.org/10.1172/jci27071

2.

International Osteoporosis Foundation osteoporosis and musculoskeletal diseases. https://www.iofbonehealth.org

3.

Cheung CL, Ang SB, Chadha M, Chow ES, Chung YS, Hew FL, Jaisamrarn U, Ng H, Takeuchi Y, Wu CH, Xia W, Yu J, Fujiwara S (2018) An updated hip fracture projection in Asia: the Asian Federation of Osteoporosis Societies study. Osteoporos Sarcopenia 4(1):16–21. https://doi.org/10.1016/j.afos.2018.03.003

4.

Ravindrarajah R, Hazra NC, Charlton J, Jackson SHD, Dregan A, Gulliford MC (2018) Incidence and mortality of fractures by frailty level over 80 years of age: cohort study using UK electronic health records. BMJ Open 8(1):e018836. https://doi.org/10.1136/bmjopen-2017-018836

5.

Linden MD, Jackson DE (2010) Platelets: pleiotropic roles in atherogenesis and atherothrombosis. Int J Biochem Cell Biol 42(11):1762–1766. https://doi.org/10.1016/j.biocel.2010.07.012

6.

Koupenova M, Clancy L, Corkrey HA, Freedman JE (2018) Circulating platelets as mediators of immunity, inflammation, and thrombosis. Circ Res 122(2):337–351. https://doi.org/10.1161/circresaha.117.310795

7.

Samocha-Bonet D, Justo D, Rogowski O, Saar N, Abu-Abeid S, Shenkerman G, Shapira I, Berliner S, Tomer A (2008) Platelet counts and platelet activation markers in obese subjects. Mediat Inflamm 2008:834153. https://doi.org/10.1155/2008/834153

8.

Taniguchi A, Fukushima M, Seino Y, Sakai M, Yoshii S, Nagasaka S, Yamauchi I, Okumura T, Nin K, Tokuyama K, Yamadori N, Ogura M, Kuroe A, Nakai Y (2003) Platelet count is independently associated with insulin resistance in non-obese Japanese type 2 diabetic patients. Metabolism 52(10):1246–1249

9.

Jesri A, Okonofua EC, Egan BM (2005) Platelet and white blood cell counts are elevated in patients with the metabolic syndrome. J Clin Hypertens (Greenwich) 7(12):705–711 quiz 712-703

10.

Ly HQ, Kirtane AJ, Murphy SA, Buros J, Cannon CP, Braunwald E, Gibson CM (2006) Association of platelet counts on presentation and clinical outcomes in ST-elevation myocardial infarction (from the TIMI trials). Am J Cardiol 98(1):1–5. https://doi.org/10.1016/j.amjcard.2006.01.046

11.

Ciovacco WA, Cheng YH, Horowitz MC, Kacena MA (2010) Immature and mature megakaryocytes enhance osteoblast proliferation and inhibit osteoclast formation. J Cell Biochem 109(4):774–781. https://doi.org/10.1002/jcb.22456

12.

Aguila HL, Rowe DW (2005) Skeletal development, bone remodeling, and hematopoiesis. Immunol Rev 208(1):7–18

13.

Li XS, Zhang JR, Meng SY, Li Y, Wang RT (2012) Mean platelet volume is negatively associated with bone mineral density in postmenopausal women. J Bone Miner Metab 30(6):660–665. https://doi.org/10.1007/s00774-012-0362-4

14.

Yan P, Xu Y, Wan Q, Feng J, Yang J, Li H, Zhong H, Gao C, Zhang Z (2018) Impact of MPV and PDW on bone mineral density and their relationship with osteoporosis in Chinese patients with type 2 diabetes. Int J Clin Exp Med 11(3):2337–2349

15.

Cure E, Balik MS, Cumhur Cure M, Guvercin Y, Erkut A, Yuce S, Keskin D (2013) Is the mean platelet volume predictive of hip fractures in the elderly? Ann Lab Med 33(5):367–370. https://doi.org/10.3343/alm.2013.33.5.367

16.

Akbal A, Gokmen F, Gencer M, Inceer BS, Komurcu E (2014) Mean platelet volume and platelet distribution width can be related to bone mineralization. Osteoporos Int 25(9):2291–2295. https://doi.org/10.1007/s00198-014-2764-8

17.

Salari Sharif P, Abdollahi M (2010) The role of platelets in bone remodeling. Inflammation & Allergy-Drug Targets (Formerly Current Drug Targets-Inflammation & Allergy) 9(5):393–399

18.

Pirsl F, Curtis LM, Steinberg SM, Tella SH, Katić M, Dobbin M, Hsu J, Hakim FT, Mays JW, Im AP, Pulanić D, Mitchell SA, Baruffaldi J, Masuch L, Halverson DC, Gress RE, Barsony J, Pavletic SZ (2016) Characterization and risk factor analysis of osteoporosis in a large cohort of patients with chronic graft-versus-host disease. Biol Blood Marrow Transplant 22(8):1517–1524. https://doi.org/10.1016/j.bbmt.2016.04.012

19.

Kim Y, Han BG (2017) Cohort profile: the Korean genome and epidemiology study (KoGES) consortium. Int J Epidemiol 46(2):e20. https://doi.org/10.1093/ije/dyv316

20.

Sempos CT, Vesper HW, Phinney KW, Thienpont LM, Coates PM (2012) Vitamin D status as an international issue: national surveys and the problem of standardization. Scand J Clin Lab Invest Suppl 243:32–40. https://doi.org/10.3109/00365513.2012.681935

21.

Lewiecki EM, Gordon CM, Baim S, Leonard MB, Bishop NJ, Bianchi ML, Kalkwarf HJ, Langman CB, Plotkin H, Rauch F, Zemel BS, Binkley N, Bilezikian JP, Kendler DL, Hans DB, Silverman S (2008) International Society for Clinical Densitometry 2007 adult and pediatric official positions. Bone 43(6):1115–1121. https://doi.org/10.1016/j.bone.2008.08.106

22.

Damilakis J, Papadokostakis G, Vrahoriti H, Tsagaraki I, Perisinakis K, Hadjipavlou A, Gourtsoyiannis N (2003) Ultrasound velocity through the cortex of phalanges, radius, and tibia in normal and osteoporotic postmenopausal women using a new multisite quantitative ultrasound device. Investig Radiol 38(4):207–211. https://doi.org/10.1097/01.rli.0000057031.21810.f4

23.

Krieg M-A, Barkmann R, Gonnelli S, Stewart A, Bauer DC, Barquero LDR, Kaufman JJ, Lorenc R, Miller PD, Olszynski WP (2008) Quantitative ultrasound in the management of osteoporosis: the 2007 ISCD official positions. J Clin Densitom 11(1):163–187

24.

Luo J, Xiong C (2013) Youden index and associated cut-points for three ordinal diagnostic groups. Commun Stat Simul Comput 42(6):1213–1234. https://doi.org/10.1080/03610918.2012.661906

25.

Miyamoto K, Yoshida S, Kawasumi M, Hashimoto K, Kimura T, Sato Y, Kobayashi T, Miyauchi Y, Hoshi H, Iwasaki R, Miyamoto H, Hao W, Morioka H, Chiba K, Kobayashi T, Yasuda H, Penninger JM, Toyama Y, Suda T, Miyamoto T (2011) Osteoclasts are dispensable for hematopoietic stem cell maintenance and mobilization. J Exp Med 208(11):2175–2181. https://doi.org/10.1084/jem.20101890

26.

Aguila HL, Rowe DW (2005) Skeletal development, bone remodeling, and hematopoiesis. Immunol Rev 208:7–18. https://doi.org/10.1111/j.0105-2896.2005.00333.x

27.

Vinholt PJ, Hvas AM, Frederiksen H, Bathum L, Jorgensen MK, Nybo M (2016) Platelet count is associated with cardiovascular disease, cancer and mortality: a population-based cohort study. Thromb Res 148:136–142. https://doi.org/10.1016/j.thromres.2016.08.012

28.

Karolczak K, Soltysik B, Kostka T, Witas PJ, Watala C (2019) Platelet and red blood cell counts, as well as the concentrations of uric acid, but not homocysteinaemia or oxidative stress, contribute mostly to platelet reactivity in older adults. Oxidative Med Cell Longev 2019:9467562. https://doi.org/10.1155/2019/9467562

29.

Clowes JA, Riggs BL, Khosla S (2005) The role of the immune system in the pathophysiology of osteoporosis. Immunol Rev 208:207–227. https://doi.org/10.1111/j.0105-2896.2005.00334.x

30.

Gravallese EM, Goldring SR, Schett G (2016) The role of the immune system in the local and systemic bone loss of inflammatory arthritis. In: Osteoimmunology. Elsevier, pp 241–256

31.

Lin CC, Li TC, Liu CS, Yang CW, Lin CH, Hsiao JH, Meng NH, Lin WY, Liao LN, Li CI, Wu FY (2016) Associations of TNF-alpha and IL-6 polymorphisms with osteoporosis through joint effects and interactions with LEPR gene in Taiwan: Taichung Community Health Study for Elders (TCHS-E). Mol Biol Rep 43(10):1179–1191. https://doi.org/10.1007/s11033-016-4037-4

32.

Wu ZJ, He JL, Wei RQ, Liu B, Lin X, Guan J, Lan YB (2015) C-reactive protein and risk of fracture: a systematic review and dose-response meta-analysis of prospective cohort studies. Osteoporos Int 26(1):49–57. https://doi.org/10.1007/s00198-014-2826-y

33.

Al-Daghri NM, Aziz I, Yakout S, Aljohani NJ, Al-Saleh Y, Amer OE, Sheshah E, Younis GZ, Al-Badr FB (2017) Inflammation as a contributing factor among postmenopausal Saudi women with osteoporosis. Medicine (Baltimore) 96(4):e5780. https://doi.org/10.1097/md.0000000000005780

34.

Maitz P, Kandler B, Fischer MB, Watzek G, Gruber R (2006) Activated platelets retain their potential to induce osteoclast-like cell formation in murine bone marrow cultures. Platelets 17(7):477–483. https://doi.org/10.1080/09537100600759105

35.

Nakarai A, Kato J, Hiraoka S, Takashima S, Inokuchi T, Takahara M, Sugihara Y, Harada K, Okada H (2018) An elevated platelet count increases the risk of relapse in ulcerative colitis patients with mucosal healing. Gut Liver 12(4):420–425. https://doi.org/10.5009/gnl17236

36.

Zhou Q, Zhu L, Zhang D, Li N, Li Q, Dai P, Mao Y, Li X, Ma J, Huang S (2016) Oxidative stress-related biomarkers in postmenopausal osteoporosis: a systematic review and meta-analyses. Dis Markers 2016:7067984. https://doi.org/10.1155/2016/7067984

37.

Topaloglu N, Yildirim S, Tekin M, Kaymaz N, Tutunculer F, Ozdemir C, Cosar E (2014) Mean platelet volume and ischemia modified albumin levels in cord blood of infants of diabetic mothers. Pediatr Neonatol 55(6):455–458. https://doi.org/10.1016/j.pedneo.2014.02.002

38.

Tsompos C, Panoulis C, Toutouzas K, Zografos G, Papalois A (2015) Antioxidant 21-aminosteroid "U-74389G" ameliorates the short-time effect of hypoxia-reoxygenation on the platelet count in rats. Folia Med Cracov 55(1):25–34

39.

Silvagno F, De Vivo E, Attanasio A, Gallo V, Mazzucco G, Pescarmona G (2010) Mitochondrial localization of vitamin D receptor in human platelets and differentiated megakaryocytes. PLoS One 5(1):e8670. https://doi.org/10.1371/journal.pone.0008670

40.

D'Amelio P, Cristofaro MA, De Vivo E et al (2012) Platelet vitamin D receptor is reduced in osteoporotic patients. Panminerva Med 54(3):225–231

41.

Hans D, Baim S (2017) Quantitative ultrasound (QUS) in the management of osteoporosis and assessment of fracture risk. J Clin Densitom 20(3):322–333
Acknowledgments
Data in this study were from the KoGES 4851-302, National Research Institute of Health, Centers for Disease Control and Prevention, Ministry for Health and Welfare, Republic of Korea.
Funding
This study was financially supported by a 2018 faculty research grant from Yonsei University College of Medicine [6-2018-0090] to Yu-Jin Kwon.
Ethics declarations
Conflicts of interest
None.
Additional information
Publisher's note
Springer Nature remains neutral with regard to jurisdictional claims in published maps and institutional affiliations.
Electronic supplementary material
About this article
Cite this article
Kim, J., Kim, H.S., Lee, H.S. et al. The relationship between platelet count and bone mineral density: results from two independent population-based studies. Arch Osteoporos 15, 43 (2020). https://doi.org/10.1007/s11657-020-0700-4
Received:

Accepted:

Published:
Keywords
Platelet count

Osteopenia

Osteoporosis

Inflammation