Abstract
Summary
This study assesses the impact of risk factors for fracture in women aged 80+ and 60–79. The results suggest that risk assessment which fits younger women may not be suited for the 80+ strata as many common risk factors are less predictive in the older compared to the younger cohort.
Purpose
This study assesses whether the impact of classical risk factors for fracture due to osteoporosis is different in women aged 80+ and women aged 60–79. Since most prior research on the contribution of risk factors is based on patients below 80 years of age, this study aims to fill this knowledge gap to increase the accuracy of risk assessment in the oldest old.
Methods
Retrospective, observational cohort study using Swedish national health register data and BMD data from osteoporosis clinics. Women aged at least 60 were identified from a random sample of the general population and from the BMD databases and allocated to two populations representing patients at different stages of risk assessment. The relative impact of risk factors on fracture risk was assessed using multivariate competing risk regression with fracture as outcome and death as competing event.
Results
A total of 163,329 women were included from the general population (52,499 aged 80+) and 22,378 from the BMD databases (4563 aged 80+). The clinical risk factors with relatively highest effect on fracture risk in the older patients were prior fracture and hip T-score below − 2.5 SD. Other included risk factors showed lower impact in the older compared to the younger strata.
Conclusions
This study confirms our understanding of the key risk factors for fracture: age, prior fracture, and a low T-score. Regarding remaining risk factors, risk assessment which fits younger women may not be suited for the 80+ strata as many common risk factors are less predictive in the older compared to the younger cohort.
This is a preview of subscription content, log in to check access.
Access options
Buy single article
Instant access to the full article PDF.
US$ 39.95
Tax calculation will be finalised during checkout.
Subscribe to journal
Immediate online access to all issues from 2019. Subscription will auto renew annually.
US$ 99
Tax calculation will be finalised during checkout.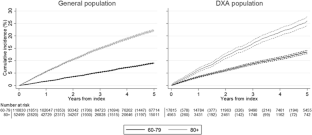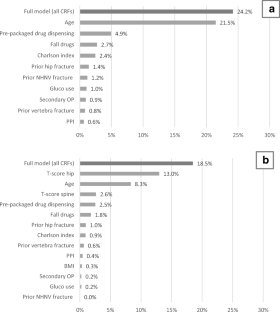 References
1.

Cummings SR, Melton LJ (2002) Epidemiology and outcomes of osteoporotic fractures. Lancet 359(9319):1761–1767

2.

Amin S, Achenbach SJ, Atkinson EJ, Khosla S, Melton LJ (2014) Trends in fracture incidence: a population-based study over 20 years. J Bone Miner Res 29(3):581–589

3.

Ström O, Borgström F, Kanis JA, Compston J, Cooper C, McCloskey EV, Jönsson B (2011) Osteoporosis: burden, health care provision and opportunities in the EU. Arch Osteoporos 6(1):59–155

4.

von Friesendorff M, McGuigan FE, Wizert A, Rogmark C, Holmberg AH, Woolf AD, Akesson K (2016) Hip fracture, mortality risk, and cause of death over two decades. Osteoporos Int 27(10):2945–2953. https://doi.org/10.1007/s00198-016-3616-5

5.

Gullberg B, Johnell O, Kanis J (1997) World-wide projections for hip fracture. Osteoporos Int 7(5):407–413

6.

Rosengren BE, Karlsson MK (2014) The annual number of hip fractures in Sweden will double from year 2002 to 2050: projections based on local and nationwide data. Acta Orthop 85(3):234–237

7.

Kannus P, Parkkari J, Sievänen H, Heinonen A, Vuori I, Järvinen M (1996) Epidemiology of hip fractures. Bone 18(1):S57–S63

8.

Boonen S, Marin F, Mellstrom D, Xie L, Desaiah D, Krege JH, Rosen CJ (2006) Safety and efficacy of teriparatide in elderly women with established osteoporosis: bone anabolic therapy from a geriatric perspective. J Am Geriatr Soc 54(5):782–789

9.

Boonen S, McClung MR, Eastell R, El-Hajj Fuleihan G, Barton IP, Delmas P (2004) Safety and efficacy of risedronate in reducing fracture risk in osteoporotic women aged 80 and older: implications for the use of antiresorptive agents in the old and oldest old. J Am Geriatr Soc 52(11):1832–1839

10.

McCloskey EV, Beneton M, Charlesworth D, Kayan K, de Takats D, Dey A, Orgee J, Ashford R, Forster M, Cliffe J (2007) Clodronate reduces the incidence of fractures in community-dwelling elderly women unselected for osteoporosis: results of a double-blind, placebo-controlled randomized study. J Bone Miner Res 22(1):135–141

11.

McClung MR, Geusens P, Miller PD, Zippel H, Bensen WG, Roux C, Adami S, Fogelman I, Diamond T, Eastell R (2001) Effect of risedronate on the risk of hip fracture in elderly women. N Engl J Med 344(5):333–340

12.

McClung MR, Boonen S, Törring O, Roux C, Rizzoli R, Bone HG, Benhamou CL, Lems WF, Minisola S, Halse J (2012) Effect of denosumab treatment on the risk of fractures in subgroups of women with postmenopausal osteoporosis. J Bone Miner Res 27(1):211–218

13.

Seeman E, Vellas B, Benhamou C, Aquino JP, Semler J, Kaufman JM, Hoszowski K, Varela AR, Fiore C, Brixen K (2006) Strontium ranelate reduces the risk of vertebral and nonvertebral fractures in women eighty years of age and older. J Bone Miner Res 21(7):1113–1120

14.

Rizzoli R, Branco J, Brandi M-L, Boonen S, Bruyère O, Cacoub P, Cooper C, Diez-Perez A, Duder J, Fielding R (2014) Management of osteoporosis of the oldest old. Osteoporos Int 25(11):2507–2529

15.

Landfeldt E, Ström O, Robbins S, Borgström F (2012) Adherence to treatment of primary osteoporosis and its association to fractures—the Swedish Adherence Register Analysis (SARA). Osteoporos Int 23(2):433–443

16.

Leib ES, Saag KG, Adachi JD, Geusens PP, Binkley N, McCloskey EV, Hans DB (2011) Official positions for FRAX® clinical regarding glucocorticoids: the impact of the use of glucocorticoids on the estimate by FRAX® of the 10 year risk of fracture: from Joint Official Positions Development Conference of the International Society for Clinical Densitometry and International Osteoporosis Foundation on FRAX®. J Clin Densitom 14(3):212–219

17.

Quan H, Sundararajan V, Halfon P, Fong A, Burnand B, Luthi J-C, Saunders LD, Beck CA, Feasby TE, Ghali WA (2005) Coding algorithms for defining comorbidities in ICD-9-CM and ICD-10 administrative data. Med Care 43:1130–1139

18.

Fraser L, Leslie W, Targownik L, Papaioannou A, Adachi J, Group CR (2013) The effect of proton pump inhibitors on fracture risk: report from the Canadian Multicenter Osteoporosis Study. Osteoporos Int 24(4):1161–1168

19.

Åkerlund M (2007) ApoDos-Apotekets dosexpedierade läkemedel [ApoDos _The National Corporation of Swedish Pharmacies' multi-dose dispensed medicines]. Apoteket AB

20.

Socialsyrelsen (2016) Läkemedel som kan öka risken för fallskada eller mag-tarmblödning hos äldre

21.

Woolcott JC, Richardson KJ, Wiens MO, Patel B, Marin J, Khan KM, Marra CA (2009) Meta-analysis of the impact of 9 medication classes on falls in elderly persons. Arch Intern Med 169(21):1952–1960

22.

Rockwood K (2005) What would make a definition of frailty successful? Age Ageing 34(5):432–434. https://doi.org/10.1093/ageing/afi146

23.

Fine JP, Gray RJ (1999) A proportional hazards model for the subdistribution of a competing risk. J Am Stat Assoc 94(446):496–509

24.

Andersen PK, Geskus RB, de Witte T, Putter H (2012) Competing risks in epidemiology: possibilities and pitfalls. Int J Epidemiol 41(3):861–870

25.

Coviello V, Boggess M (2004) Cumulative incidence estimation in the presence of competing risks. Stata J 4:103–112

26.

Royston P (2006) Explained variation for survival models. Stata J 6(1):83–96

27.

Tenne M, McGuigan F, Besjakov J, Gerdhem P, Akesson K (2013) Degenerative changes at the lumbar spine--implications for bone mineral density measurement in elderly women. Osteoporos Int 24(4):1419–1428. https://doi.org/10.1007/s00198-012-2048-0
Ethics declarations
Conflict of interest
Rosa Lauppe, Gustaf Ortsäter, and Oskar Ström are employed by Quantify Research and were funded by Amgen to conduct this study. Kristina Åkesson received lecture and consultancy fees from Amgen, UCB, Merck, Sandoz, and Eli Lilly. Östen Ljunggren has no current conflict of interest. Anna Spångéus received lecture fees from Amgen and Eli Lilly. Maurille Feudjo-Tepie is employed by Amgen.
Additional information
Publisher's note
Springer Nature remains neutral with regard to jurisdictional claims in published maps and institutional affiliations.
Electronic supplementary material
About this article
Cite this article
Lauppe, R., Åkesson, K.E., Ljunggren, Ö. et al. Differing impact of clinical factors on the risk of fracture in younger and older women in the general population and an osteoporosis clinic population. Arch Osteoporos 14, 45 (2019). https://doi.org/10.1007/s11657-019-0592-3
Received:

Accepted:

Published:
Keywords
Clinical risk factors

Elderly

Fractures

Population based

Retrospective

Risk assessment