Abstract
Summary
Previous studies have shown that improving vitamin D status among the elderly may lead to an improvement in muscle mass and muscle strength. In our study, vitamin D supplementation showed significant improvements in vitamin D concentrations as well as appendicular muscle mass in pre-sarcopenic older Lebanese people. However, we found no significant effect on muscle strength.
Introduction
Improving vitamin D status might improve muscle function and muscle mass that lead to sarcopenia in older subjects. The aim of this randomized, controlled, double-blind study was to examine the effect of vitamin D supplementation on handgrip strength and appendicular skeletal muscle mass in pre-sarcopenic older Lebanese subjects. We also examined whether this effect differs in normal vs. obese subjects.
Methods
Participants (n = 128; 62 men and 66 women) deficient in vitamin D (25(OH)D = 12.92 ± 4.3 ng/ml) were recruited from Saint Charles Hospital, Beirut, Lebanon. The participants were given a supplement of 10,000 IU of cholecalciferol (vitamin D group; n = 64) to be taken three times a week or a placebo tablet (placebo group; n = 64) for 6 months. One hundred fifteen subjects completed the study: 59 had normal weight, while 56 were obese. Strength and functional assessment and biochemical analysis were performed at the start and after 6 months.
Results
Compared to placebo, the vitamin D supplemented group showed significant improvements in appendicular skeletal muscle mass (ASMM) (P < 0.001) but not in handgrip strength (P = 0.2901). ANCOVA for ASMM adjusting for obesity and including the interaction between obesity and vitamin D showed a significant interaction. The increase in ASMM with vitamin D in normal-weight subjects was higher than that of obese subjects (B = 35.09 vs. B = 2.19).
Conclusion
Treatment with vitamin D showed beneficial effects on appendicular muscle mass in pre-sarcopenic older Lebanese men and women. However, it had no effect on muscle strength relative to placebo. This trial was registered at isrctn.org as ISRCTN16665940.
This is a preview of subscription content, log in to check access.
Access options
Buy single article
Instant access to the full article PDF.
US$ 39.95
Price includes VAT for USA
Subscribe to journal
Immediate online access to all issues from 2019. Subscription will auto renew annually.
US$ 99
This is the net price. Taxes to be calculated in checkout.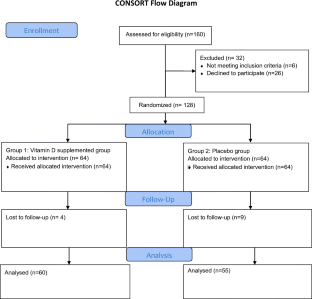 Abbreviations
ASMM:

Appendicular skeletal muscle

BMI:

Body mass index

PTH:

Parathyroid hormone

25(OH)D:

25-Hydroxyvitamin D
References
1.

Domingues-Faria C, Boirie Y, Walrand S (2017) Vitamin D and muscle trophicity. Curr Opin Clin Nutr Metab Care 2

2.

Kim MK, Baek KH, Song KH, Kang M, Park CY, Lee WY, Oh KW (2011) Vitamin D deficiency is associated with sarcopenia in older Koreans, regardless of obesity: the fourth Korea National Health and Nutrition Examination Surveys (KNHANES IV) 2009. J Clin Endocrinol Metab 96:10

3.

Visser M, Deeg D, Lips P (2003) Low vitamin D and high parathyroid hormone levels as determinants of loss of muscle strength and muscle mass (sarcopenia): the Longitudinal Aging Study Amsterdam. J Clin Endocrinol Metab 88:12

4.

Bischoff-Ferrari HA, Dietrich T, Oray EJ, Hu FB, Zhang Y, Karlson AW, Dawson-Hughes B (2004) Higher 25-hydroxyvitamin D concentrations are associated with better lower-extremity function in both active and inactive persons aged ≥ 60 y. Am J Clin Nutr 80(3):752–758

5.

Verhaar HJ, Samson MM, Jansen PA, de Vreede PL, Manten JW, Duursma SA (2000) Muscle strength, functional mobility and vitamin D in older women. Aging 12:455–460

6.

Grady D, Halloran B, Cummings S, Leveille S, Wells L, Black D, Byl N (1991) 1,25-Dihydroxyvitamin D3 and muscle strength in the elderly: a randomised controlled trial. J Clin Endocrinol Metab 73:1111–1117

7.

Zhu K, Austin N, Devine A, Bruce D, Prince R (2010) A randomized controlled trial of the effects of vitamin D on muscle strength and mobility in older women with vitamin D insufficiency. J Am Geriatr Soc 58(11):2063–2068

8.

Janssen HCJP, Samson MM, Verhaar HJ (2002) Vitamin D deficiency, muscle function, and falls in elderly people. Am J Clin Nutr 75:611–615

9.

Johnson KR, Jobber J, Stonawski BJ (1980) Prophylactic vitamin D in the elderly. Age Ageing 9:121–127

10.

Ceglia L, Chiu GR, Harris SS, Araujo AB (2011) Serum 25-hydroxyvitamin D concentration and physical function in adult men. Clin Endocrinol 74:370–376

11.

Annweiler C, Beauchet O, Berrut G, Fantino B, Bonnefoy M, Herrmann FR, Schott AM (2009) Is there an association between serum 25-hydroxyvitamin D concentration and muscle strength among older women? Results from baseline assessment of the EPIDOS study. J Nutr Health Aging 13(2):90–95

12.

Roubenoff R (2000) Sarcopenic obesity: does muscle loss cause fat gain? Ann N Y Acad Sci 904:553–555

13.

Reaven GM (1988) Role of insulin resistance in human disease. Diabetes 37:1595–1597

14.

Roubenoff R (2003) Catabolism of aging: is it an inflammatory process? Curr Opin Clin Nutr Metab Care 6:295–299

15.

Baumgartner RN, Wayne SJ, Water DL, Jansse I, Gallagher D, Morley JE (2004) Sarcopenic obesity predicts instrumental activities of daily living disability in the elderly. Obes Res 12:1995–2004

16.

Villareal D, Banks M, Sienerc C, Sinacore D, Klein S (2004) Physical frailty and body composition in obese elderly men and women. Obes Res 12:912–919

17.

Scott D, Daly RM, Sanders KM, Ebeling PR (2015) Fall and fracture risk in sarcopenia and dynapenia with and without obesity: the role of lifestyle interventions. Curr Osteoporos Rep 13:4

18.

Viitasalo JT, Era P, Leskinen AL, Heikkinen E (1985) Muscular strength profiles and anthropometry in random samples of men aged 31–35, 51–55 and 71–75 years. Ergonomics 28:1563–1574

19.

Avlund K, Schroll M, Davidsen M, Løvborg B, Rantanen T (1994) Maximal isometric muscle strength and functional ability in daily activities among 75-year-old men and women. Scand J Med Sci Sports 4:32–40

20.

Desrosiers J, Hébert R, Bravo G, Dutil É (1995) Comparison of the Jamar dynamometer and the Martin vigorimeter for grip strength measurements in a healthy elderly population. Scand J Rehabil Med Suppl 27:137–143

21.

Baumgartner RN, Koehler KM, Gallagher D, Romero L, Heymsfield SB, Ross RR, Garry PJ, Lindeman RD (1998) Epidemiology of sarcopenia among the elderly in New Mexico. Am J Epidemiol 147:755–763

22.

Batsis JA, Mackenzie TA, Barre LK, Lopez-Jimenez F, Bartels SJ (2014) Sarcopenia, sarcopenic obesity and mortality in older adults: results from the National Health and Nutrition Examination Survey III. Eur J Clin Nutr 68(9)

23.

SB Heymsfield, Arteaga C, McManus J, Smith SM (1983) Measurement of muscle mass in humans: validity of the 24-hour urinary creatinine method. Am J Clin Nutr 37:478–494

24.

Hedlund L, Brekke HK, Brembeck P, Augustin H (2014) A short questionnaire for assessment of dietary vitamin D intake. European Journal of Nutrition & Food Safety 4(2):150–156

25.

Institute of Medicine (2011) Dietary reference intakes for calcium and vitamin D. The National Academics Press, Washington, DC

26.

Pfeifer M, Begerow B, Minne HW, Schlotthauer T, Pospeschill M, Scholz M, Lazarescu AD, Pollahne W (2001) Vitamin D status, trunk muscle strength, body sway, falls, and fractures among 237 postmenopausal women with osteoporosis. Exp Clin Endocrinol Diabetes 109:87–92

27.

Dhesi JK, Bearne LM, Moniz C, Hurley MV, Jackson SH, Swift CG, Allain TJ (2002) Neuromuscular and psychomotor function in elderly subjects who fall and the relationship with vitamin D status. J Bone Miner Res 17:891–897

28.

El-Hajj G, Nabulsi M, Tamim H, Maalouf J, Salamoun M, Khalife H, Choucair M, Arabi A, Vieth R (2006) Effect of vitamin D replacement on musculoskeletal parameters in school children: a randomized controlled trial. J Clin Endocrinol Metab 91:405–412

29.

Bauer JM, Verlaan S, Bautmans I, Brandt K, Donini LM, Maggio M, McMurdo MET, Mets T, Seal C, Wijers SL, Ceda GP, de Vito G, Donders G, Drey M, Greig C, Holmbäck U, Narici M, McPhee J, Poggiogalle E, Power D, Scafoglieri A, Schultz R, Sieber CC, Cederholm T (2015) Effects of a vitamin D and leucine-enriched whey protein nutritional supplement on measures of sarcopenia in older adults, the PROVIDE study: a randomized, double-blind, placebo-controlled trial. J Am Med Dir Assoc 16:740–747

30.

Marantes I, Achenbach SJ, Atkinson EJ, Khosla S, Amin S (2011) Is vitamin D a determinant of muscle mass and strength? J Bone Miner Res 26(12):2860–2871

31.

Verrault R, Semba RD, Volpato S, Ferrucci L, Fried LP, Guralnik JM (2002) Low serum vitamin D does not predict new disability or loss of muscle strength in older women. J Am Geriatr Soc 50:912–917

32.

Bunout D, Barrera G, Leiva L, Gattas V, Pía de la Maza M, Avendaño M, Hirsch S (2006) Effects of vitamin D supplementation and exercise training on physical performance in Chilean vitamin D deficient elderly subjects. Exp Gerontol 41:746–752

33.

Goodpaster BH, Park SW, Harris TB, Kritchchesky SB, Nevitt M, Schwartz AV et al (2006) The loss of skeletal muscle strength, mass, and quality in older adults: the health, aging and body composition study, for the Health ABC Study. J Gerontol A Biol Sci Med Sci 61:1059–1064

34.

Gloth FM, Smith CE, Hollis BW, Tobin JD (1995) Functional improvement with vitamin D replenishment in a cohort of frail, vitamin D-deficient older people. J Am Geriatr Soc 43:1269–1271

35.

Sørensen OH, Lund BI, Saltin B, Lund BJ, Andersen RB, Hjorth L, Melsen F, Mosekilde L (1979) Myopathy in bone loss of ageing: improvement by treatment with 1-hydroxycholecalciferol and calcium. Clin Sci 56:157–161

36.

Grimby G (1995) Muscle performance and structure in the elderly as studied cross-sectionally and longitudinally. J Gerontol 17–22(74):50A

37.

Brooks SV, Faulkner JA (1994) Skeletal muscle weakness in old age: underlying mechanisms. Med Sci Sports Exerc 26:432–439

38.

Bischoff-Ferrari HA, Willett WC, Wong JB, Giovannucci E, Dietrich T, Dawson-Hughes B (2005) Fracture prevention with vitamin D supplementation: a meta-analysis of randomized controlled trials. JAMA 293(18):2257–2264

39.

Shahar DR, Schwarzfuchs D, Fraser D, Vardi H, Thiery J, Fiedler GM, Blüher M, Stumvoll M, Stampfer MJ, Shai I, DIRECT Group (2010) Dairy calcium intake, serum vitamin D and successful weight loss. Am J Clin Nutr 92(5):1017–1022

40.

Khosravi ZS, Kafeshani M, Tavasoli P, Zadeh AH, Entezari MH (2018) Effect of vitamin D supplementation on weight loss, glycemic indices, and lipid profile in obese and overweight women: a clinical trial study. Int J Prev Med 9:63

41.

Kim M, Na W, Sohn C (2013) Correlation between vitamin D and cardiovascular disease predictors in overweight and obese Koreans. J Clin Biochem Nutr 52:167–171

42.

Sneve M, Figenschau Y, Jorde R (2008) Supplementation with cholecalciferol does not result in weight reduction in overweight and obese subjects. Eur J Endocrinol 159:675–684

43.

Bell NH, Epstein S, Greene A, Shary J, Oexmann MJ, Shaw S (1985) Evidence for alteration of the vitamin D-endocrine system in obese subjects. J Clin Invest 76:370–373

44.

Liel Y, Ulmer E, Shary J, Hollis BW, Bell NH (1988) Low circulating vitamin D in obesity. Calcif Tissue Int 43:199–201

45.

Compston JE, Vedi S, Ledger JE, Webb A, Gazet JC, Pilkington TRE (1981) Vitamin D status and bone histomorphometry in gross obesity. Am J Clin Nutr 34:2359–2363

46.

Friedmann JM, Elasy T, Jensen GT (2001) The relationship between body mass index and self-reported functional limitation among older adults: a gender difference. J Am Geriatr Soc 49:398–403

47.

Jensen GL, Friedmann JM (2002) Obesity is associated with functional decline in community-dwelling rural older persons. J Am Geriatr Soc 50:918–923

48.

Halfon M, Phan O, Teta D (2015) Vitamin D: a review on its effects on muscle strength, the risk of fall, and frailty. Biomed Res Int:953241 11 pages

49.

Dirks-Naylor AJ, Lennon-Edwards S (2011) The effects of vitamin D on skeletal muscle function and cellular signaling. J Steroid Biochem Mol Biol 125:159–168

50.

Tagliafico AS, Ameri P, Bovio M, Puntoni M, Capaccio E, Murialdo G, Martinoli C (2010) Relationship between fatty degeneration of thigh muscles and vitamin D status in the elderly: a preliminary MRI study. AJR Am J Roentgenol 194(3):728–734

51.

Park SH, Lee KS, Park HY (2010) Dietary carbohydrate intake is associated with cardiovascular disease risk in Korean: analysis of the third Korea National Health and Nutrition Examination Survey (KNHANES III). Int J Cardiol 139:234–240

52.

Oh JH, Kim SH, Kim JH, Shin YH, Yoon JP, Oh CH (2009) The level of vitamin D in the serum correlates with fatty degeneration of the muscles of the rotator cuff. J Bone Joint Surg (Br) 1587–1593(1602):91

53.

Pittas AG, Lau J, Hu FB, Dawson-Hughes B (2007) The role of vitamin D and calcium in type 2 diabetes. A systematic review and meta-analysis. J Clin Endocrinol Metab 92:2017–2029

54.

De SouzaGenaro P, de Medeiros Pinheiro M, Szejnfeld VL, Martini LA (2015) Secondary hyperparathyroidism and its relationship with sarcopenia in elderly women. Arch Gerontol Geriatr 60(2):349–353

55.

Snijder MB, van Dam RM, Visser M, Deeg DJ, Dekker JM, Bouter LM, Seidell JC, Lips P (2005) Adiposity in relation to vitamin D status and parathyroid hormone levels: a population-based study in older men and women. J Clin Endocrinol Metab 90:4119–4123

56.

Wortsman J, Matsuoka LY, Chen TC, Lu Z, Holick MF (2000) Decreased bioavailability of vitamin D in obesity. Am J Clin Nutr 72:690–693

57.

Cipriani C, Pepe J, Piemonte S, Colangelo L, Cilli M, Minisola S (2014) Vitamin D and its relationship with obesity and muscle. Int J Endocrinol 2014:841248

58.

Mithal A, Bonjour JP, Boonen S, Burckhardt P, Degens H, El Hajj Fuleihan G, Josse R, Lips P, Morales Torres J, Rizzoli R et al (2013) Impact of nutrition on muscle mass, strength, and performance in older adults. Osteoporos Int 24(5):1555–1566

59.

Hamoui N, Anthone G, Crookes PF (2004) Calcium metabolism in the morbidly obese. Obes Surg 14:9–12

60.

Olgaard K, Lewin E (2006) Can hyperparathyroid bone disease be arrested or reversed? Clin J Am Soc Nephrol 1:367–373
Acknowledgments
The authors thank Saint Charles Hospital and the participants for their contribution to the study.
Funding
This work did not receive any grant support.
Ethics declarations
Conflicts of interest
None.
Additional information
Publisher's Note
Springer Nature remains neutral with regard to jurisdictional claims in published maps and institutional affiliations.
About this article
Cite this article
El Hajj, C., Fares, S., Chardigny, J.M. et al. Vitamin D supplementation and muscle strength in pre-sarcopenic elderly Lebanese people: a randomized controlled trial. Arch Osteoporos 14, 4 (2019). https://doi.org/10.1007/s11657-018-0553-2
Received:

Accepted:

Published:
Keywords
Vitamin D

Appendicular skeletal muscle mass

Muscle strength

Pre-sarcopenia

Sarcopenic obesity

Nutrition