Abstract
Summary
This study investigated the real-world persistence rate and switches of teriparatide-treated patients using a claims database in Japan. The persistence rate of teriparatide at 12 months was 34.9%, and approximately one-third of the patients were not treated with any osteoporosis drugs after teriparatide. Improvement in persistence and switches are desired.
Purpose
We aimed to elucidate the persistence rates and switches before and after teriparatide treatment in real-world osteoporosis patients based on data from a medical claims database in Japan.
Methods
We reviewed the records of patients with diagnoses of osteoporosis who were prescribed teriparatide at least once from January 2005 to June 2017. Patients with a follow-up ≤ 90 days before the first and ≤ 90 days after the last prescription of teriparatide were excluded. Discontinuation was defined as no treatment for > 90 days. We investigated treatment duration, compared characteristics of patients with persistence ≤ 12 and > 12 months, and osteoporotic medications before and after teriparatide by weekly or daily teriparatide.
Results
Among the 553 patients extracted for the study, 81.9% were women, 45.6% were aged ≥ 65 years, and 67.3% had a fracture. The most common fracture site was the spine (39.2%). The overall persistence rate of teriparatide > 12 months was 34.9% (weekly, 23.5%; daily, 43.1%). The subjects with persistence > 12 months comprised a higher proportion of women and they had a higher prevalence of rib and sternum fractures than those with ≤ 12 months. After teriparatide, 38.2% were switched to active vitamin D3, 35.1% to bisphosphonates, and 13.7% to denosumab allowing duplication. However, 34.0% of the patients were not switched to any subsequent medication for osteoporosis.
Conclusions
Persistence rate over 12 months of teriparatide treatment was 34.9% in Japan. Approximately one-third of patients had no subsequent treatment immediately after teriparatide. Monitoring persistence and considering subsequent drugs for osteoporosis are necessary for teriparatide treatment.
This is a preview of subscription content, log in to check access.
Access options
Buy single article
Instant access to the full article PDF.
US$ 39.95
Price includes VAT for USA
Subscribe to journal
Immediate online access to all issues from 2019. Subscription will auto renew annually.
US$ 99
This is the net price. Taxes to be calculated in checkout.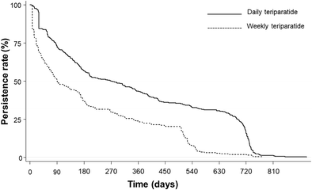 References
1.

NIH Consensus Development Panel on Osteoporosis Prevention, Diagnosis, and Therapy (2001) Osteoporosis prevention, diagnosis, and therapy. JAMA 285:785–795

2.

Cummings SR, Melton LJ (2002) Epidemiology and outcomes of osteoporotic fractures. Lancet 359:1761–1767

3.

Johnell O, Kanis JA (2006) An estimate of the worldwide prevalence and disability associated with osteoporotic fractures. Osteoporos Int 17:1726–1733

4.

Bliuc D, Nguyen ND, Milch VE, Nguyen TV, Eisman JA, Center JR (2009) Mortality risk associated with low-trauma osteoporotic fracture and subsequent fracture in men and women. JAMA 301:513–521

5.

Shi N, Foley K, Lenhart G, Badamgarav E (2009) Direct healthcare costs of hip, vertebral, and non-hip, non-vertebral fractures. Bone 45:1084–1090

6.

Burge R, Dawson-Hughes B, Solomon DH, Wong JB, King A, Tosteson A (2007) Incidence and economic burden of osteoporosis-related fractures in the United States, 2005-2025. J Bone Miner Res 22:465–475

7.

Ström O, Borgstrom F, Zethraeus N, Johnell O, Lidgren L, Ponzer S, Svensson O, Abdon P, Ornstein E, Ceder L, Thorngren KG, Sernbo I, Jonsson B (2008) Long-term cost and effect on quality of life of osteoporosis-related fractures in Sweden. Acta Orthop 79:269–280

8.

Song X, Shi N, Badamgarav E, Kallich J, Varker H, Lenhart G, Curtis JR (2011) Cost burden of second fracture in the US health system. Bone 48:828–836

9.

Khosla S, Hofbauer LC (2017) Osteoporosis treatment: recent developments and ongoing challenges. Lancet Diabetes Endocrinol 5:898–907

10.

Neer RM, Arnaud CD, Zanchetta JR, Prince R, Gaich GA, Reginster JY, Hodsman AB, Eriksen EF, Ish-Shalom S, Genant HK, Wang O, Mitlak BH (2001) Effect of parathyroid hormone (1-34) on fractures and bone mineral density in postmenopausal women with osteoporosis. N Engl J Med 344:1434–1341

11.

Orwoll ES, Scheele WH, Paul S, Adami S, Syversen U, Diez-Perez A, Kaufman JM, Clancy AD, Gaich GA (2003) The effect of teriparatide [human parathyroid hormone (1-34)] therapy on bone density in men with osteoporosis. J Bone Miner Res 18:9–17

12.

Tanaka I, Sato M, Sugihara T, Faries DE, Nojiri S, Graham-Clarke P, Flynn JA, Burge RT (2013) Adherence and persistence with once-daily teriparatide in Japan: a retrospective, prescription database, cohort study. J Osteoporos 2013:1–8

13.

Greenspan SL, Bone HG, Ettinger MP, Hanley DA, Lindsay R, Zanchetta JR, Blosch CM, Mathisen AL, Morris SA, Marriott TB, Treatment of Osteoporosis with Parathyroid Hormone Study Group (2007) Effect of recombinant human parathyroid hormone (1-84) on vertebral fracture and bone mineral density in postmenopausal women with osteoporosis: a randomized trial. Ann Intern Med 146:326–339

14.

Gallagher JC, Genant HK, Crans GG, Vargas SJ, Krege JH (2005) Teriparatide reduces the fracture risk associated with increasing number and severity of osteoporotic fractures. J Clin Endocrinol Metab 90:1583–1587

15.

Prince R, Sipos A, Hossain A, Syversen U, Ish-Shalom S, Marcinowska E, Halse J, Lindsay R, Dalsky GP, Mitlak BH (2005) Sustained nonvertebral fragility fracture risk reduction after discontinuation of teriparatide treatment. J Bone Miner Res 20:1507–1513

16.

Arden NK, Earl S, Fisher DJ, Cooper C, Carruthers S, Goater M (2006) Persistence with teriparatide in patients with osteoporosis: the UK experience. Osteoporos Int 17:1626–1629

17.

Adachi JD, Hanley DA, Lorraine JK, Yu M (2007) Assessing compliance, acceptance, and tolerability of teriparatide in patients with osteoporosis who fractured while on antiresorptive treatment or were intolerant to previous antiresorptive treatment: an 18-month, multicenter, open-label, prospective study. Clin Ther 29:2055–2067

18.

Ziller V, Zimmermann SP, Kalder M, Ziller M, Seker-Pektas B, Hellmeyer L, Hadji P (2010) Adherence and persistence in patients with severe osteoporosis treated with teriparatide. Curr Med Res Opin 26:675–681

19.

Foster SA, Foley KA, Meadows ES, Johnston JA, Wang SS, Pohl GM, Long SR (2011) Adherence and persistence with teriparatide among patients with commercial, Medicare, and Medicaid insurance. Osteoporos Int 22:551–557

20.

Yu S, Burge RT, Foster SA, Gelwicks S, Meadows ES (2012) The impact of teriparatide adherence and persistence on fracture outcomes. Osteoporos Int 23:1103–1113

21.

Kyvernitakis I, Kostev K, Kurth A, Albert US, Hadji P (2014) Differences in persistency with teriparatide in patients with osteoporosis according to gender and health care provider. Osteoporos Int 25:2721–2728

22.

Rajzbaum G, Grados F, Evans D, Liu-Leage S, Petto H, Augendre-Ferrante B (2014) Treatment persistence and changes in fracture risk, back pain, and quality of life amongst patients treated with teriparatide in routine clinical care in France: results from the European Forsteo Observational Study. Joint Bone Spine 81:69–75

23.

Hodsman AB, Bauer DC, Dempster DW, Dian L, Hanley DA, Harris ST, Kendler DL, McClung MR, Miller PD, Olszynski WP, Orwoll E, Yuen CK (2005) Parathyroid hormone and teriparatide for the treatment of osteoporosis: a review of the evidence and suggested guidelines for its use. Endocr Rev 26:688–703

24.

Mulgund M, Beattie KA, Wong AK, Papaioannou A, Adachi JD (2009) Assessing adherence to teriparatide therapy, causes of nonadherence and effect of adherence on bone mineral density measurements in osteoporotic patients at high risk for fracture. Ther Adv Musculoskelet Dis 1:5–11

25.

Gold DT, Weinstein DL, Pohl G, Krohn KD, Chen Y, Meadows ES (2011) Factors associated with persistence with teriparatide therapy: results from the DANCE Observational Study. J Osteoporos 2011:1–7

26.

Thorsteinsson AL, Vestergaard P, Eiken P (2015) Compliance and persistence with treatment with parathyroid hormone for osteoporosis. A Danish national register-based cohort study. Arch Osteoporos 10:35

27.

Briot K, Ravaud P, Dargent-Molina P, Zylberman M, Liu-Leage S, Roux C (2009) Persistence with teriparatide in postmenopausal osteoporosis; impact of a patient education and follow-up program: the French experience. Osteoporos Int 20:625–630

28.

Obermayer-Pietsch BM, Marin F, McCloskey EV, Hadji P, Farrerons J, Boonen S, Audran M, Barker C, Anastasilakis AD, Fraser WD, Nickelsen T; EUROFORS Investigators (2008) Effects of two years of daily teriparatide treatment on BMD in postmenopausal women with severe osteoporosis with and without prior antiresorptive treatment. J Bone Miner Res 23:1591–1600

29.

Carbonell-Abella C, Pages-Castella A, Javaid MK, Nogues X, Farmer AJ, Cooper C, Diez-Perez A, Prieto-Alhambra D (2015) Early (1-year) discontinuation of different anti-osteoporosis medications compared: a population-based cohort study. Calcif Tissue Int 97:535–541

30.

Lindsay R, Miller P, Pohl G, Glass EV, Chen P, Krege JH (2009) Relationship between duration of teriparatide therapy and clinical outcomes in postmenopausal women with osteoporosis. Osteoporos Int 20:943–948

31.

Chan DC, Chang CH, Lim LC, Brnabic AJM, Tsauo JY, Burge R, Hsiao FY, Jin L, Gürbüz S, Yang RS (2016) Association between teriparatide treatment persistence and adherence, and fracture incidence in Taiwan: analysis using the National Health Insurance Research Database. Osteoporos Int 27:2855–2865

32.

Soen S, Fujiwara S, Takayanagi R, Kajimoto K, Tsujimoto M, Kimura S, Sato M, Krege JH, Enomoto H (2017) Real-world effectiveness of daily teriparatide in Japanese patients with osteoporosis at high risk for fracture: final results from the 24-month Japan Fracture Observational Study (JFOS). Curr Med Res Opin 33:2049–2056

33.

Burge RT, Disch DP, Gelwicks S, Zhang X, Krege JH (2017) Hip and other fragility fracture incidence in real-world teriparatide-treated patients in the United States. Osteoporos Int 28:799–809

34.

Leder BZ, Tsai JN, Uihlein AV, Wallace PM, Lee H, Neer RM, Burnett-Bowie SA (2015) Denosumab and teriparatide transitions in postmenopausal osteoporosis (the DATA-Switch study): extension of a randomised controlled trial. Lancet 386:1147–1155

35.

Eastell R, Nickelsen T, Marin F, Barker C, Hadji P, Farrerons J, Audran M, Boonen S, Brixen K, Gomes JM, Obermayer-Pietsch B, Avramidis A, Sigurdsson G, Glüer CC (2009) Sequential treatment of severe postmenopausal osteoporosis after teriparatide: final results of the randomized, controlled European Study of Forsteo (EUROFORS). J Bone Miner Res 24:726–736

36.

Ohtori S, Orita S, Yamauchi K, Eguchi Y, Aoki Y, Nakamura J, Suzuki M, Kubota G, Inage K, Shiga Y, Abe K, Fujimoto K, Kanamoto H, Inoue M, Kinoshita H, Furuya T, Koda M (2017) Does discontinuing teriparatide treatment and replacing it with bisphosphonate maintain the volume of the bone fusion mass after lumbar posterolateral fusion in women with postmenopausal osteoporosis? Asian Spine J 11:272–277

37.

Miyaoka D, Imanishi Y, Ohara M, Hayashi N, Nagata Y, Yamada S, Mori K, Emoto M, Inaba M (2017) Effects of teriparatide and sequential minodronate on lumbar spine bone mineral density and microarchitecture in osteoporosis. Calcif Tissue Int 101:396–403
Acknowledgments
We are deeply grateful to Japan Medical Data Center Co. for assisting with the data preparation.
Funding
This study was supported by departmental funding from the Department of Pharmacoepidemiology, Graduate School of Medicine and Public Health, Kyoto University.
Ethics declarations
All data were collected and stored in a password-protected computer database. Individual data were anonymized. The ethical committee of Kyoto University approved the use of these data and the study protocol (approval number R0157). This study was conducted in accordance with the Ethical Guidelines for Medical and Health Research Involving Human Subjects in Japan. Based on these guidelines, the need for additional informed consent was waived.
Conflict of interest
The authors declare no conflicts of interest directly relevant to the content of this article. The corresponding author received honoraria from Astellas, Taisho Pharmaceutical, Hikari Pharmaceutical, Eisai, Mitsubishi Tanabe Pharma, Takeda Pharmaceutical Company Limited, Sanofi K.K.; and consulting fees from Olympus, Kyowa Hakko Kirin, Kaken Pharmaceutical, and Otsuka Pharmaceutical. The authors declare no patents, products under development, or marketed products relevant to those companies.
About this article
Cite this article
Usui, T., Funagoshi, M., Seto, K. et al. Persistence of and switches from teriparatide treatment among women and men with osteoporosis in the real world: a claims database analysis. Arch Osteoporos 13, 54 (2018). https://doi.org/10.1007/s11657-018-0466-0
Received:

Accepted:

Published:
Keywords
Osteoporosis

Teriparatide

Persistence

Medical claim database