Abstract
Summary
Our aim was to analyze the seasonality and the effect of weather conditions on the incidence of osteoporotic hip fracture in a Southern European region.
Introduction
The objective of this work is to evaluate seasonality and the effect of weather conditions on the incidence of osteoporotic hip fracture in a Southern European region.
Methods
This retrospective cohort study included all patients admitted to Alcorcón Foundation University Hospital with a diagnosis of osteoporotic hip fracture between the years 1999 and 2015. In a time series analysis, we examined the association between hip fracture incidence and different weather conditions and seasonality using general additive models (with Poisson distribution). The incidence rate ratio (IRR) crude and adjusted by season was estimated for all parameters. Hip incidence was further analyzed by sex and age (below or over 75) subgroups.
Results
Four thousand two hundred seventy-one patients with an osteoporotic hip fracture were included (79% females, mean age 83.8). Season fracture rate was significantly higher in fall and winter (67.06 and 64.41 fractures/season) compared to summer and spring (59.71 and 60.06; p < 0,001). Hip fracture incidence was 15% greater in autumn and winter than in spring and summer. Fog [IRR 1.15 (95% CI: 1.003–1.33)], atmospheric pressure (per 100 mb) [IRR 1.05 (95% CI: 1.004–1.114)], and frost [IRR 1.15 (95% CI: 1.03–1.30)] were significantly associated with increased hip fracture. Haze [IRR 1.10 (95% CI: 0.99–1.23)] showed a trend without statistical significance. Daily average temperature (per 5 °C) [IRR 0.98 (95% CI: 0.957–0.996)], rain (per 10 ml) [IRR 0.99 (95% CI: 0.981–1.0)], wind speed [IRR = 0.952, (95% CI: 0.907–0.998)], and daily ultraviolet radiation (per 100 joules) [IRR 0.998 (95% CI: 0.996–1.0)] were negatively associated with fracture. After adjusting by season and trend, all these associations disappear.
Conclusions
In this Southern region, hip fracture incidence exhibits a seasonal pattern different from those communicated in Northern regions. There is short-term association with different weather conditions that partly explain this seasonal pattern.
Access options
Buy single article
Instant access to the full article PDF.
USD 39.95
Price excludes VAT (USA)
Tax calculation will be finalised during checkout.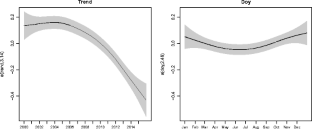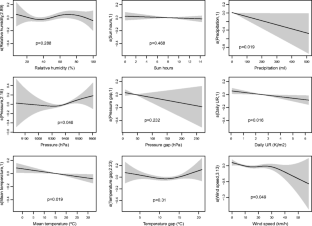 Abbreviations
BMDS:

Basic minimum data set

CMBD:

Conjunto Mínimo Básico de Datos

ICD-9CM:

International Classification of Diseases, 9th Clinical Modification

AEMET:

State Meteorological Station

p.m.:

post meridiam

doy:

day of year

GAM:

Generalized additive models

SD:

standard deviation

95% CI:

95% confidence interval

IRR:

Incidence rate ratio

UV:

ultraviolet
References
Melton LJ 3rd (2003) Adverse outcomes of osteoporotic fractures in the general population. J Bone Miner Res 18(6):1139–1141. https://doi.org/10.1359/jbmr.2003.18.6.1139

Jacobsen SJ, Sargent DJ, Atkinson EJ, O'Fallon WM (1995) Melton LJ,3rd: population-based study of the contribution of weather to hip fracture seasonality. Am J Epidemiol 141(1):79–83

Lau EM, Gillespie BG, Valenti L, O'Connell D (1995) The seasonality of hip fracture and its relationship with weather conditions in new South Wales. Aust J Public Health 19(1):76–80

Lauritzen JB, Schwarz P, McNair P, Lund B, Transbol I (1993) Radial and humeral fractures as predictors of subsequent hip, radial or humeral fractures in women, and their seasonal variation. Osteoporos Int 3(3):133–137

Roman Ortiz C, Tenias JM, Estarlich M, Ballester F (2015) Systematic review of the association between climate and hip fractures. Int J Biometeorol 59(10):1511–1522. https://doi.org/10.1007/s00484-014-0945-y

Levy AR, Bensimon DR, Mayo NE, Leighton HG (1998) Inclement weather and the risk of hip fracture. Epidemiology 9(2):172–177

Parker MJ, Martin S (1994) Falls, hip fractures and the weather. Eur J Epidemiol 10(4):441–442

Aaron JE, Gallagher JC, Nordin BE (1974) Seasonal variation of histological osteomalacia in femoral-neck fractures. Lancet 2(7872):84–85

Pasco JA, Henry MJ, Kotowicz MA, Sanders KM, Seeman E, Pasco JR, Schneider HG, Nicholson GC (2004) Seasonal periodicity of serum vitamin D and parathyroid hormone, bone resorption, and fractures: the Geelong osteoporosis study. J Bone Miner Res 19(5):752–758. https://doi.org/10.1359/JBMR.040125

Bischoff-Ferrari HA, Orav JE, Barrett JA, Baron JA (2007) Effect of seasonality and weather on fracture risk in individuals 65 years and older. Osteoporos Int 18(9):1225–1233. https://doi.org/10.1007/s00198-007-0364-6

Koren L, Barak A, Norman D, Sachs O, Peled E (2014) Effect of seasonality, weather and holidays on the incidence of proximal hip fracture. Isr Med Assoc J 16(5):299–302

Caniggia M, Morreale P (1989) Epidemiology of hip fractures in Siena, Italy, 1975-1985. Clin Orthop Relat Res 238:131–138

Furelos M, Colino A, Trobajo J, Quevedo L (2001) Hip fractures, seasonal ariations and influence of climatological parameters. Rev Ortop Traumatol 45:384–388

Tenias JM, Mifsut Miedes D (2004) Hip fracture incidence: trends, seasonality and geographic distribution in a Health District in the autonomous Community of Valencia, Spain (1994-2000). Rev Esp Salud Publ 78(4):539–546

Tenias JM, Estarlich M, Crespo E, Roman-Ortiz C, Arias-Arias A, Ballester F (2015) Short-term relationship between hip fracture and weather conditions in two Spanish health areas with different climates. J Environ Public Health 2015:395262. https://doi.org/10.1155/2015/395262

Bernal-Delgado E, Garcia-Armesto S, Peiro S, Atlas VPM Group (2014) Atlas of Variations in Medical Practice in Spain: the Spanish National Health Service under scrutiny. Health Policy 114(1):15–30. https://doi.org/10.1016/j.healthpol.2013.07.013

Mazzucchelli R, Perez-Fernandez E, Crespi N, Garcia-Vadillo A, Rodriguez Caravaca G, Gil de Miguel A, Carmona L (2017) Second hip fracture: incidence, trends, and predictors. Calcif Tissue Int. https://doi.org/10.1007/s00223-017-0364-2

Hastie TJ, Tibshirani RJ (eds) (1990) Generalized additive models. Chapman and Hall, London

Peng RD, Dominici F (2008) Statistical methods for environmental epidemiology with R. R: A Case Study in Air Pollution and Health. Springer Science+Business Media, LLC, New York

Bulajic-Kopjar M (2000) Seasonal variations in incidence of fractures among elderly people. Inj Prev 6(1):16–19

Hemenway D, Colditz GA, Willett WC, Stampfer MJ, Speizer FE (1988) Fractures and lifestyle: effect of cigarette smoking, alcohol intake, and relative weight on the risk of hip and forearm fractures in middle-aged women. Am J Public Health 78(12):1554–1558

Jacobsen SJ, Goldberg J, Miles TP, Brody JA, Stiers W, Rimm AA (1991) Seasonal variation in the incidence of hip fracture among white persons aged 65 years and older in the United States, 1984-1987. Am J Epidemiol 133(10):996–1004

Pedrazzoni M, Alfano FS, Malvi C, Ostanello F, Passeri M (1993) Seasonal variation in the incidence of hip fractures in Emilia-Romagna and Parma. Bone 14(Suppl 1):S57–S63

Holmberg S, Thorngren KG (1987) Statistical analysis of femoral neck fractures based on 3053 cases. Clin Orthop Relat Res 218:32–41

Mirchandani S, Aharonoff GB, Hiebert R, Capla EL, Zuckerman JD, Koval KJ (2005) The effects of weather and seasonality on hip fracture incidence in older adults. Orthopedics 28(2):149–155

Botey R, Guijarro J, Jimenez A (2013) Valores normales de precipitación mensual 1981–2010. Agencia Estatal de Meteorología de España (AEMET). Ministerio de Agricultura, Alimentación y Medio Ambiente, Madrid, p 64

Lofthus CM, Osnes EK, Falch JA, Kaastad TS, Kristiansen IS, Nordsletten L, Stensvold I, Meyer HE (2001) Epidemiology of hip fractures in Oslo, Norway. Bone 29(5):413–418

Turner RM, Hayen A, Dunsmuir WT, Finch CF (2011) Air temperature and the incidence of fall-related hip fracture hospitalisations in older people. Osteoporos Int 22(4):1183–1189. https://doi.org/10.1007/s00198-010-1306-2

Modarres R, Ouarda TB, Vanasse A, Orzanco MG, Gosselin P (2014) Modeling climate effects on hip fracture rate by the multivariate GARCH model in Montreal region, Canada. Int J Biometeorol 58(5):921–930. https://doi.org/10.1007/s00484-013-0675-6

Bastow MD, Rawlings J, Allison SP (1983) Undernutrition, hypothermia, and injury in elderly women with fractured femur: an injury response to altered metabolism? Lancet 1(8317):143–146

Chiu KY, Ng TP, Chow SP (1996) Seasonal variation of fractures of the hip in elderly persons. Injury 27(5):333–336

Lips P, Duong T, Oleksik A, Black D, Cummings S, Cox D, Nickelsen T (2001) A global study of vitamin D status and parathyroid function in postmenopausal women with osteoporosis: baseline data from the multiple outcomes of raloxifene evaluation clinical trial. J Clin Endocrinol Metab 86(3):1212–1221

Morgenstern H (1995) Ecologic studies in epidemiology: concepts, principles, and methods. Annu Rev Public Health 16:61–81. https://doi.org/10.1146/annurev.pu.16.050195.000425

Lauritzen JB, Lund B (1993) Risk of hip fracture after osteoporosis fractures. 451 women with fracture of lumbar spine, olecranon, knee or ankle. Acta Orthop Scand 64(3):297–300

Chesser TJ, Howlett I, Ward AJ, Pounsford JC (2002) The influence of outside temperature and season on the incidence of hip fractures in patients over the age of 65. Age Ageing 31(5):343–348

Atherton WG, Harper WM, Abrams KR (2005) A year's trauma admissions and the effect of the weather. Injury 36(1):40–46. https://doi.org/10.1016/j.injury.2003.10.027

Murray IR, Howie CR, Biant LC (2011) Severe weather warnings predict fracture epidemics. Injury 42(7):687–690. https://doi.org/10.1016/j.injury.2010.12.012

Burget F, Foltan O, Kraus J, Kudrna K, Novak M, Ulrych J (2016) Influence of the weather on the incidence of fractures in the elderly. Acta Chir Orthop Traumatol Cechoslov 83(4):269–273

Bischoff-Ferrari HA, Borchers M, Gudat F, Durmuller U, Stahelin HB, Dick W (2004) Vitamin D receptor expression in human muscle tissue decreases with age. J Bone Miner Res 19(2):265–269. https://doi.org/10.1359/jbmr.2004.19.2.265
Acknowledgements
We thank the staff of State Meteorological Station (AEMET) for contributing with the meteorological data and their contribution in the discussion of the results.
Funding
Publication fees were provided by Abbvie Lab. The funding bodies played no role in any aspect of the study (study design, data collection, analysis, or interpretation or writing of the manuscript).
Ethics declarations
Conflict of interest
None.
Ethics approval and consent to participate
This study has been approved by the Ethics Committee of the Alcorcón Foundation University Hospital.
Availability of data and materials
The study was performed using publicly available data as described in the text. The datasets used and analyzed during the current study are available from the original sources or from the corresponding author on reasonable request.
Electronic supplementary material
About this article
Cite this article
Mazzucchelli, R., Crespí-Villarías, N., Pérez-Fernández, E. et al. Weather conditions and their effect on seasonality of incident osteoporotic hip fracture. Arch Osteoporos 13, 28 (2018). https://doi.org/10.1007/s11657-018-0438-4
Received:

Accepted:

Published:

DOI: https://doi.org/10.1007/s11657-018-0438-4
Keywords