Abstract
Summary
The worldwide uptake of FRAX is described.
Introduction
The aim of this report was to determine the usage of FRAX worldwide over a 1-year period from 1 May 2012.
Methods
The number of FRAX calculations from each country was assessed over a 1-year period and expressed as calculations per million of the population aged 50 years or more. Countries were colour coded according to usage to populate a world map.
Results
Over the index year, there were estimated to be 2,391,639 calculations sourced from 173 counties. Uptake was high in North America, the Antipodes and most countries of Europe; intermediate in Latin America and the Middle East; and very low in Africa and much of South East Asia.
Conclusions
It is expected that the comparative data will encourage the development of new FRAX models and the uptake of FRAX into assessment guidelines.
This is a preview of subscription content, log in to check access.
Access options
Buy single article
Instant access to the full article PDF.
US$ 39.95
Price includes VAT for USA
Subscribe to journal
Immediate online access to all issues from 2019. Subscription will auto renew annually.
US$ 99
This is the net price. Taxes to be calculated in checkout.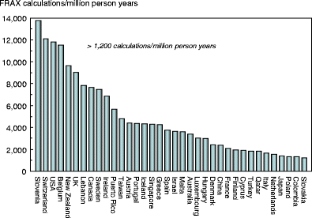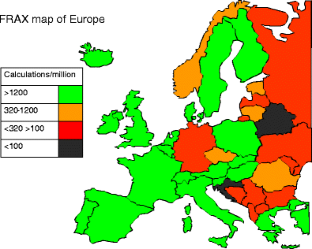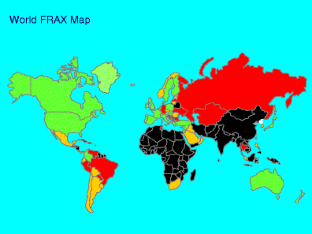 References
1.

Kanis JA, Johnell O, Oden A, Johansson H, McCloskey EV (2008) FRAX™ and the assessment of fracture probability in men and women from the UK. Osteoporos Int 19:385–397

2.

Kanis JA on behalf of the World Health Organization Scientific Group (2008) Assessment of osteoporosis at the primary health-care level. Technical report. WHO Collaborating Centre, University of Sheffield, Sheffield. http://www.shef.ac.uk/FRAX/pdfs/WHO_Technical_Report.pdf. Accessed May 2013

3.

Kanis JA, Oden A, Johnell O et al (2007) The use of clinical risk factors enhances the performance of BMD in the prediction of hip and osteoporotic fractures in men and women. Osteoporos Int 18:1033–1046

4.

Kanis JA, McCloskey EV, Johansson H, Cooper C, Rizzoli R, Reginster J-Y, on behalf of the Scientific Advisory Board of the European Society for Clinical and Economic Aspects of Osteoporosis and Osteoarthritis (ESCEO) and the Committee of Scientific Advisors of the International Osteoporosis Foundation (IOF) (2013) European guidance for the diagnosis and management of osteoporosis in postmenopausal women. Osteoporos Int 24:23–57

5.

Lekawasam S, Adachi JD, Agnusdei D, for the Joint IOF-ECTS GIO Guidelines Working Group et al (2012) A framework for the development of guidelines for the management of glucocorticoid-induced osteoporosis. Osteoporos Int 23:2257–2276

6.

UN (2010) Population Division of the Department of Economic and Social Affairs of the United Nations Secretariat (2010) World Population Prospects: the 2010 revision. http://esa.un.org/unpd/wpp/index.htm. Accessed 16 May 2013

7.

Central Intelligence Agency (2013) The world fact book. https://www.cia.gov/library/publications/the-world-factbook/geos/tw.html. Accessed May 2013

8.

Kanis JA, Borgström F, Compston J, Dreinhofer K, Nolte E, Jonsson L, Lems W, McCloskey EV, Rizzoli R, Stenmark J, Sundseth H (2013) SCOPE: a scorecard for osteoporosis in Europe. Arch Osteoporos 8:114

9.

Kanis JA, Odén A, McCloskey EV, Johansson H, Wahl D, Cyrus Cooper C, on behalf of the IOF Working Group on Epidemiology and Quality of Life (2012) A systematic review of hip fracture incidence and probability of fracture worldwide. Osteoporos Int 23:2239–2256

10.

Odén A, McCloskey EV, Johansson H, Kanis JA (2013) Assessing the impact of osteoporosis on the burden of hip fractures. Calcif Tissue Int 92:42–49

11.

Dachverband Osteologie e.V (2011) DVO guideline 2009 for prevention, diagnosis and therapy of osteoporosis in adults. Osteologie 20: 55–74. http://www.schattauer.de/en/magazine/subject-areas/journals-a-z/osteology/contents/archive/issue/special. Accessed May 2012

12.

Hippisley-Cox J, Coupland C (2012) Derivation and validation of updated QFracture algorithm to predict risk of osteoporotic fracture in primary care in the United Kingdom: prospective open cohort study. BMJ 344:e3427

13.

Dutch Institute for Healthcare Improvement (CBO) (2011) Richtlijn Osteoporose en fractuurpreventie, derde herziening. Utrecht: CBO

14.

Nguyen ND, Frost SA, Center JR, Eisman JA, Nguyen TV (2008) Development of prognostic nomograms for individualizing 5-year and 10-year fracture risks. Osteoporos Int 19:1431–1444
Additional information
Members of the Epidemiology and Quality of Life Working Group of IOF are J.A. Kanis, C. Cooper, J. Adachi, F. Borgström, P. Clark, S. Cummings, M. Diaz-Curiel, H.P. Dimai, N. Harvey, M. Hiligsmann, E. Lau, M. Lewiecki, P. Lips, R. Lorenc, E. McCloskey, S. Ortolani, A. Papioannou, S. Silverman, M. Sosa, P. Szulc, and N.Yoshimura.
Appendix
Appendix
About this article
Cite this article
Kanis, J.A., Johansson, H., Oden, A. et al. Worldwide uptake of FRAX. Arch Osteoporos 9, 166 (2014). https://doi.org/10.1007/s11657-013-0166-8
Received:

Accepted:

Published:
Keywords
FRAX

Fracture risk assessment