Abstract
Summary
This article estimates the present and future burden of postmenopausal osteoporosis in France in women aged 50 years and over.
Methods
We adapted an existing model developed for Sweden to France. For each year of the study from 1970 to 2020, the 'incident cohort' (women experiencing a first osteoporotic fracture) was identified and run through a Markov model using annual cycles. Health states were based on the number of fractures (hip, vertebral, non-hip non-vertebral) and deaths. Transition probabilities reflected fracture site-specific risks of subsequent fractures and of death. Country-specific model inputs included population size and life tables from 1970 to 2020 and incidence of hip fracture.
Results
The model estimated that the number of postmenopausal osteoporotic women was expected to increase from 3.0 million to 3.4 million between 2010 and 2020 (+15.3 %). Assuming that the incidence of fracture by age group does not change over time, the model predicted that the overall number of osteoporotic fractures would increase from 204,234 fractures in 2010 to 241,261 in 2020 (+18.1 %), hip (20.3 %), vertebral (19.0 %) and non-hip non-vertebral fractures (17.0 %).
Conclusion
The aging of the population is expected to drive a marked increase in the prevalence of osteoporosis and in the number of osteoporotic fractures. These data may assist future planning for appropriate heath care provision.
Access options
Buy single article
Instant access to the full article PDF.
US$ 39.95
Tax calculation will be finalised during checkout.
Subscribe to journal
Immediate online access to all issues from 2019. Subscription will auto renew annually.
US$ 79
Tax calculation will be finalised during checkout.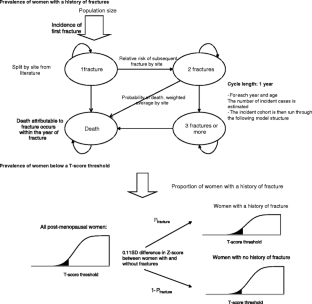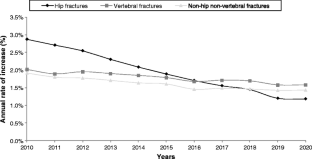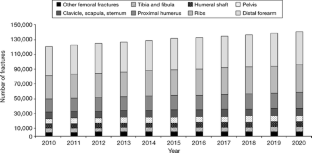 References
1.

Anonymous (1993) Consensus development conference: diagnosis, prophylaxis, and treatment of osteoporosis. Am J Med 94:646–650

2.

Kanis JA on behalf of the World Health Organisation Scientific Group (2007) Assessment of osteoporosis at the primary health care level. World Health Organisation Collaborating Center for Metabolic Bone diseases University of Sheffield, UK. Available at. http://www.shef.ac.uk/FRAX/pdfs/WHO_Technical_Report.pdf

3.

Programme National Nutrition Santé (PNNS) (2010) Rapport du Haut Comité de santé Publique : "Pour une politique nutritionnelle de santé publique en France". DREES

4.

Maravic M, Taupin P, Landais P, Roux C (2011) Change in hip fracture incidence over the last 6 years in France. Osteoporos Int 22:797–801

5.

Maravic M, Le BC, Landais P, Fardellone P (2005) Incidence and cost of osteoporotic fractures in France during 2001. A methodological approach by the national hospital database. Osteoporos Int 16:1475–1480

6.

Gauthier A, Kanis JA, Martin M, Compston J, Borgstrom F, Cooper C, McCloskey E (2010) Development and validation of a disease model for postmenopausal osteoporosis. Osteoporos Int 22:771–780

7.

World Health Organisation (1994) Assessment of fracture risk and its application to screening for postmenauposal osteoporosis. World Health Organisation, Geneva Technical Report series no. 843:1–129

8.

Melton LJ III, Thamer M, Ray NF, Chan JK, Chesnut CH III, Einhorn TA, Johnston CC, Raisz LG, Silverman SL, Siris ES (1997) Fractures attributable to osteoporosis: report from the National Osteoporosis Foundation. J Bone Miner Res 12:16–23

9.

Kanis JA, Oden A, Johnell O, Jonsson B, De LC, Dawson A (2001) The burden of osteoporotic fractures: a method for setting intervention thresholds. Osteoporos Int 12:417–427

10.

Kanis JA, Oden A, Johnell O, De LC, Jonsson B, Oglesby AK (2003) The components of excess mortality after hip fracture. Bone 32:468–473

11.

Kanis JA, Oden A, Johnell O, De LC, Jonsson B (2004) Excess mortality after hospitalisation for vertebral fracture. Osteoporos Int 15:108–112

12.

Anonymous (2009) Institut National de la Statistique et des Etudes Economiques. http://www.insee.fr/fr/themes/detail.asp?ref_id=ir-sd2006&page=irweb/sd2006/dd/sd2006_population.htm

13.

Anonymous (2009) Institut National des Edudes Demographiques. http://www.ined.fr/cdrom_vallin_mesle/Donnees-de-base/Populations/Tableau-I-C-1.xls

14.

Couris CM, Chapurlat RD, Kanis JA, Burlet N, Delmas PD, Schott AM (2012) FRAX probabilities and risk of major osteoporotic fracture in France. Osteopooros Int 23:2321–7

15.

Stevenson M, Jones ML, De NE, Brewer N, Davis S, Oakley J (2005) A systematic review and economic evaluation of alendronate, etidronate, risedronate, raloxifene and teriparatide for the prevention and treatment of postmenopausal osteoporosis. Health Technol Assess 9:1–160

16.

Klotzbuecher CM, Ross PD, Landsman PB, Abbott TA III, Berger M (2000) Patients with prior fractures have an increased risk of future fractures: a summary of the literature and statistical synthesis. J Bone Miner Res 15:721–739

17.

Kanis JA, Johnell O, Oden A, Sembo I, Redlund-Johnell I, Dawson A, De LC, Jonsson B (2000) Long-term risk of osteoporotic fracture in Malmo. Osteoporos Int 11:669–674

18.

Marshall D, Johnell O, Wedel H (1996) Meta-analysis of how well measures of bone mineral density predict occurrence of osteoporotic fractures. BMJ 312:1254–1259

19.

Kanis JA, Johnell O, De LC, Johansson H, Oden A, Delmas P, Eisman J, Fujiwara S, Garnero P, Kroger H, McCloskey EV, Mellstrom D, Melton LJ, Pols H, Reeve J, Silman A, Tenenhouse A (2004) A meta-analysis of previous fracture and subsequent fracture risk. Bone 35:375–382

20.

Looker AC, Wahner HW, Dunn WL, Calvo MS, Harris TB, Heyse SP, Johnston CC Jr, Lindsay R (1998) Updated data on proximal femur bone mineral levels of US adults. Osteoporos Int 8:468–489

21.

Haute Autorité de la Santé (2006) Prévention, diagnostic et traitement de l'ostéoporose. Haute Autorité de la Santé

22.

Cooper C, Cole ZA, Holroyd CR, Earl SC, Harvey NC, Dennison EM, Melton LJ, Cummings SR, Kanis JA (2011) Secular trends in the incidence of hip and other osteoporotic fractures. Osteoporos Int 22:1277–1288

23.

Gullberg B, Johnell O, Kanis JA (1997) World-wide projections for hip fracture. Osteoporos Int 7:407–413

24.

Melton LJ III, Kanis JA, Johnell O (2005) Potential impact of osteoporosis treatment on hip fracture trends. J Bone Miner Res 20:895–897

25.

Kanis JA, Hans D, Cooper C, Baim S, Bilezikian JP, Binkley N, Cauley JA, Compston JE, Dawson-Hughes B, El-Hajj FG, Johansson H, Leslie WD, Lewiecki EM, Luckey M, Oden A, Papapoulos SE, Poiana C, Rizzoli R, Wahl DA, McCloskey EV (2011) Interpretation and use of FRAX in clinical practice. Osteoporos Int 22:2395–2411
Acknowledgments
This study was supported by the International Osteoporosis Foundation and funded by Amgen (Europe) GmbH. The authors thank Dr. Matthew Gitlin and Valérie Tochon from Amgen (Europe) GmbH for their involvement in this project and Professor Alistair McGuire from the London School of Economics for his advice on the model development. Funds were provided by Amgen (Europe) GmbH and GlaxoSmithKline to Bioscript Stirling for minor editing and styling support.
Conflicts of interest
This study was funded by Amgen SAS, Neuilly-sur-Seine, France. Consultant/advisory activities have been provided to Amgen SAS by Dr M Maravic (3M Conseils) and Prof P Fardellone. Prof J Compston has received grant funding from Osteotronix and Nycomed; received speaking and/or advisory fees from Novartis, Amgen, Servier, GSK, Gilead, Procter & Gamble/Sanofi Aventis, Eli Lilly, Merck Sharp & Dohme, Medtronic and Warner-Chilcott; and has provided consultancy to Novartis and Amgen. The work undertaken by Aline Gauthier, Hélène Cawston and Fredrik Borgstrom on the analysis and model development was done under contract to Amgen. Prof J Compston contributed to the design, interpretation of data, manuscript revision and final approval. Prof E McCloskey and Prof JA Kanis have no conflicts of interest with regard to this paper. Prof C Cooper has no declared conflicts of interest.
Additional information
Consultant/advisory activities: Dr M Maravic (3M Conseils) and Pr P Fardellone.
About this article
Cite this article
Cawston, H., Maravic, M., Fardellone, P. et al. Epidemiological burden of postmenopausal osteoporosis in France from 2010 to 2020: estimations from a disease model. Arch Osteoporos 7, 237–246 (2012). https://doi.org/10.1007/s11657-012-0102-3
Received:

Accepted:

Published:

Issue Date:
Keywords
Bone mineral density

Epidemiology

Fracture

France

Osteoporosis

T score