Abstract
Summary
This article describes the adaptation of a model estimating the burden of postmenopausal osteoporosis (PMO) to the UK.
Purpose
The purpose of this study was to estimate the present and future epidemiology of PMO in the UK.
Methods
For each year of the study, the 'incident cohort' (women experiencing a first osteoporotic fracture) was identified and run through a Markov model using 1-year cycles until 2020. Health states were based on the number of fractures and death. Fracture by site was tracked for each health state. Transition probabilities reflected fracture site-specific risk of death and subsequent fractures.
Results
Assuming that the rate of incident fractures by age is constant over time, the model estimated the total number of PMO fractures at 224,219 in 2010, including 51,927 hip and 30,994 clinical vertebral fractures. These estimates were predicted to increase by 17.2%, 16.6% and 17.9%, respectively, by 2020. The number of postmenopausal women living with osteoporosis was predicted to increase from 1.8 million in 2010 to 2.1 million in 2020 (+16.5%). A sensitivity analysis demonstrated that the estimated number of fractures is most sensitive to the assumption made on the trends in the rate of incidence.
Conclusion
The PMO disease model, first developed for Sweden, was adapted to the UK. Due to demographic changes, the burden of osteoporosis is expected to increase by almost a fifth by 2020. Due to the lack of country-specific data, these results rely on several assumptions regarding the incidence of non-hip fractures, trends in BMD and rate of incidence over time.
Access options
Buy single article
Instant access to the full article PDF.
US$ 39.95
Tax calculation will be finalised during checkout.
Subscribe to journal
Immediate online access to all issues from 2019. Subscription will auto renew annually.
US$ 79
Tax calculation will be finalised during checkout.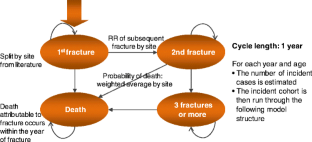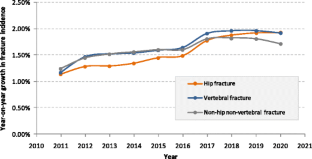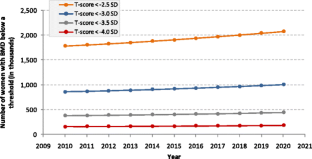 References
1.

[No authors listed] (1993) Consensus development conference: diagnosis, prophylaxis, and treatment of osteoporosis. Am J Med 94:646–650

2.

World Health Organization (1994) Assessment of fracture risk and its application to screening for postmenopausal osteoporosis. Technical Report Series no. 843. World Health Organization, Geneva, pp 1–129

3.

Kanis JA; on behalf of the World Health Organization Scientific Group (2007) Assessment of osteoporosis at the primary health-care level. Technical Report. World Health Organization Collaborating Centre for Metabolic Bone Diseases, University of Sheffield, UK

4.

van Staa TP, Dennison EM, Leufkens HG, Cooper C (2001) Epidemiology of fractures in England and Wales. Bone 29:517–522

5.

Department of Health and Human Services (2004) Bone Health and Osteoporosis: A Report of the Surgeon General. Department of Health and Human Services, Washington

6.

Lane NE (2006) Epidemiology, etiology, and diagnosis of osteoporosis. Am J Obstet Gynecol 194:S3–S11

7.

Keene GS, Parker MJ, Pryor GA (1993) Mortality and morbidity after hip fractures. BMJ 307(6914):1248–1250

8.

Kanis JA, Oden A, Johnell O, De Laet C, Jonsson B, Oglesby AK (2003) The components of excess mortality after hip fracture. Bone 32:468–473

9.

Kanis JA, Oden A, Johnell O, De Laet C, Jonsson B (2004) Excess mortality after hospitalisation for vertebral fracture. Osteoporos Int 15:108–112

10.

Burge R, Worley D, Johansen A, Bhattacharyya S, Bose U (2001) The cost of osteoporotic fractures in the UK: projections for 2000–2020. J Med Econ 4:51–62

11.

Johansen A, Evans RJ, Stone MD, Richmond PW, Lo SV, Woodhouse KW (1997) Fracture incidence in England and Wales: a study based on the population of Cardiff. Injury 28:655–660

12.

Gauthier A, Kanis JA, Martin M, Compston J, Borgström F, Cooper C, McCloskey E (2011) Development and validation of a disease model for postmenopausal osteoporosis. Osteoporos Int 22:771–780

13.

Melton LJ 3rd, Thamer M, Ray NF, Chan JK, Chesnut CH 3rd, Einhorn TA, Johnston CC et al (1997) Fractures attributable to osteoporosis: report from the National Osteoporosis Foundation. J Bone Miner Res 12:16–23

14.

Kanis JA, Oden A, Johnell O, Jonsson B, de Laet C, Dawson A (2001) The burden of osteoporotic fractures: a method for setting intervention thresholds. Osteoporos Int 12:417–427

15.

Kanis JA, Johnell O, De Laet C, Johansson H, Oden A, Delmas P, Eisman J et al (2004) A meta-analysis of previous fracture and subsequent fracture risk. Bone 35:375–382

16.

Looker AC, Wahner HW, Dunn WL, Calvo MS, Harris TB, Heyse SP, Johnston CC Jr et al (1998) Updated data on proximal femur bone mineral levels of US adults. Osteoporos Int 8:468–489

17.

Klotzbuecher CM, Ross PD, Lansman PB, Abbott TA 3rd, Berger M (2000) Patients with prior fractures have an increased risk of future fractures: a summary of the literature and statistical synthesis. J Bone Miner Res 15:721–739

18.

Marshall D, Johnell O, Wedel H (1996) Meta-analysis of how well measures of bone mineral density predict occurrence of osteoporotic fractures. BMJ 312:1254–1259

19.

Kanis JA, Johnell O, Oden A, Sembo I, Redlund-Johnell I, Dawson A, De Laet C et al (2000) Long-term risk of osteoporotic fracture in Malmö. Osteoporos Int 11:669–674

20.

Office for National Statistics, General Register Office for Scotland, and Northern Ireland Statistics and Research Agency. http://www.statistics.gov.uk. Accessed 26 October 2007

21.

Government Actuary's Department, Projections database: 2006-based principal projections. http://www.gad.gov.uk/Demography%20Data/Population/index.aspx?y=2006&v=Principal. Accessed 20 October 2010

22.

Singer BR, McLauchlan GJ, Robinson CM, Christie J (1998) Epidemiology of fractures in 15,000 adults: the influence of age and gender. J Bone Joint Surg Br 80:243–248

23.

De Lusignan S, Valentin T, Chan T, Hague N, Wood O, van Vlymen J, Dhoul N (2004) Problems with primary care data quality: osteoporosis as an exemplar. Inform Prim Care 12:147–156

24.

NICE (National Institute for Clinical Excellence) (2008) Final appraisal determination. Alendronate, etidronate, risedronate, raloxifene and strontium ranelate for the primary prevention of osteoporotic fragility fractures in postmenopausal women. London. www.nice.org.uk. Accessed 16 November 2010

25.

Stevenson M, Jones ML, De Nigris E, Brewer N, Davis S, Oakley J (2005) A systematic review and economic evaluation of alendronate, etidronate, risedronate, raloxifene and teriparatide for the prevention and treatment of postmenopausal osteoporosis. Health Technol Assess 9:1–160

26.

Kanis JA, Adams J, Borgstrom F, Cooper C, Jonsson B, Preedy D, Selby P, Compston J (2008) The cost-effectiveness of alendronate in the management of osteoporosis. Bone 42:4–15

27.

Spector TD, Cooper C, Lewis AF (1990) Trends in admissions for hip fracture in England and Wales, 1968–85. BMJ 300:1173–1174

28.

Balasegaram S, Majeed A, Fitz-Clarence H (2002) Trends in hospital admissions for fractures of the hip and femur in England, 1989–1990 to 1997–1998. J Public Health Med 23:11–17

29.

Icks A, Haastert B, Wildner M, Becker C, Meyer G (2008) Trend of hip fracture incidence in Germany 1995–2004: a population-based study. Osteoporos Int 19:1139–1145

30.

Kannus P, Niemi S, Parkkari J, Palvanen M, Vuori I, Järvinen M (2006) Nationwide decline in incidence of hip fracture. J Bone Miner Res 21:1836–1838

31.

Brauer CA, Coca-Perraillon M, Cutler DM, Rosen AB (2009) Incidence and mortality of hip fractures in the United States. JAMA 302:1573–1579

32.

Leslie WD, O'Donnell S, Jean S, Lagacé C, Walsh P, Bancej C, Morin S et al (2009) Trends in hip fracture rates in Canada. JAMA 302:883–889

33.

Holt G, Khaw KT, Reid DM, Compston JE, Bhalla A, Woolf AD, Crabtree NJ et al (2002) Prevalence of osteoporotic bone mineral density at the hip in Britain differs substantially from the US over 50 years of age: implications for clinical densitometry. Br J Radiol 75:736–742

34.

Noon E, Singh S, Cuzick J, Spector TD, Williams FM, Frost ML, Howell A, Harvie M, Eastell R, Coleman RE, Fogelman I, Blake GM, IBIS-II Bone Substudy (2010) Significant differences in UK and US female bone density reference ranges. Osteoporos Int 21:1871–1880

35.

NICE (2008) National Institute for Clinical Excellence (NICE) technology appraisal guidance 160. Alendronate, etidronate, risedronate, raloxifene and strontium ranelate for the primary prevention of osteoporotic fragility fractures in postmenopausal women. http://www.nice.org.uk/TA160. Accessed 17 November 2010

36.

Kanis JA, McCloskey EV, Johansson H, Strom O, Borgstrom F, Oden A; National Osteoporosis Guideline Group Case finding for the management of osteoporosis with FRAX®—Assessment and intervention thresholds for the UK. Osteoporos Int 2008;19:1395–1408. Erratum Osteoporos Int 2009;20:499–502

37.

Compston J, Cooper A, Cooper C et al (2009) National Osteoporosis Guideline Group (NOGG). Guidelines for the diagnosis and management of osteoporosis in postmenopausal women and men from the age of 50 years in the UK. Maturitas 62:105–108

38.

World Health Organization (2004) Burden of disease in DALYs by cause, sex and mortality stratum in WHO regions, estimates for 2002. The World Health Report 2004: changing history. World Health Organization, Geneva, pp 126–131
Acknowledgements
This study was supported by the International Osteoporosis Foundation and funded by Amgen (Europe) GmbH. The authors thank Dr. Matthew Gitlin and Sean Robbins from Amgen (Europe) GmbH for their involvement in this project, and Professor Alistair McGuire from the London School of Economics for his advice on the model development. Funds were provided by Amgen (Europe) GmbH and GlaxoSmithKline to Bioscript Stirling for minor editing and styling support.
Conflicts of interest
J.A. Kanis, E. McCloskey, and C. Cooper have no conflicts of interest. J. Compston has received grant funding from Osteotronix and Nycomed; received speaking and/or advisory fees from Novartis, Amgen, Servier, GSK, Gilead, Procter & Gamble/Sanofi Aventis, Eli Lilly, Merck Sharp & Dohme, Medtronic and Warner-Chilcott; and has provided consultancy to Novartis and Amgen. The work undertaken by A. Gauthier, Y. Jiang, M. Martin and F. Borgstrom on the analysis and model development was done under contract to Amgen.
Electronic supplementary material
Below is the link to the electronic supplementary material.
About this article
Cite this article
Gauthier, A., Kanis, J.A., Jiang, Y. et al. Epidemiological burden of postmenopausal osteoporosis in the UK from 2010 to 2021: estimations from a disease model. Arch Osteoporos 6, 179–188 (2011). https://doi.org/10.1007/s11657-011-0063-y
Received:

Accepted:

Published:

Issue Date:
Keywords
Bone mineral density

Epidemiology

Fracture

Osteoporosis

T score

UK