Zusammenfassung
Derzeit leben knapp 4,5 Mio. Männer und Frauen mit bzw. nach einer Krebserkrankung in Deutschland. Durch verbesserte Überlebensraten nach Krebs werden Langzeit- und Späteffekte vermehrt in den Fokus der Nachsorge rücken. Allerdings fehlen bislang flächendeckende "Survivorship-Nachsorgeprogramme". Die vorliegende Übersichtsarbeit gibt einen Überblick über häufige Spät- und Langzeitfolgen. Angesichts der bislang fehlenden Evidenz von "Survivorship-Nachsorgeprogrammen" besteht Forschungsbedarf nicht nur im Hinblick auf die körperlichen, psychosozialen und beruflichen Langzeitfolgen, sondern auch im Hinblick auf die Entwicklung und Erprobung praktikabler und wirksamer Interventions- und Nachsorgeprogramme.
Abstract
There are currently almost 4.5 million cancer patients and cancer survivors living in Germany. Due to improved cancer survival prognoses, long-term and late effects will become increasingly important in follow-up care. However, comprehensive survivorship programs are still lacking. This review article provides an overview of common late and long-term sequelae after cancer. In view of the lack of evidence pertaining to survivorship programs, further research on long-term physical, psychosocial, and work-related consequences is essential, as is the development and testing of practical and effective intervention and aftercare programs.
This is a preview of subscription content, log in to check access.
Access options
Buy single article
Instant access to the full article PDF.
US$ 39.95
Price includes VAT for USA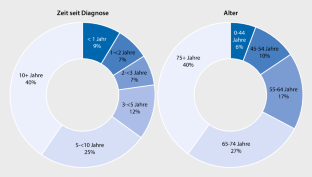 Literatur
1.

Alfano CM, Rowland JH (2006) Recovery issues in cancer survivorship: a new challenge for supportive care. Cancer J 12:432–443

2.

American Cancer Society (2019) Cancer treatment and survivorship facts & figures 2019–2021. American Cancer Society, Atlanta

3.

Arndt V (2019) "Cancer survivorship" in Deutschland – Epidemiologie und Definitionen. Forum 34:158–164

4.

Arndt V, Koch-Gallenkamp L, Bertram H et al (2019) Return to work after cancer. A multi-regional population-based study from Germany. Acta Oncol 58:811–818

5.

Arndt V, Koch-Gallenkamp L, Jansen L et al (2017) Quality of life in long-term and very long-term cancer survivors versus population controls in Germany. Acta Oncol 56:190–197

6.

Arndt V, Stegmaier C, Ziegler H et al (2006) A population-based study of the impact of specific symptoms on quality of life in women with breast cancer 1 year after diagnosis. Cancer 107:2496–2503

7.

Burke S, Wurz A, Bradshaw A et al (2017) Physical activity and quality of life in cancer survivors: a meta-synthesis of qualitative research. Cancers (Basel) 9(5):E53. https://doi.org/10.3390/cancers9050053

8.

Committee on Cancer Survivorship: Improving Care and Quality of Life NCPB, Institute of Medicine, National Research Council (2005) From cancer patient to cancer survivor: lost in transition. National Academies Press, Washington, D.C.

9.

de Boer AG, Taskila T, Ojajarvi A et al (2009) Cancer survivors and unemployment: a meta-analysis and meta-regression. JAMA 301:753–762

10.

Figueredo A, Rumble RB, Maroun J et al (2003) Follow-up of patients with curatively resected colorectal cancer: a practice guideline. BMC Cancer 3:26

11.

Ganz PA, Desmond KA, Leedham B et al (2002) Quality of life in long-term, disease-free survivors of breast cancer: a follow-up study. J Natl Cancer Inst 94:39–49

12.

Ligibel JA, Alfano CM, Courneya KS et al (2014) American society of clinical oncology position statement on obesity and cancer. J Clin Oncol 32:3568–3574

13.

Loconte NK, Brewster AM, Kaur JS et al (2018) Alcohol and cancer: a statement of the American society of clinical oncology. J Clin Oncol 36:83–93

14.

Macmillan Cancer Support (2013) Throwing light on the consequences of cancer and its treatment

15.

Manfredi S, Bouvier AM, Lepage C et al (2006) Incidence and patterns of recurrence after resection for cure of colonic cancer in a well defined population. Br J Surg 93:1115–1122

16.

Mayo Clinic Staff (2019) Cancer survivors: late effects of cancer treatment. https://www.mayoclinic.org/diseases-conditions/cancer/in-depth/cancer-survivor/art-20045524. Zugegriffen: 31. Dez. 2019

17.

Mehnert A (2011) Employment and work-related issues in cancer survivors. Crit Rev Oncol Hematol 77:109–130

18.

Mehnert A (2011) Psychosoziale Probleme von Langzeitüberlebenden einer Krebserkrankung. Onkologe 17:1143–1148

19.

Mehnert A, Brahler E, Faller H et al (2014) Four-week prevalence of mental disorders in patients with cancer across major tumor entities. J Clin Oncol 32:3540–3546

20.

Mehnert A, Hartung TJ, Friedrich M et al (2018) One in two cancer patients is significantly distressed: prevalence and indicators of distress. Psychooncology 27:75–82

21.

Mullan F (1985) Seasons of survival: reflections of a physician with cancer. N Engl J Med 313:270–273

22.

Ordonez-Mena JM, Walter V, Schottker B et al (2018) Impact of prediagnostic smoking and smoking cessation on colorectal cancer prognosis: a meta-analysis of individual patient data from cohorts within the CHANCES consortium. Ann Oncol 29:472–483

23.

Ramaswamy AT, Toll BA, Chagpar AB et al (2016) Smoking, cessation, and cessation counseling in patients with cancer: a population-based analysis. Cancer 122:1247–1253

24.

Robert Koch-Institut, Gesellschaft Der Epidemiologischen Krebsregister in Deutschland e. V. (2019) Krebs in Deutschland 2015/2016

25.

Schwedhelm C, Boeing H, Hoffmann G et al (2016) Effect of diet on mortality and cancer recurrence among cancer survivors: a systematic review and meta-analysis of cohort studies. Nutr Rev 74:737–748

26.

Shapiro CL (2018) Cancer survivorship. N Engl J Med 379:2438–2450

27.

Shapiro CL, Jacobsen PB, Henderson T et al (2016) ReCAP: ASCO core curriculum for cancer survivorship education. J Oncol Pract 12(145):e108–117

28.

Surbone A, Tralongo P (2016) Categorization of cancer survivors: why we need it. J Clin Oncol 34:3372–3374

29.

Thong MSY, Wolschon EM, Koch-Gallenkamp L et al (2018) "Still a cancer patient"-associations of cancer identity with patient-reported outcomes and health care use among cancer survivors. JNCI Cancer Spectr 2:pky31

30.

van der Heijden AG, Witjes JA (2009) Recurrence, progression, and follow-up in non-muscle-invasive bladder cancer. Eur Urol Suppl 8:556–562
Ethics declarations
Interessenkonflikt
V. Arndt gibt an, dass kein Interessenkonflikt besteht.
Dieser Beitrag beinhaltet unmittelbar keine Studien an Menschen oder Tieren.
Additional information
Redaktion
F. Overkamp, Berlin
About this article
Cite this article
Arndt, V. "Cancer survivorship". best practice onkologie (2020). https://doi.org/10.1007/s11654-020-00200-z
Schlüsselwörter
Psychische Anpassung

Langzeittumorüberlebende

Nachsorge

Langzeitnebenwirkungen

Gesundheitsbezogene Lebensqualität
Keywords
Psychological adaptation

Long-term cancer survivors

Aftercare

Long-term adverse effects

Health-related quality of life