Zusammenfassung
In der Diagnostik des Lungenkarzinoms nimmt die Histopathologie traditionell eine prominente Rolle ein. Diese hat in der letzten Zeit mit der Einführung individualisierter Therapiemöglichkeiten noch an Bedeutung gewonnen. Grundsätzlich werden Lungenkarzinome mittels konventioneller Histologie und Immunhistochemie gemäß den Leitlinien der Weltgesundheitsorganisation (WHO) klassifiziert. Für einzelne Entitäten in bestimmten Stadien ist die Bestimmung des tumorbiologischen Profils die Basis für eine leitliniengerechte Therapie im Rahmen der sog. individualisierten Therapie oder Präzisionsmedizin, bei der gezielt Veränderungen in intrazellulären Signalkaskaden therapeutisch beeinflusst werden oder versucht wird, tumorimmunologische Reaktionen des körpereigenen Immunsystems zu initiieren bzw. zu ermöglichen. Der Nachweis von Rezeptor-Überexpression, verschiedenen genetischen und epigenetischen Veränderungen (z. B. Inversionen, Translokationen, Methylierung etc.) in der Pathologie werden sich als Schlüsselinformationen für das Verständnis der individuellen Tumorbiologie und somit der Prädiktion des Therapieansprechens etablieren.
Abstract
Traditionally, tissue-based histopathological approaches play an outstanding role in the diagnostics of lung cancer. The importance of these methods has become even more important with the introduction of individualized treatment options. Lung cancer is basically classified following the World Health Organization (WHO) guidelines using conventional histology and immunohistochemistry. For individual entities in certain clinical stages, the evaluation of the tumor biological profile serves as the basis for the so-called individualized treatment or precision medicine where changes in the intracellular signal transduction mechanisms are the target of therapeutic efforts or the therapy tries to re-initiate immunogenic reactions of the autologous immune system against the tumor cells. The histopathologic overexpression of receptors as well as various genetic and epigenetic changes (e.g. inversion, translocation and methylation) are the key players for predictive approaches to uncover the individual tumor biology and to make treatment decisions.
This is a preview of subscription content, log in to check access.
Access options
Buy single article
Instant access to the full article PDF.
US$ 39.95
Price includes VAT for USA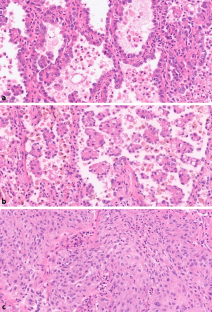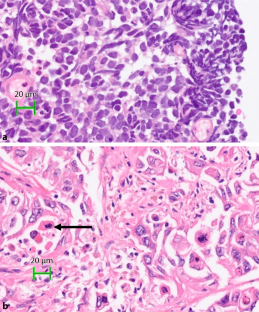 Literatur
1.

Griesinger F, Eberhardt W, Früh M et al (2018) DGHO-Empfehlung zur Diagnostik und Therapie hämatologischer und onkologischer Erkrankungen: Leitlinie ICD10: C34.-Lungenkarzinom, nicht-kleinzellig (NSCLC). www.onkopedia.com. Zugegriffen: 15. 5. 2019

2.

Gesellschaft der epidemiologischen Krebsregister in Deutschland e. V. (2016) Atlas der Krebsinzidenz und -mortalität in Deutschland (GEKID-Atlas). www.gekid.de. Zugegriffen: 15. 5. 2019

3.

Travis et al (Hrsg) (2015) WHO classification of tumours of the lung, pleura, thymus and heart, 4. Aufl.

4.

Harms A, Kriegsmann M, Fink F et al (2017) Die neue TNM-Klassifikation für Lungentumore. Pathologe 38(1):11–20. https://doi.org/10.1007/s00292-017-0268-y

5.

Marchevsky AM, Wick MR (2015) Diagnostic difficulties with the diagnosis of small cell carcinoma of the lung. Semin Diagn Pathol 32(6):480–488. https://doi.org/10.1053/j.semdp.2015.11.001

6.

Bubendorf L, Lantuejoul S, de Langen AJ et al (2017) Non small cell lung carcinoma: diagnostic difficulties in small biopsies and cytological specimens. Eur Respir Rev 26(144):1–15. https://doi.org/10.1183/16000617.0007-2017

7.

Herth FJ, Stenzinger A, Leichenring J (2018) Fortgeschrittenes nicht-kleinzelliges Lungenkarzinom (NSCLC) – Bedeutung der erweiterten molekularpathologischen Analytik für die Gewinnung von Gewebeproben. Onkologie 10:1–12

8.

Misch D, Blum T, Boch C et al (2015) Value of thyroid transcription factor (TTF)-1 for diagnosis and prognosis of patients with locally advanced or metastatic small cell lung cancer. Diagn Pathol 2:10–21. https://doi.org/10.1186/s13000-015-0250-z

9.

Bohle RM, Schnabel PA (2016) Grading of lung cancer. Pathologe 37(4):314–319. https://doi.org/10.1007/s00292-016-0175-7

10.

Griff S, Ammenwerth W, Schönfeld N et al (2011) Morphometrical analysis of transbronchial cryobiopsies. Diagn Pathol 6:53. https://doi.org/10.1186/1746-1596-6-53

11.

Scheel AH, Dietel M, Heukamp LC et al (2016) Harmonized PD-L1 immunohistochemistry for pulmonary squamous-cell and adenocarcinomas. Mod Pathol 29(10):1165–1172. https://doi.org/10.1038/modpathol.2016.117

12.

Žemaitis M, Musteikienė G, Miliauskas S et al (2018) Diagnostic yield of endobronchial ultrasound-guided transbronchial needle aspiration cytological smears and cell blocks: a single-institution experience. Medicina (Kaunas) 54(2). https://doi.org/10.3390/medicina54020019

13.

Sound Tsao M, Hirsch FR, Yatabe Y (Hrsg) (2017) IASLC Atlas of ALK and ROS1 Testing in Lung Cancer, 2. Aufl. (IASLC Publication)

14.

DiBardino DM, Saqi A, Elvin JA et al (2016) Yield and clinical utility of next-generation sequencing in selected patients with lung adenocarcinoma. Clin Lung Cancer S1525-7304(16):30133–30134. https://doi.org/10.1016/j.cllc.2016.05.017

15.

Sheikine Y, Rangachari D, McDonald DC et al (2016) EGFR Testing in Advanced Non-Small-Cell Lung Cancer, A Mini-Review. Clin Lung Cancer S1525-7304(16):30132–30132. https://doi.org/10.1016/j.cllc.2016.05.016

16.

Castellanos E, Feld E, Horn L (2017) Driven by mutations: the predictive value of mutation subtype in EGFR-mutated non-small cell lung cancer. J Thorac Oncol 12(4):612–623. https://doi.org/10.1016/j.jtho.2016.12.014

17.

Kobayashi Y, Azuma K, Nagai H et al (2017) Characterization of EGFR T790M, L792F, and C797S mutations as mechanisms of acquired resistance to Afatinib in lung cancer. Mol Cancer Ther 16(2):357–364. https://doi.org/10.1158/1535-7163.MCT-16-0407

18.

Lazzari C, Spitaleri G, Catania C et al (2014) Targeting ALK in patients with advanced non small cell lung cancer: biology, diagnostic and therapeutic options. Crit Rev Oncol Hematol 89(3):358–365. https://doi.org/10.1016/j.critrevonc.2013.09.003

19.

Teixidó C, Karachaliou N, Peg V et al (2014) Concordance of IHC, FISH and RT-PCR for EML4-ALK rearrangements. Transl Lung Cancer Res 3(2):70–74. https://doi.org/10.3978/j.issn.2218-6751.2014.02.02

20.

Lin JJ, Shaw AT (2016) Differential sensitivity to Crizotinib: Does EML4-ALK fusion variant matter? J Clin Oncol 34(28):3363–3365. https://doi.org/10.1200/JCO.2016.68.5891

21.

Drizou M, Kotteas EA, Syrigos N (2017) Treating patients with ALK-rearranged non-small-cell lung cancer: mechanisms of resistance and strategies to overcome it. Clin Transl Oncol 4. https://doi.org/10.1007/s12094-016-1605-y

22.

Warth A, Weichert W, Reck M, Reinmuth N (2015) ROS1-Translocations in non-small cell lung cancer. Pneumologie 69(8):477–482. https://doi.org/10.1055/s-0034-1392446

23.

Baik CS, Myall NJ, Wakelee HA (2017) Targeting BRAF-mutant non-small cell lung cancer: from molecular profiling to rationally designed therapy. Oncologist 22(7):786–796. https://doi.org/10.1634/theoncologist.2016-0458

24.

Gautschi O, Milia J, Filleron T et al (2017) Targeting RET in patients with RET-rearranged lung cancers: results from the global, Multicenter RET Registry. J Clin Oncol 35(13):1403–1410. https://doi.org/10.1200/JCO.2016.70.9352

25.

Scheel AH, Dietel M, Heukamp LC et al (2016) Predictive PD-L1 immunohistochemistry for non-small cell lung cancer: current state of the art and experiences of the first German harmonization study. Pathologe 37(6):557–567

26.

Remon J, Pardo N, Martinez-Martí A et al (2017) Immune-checkpoint inhibition in first-line treatment of advanced non-small cell lung cancer patients: current status and future approaches. Lung Cancer 106:70–75. https://doi.org/10.1016/j.lungcan.2017.02.002

27.

Sueoka-Aragane N, Katakami N, Satouchi M et al (2016) Monitoring EGFR T790M with plasma DNA from lung cancer patients in a prospective observational study. Cancer Sci 107(2):162–167. https://doi.org/10.1111/cas.12847

28.

Bundesverband Deutscher Pathologen e. V. Pressemitteilung vom 19.06.2016: Liquid Biopsy – Neue Methode der Pathologie zur Tumorverlaufskontrolle. http://www.pathologie.de/?eID=downloadtool&uid=1431
Ethics declarations
Interessenkonflikt
Gemäß der Richtlinien des Springer Medizin Verlags werden Autoren und Wissenschaftliche Leitung im Rahmen der Manuskripterstellung und Manuskriptfreigabe aufgefordert, eine vollständige Erklärung zu ihren finanziellen und nichtfinanziellen Interessen abzugeben.
Autoren
T. Mairinger: Finanzielle Interessen: Vorträge für Astra Zeneca, Roche, Boehringer und BMS im Rahmen von Fortbildungsveranstaltungen und Expertenmeetings | Die Honorare fließen in den Wissenschaftsfonds des Instituts. – Teilnahme an Advisory Boards für Lilly, Astra Zeneca, Roche, Boehringer und BMS im Rahmen von Fortbildungsveranstaltungen und Expertenmeetings | Die Honorare fließen in den Wissenschaftsfonds des Instituts. Nichtfinanzielle Interessen: Angestellt beim MVZ am HELIOS Klinikum Emil von Behring, Berlin, als Institutsleiter am Institut für Gewebediagnostik am MVZ am HELIOS Klinikum Emil von Behring, Berlin | Ärztlicher Leiter MVZ am HELIOS Klinikum Emil von Behring | Mitgliedschaften: Österreichische Gesellschaft für Pathologie, Berufsverband der deutschen Pathologen, Berliner Gesellschaft für Pathologie, European Society of Pathology, International Academy of Pathology, German Division.
Wissenschaftliche Leitung
Die vollständige Erklärung zum Interessenkonflikt der Wissenschaftlichen Leitung finden Sie am Kurs der zertifizierten Fortbildung auf www.springermedizin.de/cme.
Der Verlag
erklärt, dass für die Publikation dieser CME-Fortbildung keine Sponsorengelder an den Verlag fließen.
Für diesen Beitrag wurden von den Autoren keine Studien an Menschen oder Tieren durchgeführt. Für die aufgeführten Studien gelten die jeweils dort angegebenen ethischen Richtlinien.
CME-Fragebogen
CME-Fragebogen
Was spricht nicht für die Diagnose eines kleinzelligen Lungenkarzinoms (SCLC)?
Zahlreiche Apoptosen
Nukleäres Moulding
Chromatinschlieren
Zahlreiche Mitosen
Geringe Proliferationsrate
Wodurch ist der invasiv muzinöse Subtyp des Adenokarzinoms der Lunge charakterisiert?
Mikropapilläre Architektur und schlechte Prognose
Expression neuroendokriner Marker (mindestens 2)
Positivität für Zytokeratin 7 (CK7) und Thyroid Transcription Factor-1 (TTF-1)
Immunhistochemisches und morphologisches Profil eines Kolonkarzinoms
Breiter und nichtinvasiver Randsaum
In der Biopsie findet sich ein solider Tumor. Sie vermuten ein SqCC. Was ist der nächste Schritt?
Immunhistochemische Bestätigung der Entität
Bitte um eine Rebiopsie
PAS-Färbung (Periodsäure-Schiff-Reaktion) zum Nachweis von Schleimvakuolen
Molekulare Diagnostik zum Nachweis therapierbarer Treibermutationen
HER2/neu-Immunhistochemie
Der Pathologe beschreibt in der Biopsie einen Tumor mit neuroendokriner Morphologie, mit einer Mitose pro 2 mm2 und einer Proliferationsrate von 2 %. Wie ist dieser Befund am ehesten einzuordnen?
Großzellig neuroendokrines Karzinom, immunhistochemische Differenzierung notwendig
Kleinzelliges Bronchialkarzinom (SCLC); kombiniertes SCLC sollte ausgeschlossen werden
Großzellig-neuroendokrines Karzinom (LCNEC); Sicherung mittels PCR-basierter Sequenzierung
Atypisches Karzinoid
Karzinoid; sichere Bestimmung ob typisch oder atypisch erst im Resektat
Eine konventionelle Biopsie von 2 mm entspricht bei einem Tumordurchmesser von 2 cm …
1 Promille des Tumorvolumens.
3 Promille des Tumorvolumens.
5 Promille des Tumorvolumens.
7 Promille des Tumorvolumens.
9 Promille des Tumorvolumens.
Bei einem 58-jährigen Patienten wurde ein nicht-kleinzelliges Bronchialkarzinom (NSCLC) vom Pathologen befundet. Welche Form der Materialgewinnung ist hier am wenigsten geeignet, um eine Aussage über die Dignität des Tumors zu machen?
Bronchioalveoläre Lavage (BAL)
Endobronchialer Ultraschall (EBUS)
Zytologie exfoliativ
Zangenbiopsie
Stanzbiopsie
Eine Patientin hat nach bioptischem Befund ein Adenokarzinom der Lunge, nun soll ein tumorbiologisches Profil erstellt werden. Welche Informationen brauchen Sie, bevor Sie die Diagnostik einleiten?
Patientenalter
Klinisches Tumorstadium
TTF-1(Thyroid Transcription Factor-1)- und PD-L1-Status (programmed cell death ligand 1)
Proliferationsfraktion (Ki-67)
Rebiopsie zur Bestätigung der Tumorentität
Welche Tumorentität kann am Kryobiopsat nicht diagnostiziert werden?
Lepidisches Karzinom
Adenokarzinom
Kleinzelliges Bronchialkarzinom
Plattenepithelkarzinom
Metastase eines Mammakarzinoms
Welches Verfahren zur Bestimmung des tumorbiologischen Profils ist derzeit am ehesten geeignet, um den PD-L1-Rezeptor-Status nachzuweisen?
Fluoreszenz-in-situ-Hybridisierung (FISH)
Immunhistochemie (IHC)
RNA-Polymerasekettenreaktion (RNA-PCR)
DNA-Polymerasekettenreaktion (DNA-PCR)
Next Generation Sequenzing (NGS)
Welcher tumorbiologische Marker ist mit molekularen Methoden (Sequenzierung oder Fluoreszenz-in-situ-Hybridisierung) nicht bestimmbar?
EGFR-Mutation Exon 21
BRAF-Mutation
EML4ALK-Translokation
PD-L1-Expression
ROS1-Translokation
About this article
Cite this article
Mairinger, T. Histologie, Zytologie und Molekulardiagnostik des Lungenkarzinoms. best practice onkologie 15, 42–51 (2020). https://doi.org/10.1007/s11654-019-00196-1
Schlüsselwörter
Bronchialkarzinom

Histopathologie

Diagnostische Molekularpathologie

Präzisionsmedizin

Individualisierte Medizin
Keywords
Carcinoma, bronchial

Histopathology

Diagnostic molecular pathology

Precision medicine

Individualized medicine