Abstract
The present study deals with the detailed field geology, mineralogy, geochemistry, and spectrometric prospection of rare metals and radioactive minerals associated with granitic pegmatites in the Gabal Um Lassaf- Abu Dob- Um Atelia- Kadabora- Kab El Rakeb area (LDAKK), which are situated in the central Eastern Desert of Egypt. The study area is composed of granodiorites and monzogranites. The latter is dissected by granitic pegmatites with a discriminatory distribution of economically important mineralization (rare-metals and U–Th minerals). The granitic pegmatites display a zoning structure composed of feldspar-rich zones enveloping pockets of mica (mostly muscovite) and all zoning internal quartz core. Microscopically, the monzogranite and granitic pegmatites are composed of potash-feldspar, albite, and quartz with a small amount of biotite and muscovite. The mineralogical investigation of the highly radioactive zones in the granitic pegmatite shows enrichment in kasolite, uranothorite, thorite, xenotime, columbite, zircon, bismuth, and galena. Geochemically, the granitic pegmatites are enriched with high field strength elements (HFSE; Zr, Nb, Th, and U) and ion lithophilic elements (LILE; Rb, and Pb) and depleted in Ba, Sr, and Eu. They are strongly peralkaline to metalumainous except for two samples, which are peraluminous. They are formed by partial melting of metagreywackes at depth. The studied granitic pegmatites could belong to the NYF family (Niobium–Yttrium–Fluorine family) according to the geochemistry of the trace elements. The studied granitic pegmatites show deep negative Eu anomaly and display a strong M-type tetrad effect of rare earth elements. The field spectroscopy measurements showed the localization of the radiometric anomalous associated with the granitic pegmatites, which are intruded in the granitic host rocks. Their eU and eTh contents reached up to 316 and 1367 ppm, respectively. Uranium and thorium occurrences in the investigated granitic pegmatites are related to magmatic (syngenetic) origin with hydrothermal (epigenetic) input. The magmatic mineralization is evidenced by the occurrence of thorite and zircon, whilst the hydrothermal activity is represented by alteration of feldspars and formation of pyrite and iron oxides associated with the radioactive minerals. The high concentrations of uranium and rare metals mineralization in the investigated granitic pegmatites make them a target to exploration and to enlarge the potentiality of the highly mineralized zones.
Access options
Buy single article
Instant access to the full article PDF.
US$ 39.95
Tax calculation will be finalised during checkout.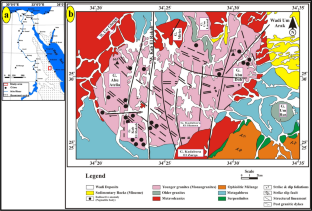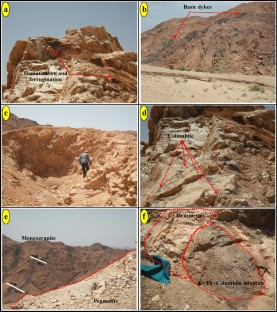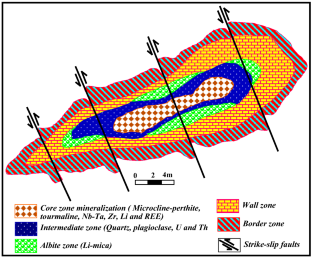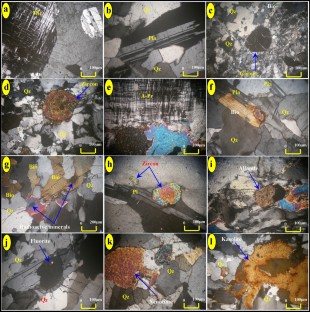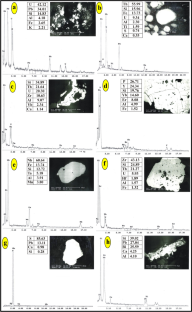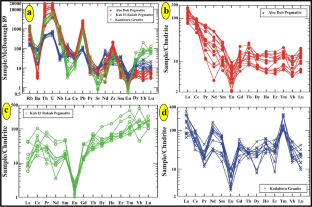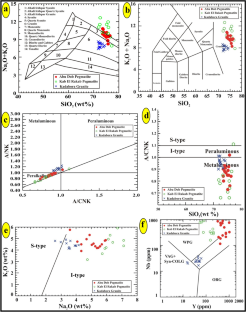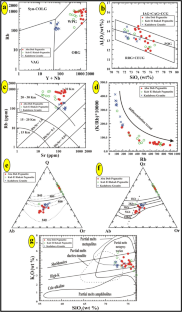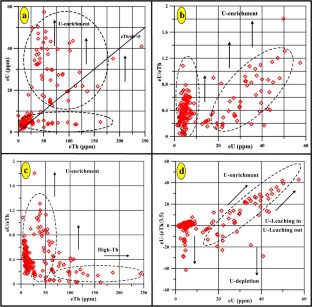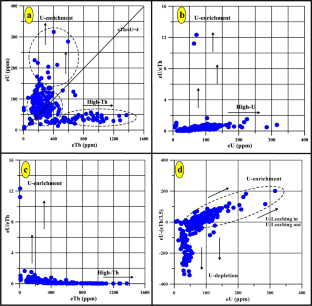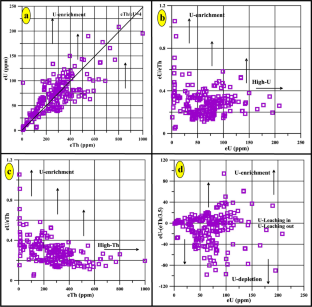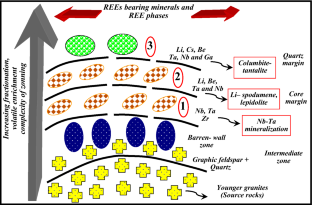 References
Abd El Naby HH, Saleh GM (2003) Radioelement distribution in the Proterozoic granites and associated pegmatites of Gabal El Fereyid area, southeastern Desert, Egypt. Appl Radiat Isot 59:289–299

Abdel-Karim AM (1999) REE-rich accessory minerals in granites from Southern Sinai, Egypt: mineralogical, geochemical and petrogenetic implications. In: The 4th international conference on geochemistry. Alexandria University, Egypt, pp 83–100

Abdelsalam MG, Abdel-Rahman ME, El-Faki EM, Bushra A, El-Bashier FM, Stern RJ, Thurmond A (2003) Neoproterozoic deformation in the northeastern part of the Saharan Metacraton, northern Sudan. Precambrian Res 123:203–221

Abu El-Ela AM, Salem IA (1999) Petrological and geochemical studies on the dyke swarms of the Kadabora granite pluton, Eastern Desert, Egypt. Ann Geol Surv Egypt XXI:47–63

Ahmed AA (2002) Geology, petrography and radioactivity of Kadabora district, Central Eastern Desert of Egypt. Geology. Aswan Faculty of Science, South valley. Ph.D. in Geology, p 180

Ali MA (2001) Geology, petrology and radioactivity of Gabal El-Sibai area, Central Eastern Desert, Egypt. Ph.D. Thesis. Cairo University, p 300

Ali MA, El-Sawey EH, Sadek AA (2008) Mineralogy and radioactivity of the zoned pegmatite bodies, gabal ateila granite, central Eastern Desert, Egypt. Sci J Fac Sci XXII:129–145

Asran AMH, El-Mansi MM, Ibrahim ME, Abdel Ghani IM (2013) Pegmatites of Gabal El Urf, Central Eastern Desert, Egypt. In: The seventh international conference on the geology of Africa. P-P IV-1 - IV-22, ASSIUT- EGYPT

Bahaa MA, Saleh GM, Dawoud MI, Shahin HA, Khaleal FM (2020) Rare metal distribution and mineralization potentiality of Pegmatites in Gabal El Fereyid Granite, South Eastern Desert, Egypt. Geochem Int 58(7):802–821. ISSN 0016–7029

Bau M (1996) Controls on the fractionation of isovalent trace elements in magmatic and aqueous system; evidence from Y/Ho, Zr/Hf and lanthanide tetrad effect. Contrib Mineral Petrol 123:323–333

Bentor YK (1985) The crustal evolution of the Arabo-Nubian Massif with special reference to the Sinai Peninsula. Precambrian Res 28(1):1–74

Boyle RW (1982) Geochemical prospecting for thorium and uranium deposits. Elsevier Publication Company, Amsterdam, p 498

Cambon AR (1994) Uranium deposits in granitic rocks. In: Notes on the national training course on uranium geology and exploration. Organized by International Atomic Energy Agency and Nuclear Material Authority, pp 8–20

Cerny P (ed) (1982) Anatomy and classification ofgranitic pegmatites. In: Granitic pegmatites in science and technology. Minera!Assoc Can, Winnipeg 8, pp 1–40

Cerny P (1991a) Rare-element granitic pegmatites. Part 1. Anatomy and internal evolution of pegmatite deposits. Geosci Can 18:49–67

Cerny P (1991b) Rare-element granitic pegmatites. Part II, Regional to global environments and petrogenesis. Geosci Can 18(2):68–81

Cerny P (2000) Constitution, petrology, affiliations and categories of miarolitic pegmatites. In: Memorie Della Societa Italiana Scienze Naturalie Del Museo Civicodi Storia Naturale Milano, XXX. pp 5–12

Cerny P, Ercit TS (2005) The classification of granitic pegmatites revisited. Can Mineral 43:2005–2026

Černý P, London D, Novak M (2012) Granitic pegmatites as reflections of their sources. Elements 8:289–294

Chappell BW, White AJR (1974) Two contrasting granite types. Pac Geol 8:173–174

China National Nuclear Corporation (1993) Research achievement from bureau of geology. Internal report, China, p 122

Clark SP, Petrman ZE, Heier KS (1966) Abundance of uranium, thorium and potassium. In: Clark Jr SP (ed) Handbook of physical constraints, vol 97. Section 24, Geological Society of American Bulletin, pp 521–541

Condie KC (1973) Archean magmatism and crustal thickening. Geol Soc Am Bull 84:2981–2991

Dawood NAM (1999) Geochemical and mineralogical studies of younger granites and Uranifereous pegmatites at G. Abu Dob, Central Eastern Desert, Egypt. M.Sc. Thesis, Mansoura Univ. Develop, Cairo, Abst, pp 6–7

Deer WA, Howie RA, Zussmann J (1992) An introduction to the rock forming minerals, 2nd edn. Longmans, London, p 696

Dill HG (2015) Pegmatites and aplites: their genetic and applied ore geology. Ore Geol Rev. https://doi.org/10.1016/j.oregeorev.2015.02.022

Dixon TH (1979) Evolution of continental crust in the Late Precambrian Egyptian Shield. California Univ, San Diego

El Aassy IE, Shazly AG, Hussein HA, Heikal MTS, El Gaby MM (1997) Pegmatites of nubeiba-dahab area, west gulf of aqaba, sinai, Egypt: field aspcts, mineralogy, geochemistry and radioactivity. In: The 3rd conference on geochemistry, September 3–4, 1997, Alexandria, Egypt

El Galy MM (2007) Mobilization of some radioelements and its implication on their favorability, case study on selected granitic plutons, Central Eastern Desert, Egypt. Sci J Fac Sci 21:19–38

El Nahas HA, El Feky MG, Mira H (2001) Mineralogy, M-type tetrad effect and radioactivity of altered granites at the G. Abu Garadi shearzone, central Eastern Desert, Egypt. Chin J Geochem 30:153–164

El-Gaby S (1994) Geologic and tectonic framework of the Pan-African orogenic belt in Egypt. In: Proceedings of the second international conference on the geology of the Arab World. Cairo University

El-Mahallawi MM (1989) Petrological and geochemistry of some Egyptian granitic rocks from the central Eastern Desert, Egypt. Egypt J Geol 33:47–69

El-Sayed NM (1998) Tectonic setting and petrogenesis of the Kadabora pluton: a late Proterozoic anorogenic A-type younger granitoids in the Egyptian shield. Chem Erde 58:38–63

Fersmann AE (1931) Über die geochemisch-genetische Klassifikation der Granitpegmatite. Mineral Petrogr Mitt 41:64–83

Fetherston JM (2004) Tantalum in Western Australia: Western Australia Geological Survey. Mineral Resour Bull 22:162

Fowler A, El-Kalioubi B (2004) Gravitational collapse origin of shear zones, foliations and linear structures in the Neoproterozoic cover nappes, Eastern Desert, Egypt. J Afr Earth Sci 38:23–40

Fullager PD (1980) Pan-African age granites of northern Africa: new or reworked Sialic materials. In: Salem MJ, Busrewil MT (eds) Geology of Libya, second symposium on the geology of Libya. Academic Press, London, pp 1051–1058

Gerdes A, Worner G, Henk A (2000) Post collisional granite generation and HT–LP metamorphism by radiogenic heating: the Variscan South Bohemian Batholith. J Geol Soc Lond 157:577–587

Habib M (1987) Microplate accretion model for the Pan-African basement between Qena-Safaga and Qift-Quseir roads, Egypt. Bull Fac Sci Assiut Univ C Biol Geol 16(1):199–239

Hansink ID (1976) Equilibrium analysis of sandstone rolls front uranium deposits. In: Proceedings international symptosium on exploration of uranium deposits. Atomic Agency, Vienna, pp 683–693

Heikal MThS, Moharem AF, El Nashar ER (2001) Petrogenesis and radioactive inspection of Li-mica pegmatites at Wadi Zareib, central Eastern Desert, Egypt. In: The second international conference on the geology of Africa, Assiut, Oct. 2001, vol. II. pp 227–305

Heikal MTS, Khedr MZ, Abd El Monsef M, Gomaa SR (2019) Petrogenesis and geodynamic evolution of neoproterozoic Abu Dabbab albite granite, central Eastern Desert of Egypt: petrological and geochemical constraints. J Afr Earth Sci 158:103518

Heinrich EW (1958) Mineralogy and geology of radioactive raw materials. McGraw Hill Comp, New York, p 654

Hermann AG (1970) Yttrium and lanthanides. In: Wedepohl KH (ed) Handbook of geochemistry. Springer, New York, pp 39–57

Hussein AH (1978) Lecture course in nuclear geology. NMA, Egypt, p 101

Ibrahim ME, Shalaby MH, Ammar SE (1997) Preliminary studies on some uranium and thorium bearing pegmatites at G. Abu Dob, Central Eastern Desert, Egypt. Proc Egypt Acad Sci 47:173–188

Ibrahim ME, Saleh GM, Abd El-Naby HH (2001) Uranium mineralization in the two mica granite of gabal ribdab, south Eastern Desert, Egypt. J Appl Radiat Isot 55(6):123–134

Irber W (1999) The lanthanide tetrad effect and its correlation with K/Rb, Eu/Eu*, Sr/ Eu, Y/Ho and Zr/Hf of evolving peraluminous granite suites. Geochem Cosmochim Acta 63(3):489–508

Khaleal FM (2014) Granites of Gabal El-Dob area and associated pegmatites, Central Eastern Desert, Egypt: geochemistry and spectrometry. Nucl Sci Sci J 3:15–25

Kröner A, Correia H (1980) Continuation of the Pan African Damara Belt into Angola; a proposed correlation of the Chela Group in southern Angola with the Nosib Group in northern Namibia/SWA. Geol Soc S Afr Trans 83:5–16

Kudryashov, NMA, Voloshin, V, Udoratina OV (2017) High Hf zircon from rare metal pegmatites from the Vasin Mylk deposit (Kola region, Russia), (Conference on Accessory Minerals)

Le Maitre RW, Bateman P, Dudek A, Keller J, Lameyre Le Bas MJ, Sabine PA, Schmid R, Sorensen H, Streckeisen A, Wooley AR, Zanettin B (1989) A classification of igneous rocks and glossary of terms. Blackwell, Oxford

Lee SG, Masuda A, Kim HS (1994) An Early Proterozoic leuco granitic gneiss with the REE tetrad phenomenon. J Chem Geol 114:59–67

Linnen RL, Van Litchervelde M, Černý P (2012) Granitic pegmatites as sources of strategic metals. Elements 8:275–280

London D (2008) Pegmatites. the Canadian mineralogist special. Publication 10:347

Luth WC, Jahns RH, Tuttle OF (1964) The granite system at pressures of 4 to 10 kilobars. J Geophys Res 69:759–773

Makagon VM (2007) Evolution of Nb, Ta-oxide mineralization in rare-metal pegmatites of the East Sayan belt, Siberia, Russia. In: Granitic pegmatites: the state of the art—International symposium. 06th-12th, Porto, Portugal

Maniar PD, Piccoli PM (1989) Tectonic discrimination of granitoids. Geol Soc Am Bull 101:635–643

Masuda A, Kawakami O, Dohmoto Y, Takenaka T (1987) Lanthanide tetrad effects in nature: two mutually opposite types, W and M. Geochem J 21:119–124

Meshram RR, Shareef M (2019) Geology and Genesis of pegmatites of Parseoni areas in Sausar Mobile Belt, Nagpur district, Central India. Indian J Geosci 73(2):119–130

Middlemost EAK (1989) Iron oxidation ratios, norms and the classification of volcanic rocks. Chem Geol 77:19–26

Monecke T, Kempe U, Monecke J, Sala M, Wolf D (2002) Tetrad effect in rare earth element distribution patterns: a method of quantification with application to rock and mineral samples from granite-related rare metal deposits. Gechim Cosmochim Acta 66:1185–1196

Moore JM (1979) Tectonics of the Najd transcurrent fault system, Saudi Arabia. J Geol Soc 136(4):441–452

Naumov GB (1959) Transportation of uranium in hydrothermal solution as carbonate. Geochemistry 1:5–20

Omar SA (1995) Geological and geochemical features of the radioactive occurrences South G. Um Anab Granitic Masses, Eastern Desert, Egypt. M.Sc. Thesis. Cairo University, p 164

Pagel M (1982) The mineralogy of uranium, thorium and rare-earth elements in two radioactive granites of the Vosges, France. Mineral Mag 46:151–163

Pearce JA, Harris NBW, Tindle G (1984) Trace elements discrimination diagram for the tectonic interpretation of granitic rocks. J Petrol 25:956–998

Pupin JP, Turco G (1979) Typologie de zircon accessoire dans les roches plutonique dioritiques, granitiques et syénitiques. Facteures essentiets déterminant les variations typologiqueas. Pétrologie 1:139–156

Ressetar R, Monrad J (1983) Chemical composition and tectonic setting of the Dokhan Volcanic formation, Eastern Desert, Egypt. J Afr Earth Sci 1(2):103–112

Rogers JJW, Adams JAS (1969) Uranium and thorium. In: Wedepohl KH (ed) Handbook of geochemistry. Springer, New York, pp 92-B-1-92-C–10

Saleh GM, Afify AM, Emad BM, Dawoud MI, Shahin HA, Khaleal FM (2019) Mineralogical and geochemical characterization of radioactive minerals and rare earth elements in granitic pegmatites at G. El Fereyid, South Eastern Desert, Egypt. J Afr Earth Sci 160:103651

Salem IA, Heikal MTS, Ashmawy MH (1998) Rod Ashab mica-bearing pegmatite, Eastern Desert, Egypt: a model for the derivation of anatexis. In: Proceedings of 1st symposium "geology of the pre-cretaceous and development in Egypt". Zagazig, pp 1–26

Schutte IC (1972) The main pegmatites of the area between Steinkopf, Vioolsdrif and Goodhouse, Namaqualand. Memoir of Geological Survey of South Africa 60, p 19

Simpson JH, Edelsten DJ, Edwards A, Morris NCG, Tett PB (1979) The Islay front: physical structure and phytoplankton distribution. Estur Coast Mar Sci 9:713–726

Stern RJ (1985) The Najd fault system, Saudi Arabia and Egypt: a Late Precambrian rift-related transform system. Tectonics 4(5):497–511

Stern RJ, Hedge CE (1985) Geochronological and isotropic constrainsts on late-precambrian crustal evolution in the Eastern Desert of Egypt. Am J Soc 285:97–127

Stern RJ, Sellers G, Gottfried D (1988) Bimodal dyke swarms in the North Eastern Desert of Egypt: significance for the origin of Late Precambrian "A-type" granites in northern Afro-Arabia. In: El Gaby S, Greiling RO (eds) The Pan-African belt of northeast Africa and adjacent areas. Vieweg, Weisbaden, pp 147–177

Stuckless JS, Ferriera CP (1976) Labile uranium in granitic rocks. In: Exploration for uranium ore deposited. Atomic Energy Agency, Vienna, pp 717–730

Stuckless JS, Bunker CM, Bush CA, Doering WP, Scott JII (1977) Geochemical and petrologic studies of a uraniferous granites of the Granite Mountains, Wyoming. GUS Geol Surv J Res 5:61–81

Stuckless JS, Nkomo IT, Wenner DB, Van Trump G (1984) Geochemistry and uranium favourability of the post-orogenic granites of the northeastern Arabian Shield, Kingdome of Saudi Arabia. Bull Fac Earth Sci 6:195–209

Sun SS, McDonough WF (1989) Chemical and isotopic systematics of oceanic basalts: Implications for mantle composition and processes. In: Saunders AD, Norry MJ (eds) Magmatism in the ocean basins, vol 42. Geological Society, London, pp 313–345

Takahashi Y, Yoshida H, Sato N, Hama K, Yusa Y, Shimizu H (2002) W- and M-type tetrad effects in REE patterns for water–rock systems in the Tono uranium deposit, central Japan. Chem Geol 184:311–335

Taylor SR, McLennan SM (1985) The continental crust: its composition and evolution. Blackwell, Oxford, p 312

Tuttle OF, Bowen WL (1958) Origin of granite in the light of experimental studies in the system NaAlSi3O8-KAlSi3O8-SiO2-H2O. Geol Soc Am Mem 74:153

Watson EB (1979) Zircon saturation in felsic liquids: Experimental results and applications to trace element geochemistry. Contrib Mineral Petrol 70:407–419

Yousef AM, Hassan AM, Mohamed MA (2009) Integration of remote sensing data with the field and laboratory investigation for lithological mapping of granitic phases: Kadabora pluton, Eastern Desert, Egypt. Arab J Geosci 2:69–82

Yuhara M, Miyazaki T, Kagami H (2003) Rb-Sr and K-Ar gheochemistry and petrogenesis of the Aji Granite in the eastern Sanuki district, Ryoke Belt, South West Japan. J Mineral Petrol Sci 98:19–30

Zhenhua Z, Masuda A, Shabani MB (1993) REE tetrad effects in rare-metal granites. Chin J Geochem 12:206–219
Acknowledgements
The authors sincerely thank Prof. M. H. Shalaby and Prof. M. E. Ibrahim for his valuable and constructive comments, NMA, Cairo, Egypt for their assistance in the field work. The authors would like to thank the anonymous reviewers for their comments that help improve this manuscript significantly.
About this article
Cite this article
Saleh, G.M., Emad, B.M. & Abdel Kader, I.B. Geochemistry and spectrometric prospection of younger granites and granitic pegmatites bearing uranium mineralization at G. Kab El Rakeb area, Central Eastern Desert, Egypt. Acta Geochim (2021). https://doi.org/10.1007/s11631-021-00456-4
Received:

Revised:

Accepted:

Published:
Keywords
Geochemistry

Gabal Um Lassaf- Abu Dob- Um Atelia- Kadabora- Kab El Rakeb area (LDAKK)

Uranium

REE

Egypt