Abstract
Rocky desertification has become a major environmental issue in the karst region of southwestern China. Karst rocky desertification was more severe in regions of limestone soil than in adjacent regions of other soils, despite the relatively higher soil organic matter (SOM) content in limestone soil. The underlying mechanism remains ambiguous. We speculated that the geochemical characteristics of limestone soils in the karst region plays an essential role, especially the high calcium content of limestone soil. To test this hypothesis, we collected limestone soil samples from a limestone soil profile in the southwestern China karst region and extracted humic acid (HA) from these limestone soil samples. We investigated the interaction of Ca2+ and three HA samples on a joint experimental platform, which consists of an automatic potentiometric titrator, a UV–visible spectrometer, and a Fluorescence spectrometer. HA solutions were titrated by Ca2+ and optical spectra of the HA solutions were monitored during the titration experiments. The results indicated that: (1) the interaction of Ca2+ and HA is a combined process of adsorption and complexation. Adsorption dominated the overall distribution behavior of Ca2+, which could be fit by Langmuir and Freundlich isotherm models. Complexation was distinguished only when the concentration of Ca2+ is low; (2) the changes of UV–visible spectroscopy and excitation–emission matrix fluorescence spectroscopy spectra of HA samples when they were binding with Ca2+ implied the apparent molecular size and structure of HA became larger and more complex; (3) the combination of Ca2+ and HA plays an important role in the SOM preservation of limestone soils but the stability of the Ca–HA association was relatively weak. The present study draws attention to maintaining the relatively higher Ca2+ concentration in limestone soils in ecologic restoration attempts in karst regions.
Access options
Buy single article
Instant access to the full article PDF.
US$ 39.95
Tax calculation will be finalised during checkout.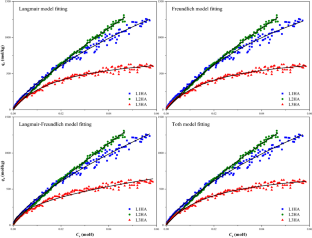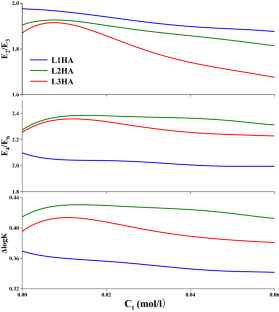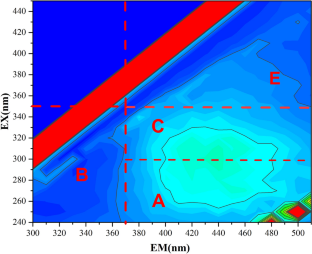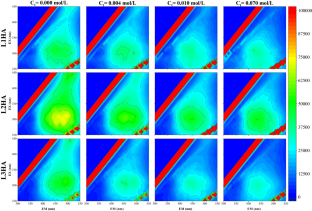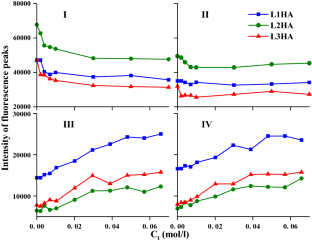 References
Abate G, Masini JC (2001) Acid-basic and complexation properties of a sedimentary humic acid: a study on the Barra Bonita reservoir of Tietê river, São Paulo State, Brazil. J BrazChemSoc 12(1):109–116

Agnelli A, Celi L, Corti G (2002) The changes with depth of humic and fulvic acids extracted from the fine earth and rock fragments of a forest soil. Soil Sci 167(8):524–538

Aiken GR, Mcknight DM, Wershaw RL (1985) Humic substances in soil, sediment, and water: geochemistry, isolation and characterization. Soil Sci 142(5):323

Bai XY, Wang SJ, Xiong KN (2011) Assessing spatial-temporal evolution processes of karst rocky desertification land: indications for restoration strategies. Land Degrad Dev 24(1):47–56

Baldock JA, Skjemstad JO (2000) Role of the soil matrix and minerals in protecting natural organic materials against biological attack. Org Geochem 31(7):697–710

Begum ZA, Rahman IMM, Tate Y, Ichijo T, Hasegawa H (2018) Binding of proton and iron to lignite humic acid size-fractions in aqueous matrix. J Mol Liq 254:241–247

Bimüller C, Kreyling O, Kölbl A, von Lützow M, Kögel-Knabner I (2016) Carbon and nitrogen mineralization in hierarchically structured aggregates of different size. Soil Till Res 160:23–33

Bollag JM, Stotsky G (2000) Soil biochemistry. Marcel Dekker Inc., New York

Bubier JL, Smith R, Juutinen S, Moore TR, Minocha R, Long S, Minocha S (2011) Effects of nutrient addition on leaf chemistry, morphology, and photosynthetic capacity of three bog shrubs. Oecologia 167(2):355–368

Chen Y, Senesi N, Schnitzer M (1977) Information provided on humic substances by E4/E6 ratio. Soil Sci Soc Am J 41(2):352–358

Chen J, Gu B, Leboeuf EJ, Pan H, Dai S (2002) Spectroscopic characterization of the structural and functional properties of natural organic matter fractions. Chemosphere 48(1):59–68

Chen W, Westerhoff P, Leenheer JA, Booksh K (2003) Fluorescence excitation–emission matrix regional integration to quantify spectra for dissolved organic matter. Environ Sci Technol 37(24):5701–5710

Coble PG (1996) Characterization of marine and terrestrial DOM in seawater using excitation–emission matrix spectroscopy. Mar Chem 51(4):325–346

Coleman DC, Wall D (2014) Soil fauna: occurrence, biodiversity and roles in ecosystem function. In: Paul EA (ed) Soil microbiology, ecology and biochemistry, 4th edn. Academic Press, San Diego

Derek F, Paul W (2007) Karst hydrogeology and geomorphology. Wiley, London

Di XY, Xiao BH, Dong H, Wang SJ (2019) Implication of different humic acid fractions in soils under karst rocky desertification. Catena 174:308–315

Duchaufour P (1976) Dynamics of organic matter in soils of temperate regions: its action on pedogenesis. Geoderma 15(1):31–40

Enev V, Pospisilova L, Klučáková M, Liptaj T, Doskočil L (2018) Spectral characterization of selected humic substances. Soil Water Res 9(1):9–17

Gerke J (2010) Aluminium and iron(III) species in the soil solution including organic complexes with citrate and humic substances. J Plant Nutr Soil Sci 160(3):427–432

Giovanela M, Crespo JS, Antunes M, Adamatti DS, Fernandes AN, Barison A, Silva C, Guégan R, Motelica-Heino M, Sierra M (2010) Chemical and spectroscopic characterization of humic acids extracted from the bottom sediments of a Brazilian subtropical microbasin. J Mol Struct 981(1–3):111–119

Grünewald G, Kaiser K, Jahn R, Guggenberger G (2006) Organic matter stabilization in young calcareous soils as revealed by density fractionation and analysis of lignin-derived constituents. Org Geochem 37(11):1573–1589

He W, Chen M, Park JE, Hur J (2016) Molecular diversity of riverine alkaline-extractable sediment organic matter and its linkages with spectral indicators and molecular size distributions. Water Res 100:222–231

Helms JR, Stubbins A, Ritchie JD, Minor EC, Kieber DJ, Mopper K (2008) Absorption spectral slopes and slope ratios as indicators of molecular weight, source, and photobleaching of chromophoric dissolved organic matter. Limnol Oceanogr 53(3):955–969

Hemingway JD, Rothman DH, Grant KE, Rosengard SZ, Eglinton TI, Derry LA, Galy VV (2019) Mineral protection regulates long-term global preservation of natural organic carbon. Nature 570(7760):228–231

Janoš P, Krizenecka S, Madronova L (2008) Acid-base titration curves of solid humic acids. React Funct Polym 68(1):242–247

Jin J, Zimmerman AR (2010) Abiotic interactions of natural dissolved organic matter and carbonate aquifer rock. Appl Geochem 25(3):472–484

Jin P, Song J, Yang L, Jin X, Wang XC (2018) Selective binding behavior of humic acid removal by aluminum coagulation. Environ Pollut 233:290–298

Jones MN, Bryan ND (1998) Colloidal properties of humic substance. Adv Colloid Interface Sci 78(1):1–48

Kalbitz K, Kaiser K (2008) Contribution of dissolved organic matter to carbon storage in forest mineral soils. J Plant Nutr Soil Sci 171(1):52–60

Kloster N, Brigante M, Zanini G, Avena M (2013) Aggregation kinetics of humic acids in the presence of calcium ions. Colloids Surf A 427(24):76–82

Kogelknabner I, Guggenberger G, Kleber M, Kandeler E, Kalbitz K, Scheu S, Eusterhues K, Leinweber P (2008) Organo-mineral associations in temperate soils: integrating biology, mineralogy and organic matter chemistry. J Plant Nutr Soil Sci 171(1):61–82

Kumada K (1987) Chemistry of soil organic matter. Japan Scientific Societies Press, Amsterdam

Leenheer JA, Brown GK, MacCarthy P, Cabaniss SE (1995) Models of metal binding structures in fulvic acid from the Suwannee River, Georgia. Environ Sci Technol 29(2):399–405

Lehmann J, Kleber M (2015) The contentious nature of soil organic matter. Nature 528(7580):60–68

Liu CQ (2009) Biogeochemical processes and cycling of the nutrients in the earth's surface—nutrient cycling in soil and plant system in karstic catchment. Science Press, Beijing

Lopez-Sangil L, Rovira P (2013) Sequential chemical extractions of the mineral-associated soil organic matter: an integrated approach for the fractionation of organo-mineral complexes. Soil Biol Biochem 62(5):57–67

Ma LG, Xiao BH, Huang WL, Wang SJ (2016) Characteristics and distributions of humic acids in two soil profiles of the southwest China Karst area. Acta Geochimica 35(1):85–94

Meng W, Larmola T, Murphy MT, Moore TR, Bubier JL (2016) Stoichiometric response of shrubs and mosses to long-term nutrient (N, P and K) addition in an ombrotrophic peatland. Plant Soil 400:403–416

Moore TR, Knorr KH, Thompson L, Roy C, Bubier JL (2019) The effect of long-term fertilization on peat in an ombrotrophic bog. Geoderma 343:176–186

Oades JM (1988) The retention of organic matter in soils. Biogeochemistry 5(1):35–70

Osman KT (2013) Soil organic matter. Soils: principles, properties and management. Springer, Dordrecht, pp 89–96

Pearson RG (1968) Hard and soft acids and bases, HSAB, part 1: fundamental principles. J ChemEduc 45(9):581–587

Peterson JB (1948) Calcium linkage, a mechanism in soil granulation. Soil Sci Soc Am J 12(C):29

Peuravuori J, Pihlaja K (1997) Molecular size distribution and spectroscopic properties of aquatic humic substances. Anal Chim Acta 337:17

Piccolo A (2002) The supramolecular structure of humic substances: a novel understanding of humus chemistry and implications in soil science. Adv Agron 75(02):57–134

Piccolo A, Mbagwu JSC (1994) Humic substances and surfactants effects on the stability of two tropical soils. Soil Sci Soc Am J 58(58):950–955

Plank J, Bassioni G (2007) Adsorption of carboxylate anions on a CaCO3 surface. Z Naturforsch B 62(10):1277–1284

Römer W, Patzke R, Gerke J (1998) Die Kupferaufnahme von Rotklee und Weidelgrasaus Cu-Nitrat-, Huminstoff-Cu- und Cu-Citrat-Lösungen. In: Merbach W (ed) Pflanzenernährung, Wurzelleistung und Exsudation. Vieweg+Teubner Verlag, Wiesbaden (in German)

Schmidt MWI, Torn MS, Abiven S, Dittmar T, Guggenberger G, Janssens IA, Kleber M, Kogel-Knabner I, Lehmann J, Manning DAC, Nannipieri P, Rasse DP, Weiner S, Trumbore SE (2011) Persistence of soil organic matter as an ecosystem property. Nature 478(7367):49–56

Senesi N (1990) Molecular and quantitative aspects of the chemistry of fulvic acid and its interactions with metal ions and organic chemicals: part I. The electron spin resonance approach. Anal Chim Acta 232(3):51–75

Senesi N, Saiz-Jiminez C, Miano TM (1992) Spectroscopic characterization of metal-humic acid-like complexes of earthworm-composted organic wastes. Sci Total Environ 117–118:111–120

Sollins P, Homan P, Caldwell BA (1996) Stabilization and destabilization of soil organic matter: mechanisms and controls. Geoderma 74(1–2):65–105

Srivastava VC, Mall ID, Mishra IM (2006) Equilibrium modelling of single and binary adsorption of cadmium and nickel onto bagasse fly ash. Chem Eng J 117(1):79–91

Stevenson FJ (1994) Humus chemistry. Genesis, composition, reactions. Wiley, New York

Tian T, Liu Z, Zhu F, Hartley W, Ye Y, Xue S (2020) Improvement of aggregate-associated organic carbon and its stability in bauxite residue by substrate amendment addition. Land Degrad Dev 31:2405–2416

Vidal FJR, Schlenger P, García-Valverde M (2016) Monitoring changes in the structure and properties of humic substances following ozonation using UV–Vis, FTIR and 1H NMR techniques. Sci Total Environ 541:623–637

von Lützow M, Kogel-Knabner I, Ekschmitt K, Matzner E, Guggenberger G, Marschner B, Flessa H (2006) Stabilization of organic matter in temperate soils: mechanisms and their relevance under different soil conditions—a review. Eur J Soil Sci 57(4):426–445

Wang SJ (2003) The most serious eco-geologically environmental problem in southwestern China—karst rocky desertification. Bull Mineral Petrol Geochem 22(2):120–126

Wang SJ, Liu QM, Zhang DF (2004) Karst rocky desertification in southwestern China: geomorphology, landuse, impact and rehabilitation. Land Degrad Dev 15(2):115–121

Wu FC, Tanoue E (2001) Isolation and partial characterization of dissolved copper-complexing ligands in streamwaters. Environ Sci Technol 35(18):3646–3652

Wu FC, Tanoue E, Liu CQ (2003) Fluorescence and amino acid characteristics of molecular size fractions of DOM in the waters of Lake Biwa. Biogeochemistry 65(2):245–257

Yan Y, Dai Q, Jin L, Wang X (2019) Geometric morphology and soil properties of shallow karst fissures in an area of karst rocky desertification in SW China. Catena 174:48–58

Zhao J, Chen S, Hu R, Li Y (2017) Aggregate stability and size distribution of red soils under different land uses integrally regulated by soil organic matter, and iron and aluminum oxides. Soil Till Res 167:73–79

Zheng YC, Wang SJ (2002) Geological cause of calcareous soil erosion and land rocky desertification in karst area, Guizhou province. Resour Environ Yangtza Basin 11:461–465
Acknowledgements
This research was supported by the National Natural Science Foundation of China (U1701241, U1612441, 41773147, and 41273149) and the Science Foundation of Guizhou (20113109).
About this article
Cite this article
Tang, H., Xiao, B. & Xiao, P. Interaction of Ca2+ and soil humic acid characterized by a joint experimental platform of potentiometric titration, UV–visible spectroscopy, and fluorescence spectroscopy. Acta Geochim (2021). https://doi.org/10.1007/s11631-021-00453-7
Received:

Revised:

Accepted:

Published:
Keywords
Limestone soil

Humic acid

Calcium

Interaction

Titration

UV–Vis

EEM