Abstract
The Sandaowanzi gold deposit is an extremely Au-rich deposit in the Northern Great Hinggan Range in recent years. Zircon U–Pb geochronology, Hf isotope analysis, and the geochemistry of andesites of the Longjiang Formation from the Sandaowanzi gold deposit were used to investigate the origin, magmatic evolution as well as mineralization and tectonic setting of the Early Cretaceous epithermal gold deposits in the northern Great Hinggan Range area. Zircon U–Pb dating reveals an emplacement age of 123.4 ± 0.3 Ma, indicating that the andesites of the Sandaowanzi gold deposit was formed during the Early Cretaceous. The andesites are enriched in light rare earth elements relative to heavy rare earth elements and have weak negative Eu anomalies (δEu = 0.76–0.90). The rocks are also enriched in large-ion lithophile elements, such as Rb, Ba, Th, U, and K, and depleted in the high-field-strength elements, such as Nb, Ta, and P. These characteristics are typical of volcanic rocks related to subduction. Igneous zircons from the andesite samples have relatively homogeneous Hf isotope ratios, 176Hf/177Hf values of 0.282343–0.282502, εHf(t) values of − 12.58 to − 6.95, and two-stage model ages (TDM2) of 1743–1431 Ma. The characteristics of the andesites of the Longjiang Formation are consistent with derivation from partial melting of enriched mantle wedge metasomatized by subducted-slab-derived fluids. These rocks formed in an extensional environment associated with the closure of the Mongol–Okhotsk Ocean and subduction of the Paleo-Pacific Plate. Mineralization occurred towards the end of volcanism, and the magmatic activity and mineralization are products of the same geodynamic setting.
Access options
Buy single article
Instant access to the full article PDF.
US$ 39.95
Tax calculation will be finalised during checkout.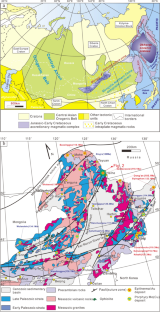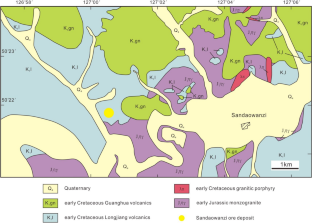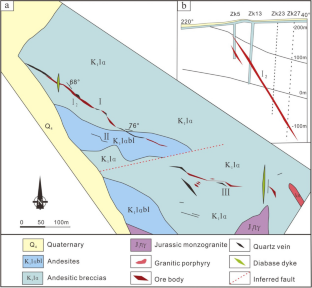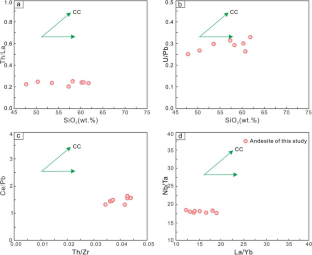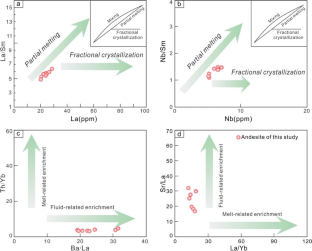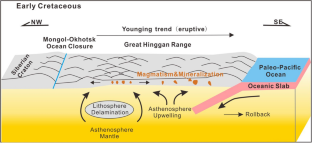 References
Andersen T (2002) Correction of common lead in U-Pb analyses that do not report 204Pb. Chem Geol 192(1–2):59–79

Arculus RJ (1994) Aspects of magma genesis in arcs. Lithos 33:189–208

Atherton MP, Petford N (1993) Generation of sodium-rich magmas from newly underplated basaltic crust. Nature 362:144–146

Blichert-Toft J, Gleason JD, Télouk P, Albarède F (1999) The Lu–Hf isotope geochemistry of shergottites and the evolution of the Martian mantle–crust system. Earth Planet Sci Lett 173:25–39

Boynton WV (1984) Cosmochemistry of the rare earth elements: meteorite studies. In: Henderson P (ed) Rare earth elements geochemistry. Elsevier, Amsterdam, pp 63–114

Chang JJ, Li BL (2015) Geochemistry, U–Pb geochronology, and Hf isotopic characteristics and geological significance of the tuff from Dong'an Gold Deposit, Lesser Khingan Mountains, NE China. Conserv Util Miner Resour 6:12–21 ((in Chinese with English abstract))

Chen YJ (2010) On epizonogenism and genetic classification of hydrothermal deposits. Earth Sci Front 17:27–34 ((in Chinese with English abstract))

Chen GW, Xia B, Xiao ZY, Yu HX, Wang H, Zhong ZH, Wang GQ (2001) Characteristics of epithermal deposits and the prospecting guide in China. Geol Resour 10:165–171 ((in Chinese with English abstract))

Ciobanu CL, Cook NJ, Spry PG (2006) Preface-Special issue: telluride and selenide minerals in gold deposits-how and why? Miner Petro 87:163–169

Condie KC (2015) Mantle plumes and their record in earth history. Cambridge University Press, London

Cook NJ, Ciobanu CL (2005) Mineral deposit research: meeting the global challenge. In: Mao JW, Bierlein FP (eds) Tellurides in Au deposits: implications for modelling. Springer, Berlin, pp 63–114

Cook NJ, Ciobanu CL, Spry P, Voudouris P (2009) Understanding gold–(silver)–telluride–(selenide) mineral deposits. Episodes 32:249–263

Cooke DR (2001) Epithermal Au–Ag–Te mineralization, Acupan, Baguio District, Philippines: numerical simulations of mineral deposition. Econ Geol 96:109–131

Cooke DR, Simmons SF (2000) Characteristics and genesis of epithermal gold deposits. Rev Econ Geol 13:221–244

Damdinov BB, Mironov AG, Borovikov AA, Guntypov BB, Karmanov NS, Borisenko AS, Garmaev BL (2007) Composition and conditions of formation of gold-telluride mineralization in the Tissa-Sarkhoi gold-bearing province (East Sayan). Russ Geol Geophys 48:643–655

Deng CZ, Sun DY, Ping XQ, Huang H, Zhang LD, Lu S (2018) Geochemistry of early cretaceous volcanic rocks in the Northeastern Great Xing'an Range, northeast China and implication for geodynamic setting. Int Geol Rev. https://doi.org/10.1080/00206814.2018.1528481

Deng CZ, Sun DY, Han JS, Li GH, Feng YZ, Xiao B, Li RC, Shi HL, Xu GZ, Yang D (2019) Ages and petrogenesis of the Late Mesozoic igneous rocks associated with the Xiaokele porphyry Cu–Mo deposit, NE China and their geodynamic implications. Ore Geol Rev 107:417–433

Fan WM, Guo F, Wang YJ, Lin G (2003) Late Mesozoic calc-alkaline volcanism of post-orogenic extension in the northern Da Hinggan Mountains, northeastern China. J Volcanol Geotherm Res 121:115–135

Gao S, Xu H, Zang YQ, Wang T (2018) Mineralogy, ore-forming fluids and geochronology of the Shangmachang and Beidagou gold deposits, Heilongjiang province, NE China. J Geochem Explor 188:137–155

Ge WC, Lin Q, Sun DY, Wu FY, Yuan ZK, Li WY, Chen MZ, Yin CX (1999) Geochemical characteristics of the Mesozoic basalts in Da Hinggan Ling: evidence of the mantle-crust interaction. Acta Petrol Sin 15:396–407 ((in Chinese with English abstract))

Ge WC, Lin Q, Sun DY, Wu FY, Li XH (2000) Geochemical research into origins of two types of Mesozoic rhyolites in Daxing'anling. Earth Sci 25:173–178 ((in Chinese with English abstract))

Ge WC, Wu FY, Zhou CY, Abdel Rahman AA, Naulet N (2005) Emplacement age of the Tahe granite and its constraints on the tectonic nature of the Ergun block in the northern part of the Da Hinggan Range. Chin Sci Bull 50:2097–2105

Gill JB (1981) Orogenic andesites and plate tectonics. Springer, New York

Goldfarb RJ, Hart C, Davis G, Groves D (2007) East Asian gold: deciphering the anomaly of Phanerozoic gold in Precambrian cratons. Econ Geol 102:341–345

Green TH (1995) Significance of Nb/Ta as an indicator of geochemical processes in the crust-mantle system. Chem Geol 120:347–359

Griffin WL, Wang X, Jackson SE, Pearson NJ, O'Reilly SY, Xu X, Zhou X (2002) Zircon chemistry and magma mixing, SE China: in-situ analysis of Hf isotopes, Tonglu and Pingtan igneous complexes. Lithos 61:237–269

Grove TL, Kinzler RJ (1986) Petrogenesis of andesites. Annu Rev Earth Planet Sci 14:417–454

Halim N, Kravchinsky V, Gilder S, Cogne J, Alexutin M, Sorokin A, Courtillot V, Chen Y (1998) A palaeomagnetic study from the Mongol–Okhotsk region: rotated Early Cretaceous volcanics and remagnetized Mesozoic sediments. Earth Planet Sci Lett 159:133–145

Hastie AR, Kerr AR, Pearce JA, Mitchell SF (2007) Classification of altered volcanic island arc rocks using immobile trace elements: development of the Th–Co discrimination diagram. J Petrol 48:2341–2357

Hawkesworth CJ, Hergt JM, Ellam RM, McDermott F (1991) Element fluxes associated with subduction related magmatism. Philos Trans R Soc Lond Ser A 335:393–405

Hofmann AW, Jochum KP, Seufert M, White WM (1986) Nb and Pb in oceanic basalts: new constraints on mantle evolution. Earth Planet Sci Lett 79(1–2):33–45

Hoskin PWO, Schaltegger U (2003) The composition of zircon and igneous and metamorphic petrogenesis. Rev Miner Geochem 53:27–62

Huang JL, Zhao DP (2006) High-resolution mantle tomography of China and surrounding regions. J Geophys Res 111:B9

Ionov DA, Grégoire M, Prikhod'ko VS (1999) Feldspar–Ti-oxide metasomatism in off-cratonic continental and oceanic upper mantle. Earth Planet Sci Lett 165:37–44

Jahn BM, Wu FY, Capdevila R, Martineau F, Zhao ZH, Wang YX (2001) Highly evolved juvenile granites with tetrad REE patterns: the Woduhe and Baerzhe granites from the Great Xing'an Mountains in NE China. Lithos 59:171–198

Jahn BM, Wu FY, Lo CH, Tsai CH (1999) Crust–mantle interaction induced by deep subduction of the continental crust: geochemical and Sr–Nd isotopic evidence from post-collisional mafic–ultramafic intrusions of the northern Dabie complex, central China. Chem Geol 157:119–146

Ji Z, Meng QA, Wang CB, Ge WC, Yang H, Zhang YL, Dong Y, Jin X (2019) Early Cretaceous adakitic lavas and A-type rhyolites in the Songliao Basin, NE China: implications for the mechanism of lithospheric extension. Gondwana Res 71:28–48

Kazimoto EO, Ikingura JR (2014) Trace element geochemistry and petrogenesis of the granitoids and high-K andesite hosting gold mineralisation in the Archean Musoma-Mara Greenstone Belt, Tanzania. J Afr Earth Sci 91:66–78

Kelley KD, Ludington S (2002) Cripple Creek and other alkaline-related gold deposits in the southern Rocky Mountains, USA: influence of regional tectonics. Miner Deposita 37:38–60

Kirchenbaur M, Münker C, Schuth S, Garbe-Schönberg D, Marchev P (2012) Tectonomagmatic constraints on the sources of Eastern Mediterranean K-rich lavas. J Petrol 53:27–65

Li JY (2006) Permian geodynamic setting of Northeast China and adjacent regions: closure of the Paleo-Asian Ocean and subduction of the Paleo-Pacific Plate. J Asian Earth Sci 26:207–224

Li JY, Gao XY, Bian XF, Chen SW, Ding QH (2013) LA–ICP–MS zircon U–Pb dating and geochemical characteristics of the Mesozoic volcanic rocks from Longjiang basin in northern Da Hinggan Mountains and their geological implications. Geol Bull China 32:1195–1211 (in Chinese with English abstract)

Li BL, Sun YG, Chen GJ, Xi AH, Zhi YB, Chang JJ, Peng B (2016) Zircon U–Pb geochronology, geochemistry and Hf isotopic composition and its geological implication of the fine-grained syenogranite in Dong'an Goldfield from the Lesser Xing'an Mountains. Earth Sci 41:3–16 (in Chinese with English abstract)

Lin Q, Ge WC, Sun DY, Wu FY, Chong KW, Kyung DM, Myung SJ, MoonW CSK, Sung HY (1998) Tectonic implications of Mesozoic volcanic rocks in Northeastern China. Sci Geol Sin 33:129–139 (in Chinese with English abstract)

Liu JL, Davis GA, Lin ZY, Wu FY (2005) The Liaonan metamorphic core complex, Southeastern Liaoning Province, North China: a likely contributor to Cretaceous rotation of Eastern Liaoning, Korea and contiguous areas. Tectonophysics 407:65–80

Liu JL, Bai XD, Zhao SJ, Tran MD, Zhang ZC, Zhao ZD, Zhao HB, Lu J (2011) Geology of the Sandaowanzi telluride gold deposit of the northern Great Xing'an Range, NE China: geochronology and tectonic controls. J Asian Earth Sci 41:107–118

Liu J, Wu G, Huang QN, Gao DZ, Yang XS (2013a) 40Ar/39Ar dating of gold-bearing quartz vein from the Shabaosi gold deposit at the Northern end of the Great Xing'an Range and its tectonic significance. Acta Geol Sin 87:1571–1579 (n Chinese with English abstract)

Liu JL, Zhao SJ, Cook NJ, Bai XD, Zhang ZC, Zhao ZD, Zhao HB, Lu J (2013b) Bonanza-grade accumulations of gold tellurides in the Early Cretaceous Sandaowanzi deposit, northeast China. Ore Geol Rev 54:110–126

Liu WL, Huang QT, Gu M, Zhong Y, Zhou RJ, Gu XD, Zheng H, Liu JN, Lu XX, Xia B (2018) Origin and tectonic implications of the Shiquanhe high-Mg andesite, western Bangong suture. Tibet Gondwana Res 60:1–14

Liu Y, Chu XL, Sun JG, Han JL, Ren L, Gu A, Zhao KQ (2020) Early Cretaceous bimodal magmatism related epithermal mineralization: a case study of the Gaosongshan gold deposit in the northern Lesser Xing'an Range NE China. Ore Geol Rev 121:103563

Ludwig KR (2003) User's manual for Isoplot 3.6: a geochronological toolkit for microsoft excel. Berkeley Geochronology Center, California, USA

Lü J (2011) The geologic characteristics, minerogenetic conditions and deposit model of the Sandaowanzi gold deposit, Heihe City, Helongjing Province. Ph.D. Thesis, China University of Geosciences, Beijing (in Chinese with English abstract)

Ma XH, Gao R, Zhou ZH, Zhu WP (2015) Early Cretaceous high-Mg diorites in the Yanji area, northeastern China: petrogenesis and tectonic implications. J Asian Earth Sci 97:393–405

Mao JW, Li XF, Zhang ZH, Wang YT, Hu HB (2003) Geology, distribution, types and tectonic settings of Mesozoic epithermal gold deposits in East China. Geol J China Univ 9:620–637 (in Chinese with English abstract)

Meng QR (2003) What drove late Mesozoic extension of the northern China-Mongolia tract? Tectonophysics 369:155–174

Niu YL, Tang J (2016) Origin of the Yellow Sea: an insight. Sci Bull 61:1076–1080

Niu YL, Liu Y, Xue QQ, Shao FL, Chen S, Duan M, Guo PY, Gong HM, Hu Y, Hu ZX, Kong JJ, Li JY, Liu JJ, Sun P, Sun WL, Ye L, Xiao YY, Zhang Y (2015) Exotic origin of the Chinese continental shelf: new insights into the tectonic evolution of the western Pacific and eastern China since the Mesozoic. Sci Bull 60:1598–1616

Ouyang HG, Mao JW, Santosh M, Zhou J, Zhou ZH, Wu Y, Hou L (2013) Geodynamic setting of Mesozoic magmatism in NE China and surrounding regions: perspectives from spatio-temporal distribution patterns of ore deposits. J Asian Earth Sci 78:222–236

Pals DW, Spry PG (2003) Telluride mineralogy of the low-sulfidation epithermal Emperor gold deposit, Vatukoula, Fiji. Miner Petrol 79:285–307

Pearce JA (2008) Geochemical fingerprinting of oceanic basalts with applications to ophiolite lassification and the search for Archean oceanic crust. Lithos 100:14–48

Pearce JA, Parkinson IJ (1993) Trace element models for mantle melting: application to volcanic arc petrogenesis. Geol Soc Lond Spec Publ 76:373–403

Pearce JA, Peate DW (1995) Tectonic implications of the composition of volcanic ARC magmas. Annu Rev Earth Planet Sci 23:251–285

Polat A, Hofmann AW, Rosing MT (2002) Boninite-like volcanic rocks in the 3.7–3.8 Ga Isua greenstonebelt, West Greenland: geochemical evidence for intra-oceanic subduction zone processes in the early Earth. Chem Geol 184:231–254

Qiu YZ, Tu QC, Berger BR (2008) Epithermal gold deposits of China. Geochimica 37:329–343

Quan YK, Yang DB, Mu MS, Hao LR, Yang HT, Wang AQ, Xu WL (2020) Tectonic evolution of the northeastern North China Craton: constraints from geochronology and Sr–Nd–Hf–O isotopic data from Late Triassic intrusive rocks on Liaodong Peninsula NE China. Lithos 362–363:105489

Rapp RP, Watson EB (1995) Dehydration melting of metabasalt at 8–32 kbar: implications for continental growth and crust–mantle recycling. J Petrol 36(4):891–931

Richards JP (2009) Postsubduction porphyry Cu–Au and epithermal Au deposits: products of remelting of subduction-modified lithosphere. Geology 37:247–250

Rudnick RL, Gao S, Ling WL, Liu YS, McDonough WF (2004) Petrology and geochemistry of spinel peridotite xenoliths from Hannuoba and Qixia, North China craton. Lithos 77:609–637

Schiano P, Eiler JM, Hutcheon ID, Stolper EM (2000) Primitive CaO-rich, silica-undersaturated melts in island arcs: evidence for the involvement of clinopyroxene-rich lithologies in the petrogenesis of arc magmas. Geochem Geophys Geosyst 1:1525–2027

Schiano P, Monzier M, Eissen JP, Martin H, Koga KT (2010) Simple mixing as the major control of the evolution of volcanic suites in the Ecuadorian Andes. Contr Miner Petrol 160(2):297–312

Shao S (2017) The characteristics and Significance of early cretaceous volcanic rocks in Heihe area. Ph.D. Thesis, China University of Geosciences, Beijing (in Chinese with English abstract)

Sillitoe RH (1997) Characteristics and controls of the largest porphyry copper-gold and epithermal gold deposits in the circum-Pacific region. Aust J Earth Sci 44:73–388

Song SG (2015) Exotic origin of the Chinese continental shelf. Sci Bull 60:1625–1625

Sun SS, McDonough WF (1989) Chemical and isotopic systematics of oceanic basalts: implications for mantle composition and processes. In: Saunders AD, Norry MJ (eds) Magmatism in the Ocean Basins, vol 42. Geological Society of London, London, pp 313–345

Sun GZ, Liu SW, Wang MJ, Bao H, Teng GX (2020) Complex Neoarchean mantle metasomatism: evidence from sanukitoid diorites-monzodiorites-granodiorites in the northeastern North China Craton. Precambrian Res 342:105692

Tang GJ, Wang Q, Zhao ZH, Wyman DA, Chen HH, Jia XH, Jiang ZQ (2009) LA–ICP–MS zircon U–Pb geochronology, element geochemistry and petrogenesis of theandesites in the eastern Taerbieke gold deposit of the western Tianshan region. Acta Petrol Sin 25(6):1341–1352

Tang J, Xu WL, Wang F, Wang W, Xu MJ, Zhang YH (2013) Geochronology and geochemistry of Neoproterozoic magmatism in the Erguna Massif, NE China: petrogenesis and implications for the breakup of the Rodinia supercontinent. Precambrian Res 224:597–611

Tatsumi Y, Hamilton DL, Nesbitt RW (1986) Chemical characteristics of fluid phase released from a subducted lithosphere and origin of arc magmas: evidence from high-pressure experiments and natural rocks. J Volcanol Geotherm Res 29:293–309

Taylor SR, McLennan S (1995) The geochemical evolution of the continental crust. Rev Geophys 33(2):241–265

Tomurtogoo O, Windley BF, Kroner A, Badarch G, Liu DY (2005) Zircon age and occurrence of the Adaatsag ophiolite and Muron shear zone, central Mongolia: constraints on the evolution of the Mongol–Okhotsk ocean, suture and orogen. J Geol Soc 162:125–134

Wallier S, Rey R, Kouzmanov K, Pettke T (2006) Magmatic fluids in the Breccia-hosted epithermal Au–Ag deposit of Roşia Montanǎ, Romania. Econ Geol 101:923–954

Wang F, Zhou XH, Zhang LC, Ying JF, Zhang YT, Wu FY, Zhu RX (2006) Late Mesozoic volcanism in the Great Xing'an Range (NE China): Timing and implications for the dynamic setting of NE Asia. Earth Planet Sci Lett 251:179–198

Wang SS, Liu JY, Ji HW, Lü J, Zhou S, Liu JL (2017) Geochronology and geochemistry of the andesites of Longjiang Formation in the Sandaowanzi gold deposit, Heilongjiang Province. Acta Petrol Sin 33:2604–2618 ((in Chinese with English abstract))

Wiedenbeck M, Alle P, Corfu F, Griffin WL, Meier M, Oberli F, Quadt AV, Roddick JC, Spiegel W (1995) Three natural zircon standards for U–Th–Pb, Lu–Hf, trace element and REE analyses. Geostand Geoanal Res 19:1–23

Wu FY, Sun DY, Li BM, Jahn BM, Wilde S (2002) A-type granites in Northeastern China: age and geochemical constraints on their petrogenesis. Chem Geol 187:143–173

Wu FY, Yang YH, Xie LW, Yang JH, Xu P (2006) Hf isotopic compositions of the standard zircons and baddeleyites used in U/Pb geochronology. Chem Geol 234:105–126

Wu FY, Li XH, Zheng YF, Gao S (2007) Lu-Hf isotopic systematics and their applications in petrology. Acta Petrol Sin 23:185–220 (in Chinese with English abstract)

Xu WL, Pei FP, Wang F, Meng E, Ji WQ, Yang DB, Wang W (2013) Spatial–temporal relationships of Mesozoic volcanic rocks in NE China: constraints on tectonic overprinting and transformations between multiple tectonic regimes. J Asian Earth Sci 74:167–193

Yang JH, Wu FY, Shao JA, Wilde SA, Xie LW, Liu XM (2006) Constrains on the timing of uplift of the Yanshan Fold and Thrust Belt, North China. Earth Planet Sci Lett 246(3–4):336–352

Yang JH, Wu FY, Chung SL, Lo CH, Wilde SA, Davis GA (2007) Rapid exhumation and cooling of the Liaonan metamorphic core complex: inferences from 40Ar/39Ar thermochronology and implications for Late Mesozoic extension in the eastern North China Craton. Geol Soc Am Bull 119:1405–1414

Yang H, Ge WC, Zhao GC, Dong Y, Bi JH, Wang ZH, Yu JJ, Zhang YL (2014) Geochronology and geochemistry of Late Pan-African intrusive rocks in the Jiamusi-Khanka Block, NE China: petrogenesis and geodynamic implications. Lithos 208–209:220–236

Yang YT, Guo ZX, Song CC, Li XB, He S (2015) A short-lived but significant Mongol–Okhotsk collisional orogeny in latest Jurassic-earliest Cretaceous. Gondwana Res 28:1096–1116

Yang Q, Ren YS, Hao YJ, Wang B, Sun ZM, Li JM (2019) Ore fluid, geochronology and tectonic setting of mesothermal gold metallogeny in southeastern Jilin Province, Northeast China: a case study of the Shajingou gold deposit. Ore Geol Rev 109:229–252

Ying HL (1999) The global background of epithermal gold deposits. J Precious Met Geol 8:241–250 (in Chinese with English abstract)

Yuan HL, Gao S, Liu XM, Li HM, Detlef G, Wu FY (2004) Accurate U–Pb age and trace element determinations of zircon by laser ablation-inductively coupled plasma–mass spectrometry. Geostand Geoanal Res 28:353–370

Yuan C, Sun M, Xiao WJ, Wilde S, Li XH, Liu XH, Long XP, Xia XP, Ye K, Li JL (2009) Garnet-bearing tonalitic porphyry from East Kunlun, Northeast Tibetan Plateau: implications for adakite and magmas from the MASH zone. Int J Earth Sci 98:1489–1510

Zeng QD, Guo F, Zhou L, Duan XX (2016) Two periods of mineralization in Xiaoxinancha Au–Cu deposit, NE China: evidences from the geology and geochronology. Geol J 51:51–64

Zhai DG, Liu JJ (2014) Gold–telluride–sulfide association in the Sandaowanzi epithermal Au–Ag–Te deposit, NE China: implications for phase equilibrium and physicochemical conditions. Miner Petrol 108:853–871

Zhai DG, Liu JL, Ripley EM, Wang JP, Tian SH (2015) Geochronological and He–Ar–S isotopic constraints on the origin of the Sandaowanzi gold–telluride deposit, northeastern China. Lithos 212–215:338–352

Zhai DG, Williams-Jones AE, Liu JL, Tombros JSF, Cook NJ (2018) Mineralogical, fluid inclusion, and multiple isotope (H–O–S–Pb) Constraints on the Genesis of the Sandaowanzi Epithermal Au–Ag–Te Deposit, NE China. Econ Geol 113:1359–1382

Zhang KJ (2014) Genesis of the Late Mesozoic Great Xing'an Range Large Igneous Province: a Mongol–Okhotsk slab window model. Int Geol Rev 56:1557–1583

Zhang JH, Ge WC, Wu FY, Wilde SA, Yang JH, Liu XM (2008) Large-scale Early Cretaceous volcanic events in the northern Great Xing'an Range, Northeastern China. Lithos 102:138–157

Zhang JH, Gao S, Ge WC, Wu FY, Yang JH, Wilde SA, Li M (2010) Geochronology of the Mesozoic volcanic rocks in the Great Xing'an Range, northeastern China: implications for subduction-induced delamination. Chem Geol 276:144–165

Zhang YT, Sun FY, Wang S, Wei X (2018) Geochronology and geochemistry of Late Jurassic to Early Cretaceous granitoids in the northern Great Xing'an Range, NE China: petrogenesis and implications for late Mesozoic tectonic evolution. Lithos 312–313:171–185

Zhang KJ, Yan LL, Ji C (2019) Switch of NE Asia from extension to contraction at the mid-Cretaceous: a tale of the Okhotsk oceanic plateau from initiation by the Perm Anomaly to extrusion in the Mongol–Okhotsk ocean? Earth Sci Rev 198:102941

Zhao HL, Deng JF, Chen FJ, Hu Q, Zhao SK (1998) Petrology of the Mesozoic volcanic rocks and the basin formation in the Northeast China. Geoscience 12:57–63 (in Chinese with English abstract)

Zhi YB, Li BL, Xi AH, Xu QL, Zhang L, Sun YG, Chang JJ, Peng B (2016) Geochronology and geochemistry of the major host rock of the Dong'an gold deposit, Lesser Khingan Range: implications for petrogenesis and metallogenic setting during the Early-Middle Jurassic in northeast China. Chem Erde 76:257–274

Zhou CF, Wang XZ, Li XW, Yang HB, Song GB, Duan MX, Guo HY (2018) Mesozoic intrusive rocks and their constraints on mineralization in Baoxinggou gold deposit in Tahe County, Heilongjiang Province. Miner Depos 37:137–150 (in Chinese with English abstract)

Zorin YA (2016) Geodynamics of the western part of the Mongolia–Okhotsk collisional belt, Trans-Baikal region (Russia) and Mongolia. Tectonophysics 306:33–56

Zou XT (2015) Geological, geochemical characteristics and ore-prospecting of the I #Ore Vein in Ciweigou Gold Deposit, Yanbian Area. Master's Thesis, Jilin University, Changchun (in Chinese with English abstract)
Acknowledgements
This work was funded by the National Natural Science Foundation of China (No. 41272093), Natural Science Foundation of Jilin Province (No. 20180101089JC), Key Projects of Science and Technology Development Plan of Jilin Province (No. 20100445).
Electronic supplementary material
Below is the link to the electronic supplementary material.
About this article
Cite this article
Yu, R., Li, B., Sun, F. et al. Geochronology, geochemistry and Hf isotopes of andesites in the Sandaowanzi gold deposit (Great Xing'an Range, NE China): implications for petrogenesis, tectonic setting, and mineralization. Acta Geochim (2021). https://doi.org/10.1007/s11631-020-00448-w
Received:

Revised:

Accepted:

Published:
Keywords
Andesites of longjiang formation

Zircon U–Pb geochronology

Hf isotope

Geochemistry

Sandaowanzi gold deposit