Abstract
The distribution patterns of rare earth elements (REEs) in fine-grained materials in various depositions were often found to be similar to those of the aeolian sediments deposited in the Loess Plateau in North China and the fine-grained materials were suggested to be derived from wind-blown dust. However, increasing evidence indicated that the REEs in the water-soluble portion of atmospheric depositions also displayed similar patterns to those of aeolian sediments. In this study, water-soluble REEs in three atmospheric depositions collected from different climatic zones in China were adsorbed with two adsorbents with distinct adsorption capacity, glass powder, and co-precipitated iron hydroxide. The results showed that the REEs adsorbed by the two adsorbents displayed patterns similar to those of the original atmospheric depositions. The typical characteristics of the REE patterns of atmospheric deposition can be well reproduced in the adsorbed REEs. The higher the REE concentrations in the atmospheric depositions, or the higher adsorption efficiency of the adsorbents, the better reproducibility of the REEs patterns. The results suggest that the REEs of the fine-grained materials in various sediments, which have a high adsorption capacity, especially those deposited in South China, may come from the water-soluble REEs in atmospheric deposition, and may not be appropriate tracers of wind-blown dust from North China.
Access options
Buy single article
Instant access to the full article PDF.
US$ 39.95
Tax calculation will be finalised during checkout.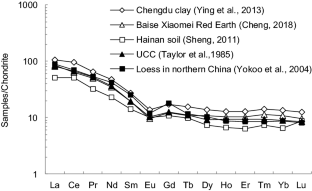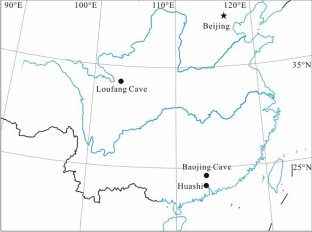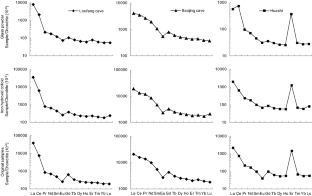 References
Alibo DS, Nozaki Y (1999) Rare earth elements in seawater: particle association, shale normalisation and Ce oxidation. Geochim Cosmochim Acta 63:363–372

Cai GQ, Qiu Y, Peng XC, Zhong HX (2010) The geochemical characteristics of trace elements and rees in surficial sediments of the southwestern South China sea and their implications. Mar Geol Quat Geol 30:53–62 (in Chinese)

Chen L, Huan J, Liu S, Chen Q, Yang L, Tong X, Huang Y, He H, Mi X, Zhou H (2017) Spatial and temporal variation of environments of Baojinggong Cave, Guangdong Province, china and it's influencing factors. Earth Environ 45:164–170

Cheng F (2018) Study on characteristics and source provenance of the pleistocene red earth sediments in southern china. Dr. Sci. Thesis, China University of Geosciences, pp 39–42 (in Chinese)

Cullers RL, Basu A, Suttner LJ (1988) Geochem ical signature of provenance in sand-size mineral in soil and stream near the labacco rool batbo lith, M ontana, USA. Chem Geol 70:335–348

Eggins SM, Woodhead JD, Kinsley LPJ, Mortimer GE, Sylvester P, McCulloch MT, Hergt JM, Handler MR (1997) A simple method for the precise determination of ≥ 40 trace elements in geological samples by ICPMS using enriched isotope internal standardisation. Chem Geol 134:311–326

Gallet S, Jahn BM, Torii M (1996) Geochemical characterization of the Luochuan loess-paleosol sequence, China, and paleoclimatic implications. Chem Geol 133:67–88

Haley BA, Klinkhammer GP, McManus J (2004) Rare earth elements in pore waters of marine sediments. Geochim Cosmochim Acta 68:1265–1279

Henderson P (1984) General geochemical properties and abundances of the rare earth elements. In: Henderson P (ed) Rare earth element geochemistry. Elsevier, Amsterdam, pp 1–32

Kitto ME, Anderson DL, Gordon GE, Olmez I (1992) Rare earth distributions in catalysts and airborne particles. Environ Sci Technol 26:1368–1375

Lawrence MG, Greig A, Collerson KD, Kamber BS (2006) Rare earth element and yttrium variability in South East Queensland waterways. Aquat Geochem 12:39–72

Li XS, Han ZY, Yang DY, Chen RY (2006) REE geochemistry of Xiashu loess in Zhenjiang, Jiangsu Province. Acta Pedol Sin 43:1–7 (in Chinese)

McLennan SM (1989) Rare earth elements in sedimentary rocks: influence of provenance and sedimentary processes. Geochem Mineral Rare Earth Elem Rev Miner 21:169–200

Nozaki Y, LercheD Alibo DS, Tsutsumi M (2000) Dissolved indium and rare earth elements in three Japanese rivers and Tokyo Bay: evidence for anthropogenic Gd and In. Geochim Cosmochim Acta 64:3975–3982

Pan C, Liu Y, Peng X, Xie Y, He H, Tang J, Zhou H (2020) Seasonal variations of water-soluble heavy metals in atmospheric deposition at NE Sichuan, Central China: natural and anthropogenic effects. Environ Chem 39:240–248

Pearce CR, Jones MT, Oelkers EH, Pradoux C, Jeandel C (2013) The effect of particulate dissolution on the neodymium (Nd) isotope and Rare Earth Element (REE) composition of seawater. Earth Planet Sci Lett 369:138–147

Peng X, Liu Y, Liu S, Cheng K, Tian L, Chen Q, Zhou H (2019) Water-soluble rare earth elements in atmospheric deposition at Shihua Cave, Beijing, north China. Appl Geochem 105:87–96

Sheng YF (2011) Geochemical characteristics of rare earth elements in soils from typical areas of Nandujiang River Basin. M.Sci. Thesis, Qingdao University, pp 16–27(in Chinese)

Sholkovitz ER (1992) Chemical evolution of rare earth elements: fractionation between colloidal and solution phases of filtered river water. Earth Planet. Sci. Lett. 114:77–84

Sholkovitz ER, Church TM, Arimoto R (1993) Rare earth element composition of precipitation, precipitation particles, and aerosols. J Geophys Res Atmos 98:20587–20599

Singh P (2009) Major, trace and REE geochemistry of the Ganga River sediments: influence of provenance and sedimentary processes. Chem Geol 266:242–255

Suzuki Y, Hikida S, Furuta N (2011) Cycling of rare earth elements in the atmosphere in central Tokyo. J Environ Monitor 13:3420–3428

Taylor SR, McLennan SM (1985) The continental crust: its composition and evolution. Blackwell, Oxford

Wang CX, Zhu W, Peng A, Guichreit R (2001) Comparative studies on the concentration of rare earth elements and heavy metals in the atmospheric particulate matter in Beijing, China, and in Delft, the Netherlands. Environ Int 26:309–313

Yang S, Li C (1999) Research progress in ree tracer for sediment source. Adv Earth Sci 14:164–167 (in Chinese)

Yang SY, Jung HS, Choi MS, Li CX (2002) The rare earth element compositions of the Changjiang (Yangtze) and Huanghe (Yellow) river sediments. Earth Planet Sci Lett 201:407–419

Ying LC, Liang B, Wang QW, Zhu B, Hao XF, Liu L, Wen L, Yan ZL, Fu XF (2013) Geochemical characteristics of Chengdu clay and their implications for provenance and weathering intensity. Geol Chin 40:1666–1674 (in Chinese)

Yokoo Y, Nakano T, Nishikawa M, Quan H (2004) Mineralogical variation of Sr–Nd isotopic and elemental compositions in loess and desert sand from the central Loess Plateau in China as a provenance tracer of wet and dry deposition in the northwestern Pacific. Chem Geol 204:45–62

Zhu LD, Zhou SZ, Ye W, Li FQ, Wang TY (2007) Preliminary study on geochemical behavior of rare earth element of plinthitic red earth in south China. J Desert Res 27:194–200 (in Chinese)

Zhu Z, Liu CQ, Wang ZL, Liu X, Li J (2016) Rare earth elements concentrations and speciation in rainwater from Guiyang, an acid rain impacted zone of Southwest China. Chem Geol 442:23–34
Acknowledgements
This work is financially supported by the National Natural Science Foundation of China (Grant Nos. 41473093 and 41271212).
About this article
Cite this article
Mi, X., Li, Y., Liu, Y. et al. Adsorption experiment of water-soluble rare earth elements in atmospheric depositions and implications for source tracing in South China. Acta Geochim 40, 225–233 (2021). https://doi.org/10.1007/s11631-020-00440-4
Received:

Revised:

Accepted:

Published:

Issue Date:
Keywords
Atmospheric deposition

Rare earth element

Adsorption experiment

Source tracing

Fine-grained material