Abstract
The outcrop samples of the Tak Fa Formation (Lower Permian) in Phetchabun Province have been studied to determine their organic geochemical characteristic, depositional paleoenvironment, and hydrocarbon generation potential. The total organic carbon (TOC) values ranging from 1.42  to 4.58 wt% and extractable organic matter values ranging from 76.84 to 197.65 ppm of the Tak Fa Formation were generally low and associated with low S2 values (0.00–0.50 mg HC/g rock) and hydrogen index values in range of 0–32 mg/g TOC, although this could reflect highly thermal maturity and complex tectonic history. Thus, kerogen classification can be based on a non-biomarker study for these outcrop samples instead. The non-biomarker plot, Pr/n-C17 and Ph/n-C18 from this study indicates that organic matter originally comes from type II/III kerogen. The samples were also investigated and indicated that the organic matter inputs were derived from mixed marine and terrigenous sources and deposited under suboxic to oxic conditions. The depositional environment of the Tak Fa Formation in this study is interpreted to be an estuarine environment or restricted lagoonal carbonate platforms. This has been achieved from normal alkane and isoprenoids distributions, terpane, and sterane biomarkers. Thus, the Tak Fa Formation is considered to be a hydrocarbon source rock during the time of the deposition. Although the geochemical data in this study indicate that the Tak Fa Formation has experienced high maturation, one or more locations could meet a condition that places this formation to be an active source rock. The approach and concepts presented in this study can be applied to similar evaporite-carbonate deposits in Thailand to find more petroleum plays.
Access options
Buy single article
Instant access to the full article PDF.
US$ 39.95
Tax calculation will be finalised during checkout.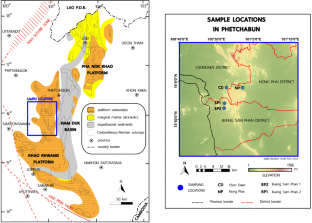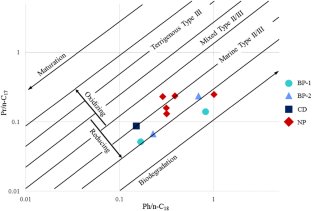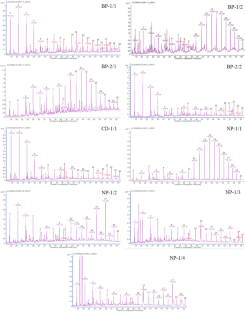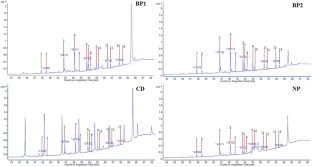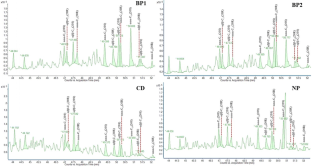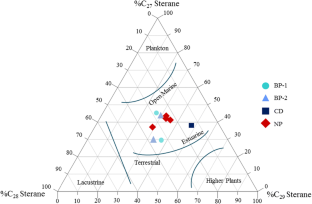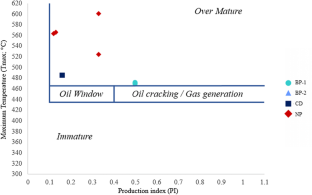 References
Adelzadeh MR, Hatampour A, Ghiasi-Freez J (2014) Hydrocarbon potential of Kangan and Dalan formations using organic geochemistry, mineralogy, and petrography. Pet Sci Technol 32:2159–2167

Akande WG (2012) A review of experimental procedures of gas chromatography-mass spectrometry (GC-MS) and possible sources of analytical errors. Earth Sci 1(1):1–9

Alkhafaji MW, Aljubouri ZA, Aldobouni IA, Littke R (2015) Hydrocarbon potential of Ordovician–Silurian successions in Akkas field, western desert of Iraq. AAPG Bull 9:617–637

Amane W, Hideki N (1997) Geochemical characteristics of terrigenous and marine sourced oils in Hokkaido, Japan. Org Geochem 28:27–41

Behar F, Beaumont V, De B, Penteado HL (2001) Rock-Eval 6 Technology: performances and developments. Oil & Gas Science and Technology 56:111–134

Booth JE, Sattayarak N (2011) Subsurface Carboniferous-Cretaceous geology of northeast Thailand. In: Ridd MF, Barber AJ, Crow MJ (eds) The geology of Thailand. Geological Society, London, pp 184–222

Bunopas S (1983) Palaeozoic succession in Thailand. In: Nutalaya P (ed) Proceedings of the workshop on stratigraphic correlation of Thailand and Malaysia: Haad Yai, Thailand, vol 1, pp 39–76

Chandra K, Mishra CS, Samanta U, Gupta A, Mehrotra KL (1994) Correlation of different maturity parameters in the AhmedabadeMehsana block of the Cambay basin. Org Geochem 21:313–321

Chitnarin A, Crasquin S, Chonglakmani C, Broutin J, Grote PJ, Thanee N (2008) Middle Permian ostracods from Tak Fa Limestone, Phetchabun Province, central Thailand. Geobios 41(3):341–353

Chitnarin A, Crarquin S, Charoentitirat T, Tepnarong P, Thanee N (2012) Ostracods (Crustacea) of the early-Middle Permian from Central thailand (indochina block). Part I. Order Palaeocopida. Geodiversitas 34:801–836

Chonglakmani C, Fontaine H (2000) The lam Narai-Phetchabun region: a platform of Early Carboniferous to Late Permian age. In: Proceedings of the development geology of Thailand into the year 2000, pp 39–98

Chonglakmani C, Helmcke D (2001) Geodynamic Evolution of Loei and Phetchabun Regions—Does the Discovery of Detrital Chromian Spinels from the Nam Duk Formation (Permian, North-Central Thailand) Provide New Constraint? Gondwana Res 3:437–442

Chonglakmani C, Sattayarak N (1984) Geological map of sheet Changwat Phetchabun (NE 47-16), scale 1:250,000: Department of Mineral Resources. Bangkok, Thailand

Erik NY (2016) Paleoenvironment characteristics and hydrocarbon potential of the Lower Miocene bituminous shales in Sivas Basin (Central Anatolia, Turkey). Arab J Geosci 9(1):18

Gerdes G, Krumbein WE, Reineck HE (1991) Biolaminations: Ecological versus depositional dynamics. In: Einsele G, Ricken W, Seilacher A (eds) Cycles and events in stratigraphy. Springer, Berlin, pp 592–607

Hakimi MH, Abdullah WH, Shalaby MR (2012) Molecular composition and organic petrographic characterization of Madbi source rocks from the Kharir oilfield of the Masila Basin (Yemen): palaeoenvironmental and maturity interpretation. Arab J Geosci 5:817–831

Hatampour A (2014) Using Rock Eval pyrolysis for studying the hydrocarbon potential of the Pabdeh Formation in Ziluee oilfield, south west of Iran. Pet Sci Technol 32:1586–1597

Hunt JM (1996) Petroleum geochemistry and geology, 2nd edn. W.H. Freeman and Company, New York, p 743

Kenig F, Huc AY, Purser BH, Oudin JL (1990) Sedimentation, distribution and diagenesis of organic matter in a recent carbonate environment, Abu Dhabi, United Arab Emirates. Org Geochem 16:735–747

Large DJ, Gize AP (1996) Pristane/phytane ratios in the mineralized Kupferschiefer of the Fore-Sudetic Monocline, southwest Poland. Ore Geol Rev 11:89–103

Li H, Jiang L, Chen X, Zhang M (2015) Identification of the four rearranged hopane series in geological bodies and their geochemical significances. Chin J Geochem 34:550–557

Lijmbach W (1975) SP (1) on the origin of petroleum. In: 9th World petroleum congress

Littke R, Klussmann U, Krooss B, Leythaeuser D (1991) Quantification of loss of calcite, pyrite, and organic matter due to weathering of Toarcian black shales and effects on kerogen and bitumen characteristics. Geochim Cosmochim Acta 55(11):3369–3378

Mackenzie A, Li RW, Maxwell J, Moldowan J, Seifert W (1981) Molecular measurements of thermal maturation of Cretaceous shales from the Overthrust Belt, Wyoming. Adv Org Geochem, USA, p 503

Marynowski L, Kurkiewicz S, Rakociński M, Simoneit BR (2011) Effects of weathering on organic matter: I. Changes in molecular composition of extractable organic compounds caused by paleoweathering of a Lower Carboniferous (Tournaisian) marine black shale. Chem Geol 285:144–156

Metcalfe I, Sone M (2008) Biostratigraphy and palaeobiogeography of Lower Permian (lower Kungurian) conodonts from the Tak Fa Formation (Saraburi Limestone), Thailand. Palaeogeogr Palaeoclimatol Palaeoecol 257(1–2):139–151

Miles JA (1989) Illustrated glossary of petroleum geochemistry. Oxford University, Oxford

Moldowan JM, Seifert WK, Gallegos EJ (1985) Relationship between petroleum composition and depositional environment of petroleum source rocks. AAPG Bull 69:1255–1268

Moldowan JM, Sundararaman P, Schoell M (1986) Sensitivity of biomarker properties to depositional environment and/or source input in the Lower Toarcian of SW-Germany. Org Geochem 10:915–926

Morley CK, Ampaiwan P, Thanudamrong S, Kuenphan N, Warren J (2013) Development of the Khao Khwang fold and thrust belt: implications for the geodynamic setting of Thailand and Cambodia during the Indosinian orogeny. J Asian Earth Sci 62:705–719

Moustafa YM, Morsi RE (2012) Biomarkers. In: Dhanarasu S (ed) Chromatography and its applications. Intech, Croatia, pp 165–186

Murray AP, Boreham CJ (1992) Organic geochemistry in petroleum exploration. Australian Geological Survey Organization, Canberra, p 230

Peters KE (1986) Guidelines for evaluating petroleum source rock using programmed pyrolysis. AAPG Bull 70:318–329

Peters KE, Cassa MR (1994) Applied source rock geochemistry. In: Magoon LB, Dow WG (eds) The petroleum system from source to trap. American Association of Petroleum Geologists, Tulsa, pp 93–120

Peters KE, Moldowan JM (1993) The biomarker guide: interpreting molecular fossils in petroleum and ancient sediments. Pentice Hall, Englewood Cliff

Peters KE, Clark ME, Das Gupta U, McCaffrey MA, Lee CY (1995) Recognition of an Infracambrian source rock based on biomarkers in the Baghewala-1 oil, India. AAPG Bull 79:1481–1494

Peters KE, Walters CC, Moldowan JM (2005) The biomarker guide, vol 1. Cambridge University Press, Cambridge, pp 1–471

Peters KE, Walters CC, Moldowan JM (2007) The biomarker guide, vol 2. Cambridge University Press, Cambridge, pp 475–708

Powell TG (1988) Pristane/phytane ratio as environmental indicator. Nature 333:604

Racey A (2011) Petroleum geology. In: Ridd MF, Barber AJ, Crow MJ (eds) The geology of Thailand. The Geological Society, London, pp 351–392

Racey A, Love MA, Canham AC, Goodall JGS, Polachan S, Jones PD (1996) Stratigraphy and reservoir potential of the Mesozoic Khorat Group, NE Thailand: part 1: stratigraphy and sedimentary evolution. J Pet Geol 19(1):5–39

Ridd MF, Barber AJ, Crow MJ (2011) The geology of Thailand. The Geological Society, London, pp 71–136

Sachse VF, Littke R, Heim S, Kluth O, Schober J, Boutib L, Jabour H, Perssen F, Sindern S (2011) Petroleum source rocks of the Tarfaya Basin and adjacent areas, Morocco. Org Geochem 42(3):209–227

Seifert WK, Moldowan JM (1986) Use of biological markers in petroleum exploration. In: Johns RB (ed) Methods in geochemistry and geophysics, vol 24. Elsevier, Amsterdam, pp 261–290

Shanmugam G (1985) Significance of coniferous rain forests and related organic matter in generating commercial quantities of oil, Gippsland Basin, Australia. AAPG Bull 69:1241–1254

Sivan P, Datta GC, Singh RR (2008) Aromatic biomarkers as indicators of source, depositional environment, maturity and secondary migration in the oils of Cambay Basin, India. Org Geochem 39:1620–1630

Sleutel S, De Neve S, Singier B, Hofman G (2007) Quantification of organic carbon in soils: a comparison of methodologies and assessment of the carbon content of organic matter. Commun Soil Sci Plant Anal 38(19–20):2647–2657

Tissot B, Welte D (1984) Petroleum formation and occurrence: a new approach to oil and gas exploration. Springer, Berlin

Tissot BP, Deroo G, Hood A (1978) Geochemical study of the Uinta Basin: formation of petroleum from Green river formation. Geochim Cosmochim Acta 42:1469–1485

Udchachon M, Burrett C, Thassanapak H, Chonglakmani C, Campbell H, Feng Q (2014) Depositional setting and paleoenvironment of an alatoconchid-bearing Middle Permian carbonate ramp sequence in the Indochina Terrane. J Asian Earth Sci 87:37–55

Villar HJ, Püttmann W, Wolf M (1988) Organic geochemistry and petrography of Tertiary coals and carbonaceous shales from Argentina. Org Geochem 13:1011–1021

Volkman JK (1986) A review of sterol markers for marine and terrigenous organic matter. Org Geochem 9:83–99

Volkman JK (2003) Sterols in microorganisms. Appl Microbiol Biotechnol 60(5):495–506

Volkman JK, Maxwell JR (1986) Acyclic isoprenoids as biological markers. In: Johns RB (ed) Biological markers in the sedimentary record. Elsevier, Amsterdam, pp 1–42

Volkman K, Allen DI, Stevenson PL, Burton HR (1986) Bacterial and algal hydrocarbons from a saline Antarctic lake, Ace Lake. Org Geochem 10:671–681

Waples DW, Machihara T (1991) Biomarkers for geologists. In: American association of petroleum geologists methods in exploration series, vol 9, pp 91–99

Wieldchowsky CC, Young JD (1985) Regional facies variation in Permian rocks of the Phetchabun Fold and Thrust Belt, Thailand. In: Thanvarachorn P, Hokjaroen S, Youngme W (eds) Procedings on geology and mineral resources development of northeastern Thailand. Khon Kaen University, Khon Kaen, pp 41–55

Yan Y, Huang B, Zhang D, Charusiri P, Veeravinantanakul A (2018) Paleomagnetic study on the Permian rocks of the Indochina Block and its implications for paleogeographic configuration and northward drifting of Cathaysialand in the Paleo-Tethys. J Geophys Res Solid Earth 4523–4538
Acknowledgements
The authors gratefully acknowledge the financial support from the Ratchadaphisek Somphot Endowment Fund under Outstanding Research Performance Program, Science Super III (Department)-009, Chulalongkorn University. Anonymous reviewers are thanked for their useful and constructive comments.
About this article
Cite this article
Chenrai, P., Fuengfu, S. Organic geochemistry of the Lower Permian Tak Fa Formation in Phetchabun Province, Thailand: implications for its paleoenvironment and hydrocarbon generation potential. Acta Geochim 39, 291–306 (2020). https://doi.org/10.1007/s11631-019-00370-w
Received:

Revised:

Accepted:

Published:

Issue Date:
Keywords
Biomarker

Depositional environment

Source inputs

Tak Fa Formation

Khao Khwang Platform