Abstract
Progressive developments in industrial and agricultural activities are causing a critical stress on groundwater quality in developing countries. The objective of this paper is to assess and evaluate the contamination level of groundwater caused by leachate in 11 villages of the Gautam Budh Nagar district in Uttar Pradesh, India. We systematically sampled 22 groundwater samples and 13 leachate samples to ascertain the source of pollution on groundwater quality. The standard analytical methods given by the American Public Health Association (APHA) (Standard methods for examination of water and wastewater, 23rd edn. APHA, AWWA, WPCF, Washington, 2017) were used for quantitative estimation of hydrochemical parameters of collected samples. The results of the analysis of groundwater samples indicate that pH values range from 7.31 to 8.97. The mean magnesium concentration in groundwater samples is 58.93 ± 21.44 mg/L. Out of the groundwater samples taken, approximately 41% and 73% of samples analysis results have been found beyond the acceptable limit with respect to the parameters of turbidity and total dissolved solids, respectively, according to the Bureau of Indian Standards (Indian standard specification for drinking water (IS:10500). BIS, Manak Bhawan, New Delhi, 2012) for drinking water. Around 95.4% of groundwater samples and 92.3% of leachate samples have high nitrate concentrations above the standard limit of BIS (45 mg/L), respectively. The Piper plot shows that 50% of the samples belong to the Ca2+–Mg2+–HCO3− type. Ternary and Durov's diagrams indicate that the mean concentrations of ions are in the order of Na+ > Mg2+ > Ca2+ > K+ (for cations) and HCO3−> NO3− > Cl− > SO42− > CO32− > F− (for anions) in groundwater of the study area. The spatial variation of the hydrochemical parameters shows that groundwater is heavily contaminated with respect to nitrate. Analytical results indicate that the groundwater of villages Achheja, Bisrakh road, Dujana, Badalpur and Sadopur is not suitable for drinking.
This is a preview of subscription content, log in to check access.
Access options
Buy single article
Instant access to the full article PDF.
US$ 39.95
Price includes VAT for USA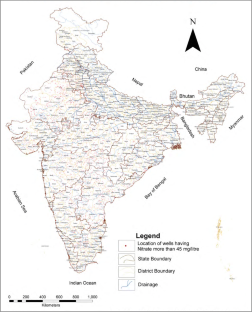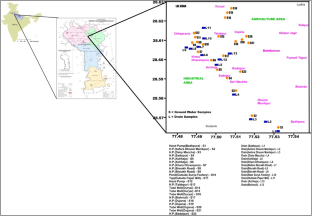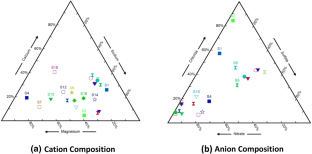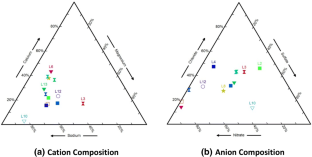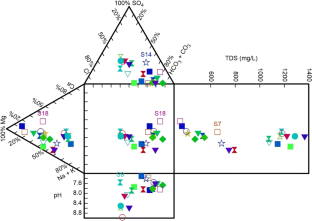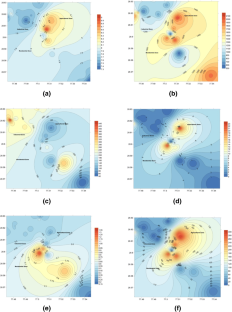 References
Ahada CPS, Suthar S (2018) Groundwater nitrate contamination and associated human health risk assessment in southern districts of Punjab. Environ Sci Pollut Res, India. https://doi.org/10.1007/s11356-018-2581-2

American Public Health Association (APHA) (2017) Standard methods for examination of water and wastewater, 23rd edn. APHA, AWWA, WPCF, Washington

Asadi P, Ashtiani BA, Beheshti A (2017) Vulnerability assessment of urban groundwater resources to nitrate: the case study of Mashhad, Iran. Environ Earth Sci 76:41

Buccianti A, Pawlowsky-Glahn V (2005) New perspectives on water chemistry and compositional data analysis. Math Geo 37(7):703–727

Bureau of Indian Standards (2012) Indian standard specification for drinking water (IS:10500). BIS, Manak Bhawan, New Delhi

Camargo JA, Ward JV (1995) Nitrate (NO3–N) toxicity to aquatic life: a proposal of safe concentrations for two species of nearctic freshwater invertebrates. Chemosphere 31(5):3211–3216

Camargo JA, Alonso A, Salamanca A (2005) Nitrate toxicity to aquatic animals: a review with new data for freshwater invertebrates. Chemosphere 58(9):1255–1267

Census (2011) District Gautam Buddha Nagar. Uttar Pradesh, Government of Uttar Pradesh

CGWB (2010) Ground water quality in shallow aquifers of India. Central Ground Water Board, Ministry of Water Resources, Government of India, Faridabad

Chaudhary S, Gupta AK, Kumar L (2012) The sedges and grasses of Gautambudhnagar (Noida) U.P. India. Inter Multidiscip Res J 2(3):45–48

Daw MM, Ali ER, Toriman ME (2018) Nitrate contamination in groundwater agricultural of Samno and Elzegan area, Fazan region, Libya. Int J Eng Technol 7(2.29):56–59

Ducci D (2018) An easy-to-use method for assessing nitrate contamination susceptibility in groundwater. Geofluids. https://doi.org/10.1155/2018/1371825

Dudley N (1990) Nitrates: the threat to food and water. Green Print, London, p 118

Durov SA (1948) Natural waters and graphic representation of their compositions. Dokl Akad Nauk SSSR 59:87–90

Elisante E, Muzuka ANN (2017) Occurrence of nitrate in Tanzanian groundwater aquifers: a review. Appl Water Sci 7(1):71–87

Ghaly AE, Ananthashankar R, Alhattab M, Ramakrishnan VV (2014) Production, characterization and treatment of textile effluents: a critical review. J Chem Eng Process Technol 5:182. https://doi.org/10.4172/2157-7048.1000182

Hosseini FS, Malekian A, Choubin B, Rahmati O, Cipullo S, Coulon F, Pradhan B (2018) A novel machine learning-based approach for the risk assessment of nitrate groundwater contamination. Sci Total Environ 644:954–962

Izydorczyk K, Hejduk DM, Jarosiewicz P, Bydalek F, Fratczak W (2018) Extensive grasslands as an effective measure for nitrate and phosphate reduction from highly polluted subsurface flow—case studies from Central Poland. Agric Water Manag 203:240–250

Joshi BC (2009) Central groundwater board. District Brochure of Gautam Budh Nagar, Uttar Pradesh

Kumar PJS (2017) Geostatistical modeling of fluoride enrichment and nitrate contamination in the groundwater of Lower Bhavani Basin in Tamil Nadu, India. Model Earth Sys Environ 3(1):1–10

Kumar M, Ramanathan AL, Tripathi R, Farswan S, Kumar D, Bhattacharya P (2017) A study of trace element contamination using multivariate statistical techniques and health risk assessment in groundwater of Chhaprola Industrial Area, Gautam Buddha Nagar, Uttar Pradesh, India. Chemosphere 166:135–145

Lasagna M, Luca DAD, Franchino E (2016) Nitrate contamination of groundwater in the western Po Plain (Italy): the effects of groundwater and surface water interactions. Environ Earth Sci 75:240

Li P, Qian H, Wu J, Chen J, Zhang Y, Zhang H (2014) Occurrence and hydrogeochemistry of fluoride in alluvial aquifer of Weihe River, China. Environ Earth Sci 71:3133–3145

Meisinger JJ, Delgado JA (2002) Principles for managing nitrogen leaching. J Soil Water Conserv 57:485–498

Nagamani C, Devi CS, Shalini A (2015) Physico-chemical analysis of water samples. Inter J Sci Engr Res 6:2149–2155

Nowak B, Rocha SF, Aschenbrenner P, Rechberger H, Winter F (2012) Heavy metal removal from MSW fly ash by means of chlorination and thermal treatment: influence of the chloride type. Chem Engr J 179:178–185

Pfnader WH, Brown JR, Garner GB (1993) Terminology for reporting nitrate concentration. University of Missouri Extension report G9802. http://extension.missouri.edu/publications/DisplayPub.aspx?P=G9802. Accessed 17 Dec 2014

Piper AM (1944) A graphic procedure in geochemical interpretation of water analyses. Transactions of the Ameri Geophysi Uni 25(6):914–928

Power JF, Schepers JS (1989) Nitrate contamination of groundwater in North America. Agri Ecosys Environ 26(3–4):165–187

Rahmati O, Samani AN, Mahmoodi N, Mahdavi M (2015) Assessment of the contribution of N-fertilizers to nitrate pollution of groundwater in Western Iran (Case Study: Ghorveh-Dehgelan Aquifer). Water Qual Expo Health 7:143–151

Rao NS (2006) Nitrate pollution and its distribution in the groundwater of Srikakulam district, Andhra Pradesh, India. Environ Geol 51(4):631–645

Rezaei M, Nikbakht M, Shakeri A (2017) Geochemistry and sources of fluoride and nitrate contamination of groundwater in Lar area, south Iran. Environ Sci Pollut Res 24(18):15471–15487

Schepers JS, Moravek MG, Alberts EE, Frank KD (1991) Maize production impacts on groundwater quallity. J Environ Qual 20(1):12–16

Singh B, Sekhon GS (1976) Nitrate pollution of groundwater from nitrogen fertilizers and animal wastes in the Punjab, India. Agric Environ 3(1):57–67

Singh B, Singh Y (2004) Balanced fertilization for environmental quality. Fertil News 49:107–108

Singh VB, Tripathi JN (2016) Identification of critical water quality parameters derived from principal component analysis: case study from NOIDA area in India. Am J Water Res 4(6):121–129

Singh AK, Tewary BK, Sinha A (2011) Hydrochemistry and quality assessment of groundwater in part of NOIDA metropolitan city, Uttar Pradesh. J Geo Soc India 78(6):523–540

Singh K, Singh D, Hundal HS (2013) An appraisal of groundwater quality for drinking and irrigation purposes in southern part of Bathinda district of Punjab, northwest India. Environ Earth Sci 70:1841–1851

Soltan ME (1998) Characterisation, classification, and evaluation of some ground-water samples in upper Egypt. Chemosphere 37(4):735–745

Su X, Wang H, Zhang Y (2013) Health risk assessment of nitrate contamination in groundwater: a case study of an agricultural area in Northeast China. Water Resour Manage 27(8):3025–3034

Suthar S, Bishnoi P, Singh S, Mutiyar PK, Nema AK, Patil NS (2009) Nitrate contamination in groundwater of some rural areas of Rajasthan. India. J Haz Mat 171(1–3):189–199

World Health Organization (WHO) (1993) Guidelines for drinking-water quality, vol 1. World Health Organisation, Geneva

World Health Organization (WHO) (2004) Guidelines for drinking-water quality, vol 1, recommendations (3rd). World Health Organisation, Geneva

Wu J, Sun Z (2016) Evaluation of shallow groundwater contamination and associated human health risk in an alluvial plain impacted by agricultural and industrial activities, mid-west China. Expo Health 8:311–329

Zhang Y, Wu J, Xu B (2018) Human health risk assessment of groundwater nitrogen pollution in Jinghui canal irrigation area of the loess region, northwest China. Environ Earth Sci 77:273
Ethics declarations
Conflict of interest
On behalf of all authors, the corresponding author states that there is no conflict of interest.
Electronic supplementary material
Below is the link to the electronic supplementary material.
About this article
Cite this article
Agarwal, M., Singh, M. & Hussain, J. Assessment of groundwater quality with special emphasis on nitrate contamination in parts of Gautam Budh Nagar district, Uttar Pradesh, India. Acta Geochim 38, 703–717 (2019). https://doi.org/10.1007/s11631-018-00311-z
Received:

Revised:

Accepted:

Published:

Issue Date:
Keywords
Leachate

Hydrochemical parameters

Piper plot

Ternary and Durov's diagram

Spatial variation