Abstract
Based on the results of conventional geochemistry analysis including thin sections and SEM observations, different shapes of bacterial fossils, with size ranging from dozens of nanometers to several microns, were discovered in the low-mature marine source rocks and coal seams in South China, of which the Permian source rocks were dominated by the bacterial fossils derived from symbiotic sulphur bacteria with gypsum, and the Chengkou section in the Cambrian strata were occupied by abundant nanoscale bacterial fossils with rod and bar shapes. In contrast, a large quantity of possible bacterial fossils found in the high-mature Permian, Silurian, and Cambrian source rocks using SEM need to be further explored. Despite this, this study has indicated that bacterial fossils were prevalent in the source rocks, such as mudstone, siliceous rock and gypsum-bearing coal seams in South China, which has been ignored before. It also suggests that the bacterial fossils may play an important role in the formation and accumulation of shale gas in the geological history.
Access options
Buy single article
Instant access to the full article PDF.
US$ 39.95
Tax calculation will be finalised during checkout.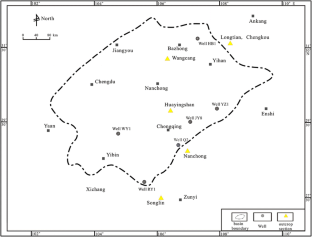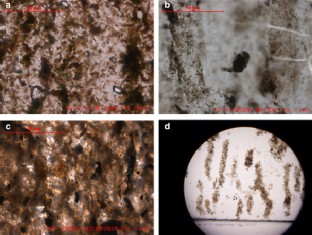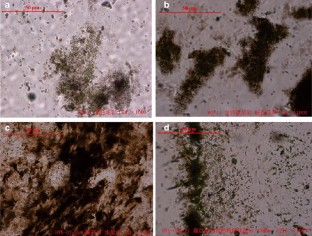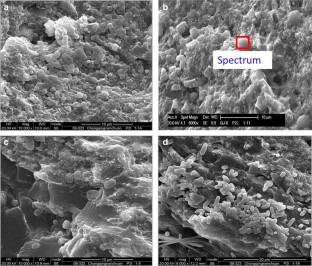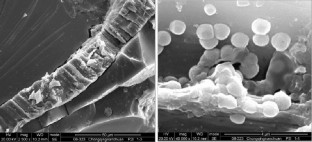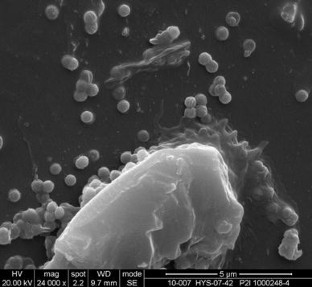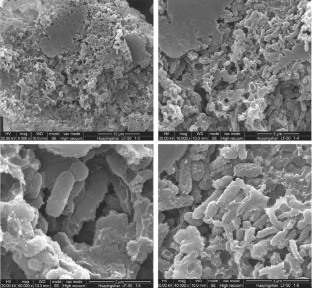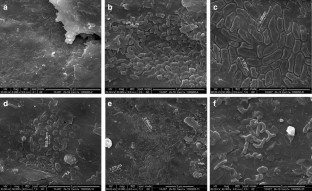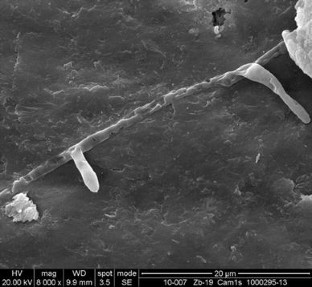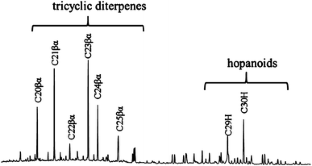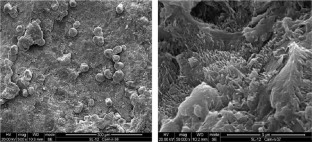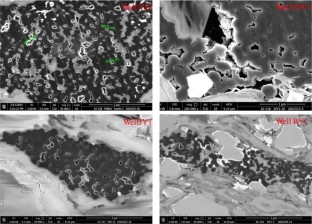 References
Arning ET, Birgel D, Brunne B, Peckmann J (2009) Bacterial formation of phosphatic laminites off Peru. Geobiology 7(3):295–307

Bailey JV, Joye SB, Kalanetra KM, Flood BE et al (2007) Evidence of giant sulphur bacteria in Neoproterozoic phosphorites. Nature 445(7124):198–201

Berndmeyer C, Birgel D, Brunner B, Wehrmann LM et al (2012) The influence of bacterial activity on phosphorite formation in the Miocene Monterey Formation, California. Palaeogeogr Palaeoclimatol Palaeoecol 317(5):171–181

Delong EF, Pace NR (2001) Environmental diversity of bacteria and archaea. Syst Biol 50(4):470–478

Ding AA, Hui RY, Xia YQ (1997) The formation of type-D bacteridecompamorphinite and its hydrocarbon generating pattern. Chin J Geol 32(2):221–228

Edoardo P, Maurice T (2007) Bacterial fossils and microbial dolomite in Triassic stromatolites. Geology 35(3):207–210

Edwards D, Axe L, Parkes J, Richard D (2006) Provenance and age of bacteria-like structures on mid-Palaeozoic plant fossils. Int J Astrobiol 5(2):109–142

Eric EH, Peir KP, Cole TE (2015) Sedimentary phosphate and associated fossil bacteria in a Paleoproterozoic tidal flat in the 1.85 Ga Michigamme Formation, Michigan, USA. Sediment Geol 319:24–39

Glenn CR, Arthur MA (1988) Petrology and major element geochemistry of Peru margin phosphorites and associated diagenetic minerals: authigenesis in modern organic rich sediments. Mar Geol 80(88):231–267

Guo XS, Hu DF, Wen ZD et al (2014) Major factors controlling the accumulation and high productivity in marine shale gas in the Lower Paleozoic of Sichuan basin and its periphery: a case study of the Wufeng–Longmaxi formation of Jiaoshiba area. Geol China 41(3):893–901

Havey HR, Tuttle JH, Bell JT (1995) Kinetics of phytoplankton decay during simulated sedimentation: changes in biochemical composition and microbial activity under oxic and anoxic conditions. Geochim Cosmochim Acta 59(16):3367–3377

He L, Wang YB, Yang H et al (2010) Palaeogeography and microfacies characteristics of microbialites across the Permian–Triassic Boundary in South China. J Palaeogeogr 12(2):151–163

Lei JJ, Ren DY, Tang YG et al (1994) Ultra-high organic sulfur coal sulfur accumulation mode in guiding. Chin Sci Bull 39(15):1405–1408

Lei JJ, Li RW, Cao J (2000) The characteristics of black shale-hosted concretionary phosphates precipitation in the early Cambrian horizon on Yangtze platform. Sci Geol Sin 35(3):277–287

Liang DG, Guo TL, Chen JP et al (2008) Distribution of four suits of regional marine source rocks. Mar Orig Pet Geol 13(2):1–16

Liu SG, Sun W, Song JM et al (2015) Tectonics-controlled distribution of marine petroleum accumulations in the Sichuan Basin, China. Earth Sci Front 22(3):146–160

Lu YR, Zhang FE, Yan BR et al (2001) Mechanism of karst development in sulphate rocks and its main geo-environmental impacts. Acta Geosci Sin 23(1):1–6

Ma YS (2007) Generation mechanism of Puguang gas field in Sichuan basin. Acta Pet Sin 28(2):9–21

Ma YS, Cai XY, Zhao PR et al (2010) Distribution and further exploration of the large-medium sized gas fields in Sichuan basin. Acta Pet Sin 31(3):347–354

Rao VP, Nai RR (1988) Microbial origin of the phosphorites of the western continental shelf of India. Mar Geol 84(1–2):105–110

Reimers CE, Ruttenberg KC, Canfield DE et al (1996) Porewater pH and authigenic phases in the uppermost sediments of the Santa Barbara Basin. Geochim Cosmochim Acta 60(21):4037–4057

Schopf JW (1994) Disparate rates, differing fates: tempo and mode of evolution changed from the Precambrian to the Phanerozoic. Proc Natl Acad Sci USA 91:6735–6742

Soudry D, Champetier Y (1983) Microbial processes in the Negev phosphorites (southern Israel). Sedimentology 30(3):411–423

Soudry D, Lewy Z (1988) Microbially influenced formation of phosphate nodules and megafossil moulds (Negev, southern Israel). Palaeogeogr Palaeoclimatol Palaeoecol 64(88):15–34

Wang WC, Tao MX (2005) Geomicrobial processes and petroleum resources. Geol Bull China 24(10–11):1022–1026

Wang TG, Zhong NN, Hou DJ et al (1995) The effects of bacteria on hydrocarbon generation mechanism in Banqiao sag. Sci China, Ser B 25(8):883–889

Wang JS, Wang YB, Li Q (2007) Potential relationship between extremophiles and hydrocarbon resources in marine extreme environment. Earth Sci J China Univ Geosci 32(6):781–788

Westall F (1999) The nature of fossil bacteria: a guide to the search for extraterrestrial life. J Geophys Res 104(E7):16437–16451

Wu YS, Jiang HX, Yang W et al (2007) Microbes and microbial rock in hypoxic environment between Permian and Triassic. Sci China (Ser D) 37(5):618–628

Xie XM, Tenger G, JZ Qin et al (2013) Bactera-like fossil in the Early Cambrian siliceous shale from Zunyi, Guizhou, SW China. Acta Geol Sin 87(1):20–28

Yang H, Wang YB, Chen L et al (2007) Calci-microbialite as a kind of potential hydrocarbon source rock and its geomicrobiological processes. Earth Sci J China Univ Geosci 32(6):797–802

Zhang SC, Lu SN (1993) Molecular fossils derived from marine palaeobacteria. Earth Sci J China Univ Geosci 18(4):381–392

Zhang B, Wu QY, Sheng GY et al (1996) Gas, oil and Kerogen-like material generated by pyrolysis of chlorella before and after bacterial degradation. Geochimica 25(2):105–111

Zhang TS, Wu KY, Yang Y et al (2015) Evidence of microbial origin of organic matters of Niutitang shale gas reservoir. J Southwest Pet Univ (Sci Technol Ed) 37(2):1–10

Zhao FP (2007) Cause and distribution of sulphurous content of the Late Permian coal in Guizhou Province. Coal Convers 30(3):16–20

Zheng JJ (2013) Sedimentary environment and coal accumulation pattern of the Late Permian low sulfur coal in Guizhou. Coal Geol China 25(6):16–20
Acknowledgement
This work was supported by Petrochemical Fund (B) for "Research on the effect of gas containing indigenous organic matter in the Paleozoic shale" (No. U1663202).
About this article
Cite this article
Shen, B., Qin, J., Tenger, B. et al. Identification of bacterial fossils in marine source rocks in South China. Acta Geochim 37, 68–79 (2018). https://doi.org/10.1007/s11631-017-0209-8
Received:

Revised:

Accepted:

Published:

Issue Date:
Keywords
South China

Excellent marine source rocks

Bacterial fossil

Sedimentary environment